Shooting By Off-Duty Dallas Policewoman Raises Far More Questions Than It Answers
The shooting of Botham Jean by off-duty Dallas Police Officer Amber Guyger earlier this month seems like a clear cut murder. So why is she only charged with manslaughter?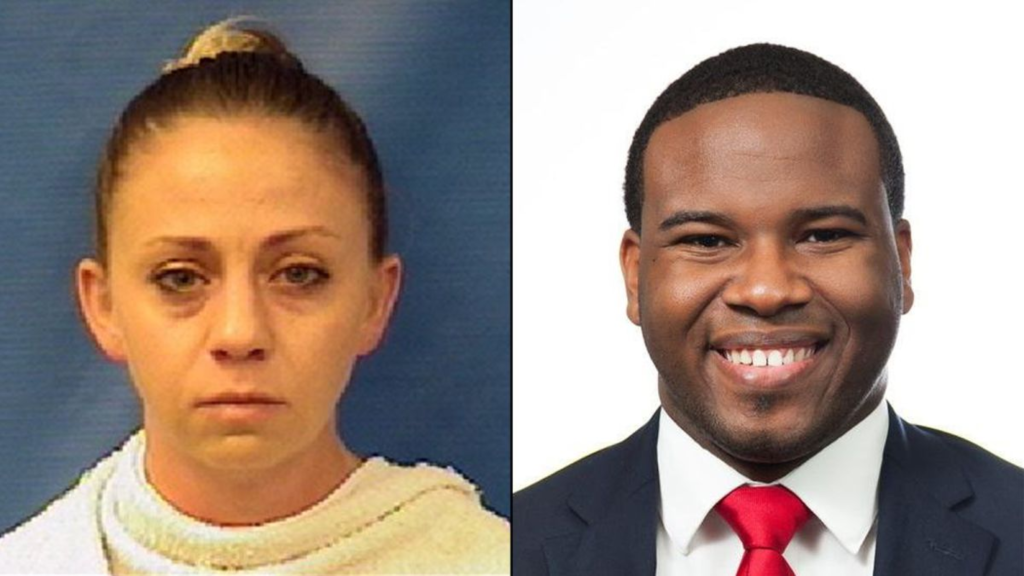 A police officer in Dallas is facing manslaughter charges in connection with an off-duty shooting that has raised more questions than it has answered:
DALLAS — Botham Shem Jean analyzed risk for a living at a global auditing firm. For someone in his line of work, the evening was shaping up to be as risk-free as it gets: Alone, in his one-bedroom apartment one block from the Dallas Police Department headquarters.

Fresh from work, he had texted his sister his evening plans: Watching a football game on TV, the Eagles versus the Falcons. He texted a friend, apologizing for not going out with her the weekend before. Mr. Jean, 26, was from the island-nation of St. Lucia. He had a big smile, and was a big eater, winning a meat-lovers' contest at Big Chef Steak House back in the Caribbean. He still had his ticket for a free meal on his next visit, his prize after eating a two-pound steak in one sitting.

Unit 1478 on the fourth floor of the South Side Flats apartment complex was an 800-square-foot bachelor pad: dishes piled up in the sink, with pancake syrup, dish soap and other belongings adding to the clutter on the kitchen island. It was the evening of September 6. His 27th birthday was three weeks away.

In a matter of hours, Mr. Jean would be dead. A white off-duty police officer who lived in Unit 1378 — directly below Mr. Jean — claimed that she mistakenly entered the wrong apartment after returning home from her 14-hour shift and believed Mr. Jean, who is black, was an intruder. Officer Amber R. Guyger, 30, fired her service weapon twice, striking him once in the torso.

He was later pronounced dead at a hospital, his death now the center of a mystery that has angered and puzzled Dallas and beyond.

The racial profiling of black men and women by white police officers put new phrases into the American vocabulary — driving while black, walking while black, shopping while black. The shooting of Mr. Jean seemed to demand its own, even more disturbing version: being at home while black.

The fatal shooting has become the latest, and most bizarre, confrontation between an unarmed black man and a white officer, angering many who say they simply do not believe the officer's account. In a city with a decades-old history of racial divisions, the case has again heightened tensions. Protesters chanted and disrupted a City Council meeting on Wednesday, and threats against the police have poured in. Officers have said they believe Officer Guyger's version of events, while many in the black community — and many white residents as well — do not. City officials and other leaders have been caught in the middle.

"This is the worst sort of situation, because we all expect to be safe in our own homes," Michael S. Rawlings, the mayor of Dallas, said in an interview. "Everybody is heartbroken. Everybody wants the same thing — let's get the answers. This is what the mother said to me. I was sitting there talking to her Saturday morning. And she said, 'I'm not angry, but I just want to know why this lady shot my son.'"

Officer Guyger has been charged with manslaughter and released on a $300,000 bond, and numerous questions remain unanswered as the investigation continues. Mr. Jean's relatives and his lawyers said Mr. Jean and the officer did not know each other. It's not known whether there might have been a dispute between them as neighbors. Indeed much about what happened that night at the door of Mr. Jean's apartment remains either unclear or in dispute.

The officer told investigators the door was slightly ajar and then fully opened when she inserted her computerized chip key; lawyers for Mr. Jean's family said the door was closed. Officer Guyger said in court documents that when she opened the door, the apartment was dark and she saw a silhouette of someone she thought was a burglar. She said she shouted commands that were ignored. Neighbors, however, have told lawyers for Mr. Jean's relatives that they heard someone banging on the door and shouting, "Let me in!" and "Open up!" before gunshots rang out. They said they then heard a man, presumably Mr. Jean, say, "Oh my God, why did you do that?"

Accounts of banging and shouting are puzzling, because Officer Guyger is single and lived alone, and it was unknown why she would have banged on the door if she believed she was at her own apartment.

In some ways, the drama unfolding in Dallas looks and feels similar to other high-profile police shootings of unarmed black men that have gripped the country in succession in recent years. Mr. Jean's family is represented by Benjamin Crump, the lawyer who represented the relatives of Trayvon Martin and Michael Brown, as well as S. Lee Merritt, a lawyer for the family of Jordan Edwards, the 15-year-old freshman shot and killed by a white officer last year in a Dallas suburb. In an echo of past police killings, there has been anger over what seem to be attempts to incriminate the victim: Police released a search warrant that revealed that 10.4 grams of marijuana in multiple baggies had been found in Mr. Jean's apartment.

"First they assassinate his person, then they assassinate his character," Mr. Crump said.

(…)

Black activists, religious leaders and elected officials have all criticized the authorities for charging the officer not with murder but with the lesser charge of manslaughter. They also want to know why she was not immediately arrested at the scene, but was allowed to go free until she was officially charged three days later. They are demanding that Officer Guyger, who remains on paid administrative leave, be fired.

"The reasonableness of her explanation is what's called into question," said State Senator Royce West, a Democrat who is African-American and whose district includes the South Side Flats. "The question is whether or not she saw a black man and then decided to shoot. Regardless of whether or not he was in the right place or not, her first impulse appeared to be that she was going to fire her weapon."

Robert L. Rogers, a lawyer representing Officer Guyger and a former Dallas County prosecutor, declined to comment. Officer Guyger has been a Dallas officer for four years and four months, joining the force in 2014 in her first job as a law enforcement officer in Texas.
The circumstances of Jean's shooting and death have understandably raised far more questions than have been answered to date, largely because Officer Guyger's version of events does not seem to make sense at all. As Mr. Jean's relatives, for example, have noted that the idea that Guyger had somehow mistaken Jean's fourth-floor apartment for her fifth floor home do not comport with reality. For example, Jean's doorway has a large bright-red doormat lying on the floor in front of the doorway. Guyger's apartment has no such doormat of any kind or color. Even notwithstanding the fact that she was carrying several items at the time, it seems implausible that Guyger would not have noticed this difference. Additionally, as noted above, several of Jean's neighbors reported hearing a woman pounding on the door to be let in, shortly after which they heard the gunshots and a male voice, presumably Mr. Jean's asking "Oh my God, why did you do that?" This stands in marked contrast to Guyger's version of events, under which she allegedly arrived at what she thought was her apartment to find the door ajar and that she saw someone she thought was a burglar. Guyger goes on to claim that she shouted standard police commands at the supposedly unknown person and that she shot him because he was not obeying those commands and the alleged fact that she believed her life was in danger. On this note it is worth noting that none of the reports quoting Mr. Jean's neighbors report hearing a female voice shouting anything other than "Let me in!" and "Open up!" and that there are no reports of anyone hearing Guyger identify herself as a police officer, which would normally be something you would expect to hear a police officer say before shooting someone.
One question that was raised in my mind when this story first broke across social media is whether or not there might have been some previous relationship between Guyger and Jean. Neither neighbors nor Jean's family have insinuated that this is the case, but the existence of such a relationship would potentially explain why neighbors heard Guyger demanding to be let in even though it should have been obvious she was at the wrong apartment if she was supposed to be trying to get into her own home. It would also raise the question of whether or not there might have been a motive here such as a relationship gone wrong. In that case, it would seem clear that a murder charge would be more appropriate than murder. This is admittedly speculation on my part, but given the fact that Guyger's version of events does not make sense, and does not comport with what multiple neighbors report, it's a possibility worth looking into.
On some level, I suppose, it is a good sign that Guyger was almost immediately charged with manslaughter and placed on administrative leave, but it is understandable that members of Mr. Jean's family and the general public would be raising questions. As noted, Guyger's version of events simply doesn't make sense in the light of day. The claim on her part that the door was ajar when she arrived at what she thought was her apartment, for example, doesn't explain why multiple neighbors report hearing a woman's voice demanding to be let in prior to the shooting. Since Guyger lives alone and apparently had no visitors at the time of the shooting, why would she be demanding to be let in to her own home? Additionally, the fact that nobody heard Guyger identify herself as a police officer or otherwise say anything other than demanding to be let in raises questions about her version of events, as does the fact that it simply doesn't sound credible that Guyger, a trained police officer, would somehow mistake Jean's fourth-floor apartment door for her fifth-floor door.
This incident has also raised questions on both sides of the political aisle, with even many commentators who have defended police actions in the past questioning Guyger's version of events. Earlier this week, for example, David French at National Review calls this the worst police shooting yet:
First, police sources are reportedly indicating that Guyger may actually try to raise the fact that Jean didn't obey her commands as a defense. It's not a defense. The moment she opened the door to an apartment that wasn't her own, she wasn't operating as a police officer clothed with the authority of the law. She was instead a criminal. She was breaking into another person's home. She was an armed home invader, and the person clothed with the authority of law to defend himself was Botham Shem Jean.

Which brings us to the second troubling element of the story. So far, Guyger is only charged with manslaughter. But all the available evidence indicates that she intentionally shot Jean. This wasn't a warning shot gone awry. The pistol didn't discharge during a struggle. She committed a crime by forcing open Jean's door, deliberately took aim, and killed him.

Texas law defines murder quite simply as "intentionally or knowingly caus[ing] the death of an individual." Manslaughter, by contrast, occurs when a person "recklessly" causes death. Guyger's warning and her deliberate aim scream intent. She may have "recklessly" gone to the wrong apartment, but she very intentionally killed Jean. There is a chance that the grand jury will increase the charge to murder, so the early manslaughter charge is tentative. But I ask you: If Jean had mistakenly gone to Guyger's apartment and then gunned her down in cold blood after demanding that she follow his commands, would he face a manslaughter charge?

Finally, it's troubling that Guyger wasn't arrested and booked until three days after the shooting. Reportedly, Dallas police had prepared a warrant the day after the killing, but they handed the investigation over to the Texas Rangers, who put a hold on the warrant.

What's done is done, and the delayed arrest shouldn't have any ultimate impact on the prosecution, but when all the available evidence indicates that a cop acted outside of her lawful authority, she should receive none of the courtesies and advantages so often extended to members of law enforcement. She's a citizen, like any other, and it is hard to imagine — again — that if the roles had been reversed Jean would have enjoyed several days of relative freedom before he was arrested and booked. He'd have been in handcuffs that night, and rightfully so.
French, of course, is absolutely correct on this point. But for the fact that she is a police officer, Guyger would have been taken into custody immediately and immediately interrogated by officers. Presumably, the reason that she wasn't is due to the fact that Dallas police officers have protections similar to those available to officers in other parts of the country that allow them to prevent questioning for a certain period of time, sometimes as long as 2-3 days. The obvious advantage of this, of course, is that it allows an officer involved in a questionable shooting sufficient time to come up with might sound like a plausible story, something that the average criminal suspect isn't able to do unless they invoke their right to counsel. While there might be a good argument in favor of this practice, it doesn't always make sense. This is particularly true in this case where the shooting occurred while Guyger was off-duty. In those situations, one could make an argument that,as a matter of policy, the normal deference allowed to a police officer should not apply and people like Guyger should be treated the same way a civilian would.
In any case, there have been protests in Dallas over this incident, which is entirely understandable. There are far too many unanswered questions even at this early stage, and the fact that Officer Guyger's story does not add up and that she is apparently receiving preferential treatment makes one suspicious to say the very least.