Amber Guyger Fired From Dallas Police Department Over Botham Jean Shooting
Amber Guyger has been fired by the Dallas Police Department, now it's up to the justice system to hold her accountable for her actions.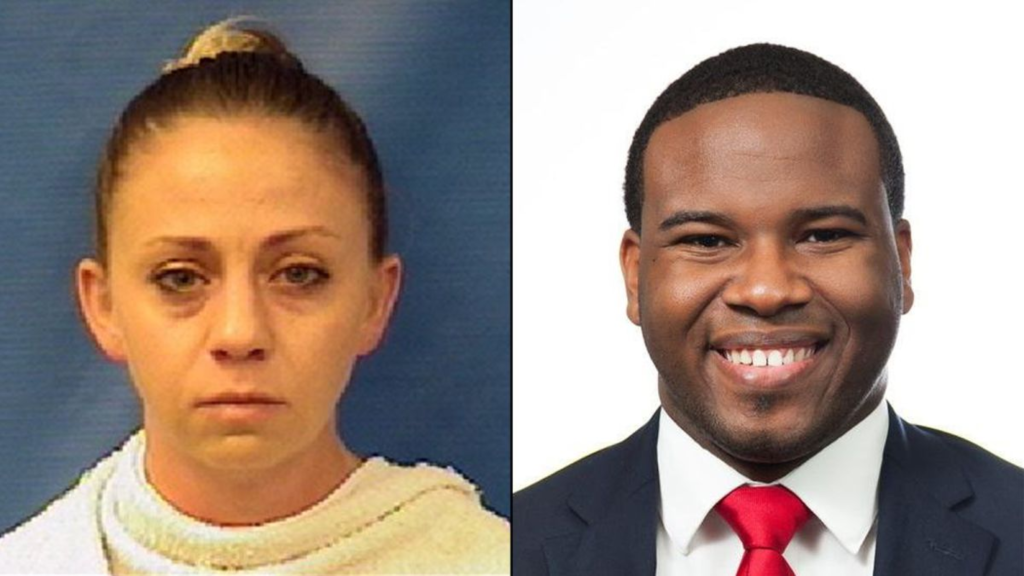 Amber Guyger, the off-duty Dallas police officer who shot and killed Botham Shem Jean under circumstances that remain entirely suspicious, has been fired from her job:
The Dallas Police Department on Monday fired an officer who fatally shot her neighbor inside his apartment this month, an episode that gripped the city and led to protests over the killing of an unarmed black man in his own home at the hands of law enforcement.

The department's chief, U. Reneé Hall, announced the termination of the officer, Amber R. Guyger, citing her arrest in the killing of Botham Shem Jean, who lived above Ms. Guyger in a Dallas apartment complex. Ms. Guyger, who was off duty, entered Mr. Jean's apartment the evening of Sept. 6 and fired her service weapon twice, striking him once in the torso.

Ms. Guyger, 30, was placed on administrative leave immediately after the shooting and charged with manslaughter several days later. Chief Hall faced mounting pressure to fire Ms. Guyger, but she said at a town hall-style meeting last week that state and federal laws prevented her from doing so, without citing specifics. She also argued that taking action could harm the investigation into the death of Mr. Jean, 26.

S. Lee Merritt, a lawyer for the Jean family, said that Chief Hall called on Sunday night to tell them that despite those concerns, she planned to dismiss Ms. Guyger.

During the call, "she had to answer some tough questions specifically about why it took so long," Mr. Merritt told reporters on Monday, adding that the family saw Ms. Guyger's firing as a "victory."

Chief Hall said Monday afternoon that she had waited until the "critical portion" of the investigation was completed, but she did not elaborate. "As a police chief, my job is to ensure the integrity, the highest level of integrity in this criminal investigation, and that is what I did," Chief Hall said.

Mr. Merritt said that Mr. Jean would be buried on Monday in his home country, St. Lucia.
I am not sufficiently aware of what the law might be in Texas, or what the terms of the contract that the City of Dallas has with the relevant police union might be, so I'm not going to comment on whether or not the Police Chief was correct in saying at least initially that her hands were tied when it came to immediately fire Ms. Guyger. Ordinarily, these contracts have specific procedures that have to be followed or findings that have to be made before an officer can be dismissed from the force in the manner that Guyger has been. At least some of these circumstances require a hearing and formal charges and allow the officer to be represented by counsel and/or a union delegate. In other cases, there are some circumstances that allow authorities to dismiss an officer in an expedited manner. Whether or not that applied in this case or not is a legal question that will presumably be resolved in the future if Ms. Guyger chooses to appeal or contest her dismissal in some fashion.
Beyond the dismissal, of course, the charges against Guyger remain pending, and many Dallas residents continue to contend that she is not being properly charged in the case. As I noted in my original post on this case, the circumstances of this shooting seem to clearly show that Guyger's version of events simply doesn't add up and that her conduct here calls for more than just a manslaughter charge. Specifically, the claim on her part that the door to Jean's fifth-floor apartment, which she contends she thought was her fourth-floor apartment. was ajar when she arrived at what she thought was her apartment, for example, doesn't explain why neighbors report hearing a woman's voice demanding to be let in prior to the shooting. Since Guyger lives alone and apparently had no visitors at the time of the shooting, why would she be demanding to be let into her own home? Additionally, the fact that nobody heard Guyger identify herself as a police officer or otherwise say anything other than demanding to be let in raises questions about her version of events, as does the fact that it simply doesn't sound credible that Guyger, a trained police officer, would somehow mistake Jean's fourth-floor apartment door for her fifth-floor door.
Under Texas law, murder is defined as "intentionally or knowingly caus[ing] the death of an individual." Manslaughter, which is what Guyger is currently charged with is defined as occurring when a person "recklessly" causes death. As I learned early on in my Criminal Law class in law school, the important thing about the intent needed to charge someone with murder or any other crime involving intent is that it doesn't necessarily require pre-planning and it isn't something that can only exist in circumstances where there has been a considerable amount of time. Intent for criminal purposes is something that can form in an instant and simply means that one is acting consciously rather than mistakenly. As David French put it in National Review earlier this month, while one can make the case that Guyger acted recklessly when she entered the wrong apartment, it seems clear that she acted intentionally when she made the choice to shoot Mr. Jean. For this reason alone, a murder charge seems to be entirely warranted based on the facts as we know them. The case is currently pending before a Grand Jury, which could potentially increase the charges against Guyger, but we'll have to wait to see how that process plays out.
Quite honestly, it seems clear that if it were not for the fact that she is a police officer, Guyger would have been taken into custody immediately, interrogated by officers, and, most likely, charged with murder. Presumably, the reason that she wasn't is due to the fact that Dallas police officers have protections similar to those available to officers in other parts of the country that allow them to prevent questioning for a certain period of time, sometimes as long as 2-3 days. The obvious advantage of this, of course, is that it allows an officer involved in a questionable shooting sufficient time to come up with might sound like a plausible story, something that the average criminal suspect isn't able to do unless they invoke their right to counsel. While there might be a good argument in favor of this practice, it doesn't always make sense. This is particularly true in this case where the shooting occurred while Guyger was off-duty. In those situations, one could make an argument that, as a matter of policy, the normal deference allowed to a police officer should not apply and people like Guyger should be treated the same way a civilian would.
Firing Guyger was obviously the proper thing to do here, now it's up to the justice system to see that she is properly held accountable for her actions. That can start with the Grand Jury increasing the charges that she faces to meet the seriousness of the offense that she has committed.