Former Dallas Cop Convicted Of Murder In Shooting Death
Former Dallas police officer Amber Guyger was convicted of ,murder in the death of Botham Jean, an innocent man who was murdered for the "crime" of being in his own apartment.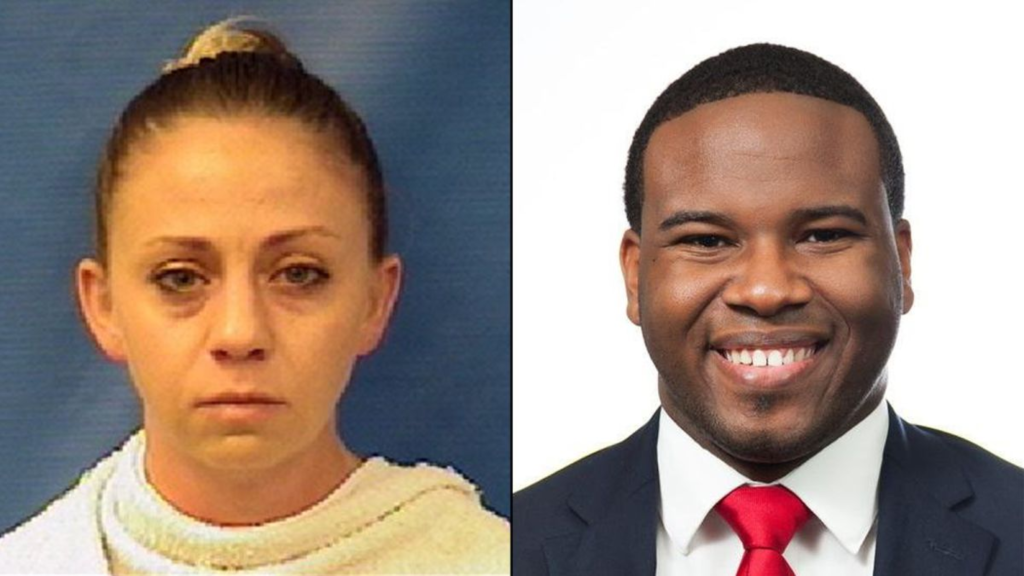 Amber Guyger, the off-duty Dallas police officer who shot and killed Botham Shem Jean under circumstances that remain entirely suspicious, has been convicted of murder and now faces the prospect of life in prison without parole:
The Dallas police officer who killed her neighbor after she walked into his apartment thinking it was her own has been convicted of murder, according to local reports.

Tuesday's verdict elicited cheers from the hallway outside the courtroom and sobs from family of the victim, the Dallas Morning News reported. It followed a high-profile seven-day trial that reconstructed the evening of Sept. 6, 2018, when Amber Guyger mistakenly entered Botham Jean's apartment. The off-duty officer said she thought she was in her unit, one floor below, and that the 26-year-old accountant was burglarizing her home.

But Guyger, a white woman who had just finished a long shift at work, was on the wrong floor of the building. In a matter of seconds, prosecutors said, Jean — an unarmed black man watching TV and eating ice cream in his own apartment — was dying on the ground, a fatal gunshot wound in his chest.

The shooting touched off days of protests in Dallas and demands for police reform. Many saw it as another egregious example of a white officer killing an unarmed black man, part of a pattern of police wielding deadly force disproportionately against people of color.

But the unusual facts of this case made it unique among other high-profile fatal police shootings, most of which are never even prosecuted.
During the trial, Guyger took the stand, offering a tearful defense and repeated apologies.

"I shot an innocent man," she said during her testimony, the first time the public had heard from her since the shooting.

Guyger's lawyers have said the 31-year-old, who was fired from the police force shortly after she killed Jean, was exhausted and scared when she heard someone inside the unit she thought was her own that night. She opened the door, saw a "silhouette figure" in the dark apartment and feared for her life, they said. She said she asked to see his hands, but he just walked toward her. She fired two shots.

By her own admission, she was shooting to kill.

But because she believed she was in her own home, her legal team argued, she was within her rights, acting in self-defense. It was "a series of horrible mistakes," the lawyers said — "awful and tragic, but innocent."

(…)

The prosecution cast Guyger as careless and negligent — armed, distracted and too quick to pull the trigger. The state's lawyers called her defense "garbage" and "absurd."

They said a reasonable person would have noticed the illuminated apartment numbers that read 1478, rather than 1378, and would have seen Jean's red doormat. She wasn't paying attention, prosecutors said, because too caught up in a sexually explicit conversation she was having with her partner on the police force.

"I mean, my God," said Jason Fine, the Dallas County Assistant District Attorney. "This is crazy."

Prosecutors also questioned why Guyger even opened the door when she suspected someone was inside, arguing that police training teaches officers confronting a burglar to take cover and call for backup.

"For Amber Guyger, Mr. Jean was dead before that door ever opened," said Jason Hermus, the lead prosecutor.

Jurors had to decide whether Guyger was guilty or not guilty of murder or manslaughter.
More from the Dallas Morning News:
A Dallas County jury convicted fired officer Amber Guyger of murder for fatally shooting Botham Jean in his apartment last year.

Cheers broke out in the hallway outside the courtroom after the verdict was announced.

Jurors will now resume deliberating to decide Guyger's punishment. In Texas, murder carries a punishment of five to 99 years or life in prison.

The charge is not eligible for probation.

Guyger, 31, fatally shot 26-year-old Jean in his apartment last year. She had said she mistook his apartment for her own and thought Jean was a burglar. She is the first Dallas officer convicted of murder since the 1970s.

Jurors began deliberating Monday after the prosecution and Guyger's defense presented closing arguments. They delivered their verdict after about five hours of deliberations.

Jean's mother, Allison Jean, leaned her head back as state District Judge Tammy Kemp read the verdict. Her daughter, Allisa Findley, slumped in her seat, put her face in her hands and wept.

Allison Jean's face crumpled as she put both hands in the air. As she walked out of the courtroom, she said "God is good. Trust him."

One woman in a red dress in the gallery cheered and clapped her hands.

A bailiff immediately yelled "no" and she was quiet.

Jean's grandmother raised her right fist in the air as she left the courtroom.

After hearing the verdict, Guyger stood still until the jury left. Then, she sank down into her chair.

(…)

Guyger left the courtroom about 15 minutes after the verdict. She'll be back when the sentencing phase of her trial begins about 1 p.m.
This story began just over a year ago when Guyger, a Dallas police officer coming off a long shift, returned to her apartment. Instead of entering her 5th-floor apartment, though, she entered the 4th-floor apartment of Botham Jean, a neighbor who she apparently had never had contact before. In any event, the door to Botham's apartment was unlocked, although it isn't clear why, so Guyger entered continuing to believe, according to her testimony, that she was in her apartment. Given the fact that the apartment numbers were different, and that the entrances were different, this claim never seemed credible from the start.
For example, Jean's doorway has a large bright-red doormat lying on the floor in front of the doorway. Guyger's apartment has no such doormat of any kind or color. Even notwithstanding the fact that she was carrying several items at the time, it seems implausible that Guyger would not have noticed this difference. Additionally, as noted above, several of Jean's neighbors reported hearing a woman pounding on the door to be let in, shortly after which they heard the gunshots and a male voice, presumably Mr. Jean's asking  "Oh my God, why did you do that?" This stands in marked contrast to Guyger's version of events, under which she allegedly arrived at what she thought was her apartment to find the door ajar and that she saw someone she thought was a burglar. Guyger goes on to claim that she shouted standard police commands at the supposedly unknown person and that she shot him because he was not obeying those commands and the alleged fact that she believed her life was in danger. On this note it is worth noting that none of the reports quoting Mr. Jean's neighbors report hearing a female voice shouting anything other than  "Let me in!" and "Open up!" and that there are no reports of anyone hearing Guyger identify herself as a police officer, which would normally be something you would expect to hear a police officer say before shooting someone.
One of the more controversial aspects of the trial was the fact that Guyger's lawyers were effectively invoking the Castle Doctrine, which gives a person almost complete immunity to defend themselves inside their home or certain other places such as an automobile. In some sense, it is related to the controversial Stand Your Ground Doctrine, although the legal protections granted by the second defense go far beyond one's home or other personal space to include encounters in public. Additionally, the Castle Doctrine predates Stand Your Ground laws by many decades and has support in long-standing self-defense laws. In any case, the defense argued that they should be allowed to rely on the defense and, in a decision that the prosecution strongly objected to, the presiding judge ruled that the jury could consider the defense but it would have essentially required the jury to find that Guyger's belief that she was in her apartment was reasonable. Obviously the jury did not find this belief to be reasonable under the circumstances.
As noted, Guyger could be sentenced to anything ranging from 5 to 99 years in prison, or to life in prison. The sentencing process begins at 1:00 p.m. Central Time today, but it is unclear if this is merely the beginning of the process or if the case will continue much as it would if this were a case where the prosecution was pursuing the death penalty.
Based on the evidence, it's clear that this conviction is entirely justified. Guyger's claim that she thought she was in her own apartment has ever been credible. Even if it was, the prosecution established that Guyger failed to follow proper police procedures, which would include calling for backup and identifying herself as a police officer. Guyger did neither of these things and instead murdered Mr. Jean, a Haitian immigrant, in cold blood. As a result, this verdict is entirely justified.