Former Dallas Police Officer Indicted On Murder Charges In Botham Jean Shooting
Former Dallas police office Amber Guyger has been charged with murder in connection with the September shooting of Botham Jean in his own apartment.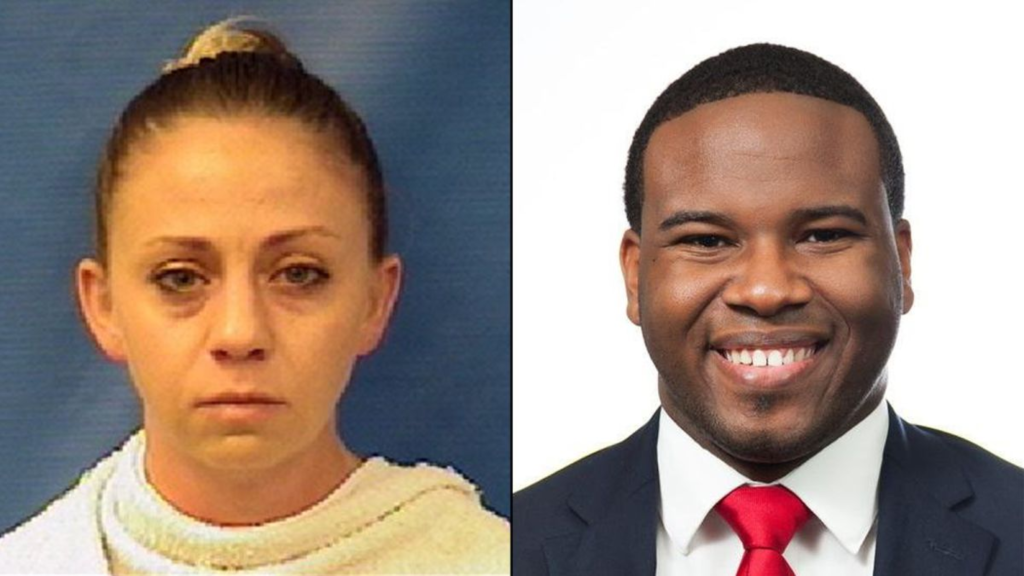 Amber Guyger, the off-duty Dallas police officer who shot and killed Botham Shem Jean under circumstances that remain entirely suspicious, has been charged with murder by a Dallas Grand Jury:
A former Dallas police officer was indicted on a murder charge on Friday for shooting an unarmed, 26-year-old African-American accountant who was watching TV in his apartment, a home that the officer says she mistook as her own.

A Dallas County grand jury charged Amber R. Guyger, 30, over the Sept. 6 killing of Botham Jean in his apartment, which was one floor above hers. If convicted, Ms. Guyger could receive five years to life in prison.

Ms. Guyger, a white officer who was returning from her shift but dressed in uniform at the time, said that she mistook Mr. Jean's apartment for her own, that his door was slightly ajar and that it opened when she tried to unlock it. She thought he was a burglar, she said.

Lawyers for Mr. Jean's family have said that the door was closed, and that neighbors heard someone banging on the door, demanding to be let in, before the gun was fired. Ms. Guyger fired her service weapon twice, striking Mr. Jean once in the torso, according to court documents. Mr. Jean, who worked at PricewaterhouseCoopers, died at a hospital.

Robert L. Rogers, a lawyer representing Ms. Guyger and a former Dallas County prosecutor, said his client was not guilty of murder.

"I'm not surprised that there was an indictment returned, due to what I perceived to be a tremendous amount of outside political pressure, a tremendous outpouring of vindictive emotion towards my client, and actual emotion that I believe was injected into the grand jury process," Mr. Rogers said in an interview.

Mr. Rogers said Ms. Guyger was not guilty because she believed that she was inside her apartment that night.

"I believe it was reasonable for her to believe that she was being threatened with an intruder in her home and therefore she acted in self-defense," he said. "The law justifies her actions."

Mr. Rogers added, "Her heart goes out to the family, and, at the same time, she didn't commit a crime."

Chief U. Reneé Hall of the Dallas Police Department fired Ms. Guyger after her arrest in Mr. Jean's killing and an internal investigation. The department said that she was "terminated for her actions" during her arrest on manslaughter charges.

"We cannot have this culture where we shoot first and ask questions later," said Daryl K. Washington, a lawyer for the Jean family, after the indictment was announced.

The Jean family has also filed a federal lawsuit against Ms. Guyger and the City of Dallas, saying that the off-duty officer used excessive force and violated Mr. Jean's civil rights. Mr. Washington on Friday pointed to what he called "serious training issues" in Dallas, and said departments across the country needed to delve deeper into disproportionate use of force against African-Americans.

Chief Hall said in a statement on Friday that the department had already improved its training and oversight.

Hundreds of mourners attended Mr. Jean's funeral at a church in Richardson, Tex., and he was buried on Sept. 24 in his native country, St. Lucia.

(…)

Protesters rallied for weeks calling for Ms. Guyger to be charged with murder. They demanded justice in front of Dallas Police Headquarters and inside a City Council meeting. They were further roiled when some demonstrators remained in jail for two days, while Ms. Guyger posted a $300,000 bond and walked free within hours. Another rally was held outside a Dallas Cowboys game to protest the jailing of demonstrators.

Dallas County is 40 percent Latino and 23 percent black, and its police chief, sheriff and district attorney are all African-Americans.
More from the Dallas Morning News:
The family of a Dallas man who was killed in his own home expressed relief but little joy Friday after the former police officer who shot Botham Jean was indicted on a murder charge.

"We really are not happy," his father, Bertrum Jean, said, "but we take consolation, we take comfort at this time."

A Dallas County grand jury delivered the indictment against Amber Guyger after weighing the evidence against the fired Dallas officer Monday and Wednesday.

Guyger, 30, initially had been arrested on a manslaughter charge, three days after the Sept. 6 shooting.

Her attorney, Robert Rogers, said Friday that he wasn't surprised by the indictment, considering "all the political pressure and the emotion that seemed to be injected into the process," but that he didn't think the law supported a murder conviction.

"Two innocent lives have been forever changed," he said. "I feel for Botham Jean's family, and I can't imagine the pain they are going through. But when you look at the law, this was a tragic mistake.

"Amber Guyger felt she was in her apartment," he added. "I don't think there is any dispute to that. She was justified in her actions."

Guyger turned herself in at the Mesquite jail about 1 p.m. Friday to be booked on the murder charge, Mesquite police Lt. Stephen Biggs said. She quickly posted a $200,000 bond, nearly three months after posting a $300,000 bond on the original manslaughter charge.

The new count appeared to be only the second murder indictment of a Dallas police officer in at least 45 years, courthouse observers said.

(…)

When Jean, 26, was killed, he had been watching football in his apartment a few blocks north of police headquarters in the Cedars. Guyger, who had just finished her police shift, entered and shot him.

She told authorities she had mistaken Jean's apartment for her own and believed he was a burglar. Jean lived in the apartment directly above Guyger's at the South Side Flats complex.

Protesters rallied for weeks in Dallas after Jean's death. He was buried in his native St. Lucia on Sept. 24, the same day Guyger was fired from the Police Department.

Jean, who grew up on the Caribbean island, came to the U.S. to attend Harding University in Arkansas and later moved to Dallas for a job at PwC as an accountant. He had hoped one day to return to St. Lucia and run for prime minister.

Jean's parents spoke after a news conference where Dallas County District Attorney Faith Johnson announced the murder indictment.

Allison Jean, Botham's mother, pumped her fist when Johnson announced that Guyger would now face a murder charge.

She said she knew her son was a victim of murder "from the very start" and thanked the community and Johnson's office for securing the new charge against Guyger.

"I truly believe that she inflicted tremendous evil on my son," Allison Jean said. "I look forward to the next test, which is a conviction … a proper penalty so she can reflect on what she has done."

Bertrum Jean said the family was relieved by the grand jury's decision but hoped for more comfort to come.

"It is such a hard thing to go through," he said. "We miss our boy dearly."

Sammie Berry, who was Jean's pastor at Dallas West Church of Christ, said the taking of the young man's life was more than just an "unfortunate situation or a perfect storm."

"We want the entire world, the entire community, to pray for the Jean family as they go through the trial and through that process," Berry said.

Johnson said it would be at least a year before the case against Guyger goes to trial. She compared it to the trial of Roy Oliver, a Balch Springs officer who killed 15-year-old Jordan Edwards by firing into a car full of teenagers. In Oliver's case, 16 months passed between the shooting and the trial.

Oliver, who was fired from the Balch Springs police force, was found guilty of murder in August and sentenced to 15 years in prison.

Johnson said that before the Guyger case went to the grand jury, her office did "all kinds of lab testing" and conducted more than 300 interviews with witnesses.

"What I'm saying to you is we did a full, complete presentation to the grand jury," she said.

(…)

The grand jurors​ could have voted to indict Guyger on a manslaughter charge, the count she was initially arrested on, or another charge, or they ​could ​have decided she should face no charges at all.

Because grand jury proceedings are secret, it is unknown exactly what evidence prosecutors presented to the jurors. But attorneys for the Jean family said both Allison Jean, Botham's mother, and his sister Allisa Charles-Findley testified.

After hearing evidence Monday and Wednesday​, ​grand jurors left that night without voting on whether to indict Guyger​. They returned Friday and voted. ​

Court records show the indictment was a "grand jury referral," indicating that prosecutors sought a murder count instead of the manslaughter charge on which Guyger was arrested by Texas Rangers.
As I said earlier this fall when the case first came to light, it was obvious from the beginning that the manslaughter charge under which Guyger was arrested was only the tip of the iceberg and that there seemed to be sufficient evidence to charge her with something more serious. From the beginning, for example, it was clear that the circumstances of the shooting that former Officer Gugyer related simply did not make sense. Specifically, the claim on her part that the door to Jean's fifth-floor apartment, which she contends she thought was her fourth-floor apartment. was ajar when she arrived at what she thought was her apartment, for example, doesn't explain why neighbors report hearing a woman's voice demanding to be let in prior to the shooting. Since Guyger lives alone and apparently had no visitors at the time of the shooting, why would she be demanding to be let into her own home? Additionally, the fact that nobody heard Guyger identify herself as a police officer or otherwise say anything other than demanding to be let in raises questions about her version of events, as does the fact that it simply doesn't sound credible that Guyger, a trained police officer, would somehow mistake Jean's fourth-floor apartment door for her fifth-floor door.
Under Texas law, murder is defined as "intentionally or knowingly caus[ing] the death of an individual." Manslaughter, which is what Guyger is currently charged with is defined as occurring when a person "recklessly" causes death. As I learned early on in my Criminal Law class in law school, the important thing about the intent needed to charge someone with murder or any other crime involving intent is that it doesn't necessarily require pre-planning and it isn't something that can only exist in circumstances where there has been a considerable amount of time. Intent for criminal purposes is something that can form in an instant and simply means that one is acting consciously rather than mistakenly. As David French put it in National Review, while one can make the case that Guyger acted recklessly when she entered the wrong apartment, it seems clear that she acted intentionally when she made the choice to shoot Mr. Jean. For this reason alone, a murder charge seems to be entirely warranted based on the facts as we know them.
Notwithstanding the delay in getting the charges right, things appear to be on course for this case to be handled by the justice system in the manner that it should be handled. In the end, it may turn out that the facts adduced at trial will end up justifying a conviction for manslaughter rather than murder, but that is for the finder of fact, be it a Judge or Jury, to determine. Additionally, Guyger is entitled to the same presumption of innocence before the verdict that every other criminal defendant receives. Under Texas law, a conviction of murder carries with it the potential maximum sentence of life in prison whereas the manslaughter charge that had been previously pending carried a maximum of twenty years in prison. We'll find out at some point in the next year or so which way things go for Guyger, but at the very least it is good to see that the system more or less worked in this case. Too often, that's not the case when it comes to police-involved homicides.