Video Of Police Arresting Utah Nurse Over Blood Test Leads To National Controversy
A Nurse in Utah stood up for her patient's rights, and was harassed by the police for her efforts.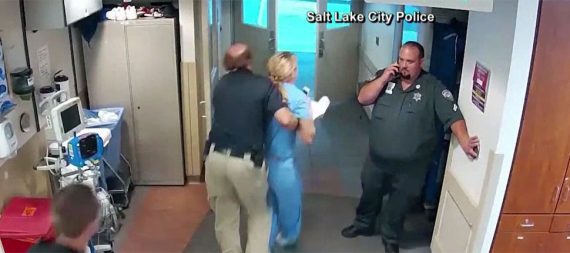 A police officer in Utah has been suspended after a video emerged showing him arresting and manhandling an Emergency Room nurse who refused to allow him to draw blood from a patient without a search warrant:
The body camera video from a Salt Lake City police officer in an emergency room at University of Utah Hospital was rife with tension.

For almost 21 minutes, the video showed the officer, Jeff L. Payne, and a nurse, Alex Wubbels, locked in a battle of wills.

Officer Payne demanded that she draw blood from a sedated patient as part of an investigation into a car crash. Ms. Wubbels steadfastly said hospital policy did not allow it because it did not meet one of three criteria: The person was not under arrest, and the police had neither a warrant nor the patient's consent. She said she had checked with several hospital administrators and managers who supported her position.

The officer continued to accuse Ms. Wubbels of interfering with a criminal investigation. "If I don't get to get the blood, I'm taking her to jail," he said, adding later: "I either go away with blood in vials or body in tow. That's my only two choices."

Ms. Wubbels put her boss, Brad Wiggins, on speakerphone and he told Officer Payne, "Sir, you're making a huge mistake" by threatening a nurse. With that, Officer Payne said, "We're done," and moved to take Ms. Wubbels into custody.

She took a few steps back and screamed, "Somebody help me!" as Officer Payne pushed her through two sets of doors out of the emergency room and outdoors, twisted her so she was partly facing a wall and placed her in handcuffs.

Excerpts from the video, which came to light at a news conference by Ms. Wubbels and her lawyer on Thursday, gained widespread attention.

The video led to apologies from the mayor of Salt Lake City, Jackie Biskupski, and the police chief, Mike Brown, on Friday and an outpouring of support for Ms. Wubbels, 41. Investigations by the Police Department's Internal Affairs unit and the city's Civilian Review Board are also underway, the mayor said in a statement.

"These are officers of the peace," Ms. Wubbels said in an interview on Friday. "There was nothing peaceful about this incident."

The episode unfolded on July 26 as the Salt Lake City police were helping another police department in an investigation of a driver who had crashed into another vehicle while fleeing the police. The fleeing driver was killed, according to a report filed by Officer Payne, and the other driver was flown to Utah Hospital.

Officer Payne wrote that he was seeking to draw blood from the patient to check if he had "any chemical substances in his system at the time of the crash," though it was not clear why.

He wrote that he spoke with Ms. Wubbels, who was the nurse in charge in the burn unit, and tried to explain the "exigent circumstances" of the request.

The confrontation intensified as they headed to the emergency room from the burn unit upstairs.

"I'm just being told what to do by my entire hospital," she said, referring to her administrators.

Officer Payne responded, "And I'm being told what to do by my boss, and I'm going to do what my boss says."

Officer Payne could not be reached on Friday. Chief Brown said in a statement on Friday that he was alarmed by the video.

"I want to be clear, we take this very seriously," he said, adding, "Within 24 hours of this incident, Salt Lake City Police Department took steps to ensure this will never happen again."

In a statement on Friday, the Police Department said that it was conducting a criminal investigation into the episode and that the officer involved would be placed on administrative leave.

Ms. Wubbels, a nurse at the hospital since 2009, said she was adhering to hospital policies and the law. The United States Supreme Court has ruledthat the police do not have the right to draw blood in drunken-driving investigations without a warrant.

"It wasn't like she decided she was a constitutional scholar," her lawyer, Karra J. Porter, said in an interview on Friday.

No charges were filed against Ms. Wubbels, who was in handcuffs for about 20 minutes before being released. Ms. Wubbels said she wanted to use the episode to educate medical professionals and the police and to "open a civic dialogue."

University of Utah Health, which runs the hospital, supports Ms. Wubbels and is "proud of her decision to focus first and foremost on the care and well-being of her patient," Kathy Wilets, a spokeswoman, said in an email. "She followed procedures and protocols in this matter and was acting in her patient's best interest."
Here's the video of the incident that's been made available to the public, the shorter video shows the height of the confrontation between Ms. Wubbles and the police, while the longer one consists of a local news station's report on the case that has a longer version of the body camera footage that has been released in this case and a third video posted by Desert News that appears to consist of the entirety of the body cam footage:
The Salt Lake City Tribune argues in an Editorial today that there was no justification for the way police treated Nurse Wubbels in this situation:
The legalities of the situation are such that the mayor and the chief are unlikely to say anything more about the matter until the police internal affairs investigation and a parallel Civilian Review Board examination are finished. But, to the rest of us, serious questions remain and firm action is necessary.

Unless the investigations turn up something that is not now apparent, it seems clear that Payne should already have lost his job, and that his certification to be a law enforcement officer should be permanently revoked. The fact that he was removed from the roll of officers who are allowed to take blood samples, but not placed on leave until the matter became public and a criminal investigation launched, can only serve to undermine public confidence in the whole department.

Going forward, officials must make sure that police officers are fully trained in the law of searches and in the policies of the medical institutions they interact with. It was also troubling to see other law enforcement officers who were present at the time do nothing to intervene or to de-escalate the situation, as it was to hear that Payne was acting on instructions from a police supervisor.
At the end of the day, there is little doubt about who is in the right here, and it's clearly not the police. Not only is the requirement for either a warrant or patient consent for police to draw blood in a situation like this hospital policy, it is also the law. Utah law on the subject, for example, is clear and states that the "implied consent" that exists for a breathalyzer test in DUI cases does not apply to cases involving blood testing. Instead, the relevant state law requires the police to apply for and obtain a warrant for such a test from a duly authorized judge based on probable cause. Additionally, the Supreme Court ruled in a 2016 case called Birchfield v. North Dakota has ruled that the "implied consent" exception to the Fourth Amendment's warrant requirement does not apply to blood tests. As I noted at the time this decision was handed down, the Court's distinction between breath analysis and blood testing in a case involving driving under the influence was a reasonable application of the balancing test that it has often applied in cases such as this. At the same time, the Court left somewhat unanswered the question of what would happen in a situation such as this where the police were seeking to draw blood from an unconscious patient before the time during which blood alcohol levels would begin to fall from where they had been during the time of an accident or another event that led them to be admitted to the hospital was about to expire. Until the Court clearly makes a distinction for such cases, though, the law is clear and the officer was clearly in the wrong for even attempting to conduct a blood test in this situation without first obtaining a search warrant. All of which makes his treatment of Nurse Wubbels not only inappropriate but also potentially illegal.
While much of the national news media has been deep in coverage of the aftermath of Hurricane Harvey and its impact on the Houston area and other parts of the South, this video has gone viral and the reaction has been swift and severe. Even conservatives who have normally jumped to the defense of police in past examples of obvious police abuse have found it hard to defend what can clearly be seen here. What we clearly see is an officer who was abusing his authority, not only with respect to the unconscious patient whose rights he was seeking to violate but also with respect to Ms. Wubbles who was simply doing her job by enforcing hospital policy and, as I noted, protecting the rights of her patient under both that policy and all applicable law. In fact, the requirement for a warrant in these situations has been the law in Utah since at least 2007, well before the Supreme Court made it the law nationwide. As a result, it seems entirely implausible to me that the officer would be unaware of what the law is in his state and based on last year's Supreme Court ruling. Additionally, it appears that his arrest of Ms. Wubbles was a clear violation of department policy in situations like this. Given the lack of justification both for her detention and arrest and for the underlying demand for a blood test, it seems clear that this officer ought to be removed from the force and never allowed to carry a badge and a gun again and that he ought to be charged with assault, battery, and unlawful imprisonment for taking Ms. Wubbles into custody. Indeed, Reason's Scott Shackelford is correct when he argues that every officer involved in the incident needs to be fired:
What Payne did here is patently, inescapably wrong in just about every possible way. Just one year ago the Supreme Court ruled that police must get a warrant or consent in order to draw a person's blood. It's utterly inconceivable that Payne, who is a trained phlebotomist with the police, did not know this. According to coverage from the Salt Lake Tribune, Payne acknowledged that he didn't have probable cause to get a warrant, but nevertheless insisted he had the authority to demand Wubbels draw blood.

But Payne did not have the authority to demand the blood draw and Wubbels was not "interfering" with a police investigation as they insisted at the time. Unsurprisingly, she was released later at the hospital and was not charged with any crime.

In fact, the claim that this blood draw was part of an "investigation" at all adds another layer of revulsion to Payne's behavior. The unconscious man Payne wanted blood from was not suspected of any crime and had done nothing wrong. He was, in fact, a victim of a crime.

The patient, William Gray of Idaho, was driving a semi truck in Northern Utah when he was struck head-on by a man who veered into oncoming traffic on a highway in Wellsville on July 27. That driver, who died in the crash, was fleeing from the police in a high-speed chase. Utah Highway Patrol officers were responding to calls about an erratic driver, and the man, Marco Torres, 26, led police on a chase rather than get pulled over and detained.

So Gray's terrible injuries were a consequence of a police chase that he had absolutely nothing to do with. He was in the wrong place at the wrong time. According to the coverage of the arrest, Payne said that he wanted to draw blood from Gray to check for drugs in order to "protect" him in some fashion, not to punish him, and that he was ordered to go collect his blood by police in Logan. It is not made clear in any coverage what exactly the police would protecting him from by drawing his blood without his consent while he was unconscious. Payne also said it was his watch commander, Lt. James Tracy, who told him to arrest Wubbels if she refused to draw blood.

Payne has been suspended from the police's blood draw program but remains on duty. He needs to be shown the door. It doesn't matter if he was just following orders, he should have known he didn't have the authority. For that matter, Wubbels herself was just following orders. She served the hospital, which had strict guidelines for drawing blood that the police were attempting to bully her into ignoring.

Tracy needs to be shown the door, too. We don't see Tracy in the video acting the way Payne did, but it's very clear from the Tribune's coverage that the lieutenant did also insist that he had the authority to force Wubbels to draw blood, even though he most assuredly did not.
As of this morning, there have been some positive developments that would appear to indicate that justice will be done. Local prosecutors have opened an independent criminal investigation of the incident in addition to the internal investigation launched by the police department. Salt Lake City's Mayor and Police Chief, meanwhile, have apologized to Wubbels for her treatment, and two of the officers have been placed on administrative leave. This is a vast improvement over the departments initial reaction, which involved removing Officer Payne from the blood draw program but allowing him to remain on active duty. Much of this is due to the national attention that the case has gotten since the body cam footage was released, a fact which seems to me to strengthen the argument for mandating the use of police body cams in all jurisdictions. After all, if this had happened without such footage being available it's probably that Payne would still be on duty and free to continue to violate the rights of the people of Salt Lake City. The only question that remains is how many Officer Paynes there are out there that we don't hear about.