The Mentality Of Roy Moore's Defenders
Roy Moore's most die-hard defenders are living in a world of their own, and it's unlikely they'll change their minds.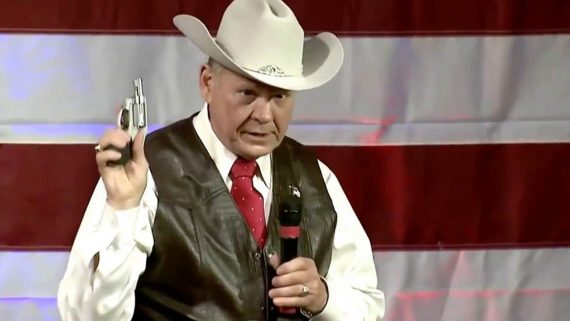 Perhaps one of the most insane things to manifest itself in the wake of the reports about Roy Moore's behavior toward teenaged girls in the late 1970s and 1980s has been the response of many of his supporters. Both in interviews with the press and on social media, there are people out there who are openly admitting they'd still support him even if the molestation charges are completely true.
Here's one case in point:
If my choices are to support pedophiles or democrats then yeah, I would rather support a pedophile. A pedophile only screws kids while democrats screw everyone. As an independent voter, I can't see any reason why I should ever vote for a democrat / socialist again.

— Carroll Bryant (@CarrollBryant) November 10, 2017
As an independent voter, I would rather support a pedophile than a democrat any day. Democrats are socialists and are the most evil people in the world, running neck and neck with ISIS / terrorists. Just right below pedophiles.

— Carroll Bryant (@CarrollBryant) November 10, 2017
Or consider this:
I'd be fine with a child predator in the Senate so long as it would keep the Democrats from stealing this seat. Child molesters are evil, Democrats are even worse

— Eric Dondero R. (@EricDonderoR) November 11, 2017
Granted, this is just two people on Twitter, and neither one of them has a very large amount of followers. In the days since the Washington Post report was made public, though, this is hardly an isolated opinion. As I noted in my post on Saturday, these are just examples of something that has been all to common in the days since the original report was released by The Washington Post. 
Take, for example, this comment by Alabama's Republican State Auditor:
An Alabama state official on Thursday dismissed a Washington Post report alleging that GOP Senate candidate Roy Moore had initiated a sexual encounter with a 14-year-old girl decades ago, saying there was an age gap between the biblical Joseph and Mary. The Post also alleged that Moore had pursued three others when they were between the ages of 16 and 18 and he was in his early 30s.

"Take Joseph and Mary. Mary was a teenager and Joseph was an adult carpenter. They became parents of Jesus," Alabama State Auditor Jim Zeigler told The Washington Examiner. "There's just nothing immoral or illegal here. Maybe just a little bit unusual."

In the Bible, Mary is the mother of Jesus, and Joseph became her husband. Beliefs about the specific story of Joseph and Mary and Jesus' birth vary widely in Christian history and across traditions. Mary is referred to in scripture as a virgin, but there is disagreement about what that means. Generally, however, Christians believe that Mary was a virgin when he was born. Joseph is usually referred to as Jesus' "father" or a father figure.
Toronto Star political reporter Daniel Dale documented on Twitter, that's far from the case:
"It was 40 years ago," Alabama Marion County GOP chair David Hall tells me. "I really don't see the relevance of it. He was 32. She was supposedly 14. She's not saying that anything happened other than they kissed."

— Daniel Dale (@ddale8) November 9, 2017
Me: "The story said she said he tried to get her to touch his genitals." Hall: "Well, she said he may have TRIED to. But we're talking something that somebody SAID happened, 40 years ago. It wouldn't affect whether or not I'd vote for him."

— Daniel Dale (@ddale8) November 9, 2017
After a long pause, Alabama Bibb County Republican chairman Jerry Pow tells me he'd vote for Roy Moore even if Moore did commit a sex crime against a girl.

"I would vote for Judge Moore because I wouldn't want to vote for Doug," he says. "I'm not saying I support what he did."

— Daniel Dale (@ddale8) November 9, 2017
"These allegations that surfaced today – to my knowledge, they're all bunk. No credibility whatsoever," Mobile County Republican chairman John Skipper tells me.

— Daniel Dale (@ddale8) November 9, 2017
If these allegations against Moore were true, Mitch McConnell's anti-Moore allies would have obviously found them and released them during the primary, Mobile County Republican chairman John Skipper tells me.

— Daniel Dale (@ddale8) November 9, 2017
Alabama Covington County GOP Chairman William Blocker tells me Democrats convinced these women to tell a fake story to damage Moore.

I told him the 14-year-old became a Trump voter.

"That's the typical background or profile of somebody they would be using for that," he said.

— Daniel Dale (@ddale8) November 9, 2017
"If they said she was a Hillary supporter, then she'd be more dismissed by the local voters here in the state of Alabama. You'd have to paint her as a Trump supporter to be of any credibility," Covington County GOP Chairman William Blocker says.

— Daniel Dale (@ddale8) November 9, 2017
"Yeah!" Covington County GOP Chairman William Blocker tells me he'd consider voting Moore even if hard proof of sexual abuse emerged.

"There is NO option to support to support Doug Jones, the Democratic nominee. When you do that, you are supporting the entire Democrat party."

— Daniel Dale (@ddale8) November 9, 2017
"Other than being with an underage person – he didn't really force himself," Alabama Geneva County GOP chairman Riley Seibenhener tells me. "I know that's bad enough, but I don't know. If he withdraws, it's five weeks to the election…that would concede it to the Democrat."

— Daniel Dale (@ddale8) November 10, 2017
Alabama Geneva County GOP chairman Riley Seibenhener, who called me back, says he doesn't believe the allegations are true, but if they're true he won't support him – but, at the same time, it's not "forcible rape."

"I know that 14-year-olds don't make good decisions," he adds.

— Daniel Dale (@ddale8) November 10, 2017
Politico's Daniel Strauss find similar defenders where it really matters, in Moore's home state
BIRMINGHAM, Ala. — Roy Moore's supporters are shocked and angry. But it's not Moore they're upset with, after four women came forward to say that Moore pursued relationships with them when they were teenagers and he was in his 30s.

(…)

Moore, a former state Supreme Court judge who was removed from the bench twice, has instead denied and denounced the charges against him. "These attacks involve minors, and they are completely false and untrue — about something that happened nearly 40 years ago," Moore said Saturday.

His supporters focused more on the timing of the accusations and the messenger than on the content.

Many took aim at the Post, which reported the story on Thursday and has been a frequent target of President Donald Trump's Twitter screeds against the media. (Moore called the story "fake news" and promised "revelations about the motivation and the content of this article.")

"The Washington Post has about as little credibility as Hillary [Clinton]," said Bob Sanders, a former lobbyist and longtime Moore supporter who also attended the speech.

"I think that it's politically motivated," said Sallie Bryant, the Republican Party chair in Jefferson County, Alabama's most populous county. "I am party chairman, and so therefore I am for the party's nominees and for our candidates, but I really feel like the timing of this is very suspicious."

Moore also cast doubt on the women themselves, accusing them of harboring political motivations. (Corfman told the Post she was a Republican supporter and voted for Trump in 2016.)

"I've been investigated more than any other person in this country. That these grown women would wait 40 years to come forward right before an election to bring charges is absolutely unbelievable," Moore said to applause.
Moore is also being defended by the usual suspects on cable news and by Donald Trump's former top strategist Steve Bannon, who is now back at Breitbart and leading the charge against the so-called GOP "establishment" figures opposing Trump's agenda and speaking out against candidates like Moore, who Bannon endorsed in September's runoff primary election against Senator Luther Strange. Among other things, Bannon has accused the women quoted in the report and the reporters who wrote it of trying to destroy Moore with false charges and compared the release of the claims just over a month before the December 12th election to last October's release of the Access Hollywood tape where Trump could be heard making incredibly outrageous comments about a woman who he was trying to lure into a sexual relationships. One problem with Bannon's analogy, of course, is the fact that the Access Hollywood tape was real and that the Trump campaign never denied its authenticity. Additionally, the release of that tape was followed by a plethora of claims by women who said that they had been sexually harassed by Trump over a number of years prior to the time he became a candidate for President. So, if this is akin to that incident, then Bannon is implying that there's more to come out about Moore than what we learned last week.
Reactions such as this have led many people to wonder how anyone could be so incredibly partisan that they would actually defend someone who stands accused in a very credible report of having molested a young underage teenager, of openly pursuing relationships with teenagers half his age, something that co-workers at the time have said was open knowledge among his colleagues, and was providing said teenagers with access to alcohol at a time they were under the legal drinking age.
Strauss's colleague Eric Vasco tries to explain what is going on inside the heads of the people defending Moore:
What's going on? Partisanship often overrides religious or moral values in Alabama—which largely accounts for the divergent responses to Moore's scandal in the state versus the rest of the country. But that also makes Moore's case an interesting litmus test for Alabama, amid a national outing of sexual abusers in entertainment, government and the media. Will the state stand by a man who promises policies that much of the electorate wants and who holds similar religious views, or will it abandon him?

Moore, who has made a career touting the Ten Commandments and defying federal authority, is a hero to many voters in Alabama, a deeply conservative and religious state where half the residents identify as evangelicals and say they oppose both abortion and LGBTQ rights. Moore, to say the least, has been outspoken on these issues. And an estimated one-third of voters in the state Republican Party, which dominates in Alabama, consistently support him.

"Voters in this state have a history of ignoring sexual misconduct," says Larry Powell, a professor of communications studies at the University of Alabama at Birmingham, a political consultant and the author of books on state politics. "They voted for Trump, and he still has strong support in this state." Steve Flowers, a former state representative turned political commentator, also cites "Big" Jim Folsom, who had a penchant for kissing women on the campaign trail, saying he would start "with the 16-year-olds" and work his way to older ones from there. Folsom fathered a child out of wedlock while Alabama's governor in the 1940s and was again elected governor in 1954.

(…)

There is already a sustained campaign among some state GOP officials and supporters to dismiss the allegations as fabrications desperately cooked up by the liberal media and the Democratic Party. They point to media reports that one of Moore's accusers was a sign-language interpreter for Hillary Clinton and other Democrats as evidence of a conspiracy. "A lot of people here won't believe anything the Washington Post prints," Flowers says. "Their attitude is, 'If the Jasper Daily Mountain Eagle says it, I will believe it.'"

Many Republicans note the allegations are decades old and question the timing during a high-stakes election when Republicans hold only a thin margin in the U.S. Senate. None of the accusers went public when Moore was elected chief justice in 2000 and 2012 and when he ran unsuccessfully for governor in 2006 and 2010, making the women's stories even more suspicious, many Republicans here say. In media interviews, the lawyer for Leigh Corfman, the woman who told the Post about a sexual encounter with Moore when she was 14, has said Corfman was afraid to come forward earlier out of concern for her now-adult children.

As the week wore down, many in Alabama wondered why it took so long for the allegations to become public.

"This has been the one that got away for more than one Alabama political reporter," says Kyle Whitmire, a reporter and political columnist for al.com, which serves Birmingham, Huntsville and Mobile. "The rumors have been there, but tracing them back to their sources has always led to dead ends and leads gone cold."

Whitmire says he was approached a few years ago via social media by a person he described in an email to POLITICO Magazine as "a woman who claimed to be a friend of a friend of the woman in the Post's story." The friends encouraged her to step forward, Whitmire wrote in the email, "but as I understood it at the time, she was very afraid of potential blowback—which has now proven all too warranted—and decided against going public."
To a large degree, I think the biggest factor for many of the people defending Moore and saying that they would still support him over a Democrat or alternative candidate even if the allegations are true can be explained by the partisanship that Vasco found in his discussions with Moore supporters. Just as with the people who have been diehard supporters of Donald Trump ever since he entered the race regardless, or even because, of the outrageous, insulting, and shocking comment he made in campaign speeches, media appearances, and on his Twitter feed, the diehard supporters of Roy Moore seem to be supporting him for a combination of two reasons.
First, there's the fact that they largely agree with him when it comes to the political views he espouses, even when it comes to the idiotic and offensive things he says about gays, lesbians, and transgender Americans, immigrants, Muslims, and others. The fact that he was booted twice from the State Supreme Court for defying the orders of a Federal District Court Judge is seen by them as a badge of honor rather than a disqualifying factor. In part, this is because the reasons he was booted include refusing to comply with an Order to remove a Ten Commandments monument from the grounds of the Supreme Court and, in the second case, it was for refusing to comply with an Order to comply with the Supreme Court's ruling on same-sex marriage in Obergefell v. Hodges and his effort to get Probate Judges across the state to refuse to issue marriage licenses to same-sex couples. To these people, this is a sign of a man standing up for there values, and the Judges are seen as trying to enforce outsider values on their state even though, in both cases, the Judges in question were also born and raised in Alabama or other parts of the Deep South. We can see this in the fact that they voted overwhelmingly for him when he sought to return to the State Supreme Court in 2012. To them, this attack from The Washington Post is another example of outsiders attacking Roy Moore for his politics, and they dismiss the claims of the women precisely because of the source of the original report.
In addition to politics, the other thing that clearly seems to be motivating the staunchest of Moore's defenders is clearly cultural. To these people, the attacks on Moore, whether over his actions as Chief Justice or as a candidate for political office, are coming from people and parts of the country that they quite obviously consider to be cultural enemies. The fact that the women accusing Moore of improprieties now are all fellow native Alabamans doesn't matter to them. What matters is the fact that the reports originated with the so-called "enemy" in what Sarah Palin dubbed, and these conservatives now call the "lamestream media," which is the enemy as far as they're concerned. The fact that this attitude is reinforced by the news sources they follow — such as Fox News Channel, Breitbart, the conservative blogosphere, and talk radio hosts like Rush Limbaugh, Sean Hannity, and Mark Levin — just reinforces what they already believe, that the outsiders are out to get them. This is why we see reports such as the news that Evangelicals in Alabama are saying they are more likely to support Moore after the charges contained in the Post report, that Sean Hannity listeners are quite literally destroying their Keurig machines because the company pulled their ads from Hannity's Fox News Channel show after he defended Moore, why white southerners believe they are "under attack," and why Roy Moore will probably win on December 12th notwithstanding these revelations about his past. As long as people believe things like these, getting them to change their minds isn't going to be easy, and having a rational discussion with them is basically impossible.
I have no idea at this point what's going to happen in Alabama on December 12th. Polling in the race has shown it to be tighter than one would normally expect for a statewide race in Alabama, and as Steven Taylor noted yesterday, initial polling since Thursday shows the race tightening further. At this point, though, the poll average still shows Moore comfortably ahead. Perhaps things can change if Democrats put some last minute money behind Doug Jones, but I wouldn't be too optimistic about that. This is Alabama we're talking about after all.