Republican Senate Nominee Roy Moore Accused Of Abusing Four Women When They Were Teens
Republican Senate nominee Roy Moore is accused of having molested a 14-year-old girl when he was in his 30s.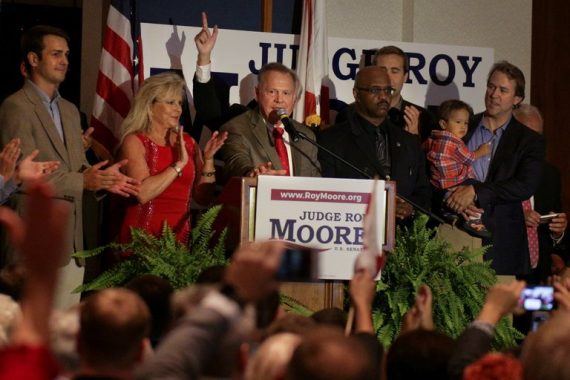 The Washington Post is out with a report that could end up having a big impact on the Special Election to fill the Senate seat vacated by Attorney General Jeff Sessions, specifically the allegation that Republican nominee Roy Moore sexually abused at least four women when they were teenagers and he was a young District Attorney in his 30s:
Leigh Corfman says she was 14 years old when an older man approached her outside a courtroom in Etowah County, Ala. She was sitting on a wooden bench with her mother, they both recall, when the man introduced himself as Roy Moore.

It was early 1979 and Moore — now the Republican nominee in Alabama for a U.S. Senate seat — was a 32-year-old assistant district attorney. He struck up a conversation, Corfman and her mother say, and offered to watch the girl while her mother went inside for a child custody hearing.

"He said, 'Oh, you don't want her to go in there and hear all that. I'll stay out here with her,' " says Corfman's mother, Nancy Wells, 71. "I thought, how nice for him to want to take care of my little girl."

Alone with Corfman, Moore chatted with her and asked for her phone number, she says. Days later, she says, he picked her up around the corner from her house in Gadsden, drove her about 30 minutes to his home in the woods, told her how pretty she was and kissed her. On a second visit, she says, he took off her shirt and pants and removed his clothes. He touched her over her bra and underpants, she says, and guided her hand to touch him over his underwear.

"I wanted it over with — I wanted out," she remembers thinking. "Please just get this over with. Whatever this is, just get it over." Corfman says she asked Moore to take her home, and he did.

Two of Corfman's childhood friends say she told them at the time that she was seeing an older man, and one says Corfman identified the man as Moore. Wells says her daughter told her about the encounter more than a decade later, as Moore was becoming more prominent as a local judge.

(…)

Corfman describes herself as a little lost — "a typical 14-year-old kid of a divorced family" — when she says she first met Moore that day in 1979 outside the courtroom. She says she felt flattered that a grown man was paying attention to her.

"He was charming and smiley," she says.

After her mother went into the courtroom, Corfman says, Moore asked her where she went to school, what she liked to do and whether he could call her sometime. She remembers giving him her number and says he called not long after. She says she talked to Moore on her phone in her bedroom, and they made plans for him to pick her up at Alcott Road and Riley Street, around the corner from her house.

"I was kind of giddy, excited, you know? An older guy, you know?" Corfman says, adding that her only sexual experience at that point had been kissing boys her age.

She says that it was dark and cold when he picked her up, and that she thought they were going out to eat. Instead, she says, he drove her to his house, which seemed "far, far away."

"I remember the further I got from my house, the more nervous I got," Corfman says.

She remembers an unpaved driveway. She remembers going inside and him giving her alcohol on this visit or the next, and that at some point she told him she was 14. She says they sat and talked. She remembers that Moore told her she was pretty, put his arm around her and kissed her, and that she began to feel nervous and asked him to take her home, which she says he did.

Soon after, she says, he called again, and picked her up again at the same spot.

"This was a new experience, and it was exciting and fun and scary," Corfman says, explaining why she went back. "It was just like this roller-coaster ride you've not been on."

She says that Moore drove her back to the same house after dark, and that before long she was lying on a blanket on the floor. She remembers Moore disappearing into another room and coming out with nothing on but "tight white" underwear.

She remembers that Moore kissed her, that he took off her pants and shirt, and that he touched her through her bra and underpants. She says that he guided her hand to his underwear and that she yanked her hand back.

"I wasn't ready for that — I had never put my hand on a man's penis, much less an erect one," Corfman says.

She remembers thinking, "I don't want to do this" and "I need to get out of here." She says that she got dressed and asked Moore to take her home, and that he did.
The reporters who wrote the Post report also interviewed friends of Corfman at the time who recalled her sharing at least some of the details that she alleges in her statements today, as well as others who remember her telling them that she was in a "relationship" with an older man. Additionally, the report includes reports from three other women of relationships between them and Moore around the same period of time when they were aged between 16 and 18 and Moore was in his 30s. At the time, the age of consent in Alabama was 16, so those reports are potentially not as serious as those made by Corfman, who was clearly underage at the time of the alleged incidents. Those additional reports don't include as much graphic detail as the allegations by Corfman, so it's unclear if Moore's conduct in those cases rose to the level of sexual assault of some kind, but it seems clear from the women's statements that the advances were largely unwanted and that Moore had plied them with alcohol at a time when they were below the drinking age, which was 19 at the time these events allegedly occurred. If these allegations are true, though, it's likely that there are other women out there who had similar run-ins with Moore over the years.
All of this is happening, of course, in the midst of an increasing trend of women coming forward to allege sexual abuse at the hand of powerful and influential men. In some sense, it started with the allegations against Bill Cosby that stretched back to the 1960s and which revealed a man who used his fame and reputation to take advantage of dozens of young women for decades. In addition to Cosby, a number of women at Fox News came forward to allege sexual abuse and harassment at the hands of people such as Roger Ailes, Bill O'Reilly, and Eric Bolling. More recently, Hollywood producer Harvey Weinstein and actor Kevin Spacey have been rocked by allegations of a chain of abuses that have essentially led to what seems likely to be the end of their respective careers. Now, it appears that the same phenomenon is seeping into the world of politics, and Moore is unlikely to be the last politician to have their past come home to roost.
The question, of course, is what impact all of this may end up having on the Special Election in Alabama that will take place on December 12th. Current polling continues to show Moore with a strong lead over Democratic nominee Doug Jones, but one does have to wonder if that will hold up if these charges stick and if additional women come forward to make similar allegations. Additionally, the response that the Republican Party has to all of this could have a big impact on the race. Already, Senate Majority Leader Mitch McConnell, Colorado Senator Cory Gardner, who heads the National Republican Senatorial Committee, and Senator Jeff Flake of Arizona have all said that Moore must drop out of the race for the Senate if the allegations are true and John McCain has said that Moore should step aside immediately. So far, though, Moore is denying the reports and relying on news outlets such as Breitbart News to defend him and attack the post. Whether those attacks can withstand the media scrutiny he's about to face, or the possibility that there are other women out there ready to make similar allegations remains to be seen.