Television Icon Mary Tyler Moore Dies At 80
Another television icon has passed away.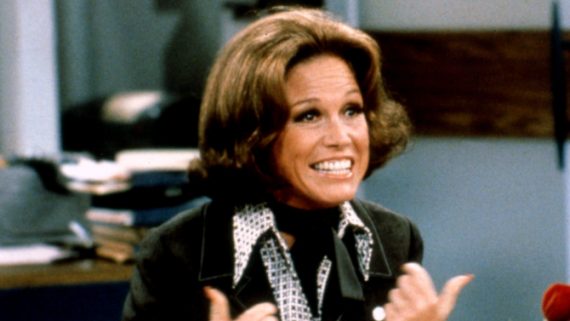 Mary Tyler Moore, who starred in two of the most iconic television programs in history, has died at the age of 80:
Mary Tyler Moore, whose witty and graceful performances on two top-rated television shows in the 1960s and '70s helped define a new vision of American womanhood, died on Wednesday in Greenwich, Conn. She was 80.

Her family said her death, at Greenwich Hospital, was caused by cardiopulmonary arrest after she had contracted pneumonia.

Ms. Moore faced more than her share of private sorrow, and she went on to more serious fare, including an Oscar-nominated role in the 1980 film "Ordinary People" as a frosty, resentful mother whose son has died. But she was most indelibly known as the incomparably spunky Mary Richards on the CBS hit sitcom "The Mary Tyler Moore Show." Broadcast from 1970 to 1977, it was produced by both Ms. Moore and her second husband, the CBS executive Grant Tinker, who died on Nov. 28.

At least a decade before the twin figures of the harried working woman and the neurotic, unwed 30-something became media preoccupations, Ms. Moore's portrayal — for which she won four of her seven Emmy Awards — expressed both the exuberance and the melancholy of the single career woman who could plot her own course without reference to cultural archetypes.

The show, and her portrayal of Mary as a sisterly presence in the office,as well as a source of ingenuity and humor, was a balm to widespread anxieties about women in the work force.

It modeled a productive style of coed collegiality, with Ms. Moore teasing out the various ironies known to any smart woman trying to keep from cracking up in a world of scowling male bosses and preening male soloists.

"Mary Tyler Moore became a feminist icon as Mary Richards," Jennifer Keishin Armstrong, the author of "Mary and Lou and Rhoda and Ted: And All the Brilliant Minds Who Made The Mary Tyler Moore Show a Classic," said.

"She only wanted to play a great character, and she did so. That character also happened to be single, female, over 30, professional, independent, and not particularly obsessed with getting married. Mary had America facing such issues as equal pay, birth control, and sexual independence way back in the '70s."

Ms. Moore had earlier, in a decidedly different era, played another beloved television character: Laura Petrie, the stylish wife of the comedy writer played by Dick Van Dyke on "The Dick Van Dyke Show." Also on CBS, the show ran from 1961 to 1966.

Ms. Moore was the lesser star in those days, but she shared Mr. Van Dyke's background in song and dance, and as a comedy duo they magnified each other's charm. Ms. Moore transformed and tamed the vaudeville style that had dominated sitcoms, perfecting a comic housewifely hysteria in Laura, made visible in the way she often appeared to be fighting back tears. Her "Dick Van Dyke Show" performance won her two Emmys.

"I heard something in her voice that got to me," Carl Reiner, who created and produced the show, once said. "I think the fact that Mary and Dick were dancers gave the whole program a grace that very few programs have."

Mary Tyler Moore was born on Dec. 29, 1936, in Brooklyn Heights. After living in Queens and Brooklyn, her family moved to California when she was 8. Her father, George Tyler Moore, a clerk, and her mother, the former Margery Hackett, were both alcoholics and, Ms. Moore often said, imperfect parents. The eldest of their three children, Mary would outlive both her sister, Elizabeth Moore, who died of a drug and alcohol overdose in 1978, and her brother, John Hackett Moore, who died of cancer in 1992 after Ms. Moore had assisted him in an unsuccessful suicide attempt.

While she was still a child in Los Angeles, Ms. Moore arranged to live with an aunt, choosing to see her parents only on special occasions.

At 17 she was hired to appear in a series of commercials for Hotpoint appliances in the role of Happy Hotpoint, a caped dancing elf in a body stocking. The ad was shown during episodes of "The Adventures of Ozzie and Harriet."

In 1955 she married Richard Meeker, a salesman. That same year, she became pregnant, which compromised her effectiveness as an androgynous elf in a fitted costume. Her only child, Richard Jr., was born in 1956. He died in 1980 when a gun with a hair trigger went off in his hands; the gun model was later removed from the market.

After the birth of her son, Ms. Moore danced in various television shows before turning to acting. She had small parts on series like "Bourbon Street Beat," "77 Sunset Strip," "Steve Canyon" and "Hawaiian Eye." As the answering-service girl Sam on "Richard Diamond, Private Detective," she was more heard than seen: Her character existed only in sexy close-ups of parts of her body, including her mouth, her hands and her elegant legs.

It was another body part, her nose, that was said to have disqualified her from playing Danny Thomas's daughter on his sitcom "Make Room for Daddy." She was up for the role, but Mr. Thomas, who took pride in his exaggerated features, decided that her nose was too small to belong to a member of his family.

"The Dick Van Dyke Show" made Ms. Moore, who looked sylphlike in capri pants, a sensation. At Mr. Van Dyke's behest, however, the series ended in 1966, at the height of its popularity.

Ms. Moore's marriage to Mr. Meeker had dissolved by 1961, and she met Mr. Tinker, who was then an executive at 20th Century Fox, in 1962. They were married, in Las Vegas, the same year. Together they formed MTM Enterprises, and in the late '60s, they hit upon an idea for a custom-made showcase.

MTM's on-air mascot was a meowing kitten, whose image evoked, and gently satirized, MGM's roaring lion, and the branding clicked. Mr. Tinker and Ms. Moore pitched a show to CBS about a recently divorced woman who was working and living on her own, and the network liked it.

The executives' only reservation concerned the subject of divorce, which was still forbidden on network television. Some even feared that viewers would assume that Laura Petrie, from "The Dick Van Dyke Show," had divorced Rob, which was unthinkable. A solution was reached: Ms. Moore's character would be newly single but not divorced, having recently broken up with a fiancé.

In the show, Mary Richards was an associate news producer at WJM, a local television station in Minneapolis. Ed Asner played her boss, Lou Grant, who was gruff, though essentially tenderhearted; Gavin McLeod was Murray Slaughter, a news writer with a boring life; Ted Knight was the vain, dimwit anchorman, Ted Baxter.

The female characters, as finely drawn as the men, were Rhoda Morgenstern (Valerie Harper), Mary's neighbor, also single; Phyllis Lindstrom (Cloris Leachman), Mary's manipulative landlady; Georgette Franklin (Georgia Engel), Ted's baby-voiced girlfriend (and later his wife); and Sue Ann Nivens (Betty White), the husband-stealing hostess of "The Happy Homemaker."

That Rhoda was Jewish — as was Lou, the show sometimes implied — was unusual for network television at the time. Similarly novel were hints that Mary was sexually active.

The characters all revolved around Mary, whose naïveté and enthusiasm supplied a generous assist for the others' eccentricities. Just as she had on "The Dick Van Dyke Show," Ms. Moore could always make a joke her own when she needed to — and the episodes that put Mary's humor center stage were the best.

In "Chuckles Bites the Dust," which is on many lists of the best television episodes of all time (TV Guide ranked it No. 3), Mary is appalled by her colleagues' irreverent response to the undignified death of Chuckles the Clown, the host of a children's show on their station. But at his funeral, it's she who can't control her giggles. Her struggle to suppress laughter is a comic tour de force. (David Lloyd won an Emmy for writing the episode, one of 29 the show won over all.)

"The Mary Tyler Moore Show," which forsook the gag-a-minute sitcom formula in favor of more character-driven humor, soon became one of the most popular shows in television history, aided only partly by its position in CBS's winning Saturday-night lineup, which also included "M*A*S*H*," "All in the Family" and "The Carol Burnett Show."

The writers and producers who worked on "The Mary Tyler Moore Show" went on to develop a raft of other hit sitcoms, including "Taxi," "Cheers" and "The Simpsons."

Among the show's many memorable flourishes was its theme song, "Love Is All Around," written and performed by Sonny Curtis. The lyrics were rewritten after the first season. The opening lines — "How will you make it on your own?/This world is awfully big, and girl, this time you're all alone" — were revised to reflect the show's optimism and devotion to its star:

"Who can turn the world on with her smile?/Who can take a nothing day, and suddenly make it all seem worthwhile?"

The adorableness of Mary Richards as a character — with her pluck and her world-brightening smile — was a mixed blessing for Ms. Moore. After the show was canceled in 1977, she set out to demonstrate her range as an actress, choosing roles in television, theater and film that distanced her from the sweetheart characters for which she had become famous.

Her efforts paid off impressively in "Ordinary People." Her performance as the stony, guilt-ridden mother Beth Jarrett brought her a Golden Globe award as well as the Academy Award nomination. Afterward she said she based the performance on her aloof father.

Robert Redford, who directed the movie, said he had cast Ms. Moore after seeing her walking alone on a beach and realizing that she had a serious side.

In the meantime, "The Mary Tyler Moore Show" fractured into spinoffs: the sitcoms "Rhoda" and "Phyllis" and the acclaimed drama "Lou Grant," a rare example of an hourlong series spun off from a half-hour sitcom.

This period represented a winning streak for MTM Enterprises, which was overseen almost exclusively by Mr. Tinker. The company produced not only those spinoffs but also the critical and popular hits "The Bob Newhart Show," "Newhart," "WKRP in Cincinnati," "Hill Street Blues" "St. Elsewhere," "Remington Steele" and "Rescue 911."

On Broadway, MTM Enterprises produced Michael Frayn's farce "Noises Off."

(…)

In 1995, in an interview with The Times, Ms. Moore was asked if she resented being asked by reporters about Mary Richards. "I think some of them may be trying to find some way to instruct, or to make a judgment about, or in some way set themselves above me," she said.

"I've come to the point in my life where I don't have to work," she continued. "I work because I enjoy it. I only enjoy doing things that frighten me a little bit. And I am an actress. I think I am an actress as well as a personality. And I've got to keep the actress in me happy."

In the 1996 movie "Flirting With Disaster," Ms. Moore played with aplomb the mortifying adoptive mother of Ben Stiller's character, who at one point lifts her shirt to show her son's girlfriend how a bra should fit. In 2001 she was executive producer of a macabre television movie, "Like Mother Like Son: The Strange Story of Sante and Kenny Kimes," in which she also starred as the killer mom Sante.

She also became more willing to indulge in nostalgia. The 2001 television movie "Mary and Rhoda" brought Ms. Moore and Ms. Harper together again, playing older versions of their 1970s characters. (Mary was widowed, and Rhoda divorced.)

A more successful reunion came in 2003, when she starred with Mr. Van Dyke in a PBS adaptation of the Pulitzer Prize-winning play "The Gin Game." In 2004 she and Mr. Van Dyke reunited again on "The Dick Van Dyke Show Revisited."

She went on to make several guest appearances in 2006 as a TV host on "That '70s Show," which was shot on the soundstage that once belonged to "The Mary Tyler Moore Show." In 2013 she was reunited with all four of her female "Mary Tyler Moore Show" co-stars on an episode of the sitcom "Hot in Cleveland," whose cast included Betty White and Georgia Engel. Ms. Moore at last seemed to accept and even embrace the pop significance of the Mary Richards era.

The influence of Ms. Moore's Mary Richards can be seen in the performances of almost all the great female sitcom stars who followed her, from Jennifer Aniston to Debra Messing to Tina Fey, who has said that she developed her acclaimed sitcom "30 Rock" and her character, the harried television writer Liz Lemon, by watching episodes of "The Mary Tyler Moore Show." Many nonactresses also said that Ms. Moore — by playing a working single woman with such compassion and brio — inspired their performances in real life.
Growing up in the 1970s, The Mary Tyler Moore Show was one of those shows that I can still recall watching with the family every week for the many years it was on, including the iconic final episode, which was one of the most watched shows of the decade. In later years, I was also able to watch Moore alongside Dick van Dyke in the show that first made her a household name and, even after nearly fifty years, it's easy to see why the audience of the time fell in love with her. Once again, we've lost one of the great icons of popular culture. After her second sitcom went off the air in the late 70s, Moore proved her dramatic acting abilities in movies like Ordinary People and other performances for which she received critical acclaim, but it was her eponymous sitcom for which she'll always be remembered.
From the opening theme song:
To the final moments of the last episode: