Chicago Police Officer Sentenced To Seven Years In Murder Of Laquan McDonald
A Chicago police officer convicted of second-degree murder has been sentenced to seven years in prison, but could be out in as little as three-and-a-half.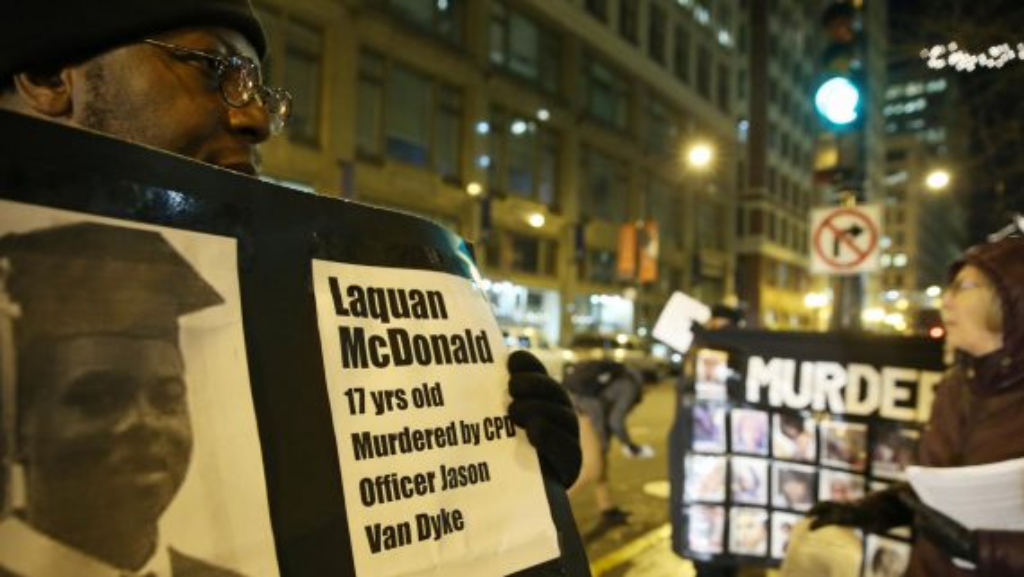 Nearly four years ago, a 17-year-old African American teenager named Laquan McDonald was shot and killed by Chicago Police Officer Jason Van Dyke in an incident ended up having a significant impact on Chicago city politics and the fate of Mayor Rahm Emanual. For more than a year, the Chicago Police Department declined to release dash cam video of the shooting as it investigated the case and, when that video was finally released, it became apparent that there were serious questions regarding the propriety of the shooting. Largely peaceful protests demanding justice erupted across the city in the wake of the release of that video, and Van Dyke was eventually charged with first-degree murder in the shooting. Three years later, Van Dyke, who has been on trial for the shooting for the last several weeks, was convicted of second-degree murder and several other charges.
Last week, Van Dyke was sentenced to less than seven years in prison, a sentence that leaves many unsatisfied with what seems like a light sentence for a murder conviction:
CHICAGO — On a bleak stretch of road outside a Burger King four years ago, a white police officer opened fire on a black teenage boy. Captured on a dashboard camera, the killing reshaped Chicago.

The officer, Jason Van Dyke, became the city's first patrolman in almost 50 years to be convicted of murder. The teenager, Laquan McDonald, became a national symbol of police brutality. The city's police department, one of the country's largest, was overhauled. And the powerful mayor, battered by the fallout, stunned Chicago by announcing he would not run again.

On Friday, Mr. Van Dyke, an officer no longer, was sentenced to just shy of seven years in an Illinois prison for second-degree murder and 16 counts of aggravated battery with a firearm, one for every bullet he fired on that October night in 2014. Though an appeal is possible, the sentence provided a measure of finality in a case that dominated Chicago's news cycles for years, laying bare this city's racial divisions and upending its government.

But the final chapter left few people satisfied.

Laquan's great-uncle, the Rev. Marvin Hunter, said it was a qualified victory that a police officer was going to prison for murder. But he said the sentence was far too short, and reduced Laquan to "a second-class citizen."

William Calloway, an activist who had pressed for the release of the video in 2015, said that he was "heartbroken" by the sentence of 81 months.

Mr. Van Dyke "deserves to spend the rest of his life behind bars," he said. "That's a slap in the face to us and a slap on the wrist to him."

But Mr. Van Dyke's family had pleaded for leniency. His lawyers submitted to the judge dozens of letters from supporters, including a plea from one of his two daughters, who said she fell into a depression after the verdict.

"It's time for him to hug and kiss his wife and protect his family," the daughter, who is in high school, wrote to Judge Vincent Gaughan. "Bring my dad home."

In the end, Judge Gaughan, of the Cook County Circuit Court, acknowledged that "this is a tragedy for both sides."

"This is not pleasant and this is not easy," Judge Gaughan said in delivering his ruling.

(…)

For several hours in a cramped courtroom on Friday, residents who had filed complaints against Mr. Van Dyke years ago testified for the prosecution about those encounters. One man said he had been called the N-word. Another cried and said he had to undergo surgery after being manhandled. Another, a young black man who said he was wrongly arrested, chuckled and said, "He's definitely in the right attire" when asked to identify Mr. Van Dyke in the courtroom.

Mr. Hunter, the spokesman for the McDonald family, told Judge Gaughan how he had used Laquan's final paycheck from his construction job, issued four days after his death, to buy the suit the teenager was buried in.

"Please think about me and about my life when you sentence this person to prison," Mr. Hunter said in court, reading a statement written from the perspective of Laquan. "Why should this person who has ended my life forever because he chose to become judge, jury and executioner — and has never asked for forgiveness — be free when I am dead."

Mr. Van Dyke, who has grown a patchy beard and become noticeably thinner since going to jail, sat expressionless throughout much of Friday's testimony. He wore a faded yellow jail jumpsuit. And when he entered and exited the courtroom, he clasped his hands behind his back, flanked by sheriff's deputies.

Jurors convicted Mr. Van Dyke in October of second-degree murder and 16 counts of aggravated battery with a firearm, one for each bullet he fired. Prosecutors asked Judge Gaughan to sentence him to at least 18 years in prison. Mr. Van Dyke's lawyers suggested probation.

Just before learning his sentence, Mr. Van Dyke rose and read a short statement.

Shooting Laquan was "the last thing I ever wanted to do," said Mr. Van Dyke, who spoke softly and read from a piece of paper. "People have the right to judge my actions, however no one knows what I was thinking in that critical moment."
More from the Chicago Tribune:
Former Chicago police Officer Jason Van Dyke was sentenced Friday to nearly seven years in prison for the fatal on-duty shooting of Laquan McDonald, bringing to a close one of the most racially fraught and socially significant chapters in recent Chicago history.

Van Dyke remained stoic as Cook County Circuit Judge Vincent Gaughan announced the sentence about 5:30 p.m. after a long day of often emotional testimony. Moments later, Van Dyke's teenage daughter seated in the gallery burst into tears.

But the relatively lenient six-year, nine-month sentence for second-degree murder counts as a victory for Van Dyke, who could be out of custody in as little as three years, his attorney told reporters.

"He truly felt great," the attorney, Daniel Herbert, said of Van Dyke. "He was not just relieved, he was happy. It's the first time I've seen the guy — honestly since this whole ordeal started — where he was happy. He's certainly not happy about going to jail. He's certainly not happy about missing his family. But he's happy about the prospect of life ahead of him."

In October, Van Dyke became the first Chicago police officer in half a century to be convicted of murder in an on-duty shooting. A jury found him guilty on one count of second-degree murder and 16 counts of aggravated battery — one for each bullet that hit McDonald's body in October 2014 as the teen walked away from police on Pulaski Road while holding a knife.

Graphic police dashboard camera footage of the shooting released more than a year later sparked weeks of chaos and political upheaval, exposing Chicago's long-standing racial fault lines and exacerbating the already-fraught relationship between police and minority communities.

Though he had sought a sentence about three times lengthier, special prosecutor Joseph McMahon told reporters in the Leighton Criminal Court Building that justice had been served.

"I understand the sentence is not exactly what the McDonald and Hunter families wanted," said McMahon, who requested a prison term of 18 to 20 years. "But the sentence, like the verdict, does hold the defendant accountable."

McMahon said McDonald's mother, Tina Hunter, was in the courthouse watching the proceedings but did not want to be in the courtroom. She left the building before the sentence was announced, and McMahon said he called her with the judge's decision.

"It was extremely difficult," McMahon said of the conversation. "She has had to relive her son's murder again and again."

Just after 6 p.m. Friday, Van Dyke's wife, father and young daughters left the courthouse as a large group of bystanders in the lobby jeered in their direction, shouting "16 shots" as sheriff's deputies escorted them down the courthouse steps and into a waiting vehicle on California Avenue.

(…)

While predicting his sentence would disappoint "100 percent" of those in the courtroom, Gaughan made a number of key rulings in favor of the defense. In particular, he sentenced Van Dyke only for the second-degree murder conviction, meaning he will serve just half the sentence if he qualifies for day-for-day good-behavior credit.

If instead the judge had sentenced him only on the aggravated battery convictions, Van Dyke could have been subject to a lengthier term behind bars. He also would have had to serve at least 85 percent of that sentence.

In fashioning his decision, Gaughan said the law required him to consider the most serious charge for which Van Dyke was convicted. Common sense, the judge found, dictated that be second-degree murder, not aggravated battery. However, Illinois law considers aggravated battery with a gun the more serious offense of the two, carrying stiffer penalties.

"Is it more serious for Laquan McDonald to be shot by a firearm or is it more serious for Laquan McDonald to be murdered by a firearm?" Gaughan said in explaining his reasoning.
The sentence has also disheartened forces calling for reform of police operations:
By any definition, the criminal cases connected to Laquan McDonald's murder have been watershed moments for a city with a decadeslong history of police abuses.

Yet on back-to-back days last week at Cook County's main criminal courthouse, many reform advocates were left disappointed and wondering if any real progress has been made.

In one courtroom Friday, a judge sentenced Chicago police Officer Jason Van Dyke to just under seven years in prison for killing 17-year-old McDonald, less than half of what prosecutors had sought. He could be released in as soon as three years.

A day earlier, a different judge acquitted three of Van Dyke's fellow officers of charges alleging a cover-up of McDonald's shooting. Instead, the judge issued a staunch endorsement of the officers' actions that night, calling the black teen an erratic, armed assailant who ignored commands to drop a small knife.

To some, the rulings threaten to deepen the divisions brought to the fore by the court-ordered release of the infamous police dashboard camera video showing Van Dyke firing 16 shots at McDonald as he walked down Pulaski Road. After Van Dyke was sentenced Friday evening, protesters trailed his wife and school-aged daughters out of the courthouse jeering and chanting "16 shots" in reference to the number of bullets that struck McDonald.

"It's going to take a lot to repair the relationship with law enforcement — not just in Chicago, but across our country — and communities of color," said special prosecutor Joseph McMahon, who led the prosecution of Van Dyke. "We're not going to fix it with one case. We were not going to fix it with one sentence. But we're headed in the right direction."

Whatever the outcomes, the cases were each historic in their own way. Van Dyke was the first Chicago police officer to be convicted of murder in an on-duty shooting in half a century. And his colleagues in the conspiracy case were believed to be the first officers ever charged with covering up a police-involved shooting.

(…)

Many activists who spoke after the marathon seven-hour sentencing hearing described Van Dyke's punishment as lenient, particularly considering the graphic video depicting the white officer continuing to shoot McDonald after fell to the street.

"He deserves to spend the rest of his life behind bars," said William Calloway, who fought to get the dashcam video released and who is running for city alderman. "That's a slap in the face to us and a slap on the wrist for him."

Still, Calloway said the outcome of the case is cause for celebration.

"African-Americans have been getting shot in this city disproportionately for decades," he said. "We finally held one (officer) accountable. He's a convicted murderer and will never be a police officer again."

A jury convicted Van Dyke of second-degree murder and 16 counts of aggravated battery following a four-week trial last fall. The verdict won praise from community activists and black leaders, many of whom had expressed doubts as to whether a white cop would ever be held accountable for killing an African-American teen.

Those same activists sat open-mouthed Thursday as Associate Judge Domenica Stephenson acquitted three other officers accused of lying about the circumstances surrounding the shooting. In shredding the prosecution's case, she offered a staunch hourlong defense of the Police Department's actions that night — including suggestions that Van Dyke could have reasonably believed the teen was about to attack him.

Her decision drew praise from the Fraternal Order of Police Lodge 7, the union that represents rank-and-file officers and has been outspoken in its defense of the indicted officers. Union leadership mocked the charges brought against retired Detective David March, former patrolman Joseph Walsh and Officer Thomas Gaffney, calling the charges "trumped up."

"16 Crocks," read one post-acquittal tweet from FOP Vice President Martin Preib.

Stephenson's 28-page ruling also sparked outrage across segments of the city as the American Civil Liberties Union, religious leaders and some mayoral candidates blasted her decision. There were calls for protests outside the courthouse Friday, but none materialized amid a threatened snowstorm.

"I'm not a lawyer, but I know the difference between right and wrong," the Rev. Leon Finney of Chicago's Metropolitan Apostolic Community Church told reporters after the acquittals. "Right and justice was not served."
I am not an expert in Illinois criminal law, but it appears that Second-Degree Murder is considered a Class 1 Felony under Illinois law, which is punishable by a fine up to $25,000 and/or four to 15 years in state prison. Accordingly, the seven years to which van Dyke was sentenced falls roughly in the middle of the range that he could have been sentenced to under the law. Thanks to the time credit that prisoners get for good behavior, though, he could be out in as little as roughly 3 1/2 years unless he violates prison rules or it is otherwise determined that he should not be entitled to early release.
Given the facts of this case, it seems to me that those who are arguing that this is far too lenient a sentence for what Van Dyke did and the manner in which he shot McDonald have a very good point and a reason for being upset about the Judge's decision. Specifically, the video of the incident makes clear that without any real consideration for the facts and circumstances of what was happening on the scene, Van Dyke chose to open fire on McDonald notwithstanding the fact that he no reasonable person or police officer could have deemed him a threat to them individually or to the public. Taking that into consideration, giving Van Dyke a sentence that could see him released in as little as three and a half years strikes me as being overly lenient under the circumstances.
At the same time, as I said at the time that van Dyke was convicted, what happened to Van Dyke was a very different outcome from what we generally see in cases involving the death of a suspect by police, whether it's by shooting or other means. In many of those cases, such as the deaths of Michael Brown, Eric Garner, and Tamir Rice, the authorities have not even brought charges, claiming to the dissatisfaction of many that the available evidence indicated that the officers had not acted improperly. In other cases, such as the death of Freddie Gray while in police custody or what clearly seems to have been the cold-blooded murder of Walter Scott in North Charleston, South Carolina. In Gray's case, several trials resulted in acquittals of the officers involved, see here, here, here, and here, after which the local prosecutor decided to drop the case altogether. In the Walter Scott case, even a video that seemed to clearly show the officer shooting Scott in the back and planting evidence on him before other officers arrived wasn't sufficient to convince a jury in state court, although the officer involved, Michael Slager, ultimately pled guilty in Federal Court in connection with the case. More recently, a Lancaster, Pennsylvania Police Officer was caught on video using a Taser against an obviously compliant African-American man and a Pittsburgh Police Officer was indicted on criminal homicide charges in connection with the death of a 17-year-old African-American man. Given this history, and the qualified immunity generally given to police officers in these cases, Van Dyke's conviction and sentencing is a notable and proper exception. Hopefully, it will lead to further scrutiny of these types of cases in the future.