Trial Of Fourth Baltimore Police Officer In Freddie Gray Case Ends In Acquittal
Another acquittal in Baltimore leads to questions about whether or not prosecutors should continue with the trials against the officers involved in the Freddie Gray matter.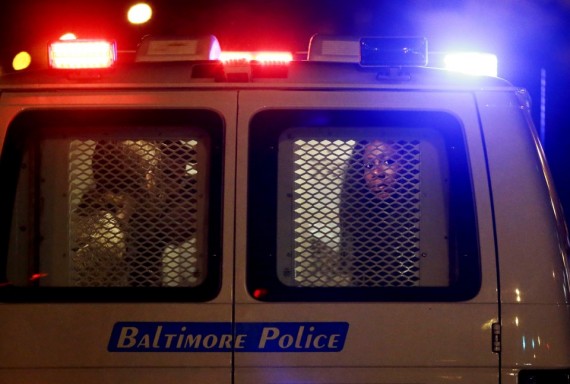 For the fourth time, the Baltimore prosecutors in charge of prosecuting the six offices charged in the death of Freddie Gray in police custody have come up short, with the trial against the highest ranking officer charged in the case ending in an acquittal after a bench trial:
BALTIMORE — The highest-ranking police officer charged in the death of Freddie Gray was on Monday acquitted of involuntary manslaughter and two other charges, dealing another blow to a prosecution that has been unable to secure a single conviction in four trials related to a death after an arrest that set off violent protests here over race and policing

The prosecution "failed to prove beyond a reasonable doubt that it was the defendant's failure to seatbelt that led to the death of Mr. Gray," said Judge Barry G. Williams, methodically dismantling the case against the officer, Lt. Brian Rice, as he read his decision calmly and quietly from the bench in his cavernous downtown courtroom.

"Failing to seatbelt a detainee in a transport wagon," Judge Williams said later in his ruling, "is not inherently criminal conduct."

At the conclusion of the ruling, Lieutenant Rice's supporters — including two other officers acquitted in the case, and one who is yet to be tried — pressed toward him, and expressionless prosecutors left the court.

Last year's death of Mr. Gray, a 25-year-old black man who sustained a fatal spinal cord injury during an arrest in which he rode unsecured in a police van, shook this city to its core and became a grim fixture of the reckoning over how police officers use force against minorities, particularly black men.

In May of last year, the city's top prosecutor, Marilyn J. Mosby, announced charges against six police officers in Mr. Gray's death, prompting cheers from activists and quelling the nightly unrest that had gripped parts of the city. It was not expected to be easy; is rare to charge police officers with crimes, and rarer still that they are convicted.

Since then, cases of shootings by the police in Baton Rouge, La., and Falcon Heights, Minn., have outraged activists anew, and the country has been shaken by the deaths of eight police officers in two attacks, in Dallas and Baton Rouge.

And in Baltimore, prosecutors have scrutinized the same narrative in trial after trial, finding few answers to lingering questions about the death of Mr. Gray and failing to win a single conviction against any of the six officers charged, fueling criticism that Ms. Mosby's charges were too ambitious or politically motivated and eroding the confidence, even among supporters of the trials, that a conviction can ever be secured.

The acquittal of Lieutenant Rice is likely to raise new questions about whether prosecutors should continue with those cases.

(…)

Lieutenant Rice, 42, was charged with involuntary manslaughter, reckless endangerment and misconduct while in office. It was he who first called in the foot chase after Mr. Gray, who had fled after he saw Lieutenant Rice while he was walking with friends in downtrodden West Baltimore. And it was he, prosecutors said, who climbed into the van with Mr. Gray but failed to secure him with a seatbelt, which they said set in motion of chain of events that led to Mr. Gray's death.

"If he had broken that chain, taken one small measure of compassion or humanity, Freddie Gray would still be alive," said Janice Bledsoe, a prosecutor, during closing arguments here last Thursday, who argued that Lieutenant Rice's high status in the department meant that he should have been aware of rules about transporting prisoners.

"Lieutenant Rice was on notice that he was to seatbelt a prisoner," Ms. Bledsoe said. "He was on notice that you had to use extreme caution."

But Lieutenant Rice's lawyers argued that he made a reasonable decision in a chaotic situation that involved Mr. Gray's kicking inside the van and onlookers' becoming angry.

"What he did was proper, it was correct, it was right and it was reasonable," said Michael Belsky, a defense lawyer. Police officers, he said, "have to look at the inventory of information in front of them. They have to do it quickly. And they have to do it instinctively."

Lawyers for each side looked to many of the same witnesses from previous trials to build their cases, and the narrative of Mr. Gray's arrest is familiar by now. On the morning of April 12, 2015, after Lieutenant Rice called in the foot chase, Mr. Gray was detained, arrested and eventually loaded onto the floor of a police van with his hands cuffed behind his back and his legs shackled — but without a seatbelt to secure him. The van made stops throughout West Baltimore and finally arrived at the Western District police station, where Mr. Gray was found unresponsive and not breathing, with a devastating spinal injury. Prosecutors and defense lawyers say he sustained those injuries in the van but disagree on exactly when; Mr. Gray died a week later.

There are three more officers to be tried: Officer Garrett E. Miller, who participated in Mr. Gray's initial arrest; Sgt. Alicia White; and Officer Porter, who faces a retrial. With Lieutenant Rice's acquittal, calls by critics of the prosecution for those cases to be dropped are sure to intensify.
More from The Baltimore Sun:
Prosecutors in Baltimore have failed for the fourth time to secure a conviction in the Freddie Gray case, with Circuit Judge Barry G. Williams acquitting Lt. Brian Rice of all charges related to Gray's arrest and death.

Williams cleared Rice, 42, of involuntary manslaughter, reckless endangerment and misconduct in office in a downtown Baltimore courtroom on Monday morning. The judge had dismissed a second-degree assault charge at the trial's midpoint, and prosecutors dropped a second misconduct charge at the start.

Rice selected a bench trial rather than a jury trial, putting his legal fate in Williams' hands. He was the fourth of six officers charged in the case to go to trial.

Williams said prosecutors had failed to meet their burden of proving the charges beyond a reasonable doubt, instead asking the court to rely on "presumptions or assumptions" — something it cannot do. He said the court "cannot be swayed by sympathy, prejudice or public opinion."

Based on the law, he said, the prosecution failed to prove the elements of the crimes.

The prosecution did not show Rice acted in a "grossly negligent manner," required of manslaughter, he said. It did not show that Rice acted in an unreasonable way or ignored the substantial risk in placing Gray in a police van without a seat belt, required for reckless endangerment, he said. And, it did not show Rice acted "corruptly," which is required for misconduct in office, he said.

Prosecutors alleged Rice, the highest-ranking officer of the six charged, had caused Gray's death by failing to secure him in a seat belt in the back of the police transport van in which he suffered severe spinal cord injuries last year. Gray, 25, died a week after his arrest. His death sparked widespread protests against police brutality.

Williams said a "mistake" or an "error in judgment" by Rice was not enough to prove the crimes alleged. He also noted the difference between criminal negligence and civil negligence, an apparent nod to the fact that the city previously negotiated with Gray's family attorney, William H. "Billy" Murphy, on the civil side and agreed to pay the family $6.4 million.

"Here, the failure to seatbelt may have been a mistake or it may have been bad judgement, but without showing more than has been presented to the court concerning the failure to seatbelt and the surrounding circumstances, the state has failed to meet its burden to show that the actions of the defendant rose above mere civil negligence," Williams said.

Murphy was not present in court, and could not immediately be reached for comment. Baltimore State's Attorney Marilyn Mosby, who announced the charges against the six officers in a high-profile news conference in May 2015, also did not attend.

Rice appeared calm, staring forward and showing no emotion as Williams announced each not-guilty ruling. At the adjacent table, Chief Deputy State's Attorney Michael Schatzow and Deputy State's Attorney Janice Bledsoe, who prosecuted the case, shook their heads. Schatzow sat with his chin resting on his hand for much of the Williams' comments. At one point, Bledsoe leaned back in her chair and rolled her head around.

When Williams adjourned the proceedings, Rice stood and shook hands with his attorneys and Gene Ryan, president of the Fraternal Order of Police Lodge 3, the union that represents officers in Baltimore. With his acquittal, Rice will have his pay restored by the Baltimore Police Department and he will be subject to an internal administrative review of his actions.
Given what has happened in these cases to date, this outcome is hardly surprising and, indeed, was seemingly expected by nearly everyone observing the cases against the six officers. The first trial, which was the only one to date that was tried before a jury, ended in a mistrial after that jury was unable to come to a verdict in the case against a low-level officer whose involvement in events that led to Gray's death. A second trial of a different officer ended in an acquittal in May, and it seems clear that one of the reasons for that acquittal was likely the fact that the officer in question in that case chose to have his trial heard before a Judge rather than a jury. One month later, the trial of the third officer, which was held before the same Judge who had issued the acquittal in May, also ended in an acquittal, which was notable given the fact that the officer on trial in that case was the actual driver of the police van where Gray received the injuries that ultimately led to his death. Now, the officer who put Gray in the van and failed to seatbelt him has been acquitted, and the open question is whether there is any basis for the prosecution to proceed with the remaining trials, including the retrial of the officer whose case ended in a mistrial.
As a general rule, it's only considered impermissible for prosecutors to proceed with criminal charges when they don't believe that they can prove guilt beyond a reasonable doubt. While the outcome of the four cases that have been tried to date certainly puts the question of reasonable doubt into question, as legal experts have noted, the fact that the other cases have resulted in acquittal doesn't mean that there isn't sufficient reasonable basis to believe that conviction is possible based on the evidence that has been presented to date. Indeed, it is important to note that Judge Williams, who will presumably preside over the remaining trials as he has over all the cases that have been tried to date, has not said that the prosecutors are acting improperly if they proceed with the remaining cases, What he is making clear in all of his rulings, though, is that the evidence of negligent treatment that the prosecution is providing at trial does not rise to the kind of gross negligence for which criminal conviction is considered appropriate under the law. The question for prosecutors going forward is whether there is additional evidence that can be presented regarding that negligence that would show that it does rise to the level of a criminal act, or whether they can present the evidence in a different manner that makes the criminal nature of the officer's actions and failures to act something that is appropriately subject to criminal prosecution. If such evidence exists or a change in strategy is possible, then they should proceed accordingly. If it isn't then the State's Attorney's office needs to seriously consider whether it would be appropriate to continue with the remaining two trials and the retrial of the officer who was the first to be tried in this case.
Here's the transcript of Judge Williams' ruling:
State of Maryland v Brian Rice by Doug Mataconis on Scribd