Trial In Walter Scott Shooting Ends In Hung Jury, Mistrial
Despite a video that clearly shows what appears to be cold-blooded murder, the trial of a South Carolina cop who shot an African-American man in the back while he ran away ended in a hung jury. Fortunately, this isn't the end of the road.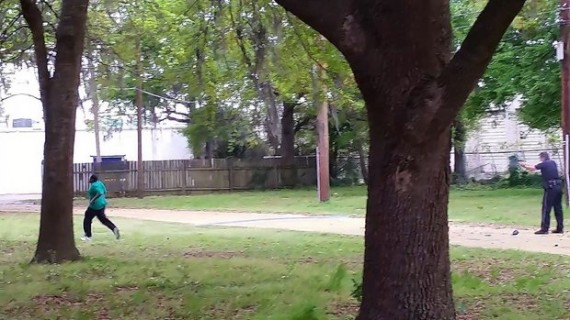 Nearly two years ago, North Charleston, South Carolina Police Officer Daniel Slager was charged with murder after video surfaced of the shooting death of thirty-three-year-old Walter Scott after a traffic stop for a broken tail light. Initially, the circumstances surrounding Scott's death were not entirely clear and it appeared that Slager would emerge unscathed since there was no direct evidence of what happened between Slager and Scott on that fateful day in April 2015. Days after the incident, though, a video emerged that seemed to show what happened in the confrontation. On that video, it can be seen that an apparently unarmed Scott can be seen walking/running away from Slager at which point Slager pulls his gun out and shoots hitting Scott multiple times in the back. The video also showed Slager apparently planting his TASER near Scott's body, a relevant point since Slager would later claim that Scott had gotten control of the device and Slager feared it would be used on him. Within days of the video being released, Slager was arrested and charged with murder, and he also faces charges from the Federal Government for violation of Scott's civil rights in the confrontation. As I noted at the time, while Slager should be considered innocent until proven guilty beyond a reasonable doubt, the evidence available in the form of the video, especially the fact that the video appears to show clear evidence of the officer planting evidence after Scott was lying unconscious at his feet rather than calling for immediate first aid, was fairly damning evidence against Slager. Yesterday, though, Slager's trial ended in a mistrial due apparently to one holdout juror:
CHARLESTON, S.C. — The trial of Michael T. Slager, the police officer whose videotaped killing of an unarmed black man staggered a nation already embroiled in a debate about police misconduct and racial bias in law enforcement, ended in a mistrial on Monday.

Judge Clifton B. Newman's decision to halt the proceedings came three days after jurors signaled that they were within one vote of returning a guilty verdict against Mr. Slager, who could have been convicted of murder or voluntary manslaughter in the fatal shooting of Walter L. Scott. But on Monday, in a final note to Judge Newman, jurors said that "despite the best efforts of all members, we are unable to come to a unanimous decision."

The outcome was disappointingly familiar to critics of police practices and conduct, and demonstrated the steep hurdles associated with prosecuting a police officer for a shooting while on duty. Although other cases involving claims of police misconduct have ended in mistrials and acquittals, few resonated as widely as this case in North Charleston, where Mr. Slager fired eight shots as Mr. Scott ran away.

"The fight isn't over, that was Round 1," said L. Chris Stewart, a lawyer for Mr. Scott's family. "We all saw what he did. We all saw what happened."

In a statement, Gov. Nikki R. Haley said: "Justice is not always immediate, but we must all have faith that it will be served — I certainly do."

Prosecutors said they would seek a new trial for Mr. Slager, who was fired after the shooting, and the Scott family expressed confidence that he would ultimately be convicted. Mr. Slager's lawyer, Andrew J. Savage III, did not comment as he left the courtroom, where jurors had heard testimony for about four weeks.

No piece of evidence was more central than a cellphone video, which a passer-by, Feidin Santana, recorded as he walked to work on April 4, 2015.

The video began only after Mr. Scott fled on foot from a traffic stop for a broken taillight, but it was shocking and vivid. In the recording, the men engage in a struggle, and then, as Mr. Scott runs away, Mr. Slager raises his Glock handgun and fires. Mr. Scott falls to the ground. He was at least 17 feet away when Mr. Slager began to shoot.

It was a sequence that jurors saw over and over, and the sound of the gunshots repeatedly pierced the courtroom.

On Monday, the existence of the video, and its inability to lead to a conviction, fueled much of the furor and frustration about the trial's resolution, incomplete as it was.

"It saddens me, but I am not shocked," said Howard Friedman, a civil rights lawyer and the former president of the National Police Accountability Project. "The fact that out of 12 people you would find one person so prejudiced in favor of police is saddening, not shocking, because I know that kind of prejudice in favor of police is out there."

(…)

Here in Charleston County, investigators at first believed Mr. Slager when he said he had been attacked. But Mr. Santana's video, which emerged within days of the shooting and provoked international outrage, made Mr. Slager a pariah to many in law enforcement, an anomaly of policing who strayed far from his duties and oath when he opened fire and, prosecutors contended, tried to stage the scene to make the shooting appear justified.

Our whole criminal justice system rides on the back of law enforcement," the chief prosecutor for Charleston County, Scarlett A. Wilson, said during her closing argument. "They have to be held accountable when they mess up. It is very, very rare, but it does happen."

Ms. Wilson acknowledged from the beginning of the trial that she thought Mr. Scott had contributed to his own death by running away.

"If Walter Scott had stayed in that car, he wouldn't have been shot," Ms. Wilson said. "He paid the extreme consequence for his conduct. He lost his life for his foolishness."

Ms. Wilson's concession, which she made during her opening statement, was something of an effort to immunize the prosecution from a theory that the defense advanced throughout the trial: that Mr. Scott had acted in ways that made Mr. Slager fear for his life. In his closing argument, Mr. Savage said Mr. Scott had left the officer with little choice after he "made decisions to attack a police officer."

"Should he have assumed that an unarmed man would have attacked a police officer?" Mr. Savage said of Mr. Slager, who he complained had been made a "poster boy" of police misconduct claims because of disputed killings elsewhere in the country.

Mr. Slager pressed a similar argument when he testified that he had felt "total fear" and "fired until the threat was stopped, like I'm trained to do."

The jury here had three options, besides deadlocking: a conviction for murder, a conviction for voluntary manslaughter or an acquittal. In South Carolina, a murder conviction can lead to a life sentence, and manslaughter carries a term of two to 30 years.

Mr. Slager's case and its outcome were virtually certain to revive the storm that surrounded North Charleston, a city of about 108,000 people, after Mr. Scott's death. City officials, who agreed to a $6.5 million settlement with Mr. Scott's family, have long insisted that Mr. Slager was an outlier.

But critics argued last year and again on Monday that the shooting was a tragic result of an aggressive law enforcement strategy carried out by a largely white police force. Drivers and pedestrians faced frequent stops for minor violations, and the police increased their presence, especially in high-crime areas that happened to be predominantly black neighborhoods.
Given what seems to be the clearly damning evidence of the video, the fact that the jury was unable to reach a unanimous verdict in this case. Even if we accept Slager's representation of what happened in the confrontation between him and Scott prior to the time that the video started, it clearly doesn't justify shooting Scott in the back multiple times while he was running away. Additionally, the fact that the video appears to clearly show Slager apparently planting what appears to be his police-issued stun gun near Scott's body after the fact seems to undercut the defense argument that Scott placed Slager in a reasonable fear that he was under the threat of bodily harm or death at the time that he fired. Instead, the video  clearly seems to show that Slager shot Scott in cold blood at a time when he did not pose any threat to Slager personally or the public at large. Given that, the shooting was clearly unjustified and Slager is guilty of at least manslaughter and possibly murder if the facts justified the conviction under South Carolina law. The fact that there was even one holdout juror is outrageous. At the same time, it's worth noting that North Charleston police and prosecutors have so far handled this case exactly as it should be handled. Slager was arrested, and of course taken off duty, immediately after the video surfaced. The prosecutors didn't hesitate to bring charges as has happened in the past in other jurisdictions. And, perhaps most importantly, the evidence seemed clear enough that the vast majority of the jurors believed that what Slager did was completely unjustifiable. All of this is a case involving a white cop and an African-American male, in South Carolina no less. That alone is a sign of progress.
Since I didn't sit on the jury, wasn't in the courtroom to watch the trial, and didn't really follow the trial closely until the jury deliberations began, I can't speak to what it might have been that led to the holdout juror. Perhaps there was something about Slager's testimony he found more compelling than everyone else. Perhaps he had legitimate questions about what the video didn't show and whether it might have added more to the trial if the video showed the entire confrontation between Scott and Slager. And, of course, perhaps there is some bias in favor of police and/or against African-Americans that didn't become apparent in jury selection that motivated him. Therefore, it's hard to judge whether his questions about the evidence were reasonable. At the same time, though, the video appears to be so conclusive that it's hard to justify his refusal to consider conviction on even the lesser charge of manslaughter under the facts of this case. In that case, the probability that his decision to hold out was based in some bias in favor of police, or against African-Americans, or perhaps both, is a reasonable conclusion under the circumstances. Whatever the reason, though, this mistrial should not be taken as an acquittal for Slager. First of all, of course, because a hung jury does not mean that he was found not guilty, it merely means that this jury was unable to reach a verdict for whatever reason. Second, the facts of this case seem to be so clear that to let the matter drop here would be unacceptable. Michael Slager needs to stand trial again for these charges both because the original jury was unable to reach a verdict and because the evidence against him seems to be so clear that to allow him to walk away without consequence would send a message to police and to the public that is, in many ways, worse than the one sent by other similar incidents. If we can't convict a cop based on this evidence, then what will it take? Hopefully, we won't have to find out.
Fortunately, this is not the end of the line for Officer Slager and the quest for justice for Walter Scott. As I noted, Slager faces a trial next year on the Federal charges brought against him, for which he could face life in a Federal Prison if convicted. Additionally, prosecutors in South Carolina have already made clear that they intend to seek a second trial against Slager on state charges notwithstanding the mistrial. Hopefully, one or both of these trials will result in justice for Walter Scott.