Ferguson Grand Jury Returns No Indictment In Michael Brown Shooting
A not unexpected decision from the Grand Jury that investigated the Michael Brown shooting.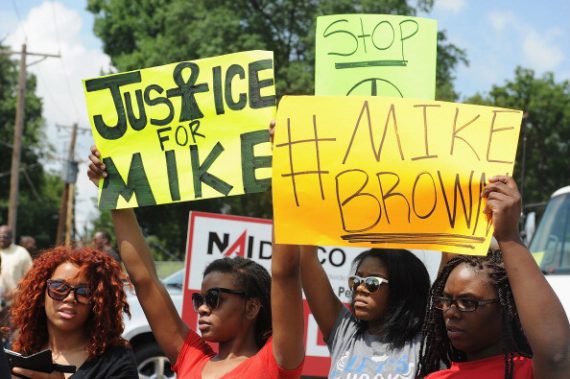 Some three months after the August 9th encounter that resulted in the death of 18 year-old Michael Brown in a confrontation with Ferguson Police Office Darren Wilson, and just over three months since it started reviewing the evidence related to the case, a St. Louis County, Missouri Grand Jury has determined that that there was insufficient evidence to indict Officer Wilson on any charge in the shooting, bringing to an end at least one part of the legal proceedings in a case that had set of weeks of polarizing protests in Ferguson and renewed debates about racial relationships and police militarization that have been going on for quite some time:
Officer Darren Wilson will not face state criminal charges in the killing of Michael Brown in Ferguson.

St. Louis County Prosecuting Attorney Robert P. McCulloch announced Monday night that a grand jury delivered a "no true bill" after considering possible charges in the case, meaning an indictment will not be handed down.

A separate federal investigation into whether Wilson violated Brown's civil rights is continuing, officials said. McCulloch said the two investigations had worked in harmony and evidence was shared with investigators from both levels of government.

"Our only goal was that our investigation would be thorough and complete," he said.

Wilson's shooting of the unarmed youth in a confrontation Aug. 9 triggered months of protests, and focused national concerns about policing and race on a suburban St. Louis community that had considered itself a strong example of racial harmony.

Officials, Brown's family and some protest leaders pleaded for a peaceful reaction to news that seemed certain to anger those who called for Wilson's arrest and immediate prosecution for murder.

The family of Michael Brown said in a statement that they were "profoundly disappointed that the killer of our child will not face the consequence of his actions."

They also urged protesters to avoid violence and to work to force police officers to wear body cameras.

"While we understand that many others share our pain, we ask that you channel your frustration in ways that will make a positive change," they said in the statement. "We need to work together to fix the system that allowed this to happen. Join with us in our campaign to ensure that every police officer working the streets in this country wears a body camera."

Lawyers for Darren Wilson issued a public statement Monday night after learning he would not be indicted, saying, in part, that Wilson "followed his training and followed the law" when he shot and killed Michael Brown Aug. 9.

Protesters began gathering in Ferguson shortly after it was announced that the grand jury had made a decision. A smaller crowd gathered in Clayton, where the announcement of the decision was made to members of the media inside a courtroom where preliminary hearings and arraignments are typically held.

McCulloch, who could have decided on his own whether to charge Wilson, chose instead to take the case to a grand jury. Its 12 members meet in secret and usually hear just a synopsis of evidence before voting on whether to issue an indictment, a legal action that results in a trial.

But in this case, the prosecutor had two assistants present all the evidence available — meaning the grand jurors heard testimony from every witness and saw every report, photograph and video before deciding. Nine of 12 votes are required for in an indictment, but the vote count remains secret.

McCulloch gave his condolences to Brown's family at the beginning of the press conference.

He said the presentation of evidence and deliberations were done on the grand jury's schedule. The grand jury met on 25 different days, he said.

McCulloch said some witnesses disagreed with others, and sometimes physical evidence didn't match witness statements. Almost all the initial interviews of witnesses, including Wilson, were recorded, McCulloch said.

What is not in dispute is that Brown, 18, took a $48 package of cigarillos about noon that day from the Ferguson Market on West Florissant Avenue and had some kind of physical encounter with Wilson, 28, shortly later as the officer sat in a police SUV on Canfield Drive.

Brown's companion, Dorian Johnson, said Wilson drove up, ordered them to stop walking in the street, then reached through the open driver's side window and grabbed Brown by the neck to pull him in. Police said Wilson had pushed the door closed to keep Wilson from getting out of the SUV before the men struggled through the window and at least one shot was fired from the officer's handgun.

The official autopsy indicated that Brown suffered a close-range wound to the thumb, which Wilson's supporters took to indicate that Brown was reaching for the weapon. His blood was found on the 9mm Sig Sauer semi-automatic.

Witnesses said Brown ran from the vehicle and that Wilson tried to chase him. Some bystanders said Brown had his hands up and was shot when surrendering. Some said he was shot in the back. Sources close to Wilson said he told officials that Brown stopped and aggressively turned back toward him before he fired two volleys.

Brown was shot at least six times, with at least five wounds in the front and one that could have been from the front or back depending upon the position of his arm at the moment. A shot to the top of his head, which may have occurred while he was falling or lunging, officials said, was fatal. Toxicology showed that Brown had used marijuana.
More from The New York Times, specifically a fairly detailed report of the summary that McCulloch provided of the events that led to the shooting:
At 11:48 a.m. that day, Officer Wilson was on duty, responding to a call about a sick child who was having trouble breathing. Only a few blocks away, Mr. Brown and a friend, Dorian Johnson, were walking into Ferguson Market and Liquor, a convenience store on West Florissant Avenue.

Surveillance video released by the Ferguson Police Department showed Mr. Brown, wearing a St. Louis Cardinals cap, white T-shirt and khaki shorts, stealing cigarillos and shoving a clerk who tried to stop him.

Mr. Brown and Mr. Johnson left the store about 11:54 a.m.

They headed in the direction of their homes, down a winding side street called Canfield Drive that is lined with low-rise apartment buildings with wooden balconies. Mr. Johnson and Mr. Brown walked down the middle of the street, usually quiet at that time of day, with only occasional traffic.

At 12:01 p.m., Officer Wilson appeared on the scene, driving alone in his police vehicle. Through the driver's side window of his Chevrolet Tahoe, he issued an order: Leave the street and walk on the sidewalk.

At this point, accounts differed widely. Mr. Johnson said that Officer Wilson reached through the open window and grabbed Mr. Brown by the neck, choking and pulling him. According to an account that Officer Wilson gave to various authorities, Mr. Brown was the aggressor, punching him in the face and scratching him on the neck. Pinned in his vehicle, according to his statements to the authorities, Officer Wilson feared for his life and, with his right hand, drew his gun from the holster.

As the two continued to struggle, Officer Wilson fired the gun twice, forensic evidence revealed. One shot hit Mr. Brown in the hand, a county autopsy found.

long Canfield Drive, alarmed neighbors and passers-by began to notice the scuffle.

One witness, Tiffany Mitchell, had stopped at an apartment complex to pick up a co-worker, Piaget Crenshaw, when she saw Officer Wilson and Mr. Brown fighting at the vehicle door. To Ms. Mitchell, she said later, it appeared that the two were "arm-wrestling."

Continue reading the main story
Ms. Mitchell was reaching for her cellphone to record the confrontation when she saw Mr. Brown wriggle loose from Officer Wilson and begin to run away, she said.

Officer Wilson left the car, pursued Mr. Brown on foot and continued to fire.

Two construction workers who were on Canfield Drive at the time said in interviews with the news media that they had seen Mr. Brown with his hands up when he was shot. One of the workers said "the officer was chasing him." Other witnesses said Mr. Brown had turned around and was moving toward Officer Wilson.

One witness, Michael T. Brady, a janitor who lives nearby, said in an interview that he had seen Mr. Brown shot in the head while in a bent-down position.

Officer Wilson said Mr. Brown had been running toward him when he fired the fatal shots. Autopsies revealed that Mr. Brown had been shot at least six times. The entire encounter lasted just 90 seconds, police radio communications show.
In many respects the outcome of the Grand Jury proceedings is not at all surprising. For weeks now, reports had been been leaking out indicating that the evidence that was being presented to the panel tended to support the version of events related by Officer Wilson, who in a maneuver that is permitted on the law but is not always typical in criminal cases had testified personally before the Grand Jury as is permitted by law. This evidence included not only the testimony of witnesses, including African-Americans who were present on the scene that afternoon who were reported to have seen the events that led to the final, fatal shots and, both according to those reports and the brief summary that McCulloch provided tonight, seemed to dispute the widespread belief in the days after the shooting that Brown had approached Wilson with his hands up in a sign of surrender. Wilson's account was apparently also supported by the autopsy evidence, which included autopsies performed by St Louis County, the FBI, and by an expert hired by Brown's family. Additionally, reports prior to today had indicated that the Federal investigation was indicating that Federal civil rights charges are unlikely as well. Additionally, in the weeks prior to today's announcement the area was beginning to brace itself for the probability that there would be no indictment and that this would lead to violence from the crowd and further confrontations with police like those we saw in August in the wake of the Brown shooting.
 Not having had access to all of the information that the Grand Jury did, I am not prepared to say at first blush that their refusal to indict based on the evidence presented to them is improper, illegitimate, or based on anything other than their fair consideration of that evidence. District Attorney McCulloch had said that all of the evidence that was submitted to the Grand Jury, including all of the evidence and the transcripts of all of the testimony will be made immediately available to the press and the public so, no doubt, in the days ahead, we will all have our own opportunity to look through that evidence and evaluate for ourselves. It's worth keeping in mind, though, that reading a dry transcript is far different from hearing witness testimony live, not in the least because it deprives the reader of the opportunity to evaluate physical and other cues from a witness that may give an idea of how credible they might actually be in all or part of their testimony. Additionally, anyone on the outside viewing this testimony will be doing so in the context of already having been exposed to months of media coverage. Given that, the judgment that the Grand Jury got things wrong is one that ought to be avoided unless it is blindingly obvious that they were tainted by bias or some other factor, which simply isn't something we can say at this early hour.
At the same time, it is worth noting that there has been criticism of the manner in which McCulloch approached this case. As the old saying goes, ordinarily a prosecutor could get a jury "indict a ham sandwich" by carefully controlling what is presented to only that evidence likely to lead to the conclusion that he or she wants. In this case, though, McCulloch treated the Grand Jury as more of an investigative body and presented pretty much every piece of evidence available to the body, presenting them with the variety of charges that he believed they could reach a finding of probable cause ranging from 2nd Degree Murder down to criminally negligent homicide and allowing them to make the decision based on the evidence presented. There's nothing improper about this procedure, and indeed it is permitted under the laws of pretty much every state, but it also isn't the way things are typically done in cases involving civilians. This has led some analysts to suggest that McCulloch basically threw his hands up in the air and handed responsibility for the case to the Grand Jury, but, again, this is not necessarily improper and given the large amount of sometimes contradictory eyewitness and forensic evidence in this case it was arguably the best way to approach the matter. The problem, of course, is that the fact that all of this was done in secret, as all Grand Jury proceedings are, means that the pre-existing suspicions that the public had about the matter were only being reinforced by the procedure being used to investigate it.
The most immediate concern in light of the decision, of course, is what happens next in Ferguson. In the immediate aftermath of the announcement, the group of protesters who had gathered outside the Ferguson Police Department turned agitated and violent, setting at least two police cars on fire which resulted in police firing tear gas to try to disburse the crowds. In many ways, the scenes on television look as bad as they did during the worst of the August rioting and police militarization. There have also been reports of gunfire, although it's unclear who was firing at who or why at this point. On some level, this calls into question the wisdom of waiting until late in the evening to announce the decision, but that was apparently motivated by a desire to wait until the end of rush hour to make sure people had an opportunity to get home. Schools are closed tomorrow and, in most of the area, for the rest of the week, and perhaps the approaching Thanksgiving holiday will cause things to calm down quicker than they might otherwise. In any case, I'm sure that Ferguson will look quite bad when we wake up in the morning. Lost in all of that, likely, will be the question of properly examining the evidence that was presented to the Grand Jury, and taking into account the legitimate concerns of the people of Ferguson who have obviously been frustrated with their police and their city government for long before Michael Brown was shot three and a half months ago.
Update: The New York Times has the collection of documents released in connection with the Grand Jury investigation. It's quite extensive, consisting of 24 volumes of the transcripts of hearings before the Grand Jury from the first hearing on August 20th to the final hearing on November 21st; the transcripts of witnesses by law enforcement officials of 64 witnesses, a series of exhibits consisting of exhibit and other reports, and photographs of some parts of the crime scene and of Officer Wilson immediately after the incident. Some items, such as photographs of Brown's body and autopsy photos appear to be withheld, for understandable reason.