Warnings Of Violence In Ferguson Could Become Self-Fulfilling Prophecy
All the warnings of violence in the wake of an expected imminent announcement from the Grand Jury in the Michael brown case could become self-fulfilling prophecy.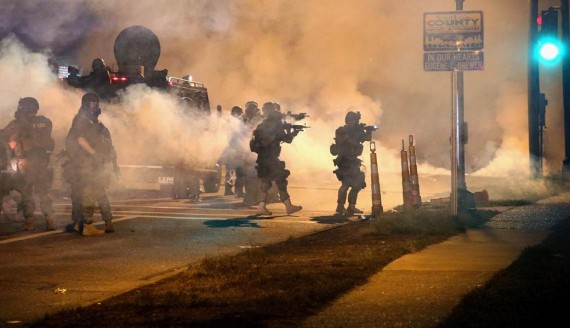 As we await a decision from the Grand Jury investigating the Michael Brown shooting, we now have the Federal Bureau of Investigation warning that the decision could lead to violence against law enforcement both in Ferguson and elsewhere around the nations:
As the nation waits to hear whether a Missouri police officer will face charges for killing unarmed teenager Michael Brown in Ferguson, Mo., the FBI is warning law enforcement agencies across the country that the decision "will likely" lead some extremist protesters to threaten and even attack police officers or federal agents.

Peaceful protesters could be caught in the middle, and electrical facilities or water treatment plants could also become targets. In addition, so-called "hacktivists" like the group "Anonymous" could try to launch cyber-attacks against authorities.

"The announcement of the grand jury's decision … will likely be exploited by some individuals to justify threats and attacks against law enforcement and critical infrastructure," the FBI says in an intelligence bulletin issued in recent days. "This also poses a threat to those civilians engaged in lawful or otherwise constitutionally protected activities."

The FBI bulletin expresses concern only over those who would exploit peaceful protests, not the masses of demonstrators who will want to legitimately, lawfully and collectively express their views on the grand jury's decision.

The bulletin "stresses the importance of remaining aware of the protections afforded to all U.S. persons exercising their First Amendment rights of freedom of speech and freedom of assembly."

Within hours of the FBI issuing its bulletin, some police departments across the country issued their own internal memos urging officers to review procedures and protocols for responding to mass demonstrations.

Still, the bulletin's conclusions were blunt: "The FBI assesses those infiltrating and exploiting otherwise legitimate public demonstrations with the intent to incite and engage in violence could be armed with bladed weapons or firearms, equipped with tactical gear/gas masks, or bulletproof vests to mitigate law enforcement measures."

The bulletin cites a series of recent messages threatening law enforcement, including a message posted online last week by a black separatist group that offered "a $5,000 bounty for the location" of Ferguson police officer Darren Wilson, who fired the shots that killed Brown on Aug. 9.

In interviews with ABC News, police officials said their departments have identified a number of agitators who routinely appear at mass demonstrations.

"How many of those sympathizers are actually sympathizers?" Rick Hite, the chief of the Indianapolis Metropolitan police department, wondered. Many of them see the protests as a way to "chime in with their own personal agenda," he said.

In its new intelligence bulletin, obtained by ABC News, the FBI says "exploitation" of mass demonstrations "could occur both in the Ferguson area and nationwide."

Overall, though, law enforcement officials contacted by ABC News – stretching from Los Angeles to the Atlanta area – remained confident that any protests in their cities would not be tainted by violence.

"We are not expecting any issues in our city," said Billy Grogan, the chief of police in Dunwoody, Ga., outside Atlanta. "However, we are preparing just in case. I believe most departments are watching the situation closely and are prepared to respond if needed."

A law enforcement official in Pennsylvania agreed, saying that while authorities there are not enacting any significant new measures they are "monitoring" developments out of Ferguson.
This news comes amid other reports about authorities who appear to be preparing for both a decision from the Grand Jury to no charge Officer Darren Wilson at all, or to return a charge on some minimal charge that would likely do little to satisfy people who are convinced that Wilson killed Brown in cold blood, and the prospect that such a result would both set off a new round of protests and lead to outsiders using those protests to mask a more nefarious agenda, which appears to be what happened in August. Yesterday, for example, the Governor of Missouri put a State of Emergency in place even though it remains unclear when a Grand Jury decision might be announced, or what that announcement might be. Additionally, both law enforcement and civic groups in the Ferguson area appear to be preparing for protests, clashes, and likely confrontations between protesters and the police in the wake of the expected announcement.
As Jazz Shaw notes, on some level pronouncements and preparations such as do carry with them a measure of common sense. Since the expectation at this point seems to be nearly universal that the Grand Jury's decision will be something less than what the people who have been protesting in Ferguson, and the community as a whole would like to see, and could very well result in Officer Wilson returning to active duty in the event there are no charges brought, then it's likely that there will be protests even at this time of the year when the weather is colder. It's also prudent to assume that some of those protests could turn violent, either because outsiders will use them as excuses to loot and pillage as they did in August, or because the police will once against over-react in the same hyper-militarized manner that will cause the same reactions we saw in August.
At the same time, though, I can't hope but think that we're looking at something of a self-fulfilling prophecy here. While its prudent to prepare for worst case scenarios, the fact that we've been through at least a week, if not longer, of predictions that people won't be able to control themselves in the wake of the announcement of the Grand Jury decision seems to me to be making that very possibility more likely. On the side of the police, it creates the expectation that whomever they encounter in protests in the wake of the decision is a potential threat rather than someone exercising their First Amendment rights, thus making a police overreaction all the more likely. Among the protesters it seems only likely to reinforce the fear that the police are out to target them, and to cause them to react accordingly. And, of course, there will be the opportunists who will act without any real concern for the issues in the Michael Brown shooting, but only to stir up trouble and engage in violence for the sake of violence. One would like to think that community leaders and law enforcement will find a way to handle all of this appropriately, but the events in August make it seem unlikely that there's much trust between the two sides in Ferguson at this point. Which means that the reaction to what is expected is going to be problematic indeed, unfortunately.