Regardless Of The Grand Jury Decision, Ferguson Raises Issues Americans Need To Address
Regardless of the outcome of the Michael Brown investigation, there are legitimate problems that need to be addressed.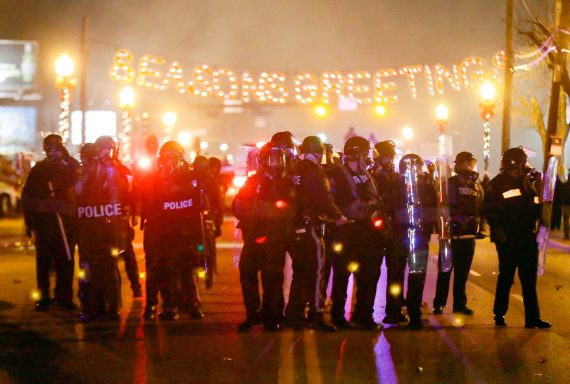 In the moments after the announcements regarding the decision of the Ferguson Grand Jury's decision last night, President Obama spoke in the White House Press Room regarding the decision, the need for calm, and the need for the nation to recognize the underlying issues behind the protests that the Michael Brown shooting itself. Unfortunately, and due in no small part to the media itself, his words mostly fell on deaf ears even among people that would seem to be inclined to support him:
Washington (CNN) — President Barack Obama called for calm Monday night, moments after a Missouri prosecutor announced there would be no indictment against the police officer who shot and killed Michael Brown.

His measured tone stood in stunning contrast to the images of violence on the streets of Ferguson that intensified on a split screen. As the President spoke — warning protesters that throwing bottles and smashing car windows won't help — some members of the crowds of hundreds in Ferguson were doing just that. Police responded by firing tear gas.

Obama said anger over a grand jury's decision not to indict Officer Darren Wilson is an "understandable reaction." But he urged protesters to remain peaceful and called on law enforcement officers in the city of Ferguson to exercise "care and restraint in managing peaceful protests that may occur."

"We are a nation built on the rule of law, and so we need to accept that this decision was the grand jury's to make," Obama said late Monday night. "There are Americans who agree with it and there are Americans who are deeply disappointed, even angry. It's an understandable reaction. But I join Michael's parents in asking anyone who protests this decision to do so peacefully."

(…)

The President said the inflamed tensions over the case, both in Ferguson and elsewhere, are in part a result of decades-old strains in race relations.

"There is inevitably going to be some negative reaction, and it'll make for good TV," Obama said.

"But what we want to do is to make sure that we're also focusing on those who can offer the kind of real progress that we know is possible — that the vast majority of people Ferguson, the St. Louis region, in Missouri and around the country are looking for," he said. "I want to be partners with those folks and we need to lift up the kind of constructive dialogue that is taking place."

Asked whether he will visit Ferguson, Obama said: "Let's take a look and see how things are going." He pointed to Attorney General Eric Holder's visits to the area.
Here's the video of the President's address:
But, if you watched on live television, you didn't see the speech that way, you saw it via a split screen, with the images of the violence that was beginning to unfold in Ferguson notwithstanding the Presidents words, which the crowds were most likely not even listening to:
Notwithstanding the fact that the President's words failed to quell violence in Ferguson last night, the fact that he said them was, I think, worthwhile. Indeed, when I first heard last night that he would be speaking after the decision was handed down I didn't really see the point at first. For one thing, the fact that there is still an ongoing Federal investigation of the Michael Brown shooting so it would have been in appropriate for the President to comment on the merits of the Grand Jury's decision or any questions regarding Officer Wilson's guilt or innocence. For another, as Jesse Walker notes at Hit & Run the pundit class's faith in the power of Presidential, or other, speeches to effectively address large scale social or political problems is largely exaggerated, As Walker puts it, this is reality  not The West Wing, and the odds that a single speech is going to do much of anything simply faiths far more faith in the supposed power of words from "important" people" than is deserved. The problems that are at the root of the protests that have been going on since August in Ferguson, or the ones that pop up elsewhere in the country whenever there is an incident between police offices and an African-American, specifically but not always and African-American male are far too complicated to be solved by speeches, and the fact the people of Ferguson were not even listening to the President, and didn't listen to the pleas of the Brown family for non-violence out of respect for their son either, indicates that it largely fell on deaf ears. Additionally, to the extent that the President was speaking to people outside of communities like Ferguson to try to explain to them why people there may feel the way they do was likely wasted thanks to the images that on the other side of that split screen.
Nonetheless, there is, I think, some value in what the President had to say last night that we ought to keep in mind going forward:.
Finally, we need to recognize that the situation in Ferguson speaks to broader challenges that we still face as a nation.  The fact is, in too many parts of this country, a deep distrust exists between law enforcement and communities of color.  Some of this is the result of the legacy of racial discrimination in this country.  And this is tragic, because nobody needs good policing more than poor communities with higher crime rates.  The good news is we know there are things we can do to help.  And I've instructed Attorney General Holder to work with cities across the country to help build better relations between communities and law enforcement.

That means working with law enforcement officials to make sure their ranks are representative of the communities they serve.  We know that makes a difference.  It means working to train officials so that law enforcement conducts itself in a way that is fair to everybody.  It means enlisting the community actively on what should be everybody's goal, and that is to prevent crime.

And there are good people on all sides of this debate, as well as in both Republican and Democratic parties, that are interested not only in lifting up best practices — because we know that there are communities who have been able to deal with this in an effective way — but also who are interested in working with this administration and local and state officials to start tackling much-needed criminal justice reform.

So those should be the lessons that we draw from these tragic events.  We need to recognize that this is not just an issue for Ferguson, this is an issue for America.  We have made enormous progress in race relations over the course of the past several decades.  I've witnessed that in my own life.  And to deny that progress I think is to deny America's capacity for change.

But what is also true is that there are still problems and communities of color aren't just making these problems up.  Separating that from this particular decision, there are issues in which the law too often feels as if it is being applied in discriminatory fashion.  I don't think that's the norm.  I don't think that's true for the majority of communities or the vast majority of law enforcement officials.  But these are real issues.  And we have to lift them up and not deny them or try to tamp them down.  What we need to do is to understand them and figure out how do we make more progress.  And that can be done.

That won't be done by throwing bottles.  That won't be done by smashing car windows.  That won't be done by using this as an excuse to vandalize property.  And it certainly won't be done by hurting anybody.  So, to those in Ferguson, there are ways of channeling your concerns constructively and there are ways of channeling your concerns destructively.  Michael Brown's parents understand what it means to be constructive.  The vast majority of peaceful protesters, they understand it as well.

Those of you who are watching tonight understand that there's never an excuse for violence, particularly when there are a lot of people in goodwill out there who are willing to work on these issues.

On the other hand, those who are only interested in focusing on the violence and just want the problem to go away need to recognize that we do have work to do here, and we shouldn't try to paper it over.  Whenever we do that, the anger may momentarily subside, but over time, it builds up and America isn't everything that it could be.
By and large, I think the President hits the nail on the head here. As he states at the beginning of his remarks, the Grand Jury in Ferguson has spoken and it is important that this decision be respected, just as it will be important to respect whatever decision the Department of Justice and and Federal Grand Jury it may empanel may reach with regard to any potential civil rights charges against Officer Wilson. Already I have seen many legal analysts and political pundits criticizing the exact procedure that the District Attorney followed here, specifically the idea that the Grand Jury was used more as an investigative tool than the "indictment machine" that Grand Juries typically seem to become in criminal cases involving civilians. However, there was nothing per se legally improper in Mr. McCulloch choosing to utilize the Grand Jury in that manner and, in a situation such as this where the facts and the law regarding the proper use of deadly force are not clear, the fact that the Grand Jury was asked to do more than it might otherwise be asked to do in a shooting incident involving two civilians is not entirely surprising. While some will accuse the prosecutor of utilizing a process designed to result in no indictment, there was, of course, no way he could have known that this would be the result and the fact that the forensic evidence seems to support Officer Wilson's version of events while the eyewitness testimony, though conflicting, at least seemed to provide the Grand Jury with no reason to substantially doubt either Officer Wilson or the forensic evidence, suggests strongly that the decision the Grand Jury reached cannot fairly be said to be improper or not based in the evidence.
At the same time that we respect the verdict, though, the President is correct to point out the underlying facts on the ground in communities such as Ferguson that lead the people to live there to feel the way that they do about law enforcement and the way that it interacts with them on a personal level. It is an undeniable fact, for example, that young African-American males are 21 times more likely to be shot by police than anyone else, that they are more likely to be stopped and questioned for little or no reason, and that they are more likely to be the target of things like traffic stops if they are seen by police in neighborhoods were they "aren't supposed to be." These are facts that are backed up by FBI and other statistics that are difficult to dismiss, as are the emotions that an event like the Michael Brown shooting, the death of Eric Garner at the hands of an NYPD officer due to what appears to have been a choke hold that the department had banned years ago, the shooting of Amadou Diallo in 1999, the Rodney King incident, or the any other number of incidents that never achieve media prominence the way that these cases have. Law enforcement itself has long acknowledged its own problems in dealing with minority communities that have largely been due to law enforcement over reach and overreaction.
Jazz Shaw takes the President to task for his remarks:
This is not a message of healing, nor is it a statement of support for the rule of law. That speech was a thinly veiled call to action, not to improve the nation, but to reinforce the idea that the legal system is not to be trusted. Barack Obama was telling everyone that you can have your day in court (or in this case, before a Grand Jury to decide if it even goes to court) but there is no reason for you to either trust or accept the results. If things don't go the way you want, then it's the courts that are wrong, not you. And when the legal dust settles, of course we don't want any violence, but it's completely understandable why you are so angry.
While I understand where Jazz is coming from here, I do have to respectfully disagree. In the end, there can be no healing if there isn't understanding on both sides. The people of Ferguson need to understand that violent protests don't serve any purpose other than likely guaranteeing that their lives will become more difficult and that people who don't really understand their perspective will tend to dismiss them as rioters. The rest of America, though, needs to understand why it is that cases like the Brown shooting, or the other incidents I noted above, raise such passion in communities like Ferguson. It isn't just about the facts of the individual case, it's about the fact that these individual incidents are symbolic of a bigger problem, and one that is difficult to deny. Indeed, the facts of these individual cases notwithstanding, anyone who fails to recognize the fact that minority communities across the country have legitimate concerns about how they are being treated by police is quite simply ignoring reality, and the President deserves much credit for trying to draw our attention to them yet again. I don't know what the solution to these problems actually is, but I do know that ignoring them isn't the one of them. Unfortunately, in wake of last night's violence I am not sure anyone is going to listen.
Photo via Mashable