Staten Island Grand Jury Refuses To Indict NYPD Officer In Chokehold Death
A New York City Grand Jury refuses to indict a cop who appears from all available evidence to choked a guy to death for no good reason.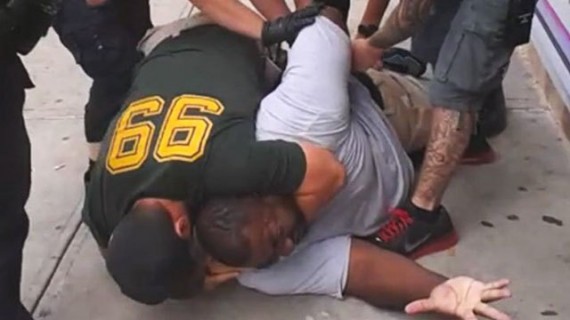 While there has been a lot of media attention paid to the shooting death of Michael Brown back on August 9th, New York City has been dealing with its own controversial death at the hands of police. The origins of the story go back to July 17th when an African-American man named Eric Garner was approached by a plain-clothed New York City Police Officer who suspected him of illegally selling cigarettes and other items on the street. Eventually, the plain clothed office was joined by other officers, including Officer Daniel Pantaleo who, while Garner had his hands in the air but continued to argue with police, approached Garner from behind in an effort to subdue him and ended up getting him in a hold which many have described as a choke hold, a move that has been banned by the NYPD for several years now due to the dangers that it tends to be applied incorrectly and result in death or serious injury. In Garner's case, there is video of Garner saying that he cannot breath, but Pantaleo continued to apply the hold until Garner loses consciousness and eventually dies. As with the Ferguson case, the Garner case resulted in protests, although none of them have been violent or disruptive in any respect.
To more fully understand what happened, it's helpful to watch the video that was shot by someone who just happened to be on the scene, here are two versions of it:
and
As in the Ferguson case, a Grand Jury was quickly given the case in Richmond County, New York, which is basically Staten Island, the location where Garner died. That investigation has gone on for several months and, as permitted by New York law, included testimony by Officer Panteleo at his own request. As the investigation went on, it became apparent that the outcome could range everywhere from an indictment for 2nd Degree Murder, to a lesser charge like criminally negligent homicide, to no indictment at all. Today, that Grand Jury came back with the announcement that there would be no indictment in the Garner case, and now the question is what the reaction in New York City will be:
 A Staten Island grand jury has voted not to bring criminal charges against the white New York City police officer at the center of the Eric Garner case, a person briefed on the matter said Wednesday.

The decision was reached on Wednesday after months of testimony including from the officer, Daniel Pantaleo, who used a chokehold to restrain Mr. Garner, an unarmed black man who died after a confrontation. It came less than two weeks after a grand jury in Ferguson, Mo., declined to bring charges against a white officer who fatally shot an unarmed black teenager, Michael Brown.

For days, the New York City Police Department has been readying for a new round of protests, which began in the city after the Ferguson decision and which were expected to continue and possibly grow if the grand jury declined to bring charges against the officer.

In Ferguson, protesters and police officers clashed in the streets almost immediately after Mr. Brown's killing by Officer Darren Wilson in August; riots erupted on the night the grand jury's decision was announced last month. By contrast, in late August, a demonstration on Staten Island over the death of Mr. Garner, 43, proceeded without confrontation or arrest.

The grand jury, impanelled by District Attorney Daniel M. Donovan Jr. in September, has weighed evidence – including a video recorded by bystanders of Mr. Garner's violent arrest – and heard testimony from the officers involved.

Grand juries determine whether enough evidence exists for a case to go forward to a criminal trial, either before a jury or a judge. By law, they operate in secret and hear only evidence presented by prosecutors, who also instruct the grand jurors on the law. Defense lawyers are barred from speaking. For a decision, 12 jurors who have heard all the evidence must agree.

An indictment was considered only against Officer Pantaleo, who testified last, on Nov. 21, his lawyer, Stuart London, said. The other officers received immunity, he said.

The case exposed lapses in police tactics – chokeholds are banned by the Police Department's own guidelines – and raised questions about the aggressive policing of minor offenses in a time of historically low crime. The officers, part of a plainclothes unit, suspected Mr. Garner of selling loose cigarettes on the street near the Staten Island Ferry Terminal, a complaint among local business owners.
It's unclear at this point whether we will see the same release of evidence that accompanied the announcement last week of no indictment in the Michael Brown shooting in Missouri. In that case, the release was made by the District Attorney himself, who had apparently concluded that the state's open records law essentially gave him sole discretion over whether or not to release anything or nothing. It's not clear that New York has a similar law and, indeed, in most states the law states rather clearly that Grand Jury proceedings are supposed to remain sealed indefinitely unless otherwise permitted by a Judge. Unless that happens, though, its going to be difficult to tell what exactly it might have been about the evidence presented that persuaded this Grand Jury that there was not probable cause for at least a low-level homicide charge in this case, particularly given the videos showing how this matter unfolded, which is quite obviously very different from the circumstances of the Brown shooting even if you take the facts of that case in the light most favorable to Officer Wilson. Here, it seems clear from the video that Garner was not doing anything belligerent when the police first approached him, and that the situation only became heated as the police officers involved continued to press Garner for reasons that remain rather unclear. Indeed, even if it was true that Garner was illegally selling cigarettes, that is hardly the type of offense that would justify the police behavior we saw on this tape, especially given the fact that the apparent chokehold that Officer Panteleo used on Garner has been banned by the NYPD and other departments for years now because of the likelihood that it would lead to precisely what happened in this situation. The added fact that the officers involved were white while Garner was African-American, of course, just added fuel to the fire of the eventual protests that occurred in the wake of Garner's death.
As with the Brown shooting, Garner's death is also being investigated by the Justice Department, but it's unclear that there will be sufficient evidence here for civil rights charges against the officers involved. Additionally, Garner's family has already announced that they plan to pursue a civil case against the city, and that case is likely to drag on for years. In the here and now, though, we have yet another example of what many people are going to interpret as police once again being allowed to get away with something in a situation involving an African-American man. Even if there's no direct evidence of racial prejudice involved, it will likely add to the resentments that have fueled the protests across the nation since the decision from the Ferguson Grand Jury. I don't expect we'll see violent rioting in New York City, however. The Police Department there has been in relatively good communication with the protesters in the Garner case from the beginning and the protests that have taken place in that case have been peaceful and generally not disruptive. Additionally, the NYPD is far more experienced and competent when it comes to things like crowd control than the police in Ferguson and St. Louis County. Nonetheless, this result is likely to once again stir the pot when it comes to the relationship between law enforcement and minority communities. At some point, we're going to have to start looking for solutions to problems like this rather than just continuing to let them happen.