NYPD Officer Daniel Pantaleo Finally Fired In Choking Death Of Eric Garner
More than five years after the fact, the NYPD officer who applied an illegal chokehold that resulted in the death of Eric Garner has finally been fired.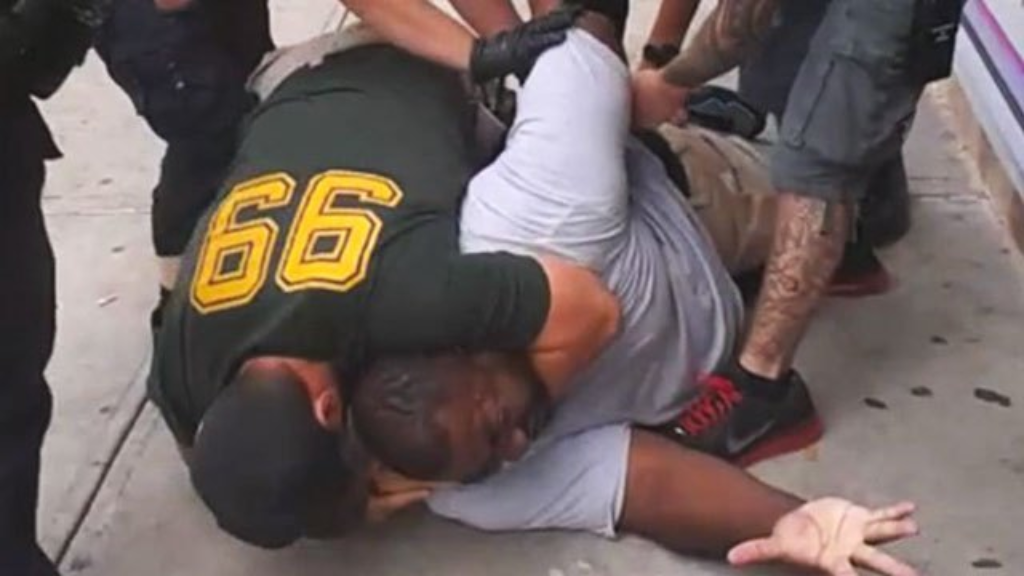 Five years after the fact, Daniel Pantaleo, the New York City Police Officer responsible for the death of Eric Garner in a choking incident that helped spur the Black Lives Matter movement, has finally been fired:
The New York City police officer whose chokehold led to Eric Garner's death in 2014 was fired from the Police Department and stripped of his pension benefits on Monday,ending a bitter battle that had cast a shadow over the nation's largest police force.

Commissioner James P. O'Neill's decision to dismiss the officer, Daniel Pantaleo, came five years after Mr. Garner's dying words — "I can't breathe" — helped to galvanize the Black Lives Matter protests that led to changes in policing practices in New York and around the country.

Officer Pantaleo had held on to his job as the Staten Island district attorney and the Justice Department declined to charge him with a crime in the face of calls by the Garner family and their supporters that the city punish him and other officers involved.

Commissioner O'Neill dismissed Officer Pantaleo just over two weeks after a police administrative judge had found him guilty of violating a department ban on chokeholds.

The commissioner gave an emotional explanation laced with sympathy not just for Mr. Garner, but for Officer Pantaleo, and said he had agonized over the decision. He said he might have made similar mistakes if he had been in Mr. Pantaleo's place, and noted that Mr. Garner should not have resisted arrest when he was stopped and accused of selling untaxed cigarettes.

Still, the commissioner said, Officer Pantaleo had failed to relax a grip on Mr. Garner's neck after he tackled him to the ground, and his recklessness triggered a fatal asthma attack.

"The unintended consequence of Mr. Garner's death must have a consequence of its own," Commissioner O'Neill said. "It is clear that Daniel Pantaleo can no longer effectively serve as a New York City police officer."

Commissioner O'Neill's voice wavered as he delivered a decision that he said had been difficult to make and was long overdue. He said he expected it would not only fail to deliver justice to the Garner family, but would also make his own rank-and-file question whether he supported them.

"Every member of law enforcement in this country that works to keeps this country safe and this city safe, looked at that and said, 'That could possibly be me,'" said Commissioner O'Neill, who was a police officer for nearly 34 years before he was appointed commissioner. "It's in my DNA. It's who I am. But as police commissioner, I have to think about the city. I have to think about the rules and regs of the N.Y.P.D. and make sure they're followed."

The leader of the city's largest police union denounced the decision, saying Commissioner O'Neill had bowed to "anti-police extremists" and that Officer Pantaleo's dismissal sent a message that the city did not stand behind its officers when they make arrests.


"We are urging all New York City police officers to proceed with the utmost caution in this new reality, in which they may be deemed 'reckless' just for doing their job," the Police Benevolent Association president, Patrick J. Lynch, said in a statement. "We will uphold our oath, but we cannot and will not do so by needlessly jeopardizing our careers or personal safety."

Mr. Garner died on July 17, 2014, after Officer Pantaleo tackled him from behind, then, along with other officers, pressed him down on the pavement. Police supervisors had sent Officer Pantaleo and his partner to arrest Mr. Garner because they suspected he was selling loose cigarettes near Tompkinsville Park in Staten Island.

The case had defined the Police Department's relationship with the public under Mayor Bill de Blasio, who campaigned for office on a promise to reverse the aggressive policing of low-level crime and disorder — known as the "broken windows" strategy — that his predecessor had championed. The mayor had come under intense criticism for refusing to fire Officer Pantaleo.

At a news conference in City Hall, Mr. de Blasio presented the decision as the final resolution of what had been one of the most fraught political and cultural sagas of his mayoralty. The firing of Officer Pantaleo "ended a chapter that has brought our people so much pain and so much fear these last five years," he said.

"Today we have finally seen justice done," said Mr. de Blasio, who is running for president on his credentials as a progressive Democrat. "We must devote ourselves to this simple goal: No one should have to go through the agony that the city has gone through here. Let this be the last tragedy."

Mr. de Blasio blamed the Justice Department for taking five years before deciding not to pursue civil rights charges, saying "the place that was synonymous with making things right failed us." The mayor also sought to calm police officers angered by Officer Pantaleo's firing, urging New Yorkers to thank them for their efforts.
Northwestern University Professor Steven Thrasher responds:
A study recently published in the Proceedings of the National Academy of Sciences found that police use of force is a leading cause of death for young men of color overall and the sixth leading cause for young black men. One in 1,000 black men and boys can expect to be killed by the police, making them about 2.5 times more likely to experience this fate than white men and boys.

The same study found that black, American Indian and Alaska Native women face a higher risk than white women, with American Indian and Alaska Native being up to twice as likely to be killed by the police as white women.

"This study shows us that police killings are deeply systematic, with race, gender and age patterning this excess cause of death," Michael Esposito, one of the study's authors, said.

(…)

I don't know if white readers can comprehend how stressful police stops are for black and brown folks in the United States. I don't know if any amount of writing, or epidemiological research, or news accounts can convince white readers that a police encounter is a dangerous, potentially family-separating or life-ending event for black and brown folks.

But to brown and black readers: Know that the fears you have are not merely in your imagination. As white supremacists grow bolder under President Trump, and as technology allows for ever-more-expansive surveillance of intimate areas of life, policing still haunts and threatens us as much as it did the day Mr. Garner stopped breathing.
The origins of the story go back to July 17, 2014, when an African-American man named Eric Garner was approached by a plain-clothed New York City Police Officer who suspected him of illegally selling cigarettes and other items on the street. Eventually, the plain-clothed officer was joined by other officers, including Officer Daniel Pantaleo who, while Garner had his hands in the air but continued to argue with police, approached Garner from behind in an effort to subdue him and ended up getting him in a hold which many have described as a chokehold, a move that has been banned by the NYPD for several years now due to the dangers that it tends to be applied incorrectly and result in death or serious injury. In Garner's case, there is a video of Garner saying that he cannot breathe, but Pantaleo continued to apply the hold until Garner loses consciousness and eventually dies. As with the happened nearly a month later with the Michael Brown case in Ferguson Missouri, the Garner case resulted in protests, although none of them have been violent or disruptive in any respect.
Garner was not doing anything belligerent when the police first approached him, and that the situation only became heated as the police officers involved continued to press Garner for reasons that remain rather unclear. Indeed, even if it was true that Garner was illegally selling cigarettes, that is hardly the type of offense that would justify the police behavior we saw on this tape, especially given the fact that the apparent chokehold that Officer Pantaleo used on Garner has been banned by the NYPD and other departments for years now because of the likelihood that it would lead to precisely what happened in this situation. The added fact that the officers involved were white while Garner was African-American, of course, just added fuel to the fire of the eventual protests that occurred in the wake of Garner's death.
In December 2014, a Staten Island Grand Jury declined to indict Officer Pantaleo or any of the other officers involved in Garner's death. This occurred just weeks after a Missouri Grand Jury had reached a similar decision in the Michael Brown case and resulted in a wave of protests in New York City and around the country in which Garner's final words, "I can't breathe," became a rallying cry that spurred the creation of the Black Lives Matter movement and spurred at least a momentary amount of attention on the issue of police violence and the inordinate amount of such violence aimed at African-American males. It is also the issue that spurred the controversy that began when former San Francisco 49ers Quarterback Colin Kaepernick began kneeling during the national anthem as part of his effort to bring attention to the issue of police violence.
The Garner case, which had largely faded from the front pages in the intervening years, became relevant again when the Justice Department announced in July that it would not be pursuing any Federal civil rights charges against Pantaleo or the NYPD. Earlier this month, though, Garner's family finally received some good news when an NYPD intradepartmental judge recommended that Pantaleo be fired after a trial before the department's Civilian Complaint Review Board, a result that amounts to a significant victory for both the CCRB and advocates for the punishment of police violence. It was based on that ruling that Commissioner O'Neill based his ruling yesterday that resulted in Pantaleo being fired.
Given the evidence in this case, both video and otherwise, it seems clear that this decision to fire Pantaleo came five years too late. Additionally, the same evidence makes clear that, at the very least, Pantaleo should have been charged with homicide in the case and the matter heard by a jury after a trial on the merits. Instead, we got another case where another clear instance of undue and inappropriate (and in this case illegal under NYPD rules) use of force was swept under the rug at both the Federal and state levels. The New York police unions are complaining that the result of the Pantaleo being fired is that he would lose his pension but, unlike Eric Garner, who died for no good reason, at least he gets to keep his life. The fact that the man who killed Garner isn't going to face justice for that death is an outrage.