Justice Department Finds Widespread Racial Bias In Ferguson Police Department
A new Justice Department report has found widespread racial bias in the Ferguson Police Department, but it's a problem that goes far beyond one Missouri suburb.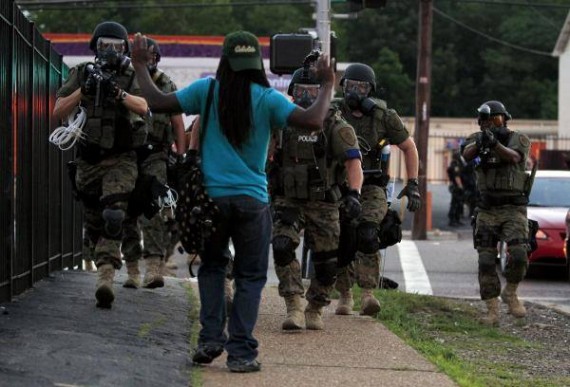 As I noted earlier today, the Justice Department released a report concluding that there was no basis to charge former Ferguson, Missouri Police Officer Darren Wilson with civil rights violations in connection with the shooting of Michael Brown last August. At the same time that investigation was going on, the Justice Department was also conducting a broader investigation of the Ferguson Police Department's overall relationship with the community in general, and the African-American community in particular, and the findings are quite damning toward a department that demonstrate quite aptly last year that it had problems:
WASHINGTON — The Justice Department on Wednesday called on Ferguson, Mo., to overhaul its criminal justice system, declaring that the city had engaged in so many constitutional violations that they could be corrected only through better training, new policies and outside oversight.

The recommendations were contained in a scathing department report that described a city where police officers singled out blacks for petty crimes, even while fixing tickets for their friends. City officials sent racist jokes from their government email addresses while at work without fear of being punished because their colleagues forwarded them to others. Complaints of police abuses, overwhelmingly against African-Americans, were rarely investigated or punished.

The findings will force Ferguson, a working-class city that is about two-thirds black, to either make changes or face a civil rights lawsuit. Justice Department officials said it appeared that city officials were open to making changes that would head off a court battle.

"The findings in Ferguson are very serious, and the list of needed changes is long," Attorney General Eric H. Holder Jr. said in a statement Wednesday.
Many of the details in the report, which is quite lengthy, are likely to be shocking to the average American, but probably not so shocking to minorities who deal with hostile police forces on a regular basis:
For example, the report described how one police officer pulled up behind a 32-year-old black man who was cooling off in his car after a basketball game. Without cause, the officer demanded the man's identification, ordered him out of his car, patted him down and asked to search the car. "The man objected, citing his constitutional rights," the Justice Department wrote. "In response, the officer arrested the man, reportedly at gunpoint, charging him with eight violations of Ferguson's municipal code."

The report found that Ferguson, a city of about 21,000, had abandoned any attempt at establishing relations with the community in favor of a strategy of making money through law enforcement. Fines are a major revenue source for the city, and the local courts were used to extract money. "Everything's about the courts," one Ferguson officer told federal investigators. "The court's enforcement priorities are money."

The Justice Department called for an entirely new approach, one built upon community policing. That will require new work schedules and a focus on crime prevention and community outreach. Federal authorities said that Ferguson must change the way it stops, searches and arrests people. Over the past two years, blacks accounted for 85 percent of all traffic stops, 90 percent of tickets and 93 percent of arrests. In cases like jaywalking, which often hinge on police discretion, blacks accounted for 95 percent of all arrests.

The Justice Department also called for closer scrutiny when the police use force, for better training of officers and for closer supervision.
There's a fairly detailed summary of some of the report's more shocking findings that has been compiled but ABC News, but suffice it to say that there is clear evidence of not only racial bias on a casual basis by members of the Ferguson police force but that the laws of the city seem to be designed to have the harshest impact possible on the city's poorest residents, the vast majority of whom are African-American. Most of these ordinances don't target actual violent crime but rather the same sort of "quality of life" crimes that police departments in major cities such as New York City have been more aggressive in enforcing in recent years, most particularly against minorities. Some of the statistics from the report are really quite telling. The report also details specific instances of racial bias inside the department such as the trading of blatantly racist email jokes about the President and others, and the mocking of members of the local minority community. Given the fact that the Ferguson Police Department was, until quite recently, exclusively white notwithstanding the fact that the community itself was becoming more and more African-American over time to the point where it is now 67% African-American. But perhaps the best way of showing just how bad the situation in Ferguson has been is by looking at the statistics, which show things like following:
85% of the vehicle stops conducted by Ferguson officers were of cars driven by African-Americans;
93% of the arrests made were of African-Americans;
88% of the recorded uses of force by Ferguson officers were against African-Americans;
92% of the cases in which warrants were issued involved African-American defendants;
95% of the cases where someone spent two or more days in jail involved African-American defendants; and,
100% of the cases involving the use of police dogs against suspects involved African-Americans
While the statistics themselves don't prove the existence of racial bias, taken together with the other evidence uncovered by the investigation they paint a portrait of a police department that seemed to be clearly and disproportionately targeting the African-American community in Ferguson largely because they thought they could get away with. Up until the shooting of Michael Brown and the events that followed, that's exactly what happened.
The reality, of course, is that this news about Ferguson shouldn't be all that surprising. That isn't because Ferguson itself is a particularly racist community, but because it mirrors things that minorities in all types of communities across the United States have been saying for years about the disproportionate manner in which they have been treated regardless of their social class. That, I think, is why the shooting of Michael Brown, along with cases such as the Eric Garner case in New York and the Tamir Rice case in Cleveland, have resonated so strongly across the country. It rises above the facts of those individual case and points toward what many African-Americans clearly feel to be a widespread racial bias problem in law enforcement that usually isn't talked about in the mainstream media. Indeed, while this report only focuses on one small town outside St. Louis, it's hard to believe that similar examples of this type of behavior could not be found in big and small departments across America on a regular basis. The only reason the story has gotten this much attention is because a young African-American man was shot and killed, which caused the people of Ferguson to rise up in protest over what they saw as just the latest example of a police department that had been treating them harshly for years. If that hadn't happened, or if the national media had ignored the protests, then none of this would have come to light. One has to wonder how many more Ferguson's are out there.
Depending on how the city responds to this report, the next steps in this investigation could be varied. Ultimately, the most likely outcome is the appointment of Federal monitor who will be in charge of putting in place reforms in how the department operates. This has been done in many large city departments in the past, but rarely has it happened in such a small jurisdiction. Whether it happens voluntarily or as the result of the order of Federal District Court Judge, though, depends on whether or not the leaders of Ferguson finally decide to face the reality of what has happened to their community.
Here's the report: