Another Night Of Unrest In Ferguson, And An Assault On Journalism
The situation in Ferguson, Missouri isn't calming down.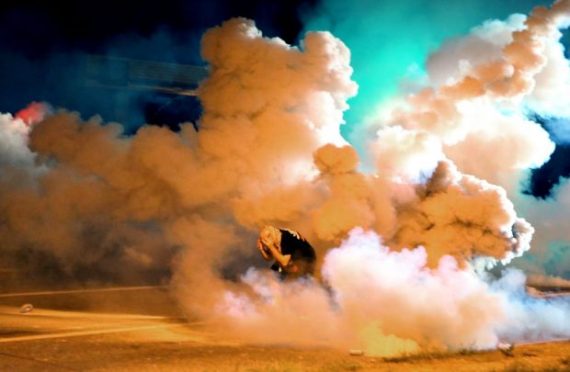 As we approach the one-week anniversary of the shooting of Michael Brown by a Ferguson, Missouri police office under circumstances that have yet to be fully explained, the unrest that has gripped the town since the shooting continued into a fifth night with an increasingly angry crowd facing down an increasingly militaristic police force:
As has been the case since Monday, the parking lot of a QuikTrip looted and burned Sunday evening has been the epicenter of hostility between protesters and police.

The animosity for the most part was verbal Wednesday until a thrown bottle prompted police to fire smoke bombs at the crowd shortly before 9 p.m.

When police then ordered demonstrators to evacuate the area or face arrest the protesters responded that "we are not going anywhere."

Police a short time later chased protesters into nearby neighborhoods after dispersing the crowd for the third straight night with tear gas grenades.

On Wednesday, police also used piercing-sound sonic cannons to scatter the crowd.

As they have since Saturday, demonstrators throughout the evening taunted and threatened police.

"If I'm going to go, I'm taking one of you with me," warned one demonstrator.

Another shouted, "We're not dogs, so what the hell you've got those whipping sticks for? Because you want to whip us like dogs."

A county police tactical operations armored vehicle was deployed at the demonstration site for most of the night.

Protected by body armor, police sat atop the vehicle methodically fitting high-caliber automatic weapons into tripods which were then trained on the crowd.

"You are being ordered to leave now!" police announced frequently through a public address system. "If you don't leave peacefully there will be arrests."

The crowd ignored the demand until the tear gas was fired.

As of midnight there were reports of sporadic gunfire.

At 2 a.m., several dozen police officers riding inside and on three armored tactical vehicles pulled up in front of the Ferguson police station. Forming a skirmish line, they faced the last of the night's protesters, a group of about 100 gathered across the street on the parking lot of the Andy Wurm Tire & Wheel shop.

A booming voice from a police loudspeaker ordered the crowd to disperse.

The protesters complied but not before some of them cursed the cops.

But 2:15 a.m., a tense quiet had fallen over Ferguson.
Much of what unfolded on the streets of Ferguson last night was being live-streamed in at least some form by people who had the technology to do it, as well as being reported on via Twitter by reporters such as The Guardian's Jon Swaine and others. In the meantime, the investigation of the shooting itself continues to drag on, which is no doubt playing a large role in the anger and frustration that is driving the protests. The St. Louis County Prosecutor says that the investigation will take time, and that it's unlikely that any information will be released until it is completely. This apparently includes everything from the identity of the officer to the results of the autopsy on Brown's body, notwithstanding that it has likely been completed at this point since the body has apparently been turned over to his family by the coroner. On some level, I suppose, the information blackout is understandable. Especially in a case such as this where tensions are running so high, releasing incomplete information only leads to misunderstandings and conspiracy theories. At the same time, though, it is obvious that the community's anger is driven in no small part by the fact that there is the perception that law enforcement is acting to cover up the truth, although there is apparently also a long history of tensions between the police in Ferguson and the town's African-American community that this incident only seems to have poured gasoline on, To some extent, those suspicions are likely being reinforced by what sometimes seems like selective leaking of information, such as earlier in the week when the Police Chief gave what he said was a summary of what the officer involved in the incident had said happened or yesterday when he gave details of a minor injury that the officer was treated for after the incident. Finally, yesterday yet another witness came forward and told a story about last Saturday that seemed to corroborate the version of events given by Brown's friend and contradicting the rudimentary story that the Police Chief recited. Given all of that, the fact that there is massive distrust of the police is no surprise at all.
The police actions against protesters wasn't the only thing that happened last night in Ferguson, though. Before the night had even fallen in Missouri, two journalists who are in Ferguson covering the shooting and the protests were taken into custody by St. Louis County Police:
Two reporters covering the unrest in Ferguson, Missouri were arrested and physically assaulted by police on Wednesday.

Ryan Reilly, the justice correspondent for The Huffington Post, and Washington Post reporter Wesley Lowery were working in a McDonald's when a SWAT team suddenly invaded the restaurant. After being told to stop recording the proceedings, and refusing, both men were then violently arrested. (Recording police officers is a legal act.) Lowery was shoved into a soda machine. An officer slammed Reilly's head against glass.

Reilly and Lowery were released shortly after news of their arrest broke. Police in Ferguson—which has seen days of protests following the killing of unarmed teenager Michael Brown by an unnamed officer—have been extremely antagonistic towards journalists, as well as towards the protesters demonstrating against Brown's death.
Wesley Lowrey recounts what happened in a piece at the Post:
For the past week in Ferguson, reporters have been using the McDonald's a few blocks from the scene of Michael Brown's shooting as a staging area. Demonstrations have blown up each night nearby. But inside there's WiFi and outlets, so it's common for reporters to gather there.

That was the case Wednesday. My phone was just about to die, so as I charged it, I used the time to respond to people on Twitter and do a little bit of a Q&A since I wasn't out there covering the protests.

As I sat there, many armed officers came in — some who were dressed as normal officers, others who were dressed with more gear.

Initially, both Ryan Reilly of the Huffington Post and I were asked for identification. I was wearing my lanyard, but Ryan asked why he had to show his ID. They didn't press the point, but one added that if we called 911, no one would answer.

Then they walked away. Moments later, the police reemerged, telling us that we had to leave. I pulled my phone out and began recording video.

An officer with a large weapon came up to me and said, "Stop recording."

I said, "Officer, do I not have the right to record you?"

He backed off but told me to hurry up. So I gathered my notebook and pens with one hand while recording him with the other hand.

As I exited, I saw Ryan to my left, having a similar argument with two officers. I recorded him, too, and that angered the officer. As I made my way toward the door, the officers gave me conflicting information.

One instructed me to exit to my left. As I turned left, another officer emerged, blocking my path.

"Go another way," he said.

As I turned, my backpack, which was slung over one shoulder, began to slip. I said, "Officers, let me just gather my bag." As I did, one of them said, "Okay, let's take him."

Multiple officers grabbed me. I tried to turn my back to them to assist them in arresting me. I dropped the things from my hands.

"My hands are behind my back," I said. "I'm not resisting. I'm not resisting." At which point one officer said: "You're resisting. Stop resisting."

That was when I was most afraid — more afraid than of the tear gas and rubber bullets.

As they took me into custody, the officers slammed me into a soda machine, at one point setting off the Coke dispenser. They put plastic cuffs on me, then they led me out the door.

I could see Ryan still talking to an officer. I said: "Ryan, tweet that they're arresting me, tweet that they're arresting me."

He didn't have an opportunity, because he was arrested as well.

(…)

During this time, we asked the officers for badge numbers. We asked to speak to a supervising officer. We asked why we were being detained. We were told: trespassing in a McDonald's.

"I hope you're happy with yourself," one officer told me. And I responded: "This story's going to get out there. It's going to be on the front page of The Washington Post tomorrow."

And he said, "Yeah, well, you're going to be in my jail cell tonight."

Once at the station, we were processed, our pockets emptied. No mug shots. They removed our restraints and put us in a holding cell. Ryan was able to get ahold of his dad. I called my mom, but I couldn't get through. I couldn't remember any phone numbers.

We were in there for what felt like 10 or 15 minutes. Then the processing officer came in.

"Who's media?" he asked.

We said we were. And the officer said we were both free to go.
There are obviously bigger things going on in Ferguson than what happened to Reilly and Lowrey, however their experience is not unique in how things have unfolded since Saturday with regard to the press. On more than one occasion, for example, police officials have pushed journalists out of areas that they were operating in and otherwise made it difficult for them to cover the protests and the police response. In this case, when these two men were taken into custody there was quite literally nothing going on. Protesters had begun to gather in the area near the McDonalds where they were located, and the police had brought in tactical teams in response, but there were no signs of unrest and, at least until it got dark, even signs that perhaps last night would have been the first night without significant conflict. It remains unclear why this group of officers felt it was necessary to clear people out of the McDonalds, although the idea that they didn't want witnesses around certainly comes to mind. In any case, it seems clear from the reports from both Lowrey and Riley, reports from those on the scene, and the fact that they were released almost instantly as soon as higher ranking officers were made aware of the situation that the detention was entirely unlawful and improper, and just seems to be another example of the overreach that the police in Ferguson have been demonstrating for five days now.
Photo via St. Louis Post Dispatch