Video Captures Pennsylvania Cop Tasing Unarmed, Compliant African-American Man
Another incident involving what clearly seems to be the inappropriate use of force against an African-American man.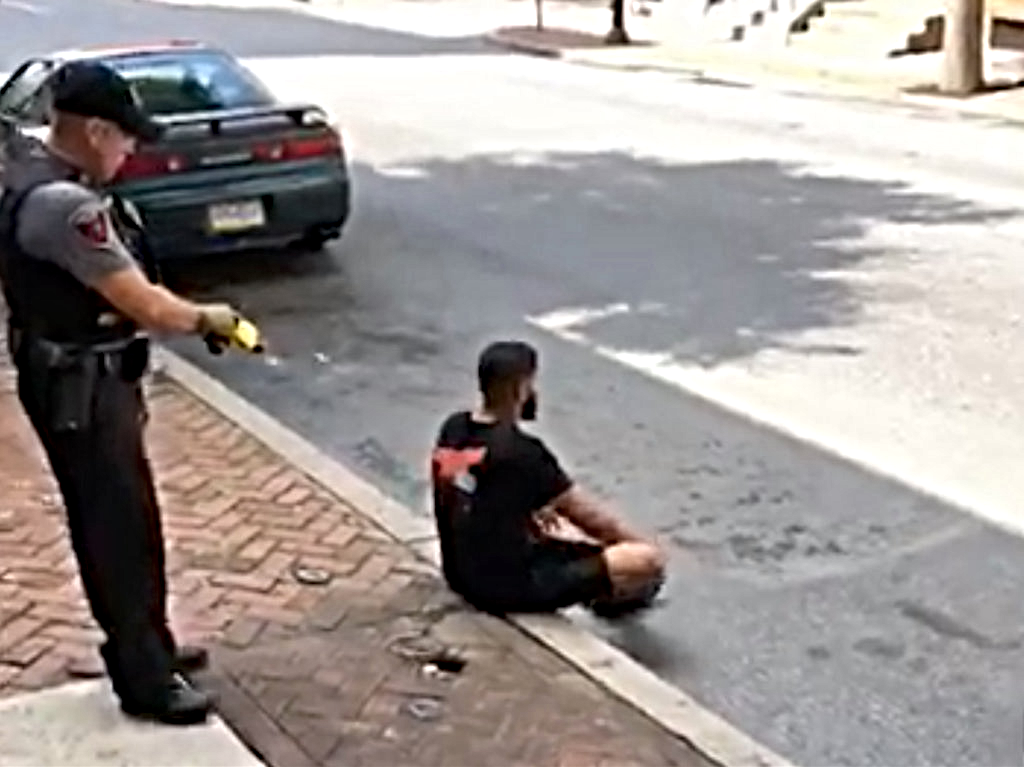 A newly released video shows a police officer in Lancaster, Pennsylvania using a Taser on an unarmed African-American male who had his back turned and was generally complying with the officer's instructions:
"Legs straight out or you're getting tased," the police officer can be heard saying on video, talking to an unarmed black man sitting on a curb.

The man appears to begin following the officer's directions, then folds his legs up again. The officer fires his stun gun. The man writhes in pain, then is handcuffed by officers while lying on his stomach.

That encounter, captured by a bystander on a cellphone video Thursday morning in Lancaster, Pa., and then widely shared after being posted to Facebook, quickly led to a public outcry, including from the town's mayor, who said an investigation would be conducted.

The video shows Officer Philip Bernot of the Lancaster City Police Bureau repeatedly asking the man, Sean D. Williams, 27, to straighten his legs as Mr. Williams is sitting on a curb.

According to a report from the Police Bureau, officers stopped Mr. Williams when responding to a 911 call about a man with a baseball bat.

The video of the episode, which happened on Thursday morning, began circulating widely on social media, with many commenters saying the officer who fired the Taser appeared overzealous and decrying the use of a stun gun against a black man who appeared to be compliant.

"He wasn't combative at the time, he wasn't running, he was curling his legs up," said Geoffrey P. Alpert, a criminologist at the University of South Carolina who studies the use of force. "He wasn't even resisting. There was no justification for any force."

Danene Sorace, Lancaster's mayor, posted a video of herself commenting about the encounter to the city's Facebook page on Thursday evening. She said that she was upset by what she had seen and that there was an investigation underway.

Matthew Johnson, Ms. Sorace's chief of staff, said Friday that there is an "ongoing internal police investigation" into the encounter that will determine whether department policies were violated. Mr. Johnson did not say when that investigation was expected to be completed.

The Lancaster branch of the N.A.A.C.P. said on Thursday in a statement also posted to Facebook that it would investigate the encounter as well, noting that videos do not give a "full understanding" of such events and that "a full understanding requires a full investigation."

"This event highlights the need for strengthening the accountability and trust which necessarily characterizes a productive relationship between communities and law enforcement," the Lancaster N.A.A.C.P. said in the statement.
Here's the video:
While I suppose it's fortunate that the officer involved in this incident used a Taser rather than a gun, which obviously would have resulted in the suspect involved in this incident being seriously injured if not killed, that hardly is a reason to ignore what happened here or to dismiss it. Regardless of the weapon or technique that was used, the improper use of force is still improper even if there isn't any injury involved. Additionally, a group called the Center for Police Equity found in a 2016 study that African-Americans are more likely than others to be subjected to the use of force by police, whether that means deadly force like the use of a gun or a choke hold as in the case of Eric Garner or something seemingly less severe like a Taser.
This also isn't the first instance of a Taser being used against an African-American male under suspicious circumstances. Perhaps the most notable case came earlier this year when video footage showed Milwaukee police officers using such a device on Sterling Brown, a player for the N.B.A.'s Milwaukee Bucks. The circumstances of that case were not dissimilar to this one in that the video showed Brown was being compliant with officers and was not resisting them in any respect. While no charges appear to have resulted from that incident, three officers were suspended, one was discipline, and the Mayor of Milwaukee issued a public apology to Brown. In a 2009 incident in the San Francisco Bay area, a transit officer shot and killed Oscar Grant, an African-American man, while Grant was lying facedown on a train platform. The officer stated that the killing was an accident in that he had mistaken his pistol for his Taser, but he ended up being convicted of involuntary manslaughter.  A year earlier in 2008, a New York City police officer fired a Taser on an emotionally disturbed man on a building ledge, which caused the man to fall to his death. This use of a Taser was contrary to department guidelines in place at the time. Finally, while its generally believed that Tasers are non-lethal, a recent investigation found that roughly 1,000 people had died after being stunned by a Taser since 2000, with the Taser being a contributing factor in the death in at least 150 of those cases.
Taken in this context, the incident in Lancaster becomes even more disturbing. As in the case out of Milwaukee, which involved a player for the hometown N.B.A. franchise, the suspect in this case clearly seems to be complying with the requests of the officer. In any case, he was facing away from the officer and was not in any position to run away or cause danger to himself, the officer, or anyone else in the area at the time. At that point, there doesn't seem to me to be any rational reason why he needed to be subjected to the seeming torture of having 50,000 volts of electricity pumped into his body simply because he apparently wasn't moving his legs fast enough for the officer's satisfaction. Obviously, there may be more to this incident than the video reveals but at the very least it needs to be investigated and, if the facts warrant, charged for what clearly seems to be an inappropriate and unjustified use of force.