'Volunteer' Sheriff's Deputy Charged With Manslaughter In Death Of African-American Suspect
A volunteer for an Oklahoma Sheriff's Department killed a suspect thanks to what can only be described as extreme criminal negligence.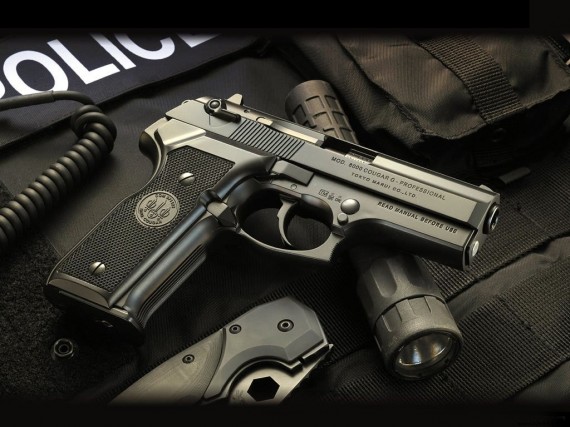 A 73 year old man who was serving as a volunteer for an Oklahoma's Sheriff's Department has been charged with manslaughter after he allegedly mistook his gun for his taser and killed an African American man being pursued by police:
Prosecutors in Tulsa, Okla., on Monday filed homicide charges against a 73-year-old Sheriff's Department volunteer who fatally shot a suspect on April 2, apparently firing his handgun instead of a Taser by accident as other officers were subduing the man on the ground.

The volunteer, Robert C. Bates, was charged with second-degree manslaughter involving culpable negligence, punishable by up to four years in prison.

Mr. Bates, an insurance broker, had been a reserve deputy since 2008. He is among scores of civilian police enthusiasts, including wealthy donors to law enforcement, some of whom effectively act as an armed adjunct to the Tulsa County Sheriff's Department.

Sheriff's officials said he had intended to subdue the fleeing suspect, Eric C. Harris, with a Taser, but mistakenly fired his handgun instead. Mr. Harris was accused of trying to sell an illegal gun to an undercover officer.

Video shot by a body camera worn by another deputy showed the suspect being knocked to the ground and commanded to roll on his stomach as officers struggled for a few seconds to subdue him. A voice on the video could be heard saying "Taser, Taser," as if to warn other deputies to get out of the way of the device.

A moment later, there was a single gunshot, and a voice saying, "Oh, I shot him. I'm sorry."

Mr. Harris, who is black, could be heard repeatedly shouting "He shot me," while a deputy knelt on the suspect's head and others yelled at him to stop struggling. The video showed Mr. Bates, who is white, dropping his pistol. Officials later said he dropped it because he was unprepared for the gun's recoil, and called it added proof that the shooting was an accident; a Taser has negligible recoil.

Mr. Bates's lawyer, Charles O. Brewster, said that his client would surrender to the authorities on Tuesday morning and that he intends to plead not guilty.

"Anyone that looked at the facts here would find that there was no crime committed," Mr. Brewster said. "It was a truly tragic incident."

Mr. Brewster expressed disappointment with the district attorney's decision to charge his client.

"I think it's kind of a response to the national fervor and media concerning police shootings," he said. "I think he just kind of capitulated to that. This truly is an event that was unintended and what I consider to be a justifiable homicide."

Mr. Bates was working with sworn officers in an undercover operation into illegal gun sales run by the Sheriff's Department's violent crimes task force.

Mr. Bates acted as an unpaid member of the department's Reserve Deputy Program, in which about 130 volunteers receive training and are deployed part-time throughout the department. A Tulsa police officer for a year in 1964-65, he had received hundreds of hours of advanced training and "can do anything a full-time deputy can do," The Tulsa World quoted a Sheriff's Department spokesman, Shannon Clark, as saying.

In 2012, the department named Mr. Bates Reserve Deputy of the Year.
There's a bit more to the story, as Ian Millhiser relates:
The shooting appears to be a tragic accident. Bates did say "Taser" before shooting Harris, and immediately after pulling the trigger, Bates drops the gun and says "Oh! I shot him. I'm sorry." At a press conference on Friday, a Tulsa County Sheriff's Office spokesperson claimed that Bates was a "true victim" of something called "slips and capture" — a police term for when someone does one thing while believing they are doing something else in a high stress situation. They say that Bates believed he was holding his Taser and not his firearm when he fired the round that killed Harris.

Whatever Bates's intentions, however, the other officers on the scene respond to Harris's cries for help by forcefully pinning him to the ground and telling him to shut up in the video released by the sheriff's department. As Harris lies face down on the ground bleeding and crying out "oh shit man, he shot me, he shot me! Oh, he shot me!" one officer puts his knee on Harris's head in an apparent effort to subdue him. An officer tells Harris to "shut the fuck up" shortly thereafter.

When Harris tells one of the officers "I'm losing my breath," the officer responds, "fuck your breath."
Here's the video (NSFW warning due to language):
This situation raises several questions that will need to be answered at some point. Off the top, there's the open question of why a 73 year old volunteer Sheriff's Deputy was doing in the middle of what was obviously a high-stakes and dangerous situation such as this. Notwithstanding whatever training he may have received, Bates was not a professional law enforcement officer, and it seems highly unusual that someone in his position would be used in this type of operation to begin with. In most police departments, volunteer officers such as Bates are used for things such as traffic control, crowd control during public gatherings, and other situations where they are unlikely to face violence confrontations. In many cases, these Auxiluray officers, as they are typically called, do not even carry a weapon, although that policy appears to vary from department to department. Even when they are armed, though, it appears to be rather unusual for volunteers such as Bates to be used in this manner. The reasons for that should be obvious. No matter how much training they get these volunteers are simply not going to be prepared for the kind of high pressure situations requiring split second decisions that regular officers face on a day to day basis. Add into that mix the fact that Bates is far older than you'd expect an active duty police officer to be, and it seems rather obvious that putting him in the line of fire like this was simply asking for something bad to happen.
Bates appears to be claiming that the shooting was completely a mistake, that he accidentally grabbed his firearm when he thought he was reaching for his Taser. Even if we accept his explanation, though, that just provides yet another bit of evidence for the argument that he didn't belong in the middle of this operation to begin with. When you look at the facts, though, this explanation begins to lose credibility. For one thing, as is typically the case across the nation, officers in this department wear their Taser on the hip opposite from the one where their firearm is holstered, so you'd have to believe he somehow couldn't tell his left from his right when he reached for the gun. Secondly, as the attorneys for the victim's family demonstrated at a press conference yesterday, the Taser and the officer's gun are different both in size, color, weight, and how they feel in the hand. Are we really supposed to believe that this "highly trained" volunteer couldn't tell the difference between a Taser and a service weapon? And, again, if he couldn't or if the heat of the moment caused him to make this mistake, then that's just another reason why he shouldn't have been in the field to begin with.
All of this being said, it does not appear that Bates consciously decided to murder Harris. Instead, it seems pretty clear that this was a mistake on some level, even though it seems clearly to have been a mistake that could have been avoided had the department kept Bates away from a situation he didn't belong in, or had Bates actually applied some of that training he was supposedly given. The fact that it was a "mistake," however doesn't mean that Bates is immune from legal culpability. In appropriate situations, the law does allow someone to be punished if their negligence was so atrocious that it rises above the level of "normal" negligence, and it seems fairly clear that this is one of those cases. In this case, it's clear that Bates's error was more than a simple mistake, but instead rises to the level of what some jurisdictions call involuntary manslaughter, and what Oklahoma appears to call second-degree manslaughter. Whatever it's called though, it basically involves the unintentional killing of another person as a result of a reckless disregard for the consequences of one's actions or criminal negligence. It's one of the less severe forms of homicide that can be punished under the law, but it remains a serious offense, and it's entirely appropriate that Bates is facing charges in this case.