Protests Erupt In The Wake Of Police Shootings In Oklahoma And North Carolina
After two questionable police shootings, protests erupted overnight in Charlotte, North Carolina.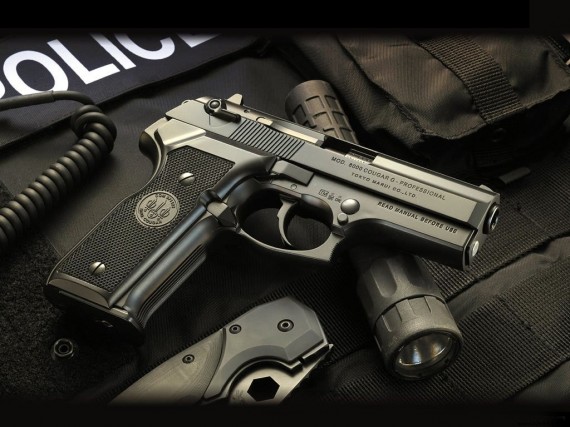 Protests erupted overnight in Charlotte, North Carolina in the wake of the fatal shooting of an African-American man that came only days after a similar incident in Oklahoma:
About a dozen police officers in Charlotte, N.C., were injured when a standoff between law enforcement and demonstrators turned ugly overnight after an officer fatally shot a black man on Tuesday afternoon.

Protesters clashed with police officers in riot gear and blocked a stretch of Interstate 85. Video from local television early Wednesday showed some demonstrators looting trucks that had been stopped on the highway and setting fire to the cargo.

Several people were taken to the hospital with minor injuries, and at least five others were arrested, according to the CNN affiliate WSOC-TV.

The protest began in the University City neighborhood in northeast Charlotte, near the campus of the University of North Carolina at Charlotte. WSOC-TV reported that looters later moved off the highway and tried to break into a Walmart before officers arrived in force to keep them out, and at least one family driving on Interstate 85 reported that their windshield had been shattered by demonstrators throwing rocks.

Mayor Jennifer Roberts urged calm in a series of Twitter messages and promised a thorough investigation into the shooting death of Keith L. Scott, 43.

"The community deserves answers and full investigation will ensue," Ms. Roberts said. "Will be reaching out to community leaders to work together."

The shooting occurred just before 4 p.m. on Tuesday as officers were trying to serve an arrest warrant for another person in an apartment complex.

Police officials said the officer opened fire because Mr. Scott, who they said was armed with a gun, "posed an imminent deadly threat."

The shooting occurred just before 4 p.m. on Tuesday as officers were trying to serve an arrest warrant for another person in an apartment complex.

Police officials said the officer opened fire because Mr. Scott, who they said was armed with a gun, "posed an imminent deadly threat."

Although their accounts sometimes diverged, members of Mr. Scott's family generally told local news outlets that he had not had a weapon. Instead, they said, he had been clutching a book while waiting to pick up a child after school.

The shooting revived scrutiny of a police department that drew national attention about three years ago when a white officer was quickly charged with voluntary manslaughter after he killed Jonathan Ferrell, an unarmed black man.

In Charlotte, dozens of chanting demonstrators, some of them holding signs, began gathering near the site of the shooting on Tuesday evening. Around 10 p.m., the Police Department said on Twitter that it had sent its civil emergency unit to the scene "to safely remove our officers."

"Demonstrators surrounded our officers who were attempting to leave scene," the department said. It identified the officer who fired his weapon as Brentley Vinson, an employee since July 2014. Officer Vinson is black, according to local reports.

According to the department, officers saw Mr. Scott leave a vehicle with a weapon soon after they arrived at the apartment complex.

"Officers observed the subject get back into the vehicle, at which time they began to approach the subject," the department said in its first statement about the shooting. "The subject got back out of the vehicle armed with a firearm and posed an imminent deadly threat to the officers, who subsequently fired their weapon, striking the subject."

A police spokesman did not respond to an after-hours inquiry about whether a dashboard or body camera had recorded the shooting. The police chief, Kerr Putney, acknowledged at a news conference that Mr. Scott had not been the subject of the outstanding warrant.

On Facebook, a woman who identified herself as Mr. Scott's daughter said that the police had fired without provocation.

"The police just shot my daddy four times for being black," the woman said moments into a Facebook Live broadcast that lasted about an hour. Later in the broadcast, she learned that her father had died and speculated that the police were planting evidence. (The police said that investigators had recovered a weapon.)
The Charlotte incident occurred just a few days after an incident in Tulsa, Oklahoma in which an African-American male who, according to all of the available video evidence, was unarmed was shot and killed by a police officer who has been put on administrative leave pending an investigation:
The family of Terence Crutcher, an unarmed black man whose fatal confrontation with the Tulsa, Okla., police was recorded on video, said Tuesday that Mr. Crutcher had posed no threat and that his hands were in the air when he was shot.

"We watch the video and it's clear to see that Terence did not have a weapon in his hand," a lawyer for the family, Damario Solomon-Simmons, said at a news conference Tuesday. "It's clear to see that Terence was not being belligerent. "

The shooting, the family and its lawyers said, was a clear case of excessive force.

Mr. Crutcher, 40, was killed Friday evening on a Tulsa street by an officer identified as Betty Jo Shelby, a five-year veteran of the city's Police Department. Officer Shelby, who is white, was responding to reports of a tan S.U.V. abandoned in the middle of the road — its motor running, the driver's door open and the driver nowhere in sight.

The family's news conference came as the Tulsa police promised a thorough investigation and as a lawyer for Officer Shelby, Scott Wood, defended her actions. The case is the latest in a series of deaths across the country at the hands of the police that have raised questions about officers' use of force, particularly against African-American men.

Mr. Wood said Mr. Crutcher had behaved erratically and refused to comply with police commands. He said that Mr. Crutcher had been reaching through the vehicle's window when he was shot, and that Officer Shelby believed he had a weapon.

"She is extremely distraught over what has happened," Mr. Wood said. "She has never used deadly force in her nine-year career. She is a pretty seasoned officer and has worked in a lot of different areas. She is viewed by everyone as someone who is really squared away."

The family's lawyers, who include Benjamin L. Crump, who represented the relatives of Michael Brown, the unarmed black teenager who was killed in 2014 by a white police officer in Ferguson, Mo., challenged Mr. Wood's account. Mr. Crump displayed photos at the news conference showing that the window of the S.U.V. had been rolled up.

On Tuesday, the Tulsa police declined to comment on whether Mr. Crutcher had been reaching inside the car.

"This investigation is ongoing, and the U.S. attorney and the district attorney has requested no additional information be released," a police spokesman, Officer Leland Ashley, said.

Protesters gathered in Tulsa on Monday and Tuesday, calling for an unbiased investigation. At a prayer vigil Tuesday afternoon, a pastor, Jeremiah Hale, called for prayers for the family.

Adrian Colbert, who is African-American, said the shooting occurred near his house, and he referred to the riots in the 1920s, in which white residents killed up to an estimated 300 African-Americans in the city.

"He had his hands up, and they popped him," Mr. Colbert said. "But that's something we're used to. It goes back to 1921. What happens here usually gets swept under the rug."

The Tulsa police have opened a criminal investigation into the shooting, and the Justice Department has started a civil rights inquiry.

A police video of the shooting from a department helicopter shows Mr. Crutcher slowly walking away from Officer Shelby and toward his vehicle.

Moments after Mr. Crutcher is seen reaching the driver's side of the vehicle, one officer fired a Taser and Officer Shelby fired a single round, killing Mr. Crutcher.

Videos from the police helicopter and dashboard cameras did not capture the shooting itself. The helicopter video appears to show that at least one of Mr. Crutcher's hands was raised when he was shot.

The police said Officer Shelby did not have any disciplinary actions against her that resulted in a suspension or loss of pay since she joined the department in 2011. Before that, she worked for the Tulsa County sheriff's office. Deputy Justin Green, a spokesman for the sheriff's office, said she joined the department in June 2007 and was a member of the agency's dive team.

Mr. Wood, the officer's lawyer, said that when Officer Shelby arrived at the scene Friday, she found Mr. Crutcher walking nearby. He did not respond to her questions, Mr. Wood said, but instead "locks his eyes on her," which the officer described as "a thousand-yard stare."

Mr. Wood said Officer Shelby was "a drug recognition expert," who had received specialized training in 2014. Officer Shelby, the lawyer said, believed Mr. Crutcher was "under the influence of something."

When Mr. Crutcher ignored the officer's order to get on his knees, she drew her gun, the lawyer said. But Mr. Crutcher continued to keep his hands in the air. He was shot about 30 seconds after other officers arrived.

On Tuesday, referring to reports that Mr. Crutcher had been using drugs, David Riggs, one of the Crutcher family's lawyers, said: "We do not know if that's true or not. We are looking into that."

He added: "Let's assume that it was. You have to ask yourself again, what is the proper way to handle a situation where someone is acting in a strange way and perhaps not entirely in control of his emotions or his mental state at that time? This is a textbook case of how not to treat someone in that condition."
In both of these case, there are still many facts that need to be deduced before we can reach a conclusion regarding whether or not the police actions in either were appropriate or lawful, of course, but already we can see these cases falling into an all to familiar pattern that makes the reaction of the communities in Tulsa and Charlotte understandable even as we can all agree that there is no excuse for the property damage and dangers reflected in the protests. This is especially true of the protests in Charlotte where more than a dozen officers were apparently injured as a result of debris or other materials that was being thrown at them by protesters throughout the night. No matter what your cause, there is no justification for violence and destruction of property. Additionally, as the video of the Oklahoma incident in particular reveals, we don't know for sure what was happening on the ground because we don't have access to either body cameras or dashboard cameras that would give us a ground level view of what was happening. Leaving all of that to the said, though, it does seem as though both of these cases fall into the same 'shoot first, ask questions later' pattern that seems to be all too common among American police, especially when it comes to dealing with African-American males. In the Oklahoma case, for example, while it does seem as though Crutcher may have been under the influence of something there doesn't seem from the video shot from the helicopter to have been any effort to try to take any of the common efforts used to deal with emotionally disturbed people, which police are supposed to be trained in so that shooting of otherwise innocent people can be avoided.
Additionally, as I have said before, it's worth noting that the specific facts of these cases are only tangentially related to the protests themselves, and to the Black Lives Matter movement that grew out of incidents such as the shooting of Michael Brown in Ferguson, Missouri, The motivations for these protests go beyond one incident and reflect the widespread belief among African-Americans that they are more likely to be the target of police violence than other individuals. As I've noted before, there is truth in this perception especially as it concerns young African-American males. The fact that these perceptions and this reality exists is something that goes beyond a single incident and which most people outside of minority communities don't seem to take seriously, which is the main reason that the protest movement exists at this point. On the political right, for example, there seems to be more concern for police officers than there is for the quite often innocent civilians who are targeted or the fact that African-American males are more likely to be the target of questionable uses of police force than any other demographic group in the country. This is why the BLM movement exists, and it's likely to stay around until the country becomes more serious about addressing a serious problem that has the potential to create rifts between police and the communities they serve that will become impossible to repair.