Pennsylvania Cop Who Tased Compliant African-American Man Won't Be Suspended
A police officer in Lancaster, Pennsylvania who tased an apparently compliant African-American man will not be disciplined by his department, and probably won't face charges either.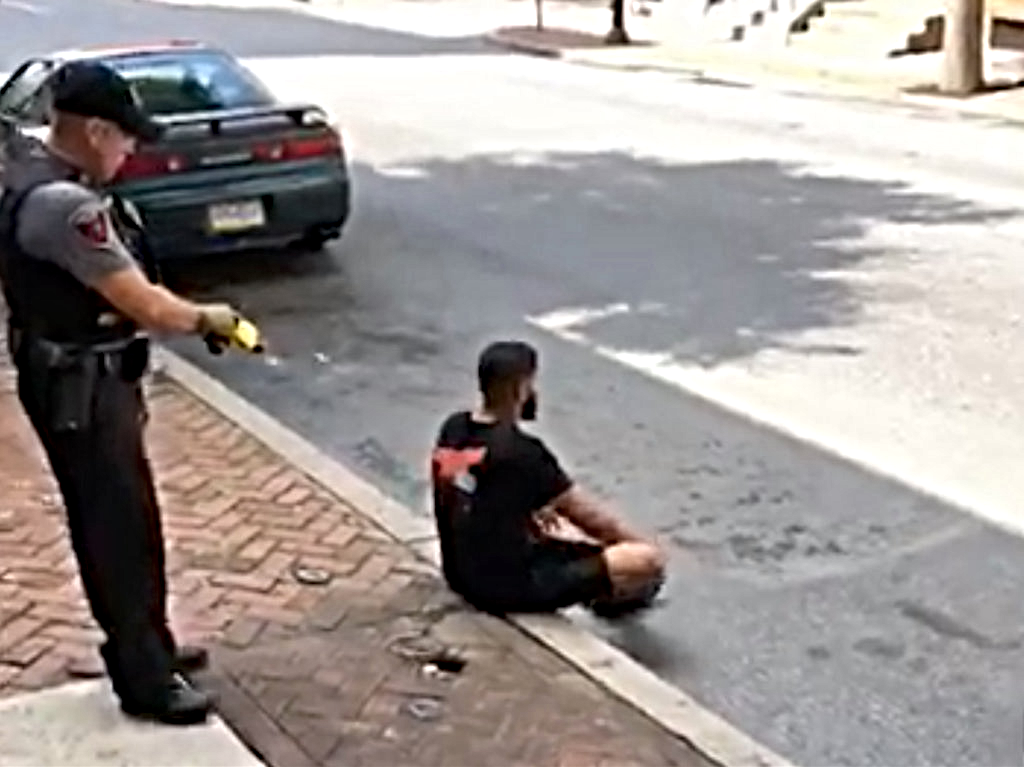 A Lancaster, Pennsylvania police officer who administered a Taser shot to an apparent suspect even though the African-American man appeared from available video to be complying with the officer's requests won't be suspended, which likely means he also won't face charges for his actions:
A Pennsylvania police officer who was recorded using a Taser on an unarmed black man in a widely shared video will not be fired or suspended, officials said.

Danene Sorace, the mayor of Lancaster, Pa., acknowledged at a news conference on Friday that some members of the community would find the decision "extremely upsetting."

"So who is accountable?" she asked. "I am. I am accountable, as mayor, for existing policies, procedures, training, hiring practices and more. It's on me."

The episode, which took place on June 28, remains under investigation by the police and the prosecutor's office. Preliminary findings showed that the officer complied with use of force and Taser policies, which allow an officer to use force when a suspect fails to respond to multiple verbal commands, Ms. Sorace said.

Video of the episode has been viewed more than 2.8 million times on Facebook and more than 6.2 million times on Twitter.

The footage showed the officer, Philip Bernot, repeatedly asking Sean D. Williams to straighten his legs as Mr. Williams was sitting on a curb.

"Legs straight out or you're getting Tased," Officer Bernot said.

Mr. Williams started to straighten his legs. Another person can be heard yelling, "Put your legs straight out and cross them now."

Mr. Williams started to bend his knees, bringing the soles of his feet together, and Officer Bernot, who was standing behind Mr. Williams, used the stun gun on him.

Hundreds of people attended a rally the next day to protest the officer's actions.

Officer Bernot could not be reached for comment on Saturday, but the Lancaster City Bureau of Police described in a statement what happened in the moments before.

Officers stopped Mr. Williams after receiving a 911 call about a man with a baseball bat, the police said. When one of the officers arrived, there was no bat to be found, but the officer saw three people telling Mr. Williams to get away from them, the statement said.

The officer told Mr. Williams "several times" to sit down and he refused to comply, the police said. Instead, he kept asking a woman in the group to give back his Social Security card.

A couple of minutes later, Officer Bernot arrived and instructed Mr. Williams to sit on the curb, the police said. The group of people later told the police that Mr. Williams had exhibited "erratic behavior" and "wanted to fight."

The police said Mr. Williams was found to have an outstanding criminal warrant for possession of a controlled substance and public drunkenness. He was arraigned and released on $5,000 bail.

One of Mr. Williams's lawyers, Brian R. Mildenberg, said on Saturday that it was "outrageous" Officer Bernot would not be "removed from the streets" pending an investigation, and that the commands Mr. Williams received from the officers were inconsistent.

"On behalf of my client, I reiterate our respectful demand that this police officer be suspended pending this investigation," Mr. Mildenberg said. "He was completely peaceful and compliant and there was absolutely no reason to use violence upon his person."
While it's still possible that Officer Bernot could end up being charged with a crime in connection with this incident, the fact that he's not being suspended or apparently disciplined for his actions is probably a strong indication that he's similarly unlikely to face charges for what happened on June 28th. A good part of that, of course, is that as a general rule police officers receive a certain benefit of the doubt when it comes to the use of force, whether deadly or not, in the performance of their job. A good part of this is due to the fact that the use of force is an inevitable part of a police officer's job and that there are situations where the use of force in the line of duty is going to be considered justified as long as it was reasonable under the circumstances. In this case, while the video clearly shows that Williams was generally being compliant with Bernot's instructions, the fact that he didn't comply fast enough and had previously been resisting apprehension, the argument would be that his failure to immediately comply, combined with the circumstances of his apprehension, made the use of the Taser justifiable under the circumstances. While I don't necessarily agree with this interpretation of the law and the facts, it's likely that a prosecutor would view things this way and that, even if the officer were charged, it would be difficult for a Judge or jury to convict the police officer involved in the incident. Absent additional evidence, I would be surprised to see this case result in criminal charges.
Williams has already filed a civil lawsuit against the city of Lancaster and Officer Bernot alleging violations of his civil rights and the use of excessive force. In addition to damages, the suit also asks for a Federal Court to put in place an order requiring reforms to police procedures and training. That last goal would be easier to achieve, of course, if the Department of Justice were to get involved in the case. Based on what the DoJ has said in the eighteen months since Trump became President, though, it seems fairly clear that cases such as this, or those involving other excessive use of force claims against police officers are likely to be swept under the rug rather than fully investigated.
And people wonder why "Black Lives Matter" is a thing, or why N.F.L. players kneel during the National Anthem.