Chicago Cop Charged With First-Degree Murder In 2014 Death Of 17 Year-Old African-American Male
A Chicago Police Officer has been charged with murder in the death of a 17 year old African-American male that, from the evidence that has been released, seems completely unjustifiable.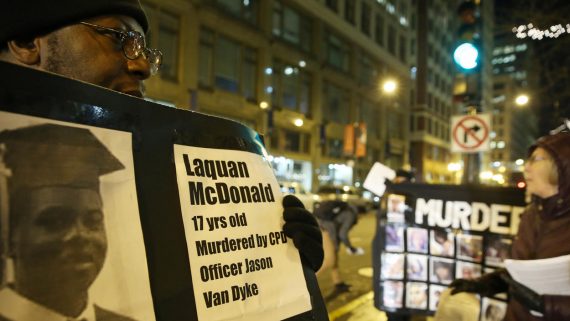 A Chicago Police Officer has been charged with the first-degree murder of a 17 year old African American man in a case that lays many of the issues have been raised over police behavior in the wake of last year's Ferguson protests out in the open:
CHICAGO — A white Chicago police officer was charged with first-degree murder on Tuesday in the death of a 17-year-old black man, just hours before city officials appealed for calm as they released a chilling video of the officer shooting the teenager as he lay crumpled on the ground.

The grainy, nighttime dashcam video, which a judge ordered released last week, shows the young man running and then walking past officers in the middle of the street and spinning when he is suddenly struck down by bullets. For a moment, lying on the ground, he moves but then is still after he appears to be shot several more times. An officer kicks an object away from his body. The video shows none of the officers on the scene offering assistance to the teenager, Laquan McDonald.

Standing with community leaders before releasing the video, Mayor Rahm Emanuel and Garry McCarthy, the Chicago Police superintendent, said they expected demonstrations in response to the graphic nature of the video, and urged people to avoid violence. "It's fine to be passionate, but it is essential that it remain peaceful," Mr. Emanuel said.

The criminal charge against the officer, Jason Van Dyke, 37, who has been with the police department here for 14 years, was the first time in decades that a Chicago police officer had been charged with murder in an on-duty shooting. The city had previously fought to keep the video private, citing an ongoing investigation into the incident.

The charge against Officer Van Dyke and the release of the video came just over a year after Mr. McDonald was shot 16 times, even after he had stepped slightly away from the officer, prosecutors said. Witnesses said Mr. McDonald, who was carrying a three-inch folding knife, never spoke to Officer Van Dyke or any of the other officers and did not make threatening moves toward him. None of at least seven other police officers on the scene fired their weapons.

The N.A.A.C.P., on Twitter, called it "unacceptable" that it took over a year for the video of the shooting to be released.

The family of Mr. McDonald, which had opposed the video's release, also issued a statement through their lawyers calling for calm. "No one understands the anger more than us, but if you choose to speak out, we urge you to be peaceful," the family said. "Don't resort to violence in Laquan's name. Let his legacy be better than that."

In announcing the murder charge, Anita Alvarez, the Cook County state's attorney, acknowledged that she had pushed to charge the officer before the video became public. "I made a decision to come forward first because I felt like, with the release of this video, that it's really important for public safety that the citizens of Chicago know that this officer is being held accountable for his actions," Ms. Alvarez said.

Since late last year, the shooting has been investigated by a team that included the F.B.I., the United States attorney's office in Chicago and the Cook County state's attorney's office. But Ms. Alvarez said she decided to proceed with charges on her own when the videotape was ordered released. Federal charges are still possible, legal experts said, and federal authorities said their investigation was continuing.

Ms. Alvarez, a two-term Democrat who is seeking re-election in March, defended herself against suggestions that the investigation had taken too long, saying that such investigations into police shootings often take more than a year. And she rejected claims that she had buckled to political pressure by filing the charges before the video came out, saying she had reached a conclusion several weeks ago that charges were warranted.

Hours before the video's release, a judge, Donald Panarese Jr., ordered Officer Van Dyke held without bail, indicating that he wanted to see the video before revisiting the question of bond at a hearing on Monday. Officer Van Dyke faces 20 years to life in prison if convicted.

Dan Herbert, a lawyer for Officer Van Dyke, has said that the officer believed the shooting was justified because he feared for his safety and that of other officers. Mr. Herbert said his client "absolutely" intended to go to trial. Dressed in a beige sweater and jeans, Mr. Van Dyke said little during the brief hearing.

The charges and the release of the video came amid a national debate over race, police shootings and a growing number of violent encounters with the police captured on video. Chicago's police force has its own sometimes painful history, which by some estimates includes more than $500 million in settlements and other costs over the last decade tied to police misconduct as well as reparations for black residents who said a group of officers abused and tortured them in the 1970s and '80s.

In April, the city agreed to pay $5 million to the McDonald family, even before a suit had formally been filed in the case.
Before getting to the video, the mere description of what happened would seem to make clear that the police officer involved was not acting properly:
On the evening of Oct. 20, 2014, police officers approached Mr. McDonald on the city's Southwest Side, prosecutors said, after a resident reported seeing him breaking into trucks and stealing radios and was holding him until the police arrived. Mr. McDonald, who had the folding knife in his hand, walked away as police officers arrived. Someone called for a police unit with a taser, though it was not clear whether anyone with such a weapon ever appeared. At one point, Mr. McDonald "popped" the tire on a police car, apparently with his knife, the prosecutors said.

With more officers arriving on the scene, Mr. McDonald kept walking and jogging along, not responding to orders to drop the knife, prosecutors said. Near a Burger King along a busy stretch of Pulaski Road, Officer Van Dyke's marked Chevy Tahoe pulled up alongside other police vehicles, including one containing a dashboard camera. Officer Van Dyke was on the scene for fewer than 30 seconds, prosecutors said, before he began shooting his service weapon, which had a 16-round capacity. The shooting spanned 14 or 15 seconds, and in about 13 of those seconds, prosecutors say, Mr. McDonald was lying on the ground. He was hit 16 times, including in his backside. An autopsy showed the presence of the drug PCP in his system.
Now that you've read the description, watch the video:
Perhaps even more significant, although perhaps not surprising, is the allegation that the Chicago Police Department destroyed video of the incident that had been captured by a surveillance camera at a local Burger King franchise:
Burger King came out publicly and stated that Chicago Police deleted their footage on the murder of #LaquanMcDonald pic.twitter.com/VFA3unJWps

— Shaun King (@ShaunKing) November 24, 2015
Not unsurprisingly, the City of Chicago is on the edge tonight notwithstanding the fact that Officer Van Dyke has been charged with murder and is being held without bail. To a not insignificant degree, the tension tonight, which has been building for months, is due to the fact that Chicago Police and City officials chose to withhold the video from public release for more than a year after the incident. Now that the video that has been released and we can see that not only did Officer Van Dyke discharge his weapon sixteen times within less than am minute, but that he did so within less than two minutes after rolling up on the scene and when McDonald was clearly walking away from officers and was not acting in any manner that could conceivable be considered a threat to either the officers on scene or any member of the public makes what happened here seem even more outrageous.
Based on the evidence that has come out, it does appear that McDonald was impaired and under the influence of some kind of drug, most probably PCP, at the time all of this happened. He also did have in his possession a "weapon," although it is impossible to really use that word when one is talking about a very short collapsible knife that wasn't pointed at anyone, and certainly could not have threatened anyone at the time McDonald was shot. Even taking all of that into account, though, it is pretty much next to impossible to justify what unfolds on this video, regardless of whether or not what happened ends up being considered a criminal act when Van Dyke is brought to trial. In more ways than one, this incident seems to highlight everything that the people who have been protesting about police violence, and police targeting of African-Americans, since the Michael Ferguson incident last August. Indeed, if anything justifies the entire 'Black Lives Matter' movement, which has not been without its own controversial moments, it is this video and the manner in which the authorities in Chicago apparently sought to suppress it.
With regard to the release of the video and the way that the underlying case was handled, there have already been those who have suggested that the fact that the early months of the investigation coincided with a contentious Mayoral re-election campaign in which Rahm Emanuel faced a serious challenge from Jesus "Chey" Garcia which ended in a runoff election in February where Emanuel easily disposed of Garcia. Whether releasing the video would have changed the outcome of the election is, of course, something that we cannot know, but given the fact that this video seems to fairly clearly establish that this was an unjustified use of force, the fact that this video was withheld for more than four hundred days and that Officer Van Dyke was only formally charged days after a Judge ruled that the video must be released this week stands as a stark indictment of both Chicago's Police Department and its political leadership. This is even more emphatically established by the fact that, in similar cases from around the country in recent years, most notably the Walter Scott case in South Carolina and even the Freddie Gray case in Baltimore, the relevant available video was released within a relatively short time after the incident occurred.
As with everyone else charged with a crime, Officer Van Dyke is entitled to the presumption of innocence before trial, and to all of the protections of the Bill of Rights and other applicable law. What's unfortunate, of course, is that he apparently didn't consider the fact that Laquan McDonald was entitled to those rights too, and why incidents like this keep happening.
Update: Curtis Black at The Chicago Reporter on "How Chicago Tried To Cover Up A Police Execution."