Ed Asner, 1929-2021
The actor best known for his role as Lou Grant has died at 91.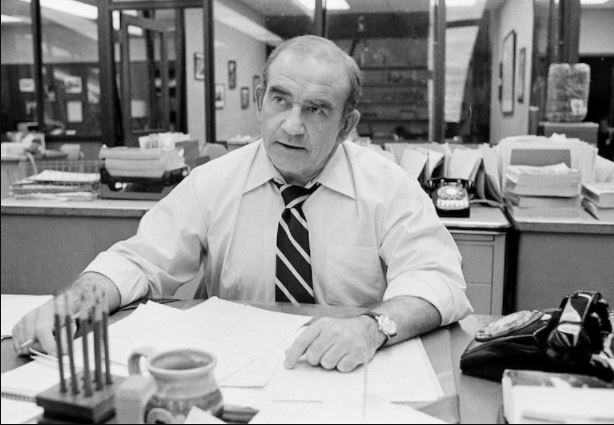 CBS News ("Ed Asner, TV legend who won 7 Emmys, dies at age 91"):
Ed Asner, the burly and prolific character actor who became a star in middle age as the gruff but lovable newsman Lou Grant, first in the hit comedy "The Mary Tyler Moore Show" and later in the drama "Lou Grant," died Sunday. He was 91.

[…]

Built like the football lineman he once was, the balding Asner was a journeyman actor in films and TV when he was hired in 1970 to play Lou Grant on "The Mary Tyler Moore Show." For seven seasons he was the rumpled boss to Moore's ebullient Mary Richards (He called her "Mary," she called him "Mr. Grant") at the fictional Minneapolis TV newsroom where both worked. Later, he would play the role for five years on "Lou Grant."

The part brought Asner three best supporting actor Emmys on "Mary Tyler Moore" and two best actor awards on "Lou Grant." He also won Emmys for his roles in the miniseries "Rich Man, Poor Man" (1975-1976) and "Roots" (1976-1977).

He had more than 300 acting credits and remained active throughout his 70s and 80s in a variety of film and TV roles. In 2003, he played Santa Claus in Will Ferrell's hit film "Elf." He was John Goodman's father in the short-lived 2004 CBS comedy "Center of the Universe" and the voice of the elderly hero in the hit 2009 Pixar release, "Up." More recently, he was in such TV series as "Forgive Me" and "Dead to Me."

Nonetheless, Asner told The Associated Press in 2009 that interesting roles were hard to come by.

"I never get enough work," he said. "It's the history of my career. There just isn't anything to turn down, let me put it that way."

"I'd say most people are probably in that same boat, old people, and it's a shame," he said.

As Screen Actors Guild (SAG) president, the liberal Asner was caught up in a political controversy in 1982 when he spoke out against U.S. involvement with repressive governments in Latin America. "Lou Grant" was canceled during the furor that followed and he did not run for a third SAG term in 1985.
NYT ("Ed Asner, Emmy-Winning Star of 'Lou Grant' and 'Up,' Dies at 91"):
Ed Asner, the burly character actor who won seven Emmy Awards — five of them for playing the same character, the gruff but lovable newsman Lou Grant, introduced on "The Mary Tyler Moore Show" — and later starred in film hits like "Up" and "Elf" — died on Sunday at his home in Tarzana, Calif. He was 91.

[…]

Mr. Asner was 40 when he was approached for the role of Lou Grant, the irascible but idealistic head of the fictional WJM television newsroom in Minneapolis and the boss of Ms. Moore's Mary Richards. His place in television comedy history was secured when, during the first episode, he told Ms. Moore, an eager young job seeker, "You've got spunk," then paused and added, "I hate spunk."

"The Mary Tyler Moore Show" ran on CBS from 1970 to 1977, and Mr. Asner was nominated for the Emmy for best supporting actor in a comedy series every year. He won in 1971, 1972 and 1975. He went on to win twice for best lead actor, in 1978 and 1980, for the spinoff "Lou Grant," making him the first performer to have received Emmys for playing the same character in both a comedy and a drama series.

"Lou Grant" (1977-82) itself was an unusual case, a drama series developed around a sitcom character. In the show, Mr. Grant returned to his first love, editing a big-city newspaper, and the scripts tackled serious issues that included, in the first season alone, domestic abuse, gang rivalries, neo-Nazi groups, nursing-home scandals and cults.

In between playing Lou Grant, Mr. Asner also won Emmys for his appearances in the 1976 mini-series "Rich Man, Poor Man," as Nick Nolte's bitter immigrant father, and the groundbreaking, lavishly lauded 1977 mini-series "Roots," in which he played a slave-ship captain with scruples. He also won five Golden Globes, one for "Rich Man, Poor Man" and two each for the two series in which he played Lou Grant.
WaPo ("Ed Asner, actor who twice had the role of a lifetime as newsman Lou Grant, dies at 91"):
Ed Asner, an actor and liberal activist who twice had the role of a lifetime in the character of Lou Grant, the irascible newsman he played first on the hit 1970s sitcom "The Mary Tyler Moore Show" and then on an acclaimed spin-off series, died Aug. 29 at his home in Tarzana, Calif. He was 91.

His death was confirmed by his publicist, Charles Sherman. Additional detials were not available.

The son of an immigrant junk dealer, Mr. Asner had a fireplug build, jowly countenance and workingman's appearance that are not traditionally considered the raw materials of stardom. Those attributes were perfect, however, for the gruff, middle-aged news director of WJM-TV, the fictional Minneapolis television station at the center of "The Mary Tyler Moore Show."

Widely regarded as one of the finest sitcoms in TV history, the program aired on CBS from 1970 to 1977 and starred Mary Tyler Moore as Mary Richards, an earnest assistant producer who became a generational ideal of the single working woman. Mr. Asner, then in his 40s, played Mary's crusty boss and was catapulted to fame in the midst of a decades-long acting career that would include hundreds of TV and movie credits.

[…]

Between its original broadcast and reruns, the show endeared itself to millions and ended with a plotline in which new management fires the newsroom crew, with the ludicrous exception of Ted. After a tearful speech by Lou — "I treasure you people" — the staff shuffles in a group-hug to a box of Kleenex and then files out, with Mary left to turn off the lights.

When "The Mary Tyler Moore Show" ended in 1977, Mr. Asner's character was re-imagined as a hard-charging Los Angeles newspaper editor in"Lou Grant," a CBS drama that addressed issues such as overseas dictatorship, nuclear power and the mental health of Vietnam War veterans. Nancy Marchand played a fictional publisher modeled in part on Katharine Graham of The Washington Post.

Mr. Asner's comedic role turned into one with serious themes and dramatic nuance. He received five Primetime Emmy awards as Lou Grant — three for supporting actor in a comedy and two for lead actor in a drama.

" 'Lou Grant' is the best new show of the season," Washington Post television critic Tom Shales wrote in 1977. "Like the man in the title, it is a bracing, reassuring combination of an essentially gentle spirit and good, old-fashioned guts. This may be not only what television needs, but what America needs."

CBS canceled "Lou Grant" in 1982, citing declining ratings. Many observers, including Mr. Asner, suspected that the true cause was his real-world political activism.
All of the above reports rightly mention the point that I would have made myself: how extraordinary the transition of the Lou Grant character from a sitcom to a hard-hitting drama was. Largely, that was a function of Asner's talents as an actor and some great writing. While the "Mary Tyler Moore Show" wasn't the first sitcom to have characters who weren't played just for laughs, it took it to a different level. MTM's Grant was perhaps a little more over-the-top in his grumpiness but the idea that he could run a big city newsroom wasn't by any means silly.
I had of course remembered Asner's role as SAG president and his antiwar activism but, even though I was already pretty interested in politics, I don't think I ever connected the demise of "Lou Grant" to the actor's real-life controversies. It's absolutely plausible, though.