Roy Moore Removed From Office Again
It looks like we won't have Roy Moore to kick around anymore.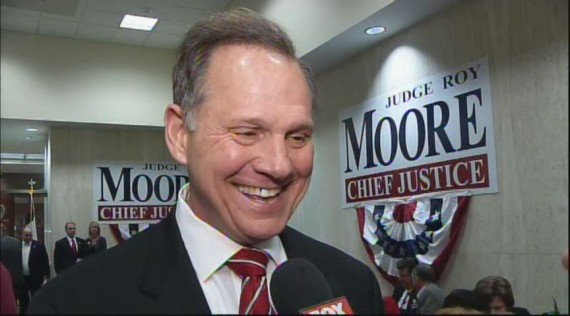 Alabama Chief Justice Roy Moore has been removed from office for his refusal to comply with the Supreme Court's ruling in Obergefell v. Hodges as well as the orders of a Federal District Court Judge regarding same-sex marriage in the State of Alabama:
Alabama's top judge was suspended from the bench without pay for the remainder of his term, the state's Court of the Judiciary said Friday.

This is the second time Roy S. Moore, chief justice of the Alabama Supreme Court, has been effectively pulled from office, following his ouster in 2003 over his refusal to obey judicial rulings ordering him to remove a Ten Commandments statue from the Alabama Judicial Building.

A complaint was filed by the Alabama Judicial Inquiry Commission charging Moore with violating judicial ethics in issuing an order in January stating that probate judges in the state "have a ministerial duty not to issue" marriage licenses to same-sex couples.

In a 50-page judgment Friday, two days after Moore appeared for a hearing in the case, Alabama's Court of the Judiciary found him guilty of failing to comply with the law, uphold the integrity of the court and "perform the duties of his office impartially."

A group representing Moore in this case decried the court's decision as "an unbelievable violation of the law" for suspending the justice through the end of his current term in 2019, noting that he will be unable to seek reelection at that time because of state age restrictions.

"To suspend Chief Justice Moore for the rest of his term is the same as removal," Mat Staver, founder and chairman of Liberty Counsel, said in a statement. Staver said that because the commission lacked the votes to fully remove him, "the majority instead chose to ignore the law and the rules."

Moore, a father of four, was removed from office in 2003 after he refused to remove the Ten Commandments monument he had installed in a judicial building in Montgomery.

He was reelected to the bench in November 2012, and his six-year term runs through January 2019 — at which point he will be unable to run for another term, as Alabama has age limits preventing anyone 70 or older from being elected or appointed as a judge.

In the decision on Moore, the nine-member judiciary court said that a majority agreed with the Judicial Inquiry Commission that Moore should be removed from the bench but noted that only a unanimous ruling could pull him. Instead, the court unanimously decided to suspend him, which takes effect immediately.

The judiciary court's judgment said it was focusing on Moore's actions, rather than litigating same-sex marriage, which was ruled constitutional by the U.S. Supreme Court last year. In its judgment, the judiciary court said that while some of its members "did not personally agree with" that Supreme Court ruling or think it "was well reasoned," they could not reexamine that issue.

Instead, they pilloried Moore for his actions, saying that some of what he said in his January order was "incomplete, misleading, and manipulative" and writing that the order's purpose was to direct probate judges "to stop complying with binding federal law."

The Alabama Judicial Inquiry Commission had argued for removing Moore from office, saying that his actions were "even worse" than his behavior when he was removed in 2003, the judiciary court noted. The judgment Friday also said this was the second time Moore has been brought to this court.
This ruling was, of course, easily foreseeable from the minute that Moore decided to take up the mission of resisting a Supreme Court decision that has by and large been accepted in the rest of the nation. At the start, Moore was able to rely upon technicalities to impose his will on the rest of the state. First, he used his authority as Chief Justice to order the Probate Judges who issue marriage licenses to continue not issuing licenses to same-sex couples, then he attempted to ignore the rulings of a Federal District Court Judge by arguing that he was not bound by the decisions since he wasn't a party to the lawsuit. As was the case when he resisted Court orders to remove the Ten Commandments monument from Courthouse grounds more than a decade ago, Moore of course had no legitimate legal grounds to stand upon, but that doesn't seem to matter to people in his position. Indeed, loss at the legal level only seems to make people such as a Moore more obstinate in the position that they hold.
The last time this happened, Moore rode the controversy that surrounded his removal from office to a brief attempt at a political career. In 2004 he ran for President as the nominee of the far-right Constitution Party, and in 2006 and 2010 he ran unsuccessfully for the Republican nomination for Governor before running again for Chief Justice in 2012 and winning by a wide margin. If nothing else, his twenty year history with the office of Chief Justice in Alabama stand as a prime example for why Judges, and most especially appellate court Judges, should never be elected. Fortunately, thanks to the state's mandatory retirement laws, Moore will be unable to run for his position again when it comes back up in 2019. Theoretically I suppose he could run for Governor again, but the fact that he barely registered in the polls either time he tried that route seems to be an indication that there are limits to the patience of Alabama voters when it comes to his antics. Perhaps this means he'll end up with a talk radio gig, or perhaps a commentator on Fox News Channel or Glenn Beck"s television network. For the most part, though, we apparently won't have Roy Moore to kick around anymore.
Here's the ruling:
In the Matter of Roy Moore by Doug Mataconis on Scribd