Sears Files For Chapter 11, Faces An Uncertain Future
Once the iconic American retail store, Sears now faces the possibility that it may end up fading into history.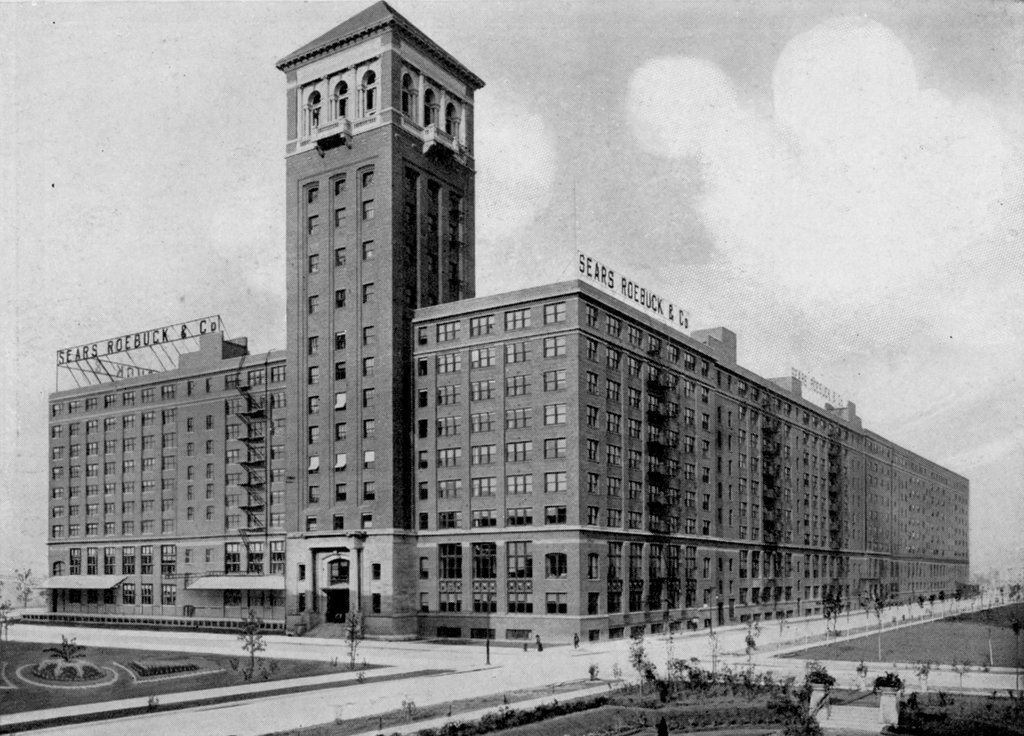 As expected, the corporate parent of Sears and Kmart has filed for Chapter 11 Bankruptcy protection:
Sears, which more than a century ago pioneered the strategy of selling everything to everyone, filed for bankruptcy protection early on Monday.

The company had long ago given up its mantle as a retail innovator. It was overtaken first by big box retailers like Walmart and Home Depot and then, by Amazon as the go-to shopping destinations for clothing, tools and appliances.

In the last decade, Sears had been run by a hedge fund manager, Edward S. Lampert, who sold off many of the company's valuable properties and brands but failed to develop a winning strategy to entice consumers who increasingly shopped online.

The result has been a long painful decline. A decade ago, the company employed 302,000. Today, there are about 68,000 people working at Sears and Kmart, which Mr. Lampert also runs.

Now, the retailer is aiming to use a Chapter 11 bankruptcy filing in federal court in New York to cut its debts and keep operating at least through the holidays.

As part of the reorganization plan, Sears has negotiated a $300 million loan from Wall Street lenders to help keep its shelves stocked and employees paid.

The company said it was still negotiating with Mr. Lampert's hedge fund, ESL Investments, for an additional $300 million loan. Mr. Lampert will step down as Sears chief executive, but will remain the company's chairman. Three other Sears executives will serve in a newly created role, the office of the C.E.O., overseeing daily operations.

"ESL invested time and money in Sears because we believe the company has a future," Mr. Lampert said in a statement on Monday.

The company — which listed $11.3 billion in liabilities and $7 billion in assets — is also planning to close 142 more stores as it tries to reduce costs and find some way forward.

"It's a sad day for American retail," said Craig Johnson, president of Customer Growth Partners, a retail research and consulting firm. "There are generations of people who grew up on Sears and now it's not relevant. When you are in the retail business, it's all about newness. But Sears stopped innovating."

Founded shortly after the Civil War, the original Sears, Roebuck & Company built a catalog business that sold Americans the latest dresses, toys, build-it-yourself houses and even tombstones. In their heyday, the company's stores, which began to spread across the country in the early 20th century, were showcases for must-have washing machines, snow tires and furniture.

More recently, Sears became known for another distinction — Mr. Lampert's audacious feats of financial engineering. He has spun off numerous assets from the retailer into separate companies that his hedge fund invests in.

While many of these spinoffs have flourished, Sears slid toward insolvency.

Over the last five years, the company lost about $5.8 billion, and over the past decade, it shut more than a thousand stores.

Many of the 700 stores that remain have frequent clearance sales, empty shelves and handwritten signs.

Sears stores remain the centerpiece of hundreds of shopping centers across the United States and their decline has reduced traffic to many of those malls.

Running low on cash, the company had a $134 million debt payment due on Monday. Its total bank and bond debt stood at about $5.6 billion in late September.

Reorganizing Sears will not be easy. The company's e-commerce business has only a tiny fraction of the sales of Amazon, one of the world's most valuable companies. And bringing back customers to Sears stores will take investment that Sears probably cannot afford.

The rise of e-commerce has contributed recently to a record number of stores closings and retail bankruptcies, including Sports Authority, Payless Shoes and Toys "R" Us. Like Sears, Toys "R" Us had tried to reorganize, but the company eventually shut down and laid off all of its employees in June when its lenders concluded that the business was no long viable.

Although Sears lost its competitive edge long ago, its bankruptcy still represents a significant moment for its industry. No other large retailer has endured as long or played as important a role in American life as Sears.

The company started out selling watches to railroad agents in 1886 and soon expanded into a vast mail order business that sold clothing, tools, shoes, at one point even cocaine and opium, through catalogs that ran as long as 1,000 pages.

Sears Roebuck was, in many ways, an early version of Amazon. It used the Postal Service to reach the most remote parts of a growing nation and sorted and shipped products from a three million-square-foot warehouse in Chicago.

After World War II, Sears stores served the needs of the country's expanding middle class. Families came to have their children's' portraits taken, to get their tires rotated and oil changed, and to buy Kenmore refrigerators.

"Sears is where you went to shop," said Barbara E. Kahn, a retail expert and marketing professor at the University of Pennsylvania's Wharton School. "They sold fundamental products that consumers needed."

Through the 1960s and 1970s, Sears shared its success with employees at all levels of its corporate hierarchy. Cashiers, janitors and executives alike took part in profit-sharing and received options in the company's soaring stock.

As many as 100,000 retired Sears employees still receive pensions, which are expected to emerge largely unscathed in the bankruptcy. As the company was bleeding cash and selling off assets in recent years, federal regulators required Mr. Lampert to inject cash into the pension plan. Other benefits for retirees like life insurance, however, could be in danger.

"It is sad to see the company you really loved go down the tubes," said Ron Olbrysh, 77, who worked in Sears' legal department for 24 years and now heads an association of retired workers.

By the 1990s, Sears was struggling to find its place. Walmart was plopping its super centers across the United States. Home Depot was taking away market share on appliances and power tools, but Sears had valuable brands like Kenmore, DieHard and Lands' End, and stores in prime locations.

Things changed dramatically when Mr. Lampert arrived on the scene.

A hedge fund manager, who got his start at Goldman Sachs and had little experience running a large retail chain, Mr. Lampert took control of Kmart after it came out of bankruptcy in 2003 and then acquired Sears a year later. The company's board came to be dominated by other wealthy investors, including Steven Mnuchin, the current Treasury secretary who had been Mr. Lampert's roommate at Yale.

Mr. Lampert says his strategy was to move the company away from its brick-and-mortar legacy into the digital era.

His plan was to use the money saved from closing stores and selling off assets to reinvest in the business. But the company never gained traction online.
More from The Wall Street Journal:
Sears Holdings Corp. filed early Monday for bankruptcy protection from creditors, marking the collapse of a company that dominated American retailing for much of the 20th century.

The retailer, which sought chapter 11 protection in U.S. Bankruptcy Court in White Plains, N.Y., reached a deal with its lenders that will allow the 125-year-old company to keep hundreds of its stores open for now.

As part of the deal, Sears is expected to close at least 150 stores immediately, according to people familiar with the matter. Currently, the company operates roughly 700 Sears and Kmart stores. It employs about 70,000 people.

The bankruptcy filing came before Sears, which has closed hundreds of stores and struggled with losses for years, was required to repay $134 million in loans later on Monday.

Lenders agreed to provide between roughly $500 million and $600 million in bankruptcy financing, said people familiar with the matter, which would enable the company to keep operating while it restructures and seeks buyers for assets.

Sears Chief Executive Edward Lampert, who merged Kmart with Sears and controlled the company for more than a decade, was expected to contribute to the bankruptcy financing, some of the people said.

"Everything I have done as an investor in Sears Holdings has been with the goal of helping the company and its people succeed," Mr. Lampert said in a statement provided by his hedge fund. The CEO is also Sears's biggest shareholder and one of its largest creditors.

Mr. Lampert said his hedge fund will continue to press for Sears to emerge from bankruptcy in a stronger position. "I invested so much of my time and money in the company because I believe Sears has a future," he said.

Mr. Lampert believes the company can reorganize around roughly 300 of the most profitable stores, a person familiar with his thinking said. However, this person said, it is possible even those stores will eventually be sold.

The plan that Sears and its lenders scratched out over the past week isn't unfamiliar. Dozens of retailers have sought chapter 11 protection in recent years because of the consumer shift to online shopping, expensive store leases and heavy debt burdens.
As many people have noted in recent months, given its history one would have thought that Sears would have been well-suited to step into the digital age and the era of online sales well before upstart companies such as Amazon did, and long before companies like Amazon and Target would see the advantages of looking beyond the big-box store. After all, the company's catalog, which was released several times throughout the year, including a Christmas edition that was the inspiration for many children's letters to Santa Claus, was in some ways an early version of Amazon. With the right approach and the right level of investment by company leaders committed to redirecting the company for the 21st Century, it could have served as the impetus for a dominance in online sales that could have made Sears Roebuck relevant to the online era. Instead of taking this approach, though, the company had largely shut down its catalog business by 1993, just a few years after Tim Berners-Lee had written the code for what would become the World Wide Web, and a few years short of the time when the Web would begin how we share and view information, how we interact with each other, and how we shop. Ending the catalog or at least failing to be an early adopter of the online sales world was, arguably, a fatal mistake.
Of course, it's perhaps not surprising that Sears (and other retailers) missed the boat on online sales. Thanks to sheer inertia, it's simply not in the nature of older companies such as Sears and is far easier for startups like Amazon to innovate than it would have been for an established and publicly traded company like Sears. For example, the huge losses that Amazon suffered in its early years would likely have been unacceptable to investors in Sears and there would have been pressure to cut off a money-losing operation. As a result, it's possible that Sears was doomed by inertia to act the way that it did.
In addition to missing out on the online world, of course, Sears has made a number of major mistakes over the years that seemingly have made today inevitable. The decision to merge with Kmart, for example, never seemed to make sense given the fact that it largely ended up saddling the company with debt and with obligations for the expenses associated with hundreds of more bricks and mortar stores in an era when it was already clear that the days of the so-called "big box" store was coming to an end. In more recent years, the leadership of David Lampert and others has clearly been an utter failure that has only resulted in the company taking on more debt, selling off what few profitable elements it has, such as Craftsman tools, and holding on to store locations that are clearly not profitable and likely not generating sufficient revenue to justify keeping them open.
At least in the short term, this Chapter 11 filing will allow Sears to stay open and keep functioning notwithstanding its debt load. In the longer term, the question is going to be whether its new leaders and the operating plan they are putting forward in Bankruptcy Court, will be sufficient to guide the company out of Chapter 11 to something resembling a successful future. The first big test, of course, will be the upcoming holiday shopping season, and the question of whether or not shoppers will come back to a store that they have largely abandoned over recent years. It's also unclear whether they'll be able to keep the shelves stocked with merchandise, something that will largely depend on whether or not those suppliers, or the lenders that underwrite them, will be willing to extend credit to a company that already has a $5.6 billion debt load and which is now in Chapter 11 Bankruptcy. In fact, it may be the holiday season that decides whether the company makes it through and out of Chapter 11, or whether it files for liquidation and thus brings to an end a retail legend that was once the Walmart and Amazon of its day. As things stand right now, the odds are against them.