Amazon Becomes Second Company To Hit $1,000,000,000,000 Market Value
Amazon has joined Apple to become the second American corporation to reach $1,000,000,000,000 in market valuation.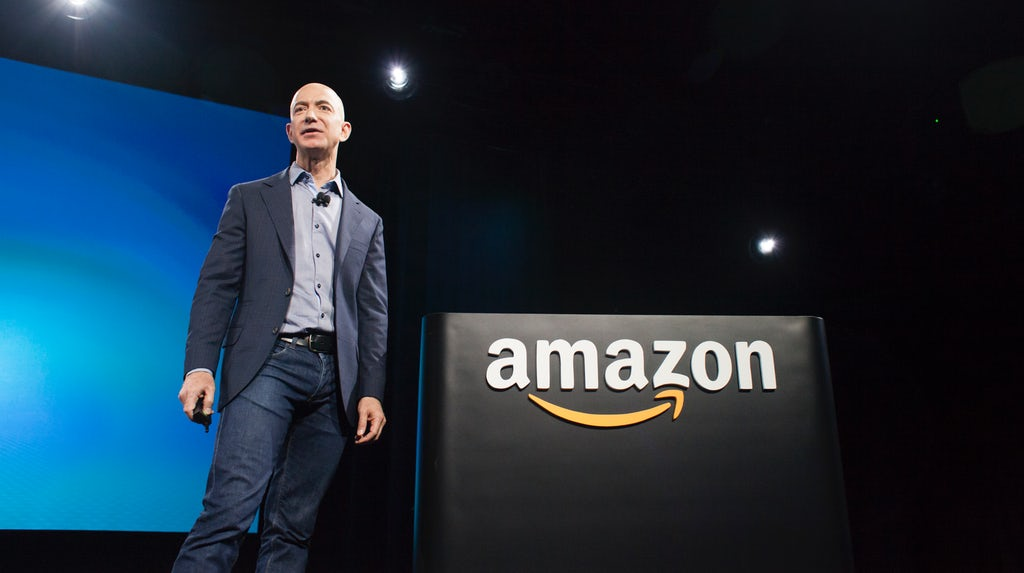 Just over a month after Apple hit the same target, Amazon crossed the line to become the second company in American history to surpass $1 trillion in market value:
SAN FRANCISCO — When Apple's market value crossed a trillion dollarslast month, the reason was simple: It makes devices that a lot of people are willing to spend a lot of money on.

Now Amazon has become the second American company to cross that once-unimaginable line. Its founder and chief executive, Jeff Bezos, is worth nearly as much as Bill Gates and Warren Buffett put together.

This time, the explanation is more complicated.

Amazon captures 49 cents of every e-commerce dollar in the United States. It employs more than 550,000 people and generates $178 billion in annual revenue. It sells everything from computing space to peanut butter to appointments with plumbers.

But the thing it has always sold the most — to investors, customers, the media — is excitement.

In the beginning, Amazon was an exciting new way to shop for books: online. Then it was an exciting new way to read (Kindle e-books), an exciting new way to publish (CreateSpace), an exciting new way to power the internet (Amazon Web Services), an exciting new way to get deliveries (Amazon Prime), an exciting new way to make your house a high-tech outpost (Alexa).

Long before Amazon went to Hollywood and began making movies, it was the star of its own show, generating vast amounts of attention just for being Amazon. No company ever managed to turn its lack of profit into such effective drama, or the question of what its next move would be.

Amazon's search for a second headquarters, the company having run out of room and patience in its hometown, Seattle, set off a nationwide frenzy among politicians. Mr. Bezos even gamified his philanthropic plans, taking to Twitter to solicit advice about what he should do. (One popular recommendation: Pay your warehouse workers more.) Would Amazon collapse, or would it eat the world? It was the corporation-as-reality series, and it's been a long-running hit.

Public companies usually live under the tyranny of Wall Street, which prizes profits to the exclusion of all else. When Facebook and Twitter recently purged their rolls of fake users and began devoting more effort to cleaning up their acts, Wall Street did not applaud this civic-minded move but pummeled their shares.

Mr. Bezos made clear when Amazon went public in 1997 that he would not work for Wall Street, and the result was a company cast in an entirely different mold. It never feared losing money. In a real sense, there were no consequences for being wrong.

Behind the drama is a relentless and sometimes scary ambition. Amazon is the Jay Gatsby of American companies, believing that tomorrow it will run faster, stretch its arms out farther, fulfill the desires of consumers in ways that no other business possibly could. You will live in Amazon's world, it says, and you will like it.

The retailer has retained this futuristic luster even as Facebook, Twitter and Google, which touted their own versions of technoparadise, have become suspect. It has retained its allure even as many of its ventures have tanked. Remember Kindle Singles? They were electronic articles hailed as the virtual reinvention of nonfiction. No one even noticed when the program fizzled."

"We like to go down unexplored alleys and see what's at the end. Sometimes they're dead ends," Mr. Bezos said in 2009. "Sometimes they open up into broad avenues and we find something really exciting."
More from The Washington Post:
Amazon.com on Tuesday became the second publicly traded U.S. company to be valued at more than $1 trillion, as the tech giant expands into new lines of business that are helping turn record profits.

The milestone comes one month after Apple first passed the $1 trillion threshold on Aug. 2

Amazon shares rose as much as 1.9 percent Tuesday morning to $2,050.50 — 23 cents above the amount needed to bump the company over the $1 trillion line. Amazon's stock has increased 70 percent so far this year as U.S. tech stocks continue to reach record highs. Although the stock closed the day up 1.3 percent, Amazon was below the $1 trillion mark.

Amazon's market valuation in recent weeks pulled ahead of two other tech giants — Google's parent company, Alphabet, and Microsoft — to hit $1 trillion. Microsoft currently has a market cap of $854.5 billion, while Alphabet is close behind at $840.3 billion. Apple's valuation has risen to $1.1 trillion since it first passed the threshold. But Amazon's stock growth has outpaced the competition: Alphabet's stock has risen 15 percent this year, while shares of Apple and Microsoft are up about 30 percent.

Amazon, founded by chief executive Jeffrey P. Bezos as an online bookseller in 1994, has grown rapidly into one of the country's largest and most influential companies. In addition to its flagship e-commerce business, the Seattle-based giant also has a hand in a number of other industries, including cloud computing, home security and movie production. It is the country's second-largest private employer, behind Walmart, and so far this year has posted $4.1 billion in profit. (Bezos also owns The Washington Post.)

Bezos is the biggest beneficiary of Amazon's rising stock price: He is the world's wealthiest person and, as of Tuesday afternoon, was worth $166 billion, according to the Bloomberg Billionaires Index.

Analysts said the success of the company's cloud business, Amazon Web Services, and fast-growing advertising arm have helped reassure investors who have long worried about Amazon's profitability. The company famously did not turn a profit until 2001, and even then, results were spotty from quarter to quarter as Amazon reinvested in its business.

But that has begun to change: Amazon has now reported a profit for 13 quarters, with earnings growing 12-fold to $2.5 billion in the most recent quarter. Those results have impressed investors and helped lift its shares to record highs.

"For decades, investors have questioned Amazon's ability to grow its profit margins," said Victor Anthony, managing director of Aegis Capital. "Now that it has several high-margin revenue streams, we're seeing those doubts subside."

Amazon Web Services, which continues to account for much of the company's growth, brought in $6.1 billion in revenue during the most recent quarter. Amazon's advertising business, meanwhile, helped bring in $2.2 billion for the company, more than double what it did a year ago.

The company is also expanding into new lines of retail, including groceries, pharmaceuticals and home technology, making it a one-stop shop for millions of American households. Amazon now accounts for nearly half of the country's online spending, according to eMarketer. (In second place: the auction site eBay, which commands about 6 percent of online sales.) The company's Prime membership program, meanwhile, has more than 100 million paying users.

"The common connection between Apple and Amazon is their ability to get us to think about them every day — whether through commerce or services," said Brendan Witcher, an analyst for market research firm Forrester. "They are both almost seen as necessary as a utility in some consumer's lives."
By way of reference, this chart shows the valuation of Apple, Amazon, Alphabet (the parent of Google), and Microsoft: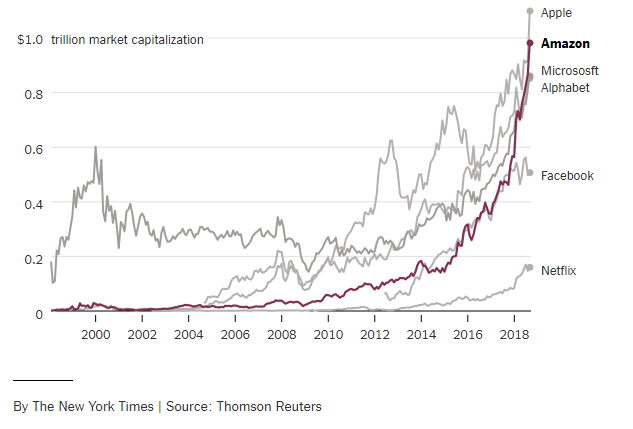 If anything, Amazon's story is even more remarkable than Apple's.
For one thing, Amazon has succeeded not in the technology field dominated by Apple but in the old school area of retail sales, which it revolutionized from the day that it went online in 1994. Typically speaking, though, retail sales is not an area known for huge profit margins or the kind of massive groundbreaking changes that lead to vast sources of revenue like the ones Apple has seen from the sale of items such as the iPod, iPhone, and iPad. Indeed, for many years Amazon went through quarters and years in which it was losing money at alarming rates. Rather than let that deter him, though, Amazon founder Jeff Bezos continued to push forward, expanding the inventory available for purchase beyond books, compact discs, and DVDs to the point where, now, you can purchase almost anything on Amazon and have it shipped to your home. Bezos has also made vast improvements in the company's infrastructure and logistical areas to the point where shipping speeds have dwindled from a week to a few days to, depending on whether or not you live in an area close to an Amazon facility, a few hours on at least some of the items available for sale on the site. Additionally, the company has expanded beyond sales to become a major competitor in the competition for cloud storage and other data management services as well as a major source of video streaming, including providing original content in the same vein as Netflix and Hulu. The result has been to turn Amazon, which started out as a competitor to the local and big box bookstore, into a hybrid technology/entertainment/retail giant that has become a part of everyday life for millions of American.
The other major difference between Apple and Amazon, of course, is the fact that they have both reached the same landmark at very different speeds. Apple was founded in 1976 and reached its $1 trillion market valuation over the course of 42 years. Amazon, on the other hand, was founded in 1994 and took just 24 years to reach the same valuation. Granted, Apple did have a rebirth of sorts in the mid-1990s roughly around the same time that Amazon was founded thanks to the return of Steve Jobs and an infusion of cash from, ironically enough, Microsoft founder Bill Gates. Nonetheless, the story of Amazon has been one of constant growth and expansion and the fact that it has reached this level of valuation within such a relatively short period of time is quite remarkable.