Apple Tops $1,000,000,000,000 In Value
Forty-two years after being founded in a California garage, and twenty years after nearly going broke, Apple Computer has become the first publicly traded company to top $1 trillion in value.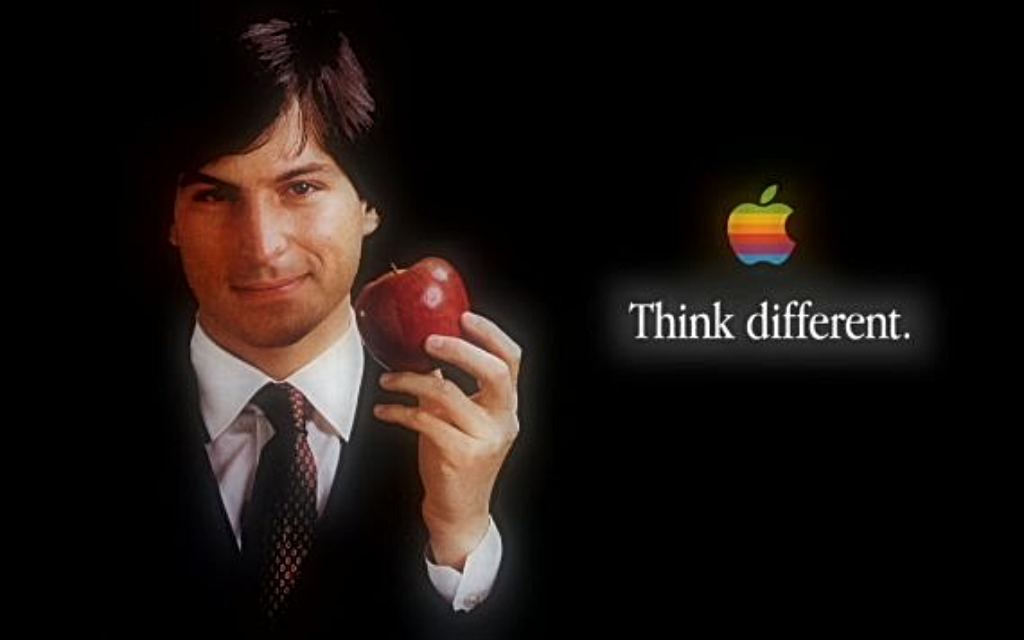 Apple has become the first corporation to top $1 trillion in value:
SAN FRANCISCO — In 1997, Apple was on the ropes. The Silicon Valley pioneer was being decimated by Microsoft and its many partners in the personal-computer market. It had just cut a third of its work force, and it was about 90 days from going broke, Apple's late co-founder, Steve Jobs, later said.

On Thursday, Apple became the first publicly traded American company to be worth more than $1 trillion when its shares climbed 3 percent to end the day at $207.39. The gains came two days after the company announced the latest in a series of remarkably profitable quarters.

Apple's ascent from the brink of bankruptcy to the world's most valuable public company has been a business tour de force, marked by rapid innovation, a series of smash-hit products and the creation of a sophisticated, globe-spanning supply chain that keeps costs down while producing enormous volumes of cutting-edge devices.

That ascent has also been marked by controversy, tragedy and challenges. Apple's aggressive use of outside manufacturers in China, for example, has led to criticism that it is taking advantage of poorly paid workers in other countries and robbing Americans of good manufacturing jobs. The company faces numerous questions about how it can continue to grow.

And Mr. Jobs, admired for his dazzling product demonstrations and feared for his blunt management style, was arguably the tech industry's most famous figure when he died in 2011 after a battle with pancreatic cancer. He was 56.

"Could anyone really imagine this back then?" said Apple's former software chief Avie Tevanian, who joined Apple in 1997. "We hoped to make the company very successful and very valuable. But to think it would get to where it was today? Of course not. And Steve wouldn't have thought that, either."

Apple was founded in 1976 with the mission of making computers — then bulky, complicated industrial machines — cheap, small and simple so they could become a mass-market product. By the 1980s, the company was one of the world's best-known brands.

But in 1985, Mr. Jobs was ousted in a boardroom coup. In the following years, the company was increasingly outgunned and outmaneuvered in the personal-computer market it helped invent.

Apple, hamstrung by a lack of new ideas, failed products and leadership turmoil, had lost its way.

Fred Anderson, Apple's former chief financial officer, said that shortly after he joined in 1996, he initiated a $661 million bond offering to keep the company afloat. "I didn't know how bad it was until I started digging in," he said.

By the end of that year, Apple had lost $867 million and the total value of its shares was less than $3 billion.

The ailing company decided to take a gamble. It bought Next, a tech firm run by Mr. Jobs, for $400 million. Mr. Jobs, still synonymous with the Apple brand, would return to the company he had founded.

"It was on the rocks," Mr. Jobs later recalled. "It was much worse than I thought."

Mr. Jobs slashed 70 percent of Apple's product plans, commissioned the company's "Think Different" ad campaign and reimagined how it put its products together.

"We're trying to get back to the basics," a weary Mr. Jobs said in a 1997 internal meeting with staff. A video of the meeting posted online later showed him sporting shorts and sandals. "The question now is not: Can we turn around Apple? I think that's the booby prize. I think it's: Can we make Apple really great again?"

The focus on simplicity became a hallmark of Apple, from the way Mr. Jobs dressed — jeans and black mock turtlenecks became his uniform of sorts — to the way his products operated to the eventual look of his company's retail stores.

In 1998, Apple introduced the iMac G3, a round, colorful, all-in-one desktop computer. It became a hit. Apple had its swagger back.
The real turnaround for Apple, and indeed for the entire world of technology, though, came in 2001 with the introduction of the iPod. While there had been other portable music players that played MP3 and other digital music players on the market before the iPod, and many that followed, such as Microsoft's own foray into the field several years later, none of them came close to the iPod in terms of ease of use. More than that, though, the device reflected something that Jobs had brought into the new Apple when he returned to the company in the late 90s. Specifically, that idea was that, as much as ease of use and advances in technology itself, consumers would respond positively to devices that looked cool, and the iPod looked cool. Once the device hit the market it became it's own best advertisement since it would often be the case that someone who owned one would end up showing it off to friends, family, and even random acquaintances. Inevitably, seeing iPod's in the wild would lead others to say "Man, I've got to get one of those for myself." This, combined with the mastery that Steve Jobs showed at marketing even minor advances in the next generation of devices, along with the company's decision to begin opening its own retail stores in malls and major cities, led to each announcement of a new iPod becoming news not just in the technology and business world, but also in the business world itself.
As the iPod advanced through new iterations that included advances such as ever-increasing memory size as well as the creation of smaller versions that held a smaller number of songs but were more affordable than larger models, the company was working on something that would truly revolutionize the world. For several years, rumors persisted that Apple was working on its own version of a smartphone, a market that at the time was largely limited to Blackberry and a handful of other devices that were really designed more for business than personal use. Those rumors became reality in 2007 when Jobs introduced the first version of the iPhone, an announcement that had become so highly anticipated that it led to the first of many occasions when people would literally spend days sitting outside their local Apple store waiting for the release date of a new version of what quickly became the world's most popular phone. If there was one flaw in Apple's rollout of the iPhone, it was the decision to make it available only through a single cell phone network. After several years, though, that plan was abandoned and one can now purchase a version of the latest iPhone regardless of which carrier you might have an account with. In any case, Jobs brought the same marketing skill to the iPhone that had used with the iPod, and the success was beyond the wildest dreams of even the most optimistic analyst who was watching that first introduction of the iPhone in 2007.
The importance of the iPhone's introduction not only to the future of Apple but also to the world of technology cannot possibly be overstated. Overnight, the mobile phone industry was changed and the phone went from being a device we used to make phone calls and send text messages to a device that connects us to the vast store of human knowledge known as the Internet. Before long, other companies came out with their own smartphones, and Google made its own impression by creating the open-source Android operating system as a competitor to Apple's closed-source iOS. The result has been an explosion of smartphones across the globe the full consequences of which we've only just begun to understand.
Even as new versions of the iPhone were being released on roughly an annual basis, Jobs and his team were working one final innovation. In 2010, Apple released the iPad and introduced the world to the tablet computer, which much like its predecessor has changed the way that we work and interact with others. All of this was happening, though, as Jobs was battling pancreatic cancer that finally took his life. Since then, many have wondered where Apple would be headed under the leadership of Tim Cook. While it's true that the newest versions of the iPhone and the iPad have been, at best, minor advances over their predecessors, and that in many cases the "innovations" that Apple has touted are things that have been available on Android phones for years, one can't deny the marketing success that Apple continues to enjoy even without its founder. It's because of all that, of course, that they've passed their milestone.
A trillion dollar company. Not bad for something that started with two guys named Steve in the garage of Steve Jobs's parents home in Los Altos, California.