iPhone 5 Gets Bigger Screen, Slideout Keyboard?
The next-generation iPhone 5 is rumored to have a 4 inch screen and even a slide-out keypad.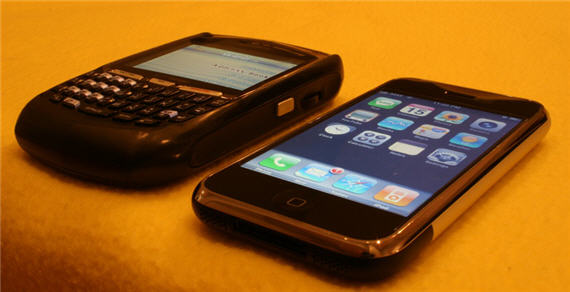 Apple's next-generation iPhone, due in June, will come with a bigger screen, according to various reports.
DigiTimes ("Apple to expand iPhone screen size to 4-inches")
Apple reportedly will change the screen size of iPhone to 4-inch for its fifth generation iPhone to compete with the Google Android platform in the 4- to 7-inch smartphone market, according to upstream component suppliers.

The component suppliers noted that the production lines for Apple's next generation iPhone have begun testing, and Apple is interesting in expanding the screen size to 4-inches to support the tablet PC market as the vendor only has a 9.7-inch iPad in the market.

In fact, smartphones that adopt the Google Android platform are mainly 4-inch and larger models. Samsung Electronics' Galaxy S and Google's Nexus S adopt 4-inch panels, Sharp adopts 5.5-inch for its smartphone, and Acer plans to launch a 4.8-inch smartphone. With Apple joining the 4-inch and larger market, 4- to 5.5-inch will become the major battlefield for smartphones and further change the industry dynamics for small- to medium-size panels.

What is worth noticing is that Dell has re-defined the market position of the Dell Streak 5 – which was originally focused on the tablet PC market – as a super phone. The Dell Streak 5 uses a 5-inch panel which stands in the gray area between tablet PC and handset segments and indicates there is an overlap in the market for 4- to 7-inch panels.

Smartphone vendors' choice of using increasing screen sizes and specifications has helped to generate some change in the panel industry. Currently, bonding TFT with touch panels has become an important factor to keep orders from clients. For AU Optronics (AUO), part of its 4G and 5G capacity has moved to touch panel production covering touch sensors, TFT panels to modules, and the panel maker is also working with its subsidiary Cando to develop in-cell touch panel to compete in the market.

Chimei Innolux (CMI) is also producing touch panels at its 4.5G plant and part of its 5G plant through front to back-end method, and is also producing iPhone and iPad panels through IPS technology.

Panel makers noted that in addition to touch panels, AMOLED is another important development in the smartphone market. AMOLED supply remains in shortage, and Samsung's subsidiary Samsung Mobile Display (SMD) is the leading player in the market with the largest capacity, while LG Display is actively following behind and AUO and CMI and actively becoming involved in the market.
(DigiTimes is obviously quoting some other report but there's no indication whose.)
AppleInsider ("Apple rumored to be evaluating 3 new iPhone prototypes, one with slideout keyboard")
A Taiwanese website that has been the source of numerous Apple hardware leaks now claims that Apple has built three hardware prototypes for its next-generation iPhone, including one model with a slide-out physical keyboard.

The new details come from tw.apple.pro, but are the result of a rough online translation. The site's source claimed that Apple has built three prototype models for its anticipated "iPhone 5," and one of them has a "sliding cover" that conceals a keyboard.

Another prototype reportedly built by Apple looks largely like the iPhone 4, but has improved hardware including longer battery life and superior camera. That version of the handset would not be a major physical change from the previous-generation iPhone 4, and would be akin to the iPhone 3GS replacing the iPhone 3G, the report said.

Finally, the site also reiterated rumors that the next-generation iPad will include a built-in camera, and will also be thinner than the first-generation model.
9to5Mac ("iPhone 5 to pack 4-inch display, A5 processor?")
Although the last few days have been packed with rumors pointing to a smaller iPhone with a smaller display, Digitimes is now reporting that Apple's fifth-generation iPhone, due in June, will pack a 4-inch display to go toe-to-toe with Android device's larger displays. This information is said to come directly from Apple's production lines.

Earlier today another rumor claimed that Apple is working on three prototypes for their next generation iPhone with one of them including a physical, slide out keyboard and the other being mostly an internal upgrade with a speedier chip and an eight-megapixel camera.

Digitimes is also reporting that Apple is planning to launch an iPad 2 with an "enhanced A4″ processor, with no explanation as to what that means and a fifth generation iPhone with the rumored A5 processor. No word on the differences between the two chips or if the iPhone 5 will feature a faster chip than the iPad 2. At this point it looks like Apple's next major handset is starting to take shape.

We are probably looking at a fairly major internal upgrade with a faster chip, perhaps more storage (cloud based?), a dual GSM/CDMA antenna, and probably more RAM. As for externals, Apple's iPhone 4 was a major redesign so perhaps the exterior design will simply see a new display: A 4-inch Retina display with Super PLS technology?
It's amazing how fast the smart phone market is evolving.  After all, the first iPhone was introduced in January 2007 — a mere four years ago — and we're about to enter the fifth generation.
Given how used to being online everywhere people are getting, a larger screen makes sense. The tiny screens that BlackBerry phones standardized were fine for reading email but it's aggravating to constantly have to scroll and re-size to read, say, a restaurant website.
At the same time, however, the iPhone is already at something close to the maximum size where it's comfortable to carry in one's pocket — which, for me at least, is a baseline requirement for a smartphone. Presumably, they can get a little more screen real estate by moving the operating button — but that's only another half inch or so. It the phones get much bigger at all, I'd get back to a BlackBerry — or just a plain old phone and start carrying an iPad or similar device. If it doesn't fit into my pocket, it might as well be a whole lot bigger.
I'm similarly torn on the idea of a slide-out keyboard. I've had my iPhone for months now and have gotten used to the touchscreen. But it's not as easy as the standard keyboard on my old BlackBerry Curve.  My wife has an Android with a slide-out keyboard but it's heavy. Again, that's fine if you're carrying a purse around anyway but I wouldn't want to carry it around in my pants pocket.