Apple Sued over iPad Planned Obsolescence
A Brazilian group is suing Apple for making its iPads better too quickly.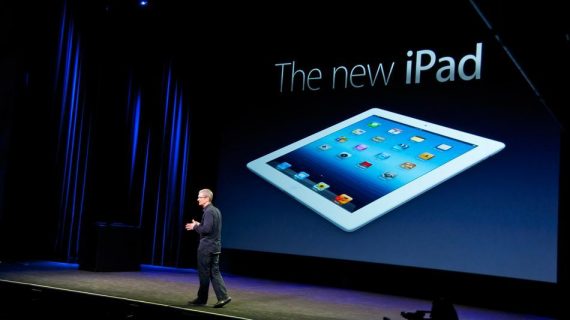 A Brazilian group is suing Apple for making its iPads better too quickly.
Mashable ("Apple Getting Sued for 'Planned Obsolescence' of iPad 3"):
Back in October, some users were upset when Apple unveiled the fourth-generation iPad just seven months after the previous model arrived. Now the Brazilian Institute of Politics and Law Software (IBDI) has filed suit against Apple, claiming that the quick release of the iPad with Retina display constitutes "planned obsolescence" with regards to its predecessor, the New iPad.

According to Brazil's Jornal do Comerciao, IBDI believes that Apple could have implemented the technological updates of the iPad 4 into the iPad 3. By not doing so, they believe that Apple took part in unfair business practices. Were Apple to lose in court, iPad 3 users in Brazil could receive some compensation.

"Consumers thought [they were] buying high-end equipment not knowing [it] was already an obsolete version," says IBDI attorney Sergio Palomares.

The New iPad and iPad with Retina display are different in three ways.

For one, the current generation tablet includes an A6X processor versus the A5X processor that came with the discontinued iPad 3. It also includes a FaceTime HD camera. The previous model included a VGA front-facing videophone camera. Finally, the iPad 4 includes Apple's new Lightning connector. The iPad 3 included a 30-pin connector.
I have next to no knowledge of Brazilian law or Apple's technology cycle, so have no strong opinion as to whether IBDI has a case. But, assuming for the sake of argument that Apple could have released the iPad 4 as the iPad 3 seven months earlier, it's not at all obvious to me why they were under obligation to do so.
When I buy a product, I expect it to do what it purports to do for a reasonable amount of time. But the fact that the iPad 4 will do some cool things that the iPad 3 won't do in no way makes the iPad 3 obsolete. If you were happy to spend $400 on a tablet that did what an iPad 3 did, it's not obvious why the fact that a tablet that did other things seven months later at a similar price matters. After all, you got to enjoy your tablet for seven months rather than delaying gratification; that has real value.
Indeed, I still have an iPad 2 and have no intention of upgrading any time soon. The things that would most motivate me to upgrade—my 4-year-old's games are rapidly eating up the storage space and I kind of wish that I had 4G capability instead of having to rely on the availability of WiFi—are actually things that were available for more money when my late wife bought me the iPad 2 fifteen months ago.
Technology has long come with planned obsolescence. The first several personal computers and cellular phones I had were "obsolete" within months of their purchase because those technologies were advancing so quickly. Now, PCs in particular are virtual appliances; there's little improvement when one replaces the old one because of mechanical breakdown. Even my iPhone is in that category; I've got a 4s and don't feel the least bit anxious that the 5 has been in the wild for months.