Apple Wins $1 Billion Patent Suit Against Samsung, May Get Triple Damages
Apple has won a huge victory in the smart phone patent wars. If the news reporting is accurate, the outcome doesn't pass the common sense test.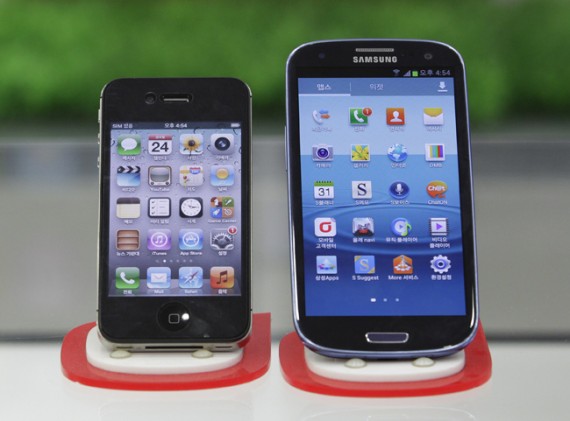 Apple has won a $1 billion judgment against Samsung in the smart phone patent wars.
Howard Mintz, Mercury News ("Apple wins $1 billion victory over Samsung"):
In a verdict that would have warmed the heart of the late Apple CEO Steve Jobs, a federal jury on Friday handed Apple a resounding legal victory in its bitter patent war with Samsung, ordering the South Korean tech giant to pay more than $1 billion in damages for "willfully" copying the iPhone and iPad.

Legal experts say the jury's finding of willful infringement enables Apple to seek to triple the billion-dollar damage award, already believed to be an unprecedented judgment in a patent trial. The verdict also sends a threatening message to Samsung and other Apple competitors in the mobile-phone and tablet industry that use Google's Android operating system, potentially making it harder for them to compete with the Cupertino-based tech giant in the multibillion-dollar industry.

Ticking off one by one the findings in a 20-page verdict, the jury said that a wide range of Samsung smartphones and its Galaxy tablet trampled on Apple's patent rights. The jury in particular found Samsung's Fascinate, Epic 4G and Galaxy S II smartphones were rogue products that warranted more than $100 million each in damages for copying the iPhone, although the panel spared Samsung much punishment for infringing the iPad.

[…]

"The verdict will be hard to dislodge," said Stanford University law professor Mark Lemley. "It's clear the jury took their job very seriously."

The jury's verdict was the most important milestone in the nearly two-year global war between the two tech giants over legal rights in the smartphone and tablet market. At stake is Apple's grip on the huge U.S. market and the impact of its aggressive claims that Samsung is propelling itself with devices that copy the iPhone and iPad, two of the most recognizable products ever produced.

With the U.S. marketplace key, the verdict gives Apple a leg up in a legal firestorm that has stretched from San Jose to Australia, across Europe and into Asia. On Friday, a South Korean court issued a split ruling in a similar patent fight there, siding with Samsung on some claims and Apple on others. That decision came just hours before the jury declared Apple the clear winner in the Silicon Valley case.
NYT reporters Brian Chen and Lisa Alcalay Klug call it "A Verdict That Alters an Industry."
The federal court jury's decision Friday in a smartphone patent lawsuit between Apple and Samsung is expected to alter the dynamics of the highly competitive mobile phone industry.

For Samsung, which lost on almost every count in the closely watched trial in San Jose, Calif., and was ordered to pay more than $1 billion in damages, the implications are more obvious. It will have to be cautious in how it designs products to avoid being accused of imitating Apple.

Other makers may become more cautious, too. Google, which makes the Android software that runs at the core of Samsung phones, will clearly feel an impact through its hardware-making partner. Microsoft, however, which is attempting to enter the market with new software, will feel less of an effect, industry experts said.

Apple has been the smartphone market leader. It defined the category in the way phones look and how users interact with them. Most popular smartphones today are a slab of glass and metal controlled through a touch-screen full of icons arrayed on the screen. Because consumers are familiar with that format, phones from various makers tended to look and behave similarly.

Those similarities might be the first things to change. "Companies in the future are going to have to consider how much they want their product to look and feel like their competitors' products in terms of shape, size, the way it feels, the way it looks, how the icons are similar, or will the icons be quite dissimilar" said Robert W. Dickerson Jr., a lawyer who is the head of the West Coast intellectual property practice for Dickstein Shapiro, a patent law firm not involved in the Samsung-Apple case.

Microsoft and its main hardware partner Nokia, at the very least, should have an easier time of it. Robert Barr, executive director of the University of California Berkeley's Center for Law and Technology, said that the user interface — the icons and other features that users see and touch — of the Nokia Windows phones look distinctly different from the iPhone. Nokia, a longtime maker of phones, also has a thick portfolio of patents to protect itself. For Microsoft and Nokia, which are trying to make a comeback in smartphones, this design distinction is a clear advantage in the internecine patent wars sweeping the industry as much as it is a marketing advantage.

Things could get tougher, however, for Google, or any phone maker using its Android software. Android phones are the most common smartphones on the market today. Samsung is the world's largest maker of smartphones and it has been quickly gaining market share. Collectively, the various Android phones from Samsung and other makers easily outsell Apple's iPhones.

While Google is not involved in this case, Apple was clearly going after Android all along, said Robert P. Merges, professor of law and technology at University of California Berkeley School of Law. If other handset makers using Android fear that Apple will take them on and win, might they shy away from Android? "There are a lot more players in the Android world who could be involved in the future in litigation," he said. "And it's going to raise the cost of everyone in the Android system if the damages stick."
Nor, as WSJ's Jessica Vascellaro reports ("Apple Wins Big in Patent Case") is this the end of it:
Among other findings, the jury at the U.S. District Court found that many of the Apple patents were willfully infringed by Samsung. That means that Judge Lucy Koh now has the discretion to triple Apple's damages award, said Brian Love, an assistant professor at Santa Clara University School of Law, who has been tracking the case. "This is a huge, crushing win for Apple," he said.

On Friday, Apple filed a motion seeking a preliminary injunction against Samsung's products. Judge Koh asked Apple to submit data on what products Apple wants covered by an injunction and how each is covered by the jury verdict.

While the ruling won't affect the companies' latest products, it could shape how smartphones and tablets are designed and the fortunes of companies that make them.

Apple's legal campaign is partly aimed at trying to beat back the gangbuster growth of Android, the operating system created by Google Inc. GOOG +0.27% that is used by Samsung and other device makers. In the second quarter, Android phones—which are made by many phone makers—represented 68% of smartphone shipments, while Apple's represented 17%, according to market research firm IDC.

Google had no immediate comment.

Friday's jury decision that the six infringed Apple patents—including three covering the shape of the iPhone and on-screen icons—are valid may make it harder for handset makers to enter markets with gadgets that look and work too much like a market leader's.
I'm an expert in neither patent law nor software coding, so don't have much additional insight to share here. But, based solely on the reporting here, the outcome doesn't pass the common sense test.
While I strongly support the notion that people and firms ought have strong protections for its intellectual property and be allowed to profit handsomely from innovations that catch on, it seems on the face of it here that the concepts being protected here are so obvious that they shouldn't be patentable. The use of icons to depict software applications has been industry standard for decades now, so it's not at all clear why Apple's buttons should be protected. For that matter, the idea that, on a smartphone or other small device, it would be easiest to manipulate said icons with one's fingers rather than an external interface like a keyboard or mouse, isn't exactly a stunning insight.  So, if all Samsung was doing is also making a phone that had apps represented by icons that were accessed by tapping with the fingers, I'm baffled that the case wasn't thrown out pre-trial.
If, on the other hand, Samsung was reverse-engineering Apple's manufacturing process, coding, or whathaveyou and simply copying them—or even making slight improvements—then I'd agree they should be liable for damages. Or, for that matter, if the industry had for years been stumped as to how to build a touch-based interface and Apple solved the problem, I'd agree that they ought to be able to patent that process, forcing other companies to either pay royalties for using said process or elsewise figuring out a unique way of doing it on their own.
But, from the reporting, it sure sounds like it's the first situation rather than the second.