The Beginning Of The End Of Sears Appears To Be At Hand
A once iconic American retailer appears to be on its last legs.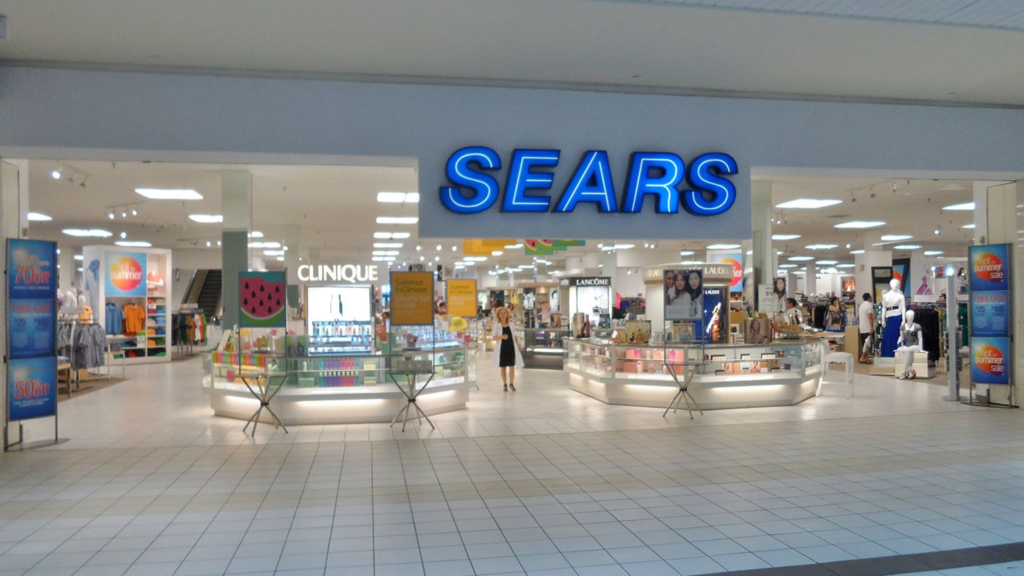 The Wall Street Journal is reporting that the corporate parent of Sears and Kmart is apparently in much worse financial shape than previously known and that a bankruptcy filing could come as early as this week:
Sears Holdings Corp. has hired M-III Partners LLC to prepare a bankruptcy filing that could come as soon as this week, according to people familiar with the situation, as the cash-strapped company that once dominated American retailing faces a debt payment deadline.

Employees at M-III Partners, a boutique advisory firm, have spent the past few weeks working on the potential filing, the people said. In recent days, M-III staff have been at the retailer's headquarters in Hoffman Estates, Ill., one person said. Sears continues to discuss other options and could still avert an in-court restructuring, the people added.

Sears, which has been losing money for years, has $134 million in debt due on Monday. Edward Lampert, the hedge-fund manager who is Sears's chairman, chief executive, largest shareholder and biggest creditor, could rescue the company, as he has done in the past by making the payment.

But Mr. Lampert is pushing for a broader restructuring that would include shaving more than $1 billion from Sears's $5.5 billion debt load, selling another $1.5 billion of real estate and divesting $1.75 billion of assets, including the Kenmore appliance brand, which he has offered $400 million to buy himself.

The company's poor financial performance has made it difficult to get support from lenders for the plan, one of the people said. Mr. Lampert hopes to shrink Sears back to profitability, this person said. The company has already closed hundreds of stores in recent years.

Sears has more than $11 billion in cumulative losses since 2011, and its annual sales have dropped nearly 60% in that period to $16.7 billion. Analysts say it needs to raise more than $1 billion a year to stay afloat.

Mr. Lampert has also sought advice from restructuring firm AlixPartners; lawyers at Weil, Gotshal & Manges LLP; and investment bank Lazard Ltd. , as he tried to keep the company afloat and restructure out of bankruptcy court, the people said.

On Tuesday, Sears added restructuring expert Alan Carr as a director, expanding the six-person board to seven. Mr. Carr runs a restructuring advisory firm and previously worked as a restructuring lawyer at Skadden, Arps, Slate, Meagher & Flom LLP. He has also served on the board of companies—including wireless-networking business LightSquared Inc. and guitar maker Gibson Brands Inc.—that have recently navigated the bankruptcy process.

Once hailed as a genius investor for smart bets he made on AutoZone and AutoNation , Mr. Lampert met his match in Sears, Roebuck & Co. The retailer was struggling before he combined it with Kmart, which he rescued from bankruptcy, to create Sears Holdings Corp. in 2005.

He moved quickly to cut expenses and close unprofitable stores. But the business worsened coming out of the recession, as more purchases were made online and rivals such as Walmart Inc. and Amazon.com Inc. grew stronger. The company wasn't helped by Mr. Lampert's unconventional approach to retailing. He resisted investing in store upgrades and, after becoming CEO in 2013, managed the company from his Florida mansion, according to people familiar with the situation.

Mr. Lampert wants to restructure Sears's debt without filing for bankruptcy protection, because he views bankruptcy as risky for retailers, according to a person familiar with his thinking. Retailers often enter bankruptcy with the hope of restructuring but wind up liquidating instead, as was the case this year with Toys "R" Us Inc., this person said.

Mr. Lampert, whose hedge fund ESL Investments Inc. owns a majority of Sears shares, also believes the company can get more value for its assets by selling them while it is a going concern, this person added.

Critics have accused Mr. Lampert of stripping assets from the beleaguered company. The person familiar with Mr. Lampert's thinking said he has been selling assets to give Sears the cash it needs to stay in business.
As noted, the main impetus for a potential bankruptcy filing this week is the fact that the company has a massive debt payment due on Monday of next week. Missing that payment outside of Bankruptcy Court could mean that the company would be vulnerable to losing access to lines of credit needed to purchase merchandise and pay bills, including rent and other fees associated with its remaining locations across the United States, which are far fewer than they were even at the start of the decade when the company was coming out of the Great Recession. In the years since then, the only time that Sears and Kmart have been in the news have been when the company was announcing yet another round of store closings, which seemed to come at a relatively regular basis over the course of the past eight years or so. Slowly but surely, the companies stores have disappeared from the remaining prime locations that they had, and even the remaining locations never seem to be busy. The closest Sears to me, for example, had a nearly empty parking lot even during the height of the holiday shopping season last year on more than one occasion when I drove past it. Speaking personally, I'm pretty sure I haven't been inside of a Sears or Kmart in at least the last ten years.
Filing for bankruptcy protection doesn't mean the end of the business, of course. At first, it's likely that company executives will seek to find ways to restructure the company's debt load in a way that would allow it to continue to cooperate. In reality, though, many of these restructuring bankruptcy cases end up failing and being converted into a liquidation bankruptcy, which would mean the end of the business absent its acquisition by someone willing to try to save the company in some way. This is what happened most recently to Toys R' Us, and it seems to be the fate that many of the big box retailers who have been forced into bankruptcy have ended up facing.
Sarah Halzack at Bloomberg notes that this should not be surprising and that time may finally be running out for Sears:
It has felt practically inevitable for years that I'd have to write the following sentence: Sears Holdings Corp., a once-towering force in American malls that was essential in creating the blueprint for 20th century retail, is preparing to file for bankruptcy.

A filing could come as early as this weekend, according to Bloomberg News, as the company bumps up against a deadline for a large debt payment.

In some ways, a bankruptcy would appear to be a turning point in the Sears saga — a long overdue acknowledgment of reality by Eddie Lampert, the hedge fund manager who is the company's largest shareholder and CEO. Lampert has been throwing lifelines to the troubled company for years by providing loans, orchestrating real estate spinoffs and selling assets such as its Craftsman tools brand. Those moves always felt like little more than kicking the can down the road.

And yet, in other ways, Lampert appears as delusional as ever about the future of Sears. The Wall Street Journal reports that Lampert "hopes to shrink Sears back to profitability."

Sorry, but it is hard to imagine a realistic path by which he can achieve that. The Sears empire has already shrunk substantially, with hundreds of underperforming stores cut loose in recent years.

In theory, a bankruptcy could result in Sears pruning its store fleet even further, leaving the retailer with a leaner, more productive portfolio that would be easier to manage and include only its best-performing stores. Perhaps Sears could carry on for several more years if it then invested in making those remaining stores into more attractive shopping destinations.

But here's the overarching problem: Lampert has long proved reticent to spruce up aging stores, apparently thinking it's not a first-order priority when his company has so many other problems. Why should we believe he'll suddenly find it worthwhile to make such investments now? And why should we believe shoppers will return to those stores without that kind of improvement?

And of course, a restructuring would only truly mark the beginning of a healing process if Sears's underlying business had untapped potential. But Sears has shown time and again it's not up to the challenge of retailing in today's cutthroat environment. The company likes to trumpet its efforts in e-commerce and its Shop Your Way rewards program as vehicles for one day returning to relevance. But the retailer has largely been mired in a pattern of dismal comparable sales growth for years. If those offerings haven't produced stronger sales and earnings results yet, there's no reason to have confidence they will do so going forward. And Sears doesn't appear to have many other big ideas.
The odds against Sears successfully surviving bankruptcy seems to be pretty high, especially when you consider the reality of its financial situation. This chart from Bloomberg, for example, shows its cash flow problems, which have been negative for years: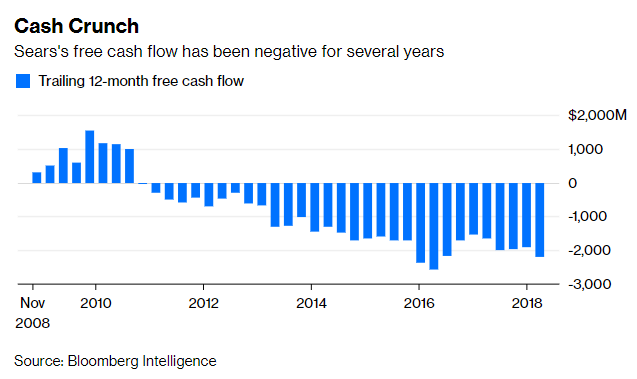 If the company does file for bankruptcy protection, this negative cash flow could become a significant problem since it is rarely the case that a debtor with such negative cash flow is able to successfully reorganize both due to the objections of creditors who will see the continued negative cash flow as insufficient protection for their assets and due to the fact that a Bankruptcy Court Judge is unlikely to look positively on such a financial condition absent a realistic plan to turn it around.
This negative cash flow has gotten worse, even though the company has stepped up its store closings: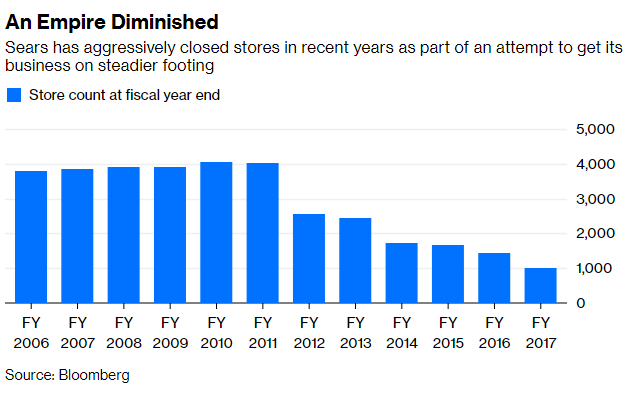 The fact that cash flow got worse even as the company was supposedly reducing its financial burden by shedding itself of the costs of operating unprofitable stores is obviously not a good sign, and neither is the fact that sales have been on a downward spiral for years: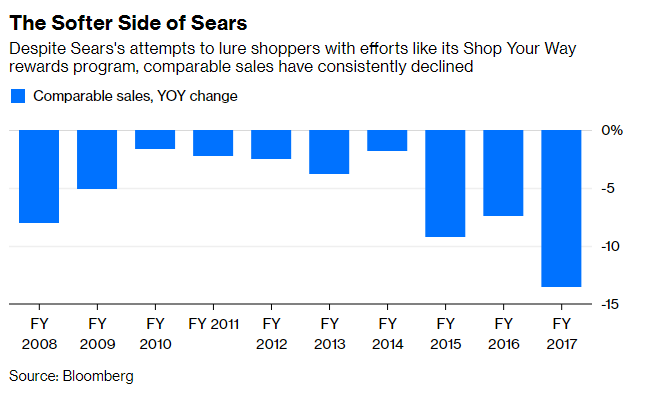 With numbers like this, it's hard to see how even a Chapter 11 could succeed in turning the company around.
What all this means, of course, is that we could be seeing the end of what was once a retail giant that began its life outside Chicago in 1886, and which was once so big that it was the namesake of one of the tallest buildings in the world. As the retail world changed, though, Sears and Kmart didn't do what they needed to in order to keep up not only with the growing world of online sales, but also competition from Walmart, Target, and the growing and strong "dollar store" side of the retail business. The situation only became worse when the Great Recession hit, of course, and because it already had problems of its own, Sears was fairly badly hit by that downturn. In fact, if there ever was a time when Sears could have been saved it was probably some time long ago in the early part of the century when it could have upgraded stores and concentrated on moving into the online sales world. Given the fact that the company once relied on a massive catalog and mail order business, it would have seemed like a natural move to make. Once they missed that boat, though, it seems pretty clear that the handwriting was on the wall.
The death of Sears, if and when it comes, will mark the end of a historic brand and a retail empire, but it won't come as a surprise.