Another Roy Moore Accuser Steps Forward As Senate Republicans Turn Against Him
Another Alabama woman accuses Roy Moore of sexually assaulting him when she was a teenager.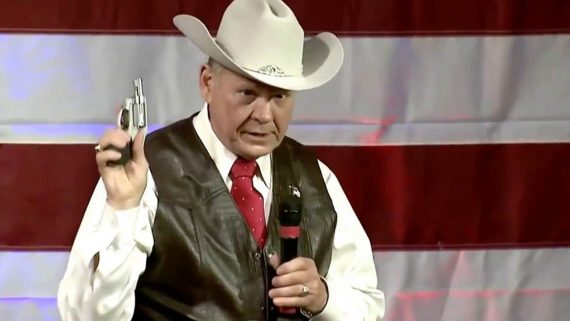 A fifth accuser has come forward to say that Roy Moore sexually assaulted her when she was a teenager and he was an Assistant District Attorney, and Senate Republicans returning to Washington after the Veterans Day weekend are coming out against him:
WASHINGTON — A fifth woman accused Roy S. Moore, the Republican Senate candidate in Alabama, on Monday of making sexual or romantic advances toward her when she was a teenager, as senior Republicans in Washington called for him to drop out of the race and threatened to expel him from the Senate if he wins.

The new accuser, Beverly Young Nelson, told a news conference in New York that Mr. Moore attacked her when she was 16 and he was a prosecutor in Etowah County, Ala. Ms. Nelson was represented at the news conference by Gloria Allred, a lawyer who has championed victims of sexual harassment.

"I tried fighting him off, while yelling at him to stop, but instead of stopping, he began squeezing my neck attempting to force my head onto his crotch," Ms. Nelson said in a statement she issued at the news conference. She said Mr. Moore warned her that "no one will believe you" if she told anyone about the encounter in his car.

(…)

In an afternoon statement, Mr. Moore's campaign described Ms. Allred as "a sensationalist leading a witch hunt, and she is only around to create a spectacle." The statement, issued before Ms. Allred's news conference in New York, denied again "any sexual misconduct with anyone" by Mr. Moore.

Republicans here and in Alabama have been up in arms over the accusations, published last week in The Washington Post, that Mr. Moore pursued sexual or romantic relationships with teenagers when he was in his 30s. The reports have upended a race in a state that has not elected a Democratic senator in 25 years.

In a fund-raising appeal, Mr. Moore reached out to his supporters with the subject line: "Mitch McConnell's plot to destroy me."

"Apparently Mitch McConnell and the establishment G.O.P. would rather elect a radical pro-abortion Democrat than a conservative Christian," he wrote.

And Mr. Moore's wife, Kayla Moore, lashed out in a Facebook post on Monday, complaining about "a witch hunt" in Alabama and claiming that "we are gathering evidence of money being paid to people who would come forward."

(…)

At the news conference in New York, Ms. Nelson grew emotional as she described the assault, which she said happened one night after her shift ended at a local restaurant, where she was a waitress. Her boyfriend was late that night to pick her up after work, she said, and Mr. Moore offered her a ride home. Ms. Nelson said that instead of driving her home, Mr. Moore drove to the back of the restaurant, parked his vehicle and forced himself on her.

Ms. Allred displayed a yearbook she and Ms. Nelson said is signed by Mr. Moore. The attorney said that Ms. Nelson contacted her to "enlist my help and support in coming forward publicly" following the allegations by other accusers. Ms. Allred said that her law firm spoke to Nelson's mother and sister, who verified Nelson's story.

The New York Times has not independently spoken to the family. Ms. Allred said that Ms. Nelson is willing to testify under oath.

Ms. Nelson said that she and her husband supported President Trump during the 2016 election, an attempt to neutralize arguments that she is making the claims for political reasons. Ms. Allred also pre-empted attacks that she is acting with partisan interests.
Here's the transcript of Ms. Nelson's statement, and here's the video:
Additionally, Nelson offered Corroborating evidence that Moore and her were aquinated at the time in the form of an inscription in her High School Yearbook signed by Moore:
Roy Moore's signature from that 1977 yearbook matches Roy Moore's signature on his US Term Limits pledge this year. pic.twitter.com/4gQz9ytZZX

— Josh Barro (@jbarro) November 13, 2017
And here's part of Nelson's written statement:
Beverly Young Nelson alleges Roy Moore "began squeezing my neck attempting to force my head into his crotch." She was 16. pic.twitter.com/dForLnaVnp

— Alex Silverman (@AlexSilverman) November 13, 2017
While Nelson was above the age of consent at the time the most serious part of her relationship with Moore occurred, her accusations are more akin to what is alleged to have happened between Moore and the woman who accused him of sexually assaulting her when she was just fourteen years old. In this case, Nelson alleges that Moore was frequently a customer at the diner where she had been working, that they had first met when she was 15 years old, and that he apparently had taken an interest in her at that point. One time when her boyfriend was late picking her up, Moore offered to drive her home and she agreed. Rather than doing that, though, Moore took her to an area behind the restaurant and came on to her. When she resisted, she says he put his hands around her neck as if to force her to comply. Before forcing her out of the car, Moore allegedly told her that she was "just a girl" and he was an Assistant District Attorney and that nobody would believe her if she told them what happened. Nelson says she woke up the next day with bruising on her neck, which she covered up with makeup, and that she didn't tell anyone what happened because she was afraid of what Moore might do to her or her family. She did say, however, that she shared her story with family members two years later and that she later told her husband what happened. She also said that she would have never come forward with this revelation if it hadn't been for the allegations made in last week's Washington Post report.
This new revelation came on the same day that pressure continued to mount on Moore as Senate Republicans began turning against him in even larger numbers. Senators Lindsey Graham, Orrin Hatch, and Susan Collins, for example, both came out with statements saying that Moore should step aside rather than continuing to run for office, with Hatch suggesting that current Alabama Senator Luther Strange would make an excellent replacement for Moore on the ballot. More emphatically, Senate Majority Leader Mitch McConnell said in a statement that Moore should end his campaign and allow Alabama Republicans to put forward an alternative candidate, although it's far too late to remove Moore's name from the ballot and any such candidate would have to proceed via a write-in vote. Earlier in the day, Axios reported that McConnell was willing to let the seat go to a Democrat if Moore could not be persuaded to step down. Colorado Senator Cory Garnder, who heads the National Republican Senatorial Committee, went even further than any of his colleagues have to date and said that Moore should step aside and that if he didn't and end up winning the election then the Senate should immediately vote to expel him. Under Senate rules, it would be next to impossible for the Senate to prevent Moore from taking his seat if he does win, but Senate rules would allow the Senate to vote to expel him for essentially any reason as long as there was a two-thirds vote in favor of doing so.
At this point, it's unclear where this is all going to end. When the initial report came out last week, I had a feeling that Moore's behavior wasn't limited to the four women named in The Washington Post, so this newest revelation doesn't necessarily surprise me at all. I expect it won't be the last revelation we'll hear about Moore either. I'm just not sure if it's going to matter or not. In a sane world, a race between Doug Jones, who as a United States Attorney prosecuted the Klan members responsible for the Birmingham church bombing that killed four young girls, and Roy Moore, a twice-expelled Alabama Supreme Court Justice who is accused of sexual improprieties with teenage girls that clearly weren't just limited to a consensual "dates," would not even be a contest. Even this newest revelation, though, isn't likely to deter the people who continue to defend Moore thanks to the mentality that motivates them. Given that, and the fact that Moore seems unlikely to step aside, we could be headed for some interesting legislative moves in December if Moore wins and the Senate does try to expel him.
Update: Post updated to include the transcript of Nelson's statement and the full video.