Kyrsten Sinema Wins Arizona Senate Race
Democrats have flipped the Senate seat currently held by Republican Jeff Flake.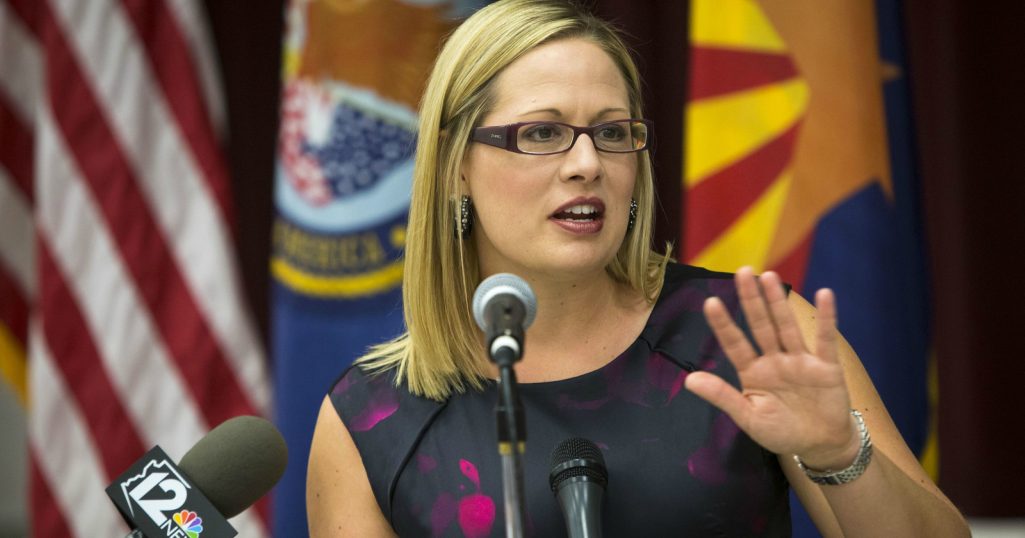 After a week during which she continued to build a solid lead as votes were counted, Democratic Congresswoman Kyrsten Sinema has won the race to succeed Jeff Flake in the U.S. Senate:
 Representative Kyrsten Sinema, a Democrat and former social worker, scored a groundbreaking victory in the race for a Senate seat in Arizona, defeating her Republican opponent after waging a campaign in which she embraced solidly centrist positions.

Ms. Sinema's victory over Martha McSally, a Republican congresswoman and former Air Force pilot, marks the first Democratic triumph since 1976 in a battle for an open Senate seat in Arizona. Ms. Sinema takes the seat being vacated by Jeff Flake, a Republican who is leaving the Senate after repeated clashes with President Trump.

Ms. Sinema's victory guarantees the Democrats at least 47 Senate seats. Republicans control 51, with two still undecided: Florida, where there is a recount, and Mississippi, where there is a runoff.

The outcome in Arizona had been too close to call for nearly a week, as large numbers of early and mailed ballots were counted. Ms. Sinema had trailed slightly in initial tallies on Election Day, but later counting put her ahead by a growing margin. On Monday, The Associated Press called the race and Ms. McSally conceded.

In a statement on Facebook Monday night, Ms. Sinema pointedly struck a nonpartisan note as she pledged to continue working in government to "find common ground."

"That's the same approach I'll take to representing our great state in the Senate, where I'll be an independent voice for all Arizonans," she wrote.

The victory by Ms. Sinema points to a remarkable shift in Arizona's political landscape. The state was a Republican bastion for decades, but Democrats are seizing on dissatisfaction with budget cuts and growing unease over the Trump administration's immigration crackdown to make inroads with moderate voters.

With Ms. Sinema's triumph, Democrats now hold six seats in the state's Congressional delegation, and the Republicans five. The Democrats have not had a majority in the delegation since the 1960s.

Voter drives to register more Latinos, who generally vote Democratic in Arizona, appear to have paid off for Ms. Sinema. About 2.1 million Latinos live in Arizona, about one-third of the state's population. Though Mr. Trump narrowly carried the state in the 2016 election, many Latinos in Arizona have expressed displeasure with the president.

Ms. Sinema started out in politics as a liberal activist and spokeswoman for the Green Party. She shifted to the center after winning a seat in the House of Representatives in 2012, and she has since drawn criticism from some on the left for siding with Mr. Trump and other Republicans on some legislation.

While Ms. Sinema frequently voted with conservatives in the House, her background also stands in contrast to many other members of Congress. She endured poverty and was homeless as a child, before becoming a social worker and obtaining a law degree. Ms. Sinema is also openly bisexual, and has spoken about facing bullying as a child because of her sexuality.

Ms. Sinema, 42, won the race by about 1.7 percentage points amid increasing partisan tension. (Her lead could grow even larger as remaining votes are counted.) Some prominent Republicans, including Mr. Trump, claimed without offering proof that voting officials were engaged in fraudulent strategies to bolster Ms. Sinema, as the authorities struggled to count ballots following a surge in turnout.
More from AZCentral.com:
Democrat Kyrsten Sinema's unbreakable hold on Maricopa County, along with her overwhelming support in Martha McSally's Tucson-based congressional district, gave Sinema an edge Republicans could not erase in the race for Arizona's open U.S. Senate seat.

The Associated Press called the Senate race for Sinema on Monday evening and Republican McSally tweeted her congratulations to Sinema.

"I am so honored that Arizonans chose our vision of a better Arizona, and now it's time to get to work," Sinema told supporters gathered in Paradise Valley. "Arizonans had a choice between two very different ways forward. One focused on fear and party politics, and one focused on Arizona and the issues that mattered to Arizona families."

Sinema will be the first woman in the state's 106-year-old history to take a seat on the floor of the U.S. Senate.

Sinema's systematic play for moderate Republican voters, independent voters and suburban women anxious about the polarizing politics in the era of President Donald Trump gave her an advantage in the state's urban areas that was too great for McSally to overcome.

Sinema maintained her lead over McSally on Monday and grew it to 1.7 percentage points with the latest results from early ballots. The results defied the narrative from McSally's campaign that she would perform well enough in the waning days of ballot-counting to remain competitive.

Sinema vanquished Republicans' hopes of hanging onto the Senate seat, which Jeff Flake is vacating.

"I wish her success," McSally wrote on Twitter. "I'm grateful to all those who supported me in this journey. I'm inspired by Arizonans' spirit and our state's best days are ahead of us."

Flake also tweeted his congratulations. "Congratulations to @kyrstensinema on a race well run, and won. It's been a wonderful honor representing Arizona in the Senate. You'll be great."
Here's the video that Sinema sent out on Twitter conceding the race:
Congrats to @kyrstensinema. I wish her success. I'm grateful to all those who supported me in this journey. I'm inspired by Arizonans' spirit and our state's best days are ahead of us. pic.twitter.com/tw0uKgi3oO

— McSally For Senate (@MarthaMcSally) November 13, 2018
At the close of the night on Election Day just seven days ago, the race between Senator-Elect Sinema and Congresswoman Martha McSally was too close to call, with McSally actually holding a lead over Sinema of roughly 15,000 votes. That lead quickly evaporated, though, as authorities began counting the absentee and mail-in ballots that were mailed by Election Day, with Sinema taking a narrow lead after the votes started to come in from Maricopa County, the state's most populated county and the center of the Congressional District that Sinema has represented in Congress. a lead that expanded as the vote count headed into the weekend and then again as the weekend was coming to an end. With last night's report from the Secretary of State, Sinema's lead had expanded to some 35,000 votes, a lead that was obviously insurmountable and far from the gap that would be necessary to entitle McSally to a recount when the process was over. This was especially true given the fact that, while there are still about 170,000 votes still be counted, the vast majority of which came from Maricopa and Pima counties, both of which Sinema has outperformed McSally significantly. The only way that McSally could have retaken the lead would have been if she had somehow managed to retake the lead by more than 20 percentage points to retake the lead.
This outcome comes at the end of a race where McSally managed to help Republicans dodge a bullet in the late August Republican primary by defeating former Maricopa County Sheriff Joe Arpaio and state legislator Kelli Ward, a very conservative legislator who had challenged John McCain in the past. Both Arpaio and Ward campaigned for the same segment of pro-Trump voters, allowing McSally to hew to a somewhat more moderate tone in the primary race and still pull off a win thanks to the divided opposition. After winning the election though, McSally hewed decidedly to the right, aligning with Trump even more than she did as a member of Congress in an obvious effort to attract the voters who had supported Arpaio and Ward. Sinema, on the other hand, made an effort to vie for the votes of crossover voters and Independents who might otherwise be inclined to vote for Republicans. In doing so, Sinema left behind what many described as a somewhat radical political path and crafted a campaign in the spirit of middle-of-the-road Democrats such as Joe Manchin of West Virginia. Additionally, given her own voting record in Congress, and her alliances with other "Blue Dog" Democrats in Washington, Sinema was able to push back against the efforts to paint her as too far left for Arizona and, potentially, provide future Democrats with a roadmap for how to win in Arizona in 2020 and beyond. The best example of this can be seen in the fact that Republican Governor Doug Ducey received roughly 200,000 more votes than McSally did and that Sinema received more than 100,000 more votes than the Democratic nominee for Governor, who Sinema refused to endorse or campaign with. (Source) This is an indication that many Republicans or Republican-leaning independents who voted for Governor Ducey ended up voting for Sinema for the Senate.  Sinema also outperformed McSally in McSally's own Congressional District, which is primarily based in the area around Tucson. While much of this can be attributed to things unique to this campaign and to Sinema as a candidate, the fact that she was able to pull it off gives Democrats some hope for a roadmap for turning Arizona purple as we head toward 2020.
Sinema's election represents several firsts both for the nation and the Grand Canyon State. Most significantly, she is the first woman to represent the State of Arizona in the Senate in the state's 106 year history. Additionally, she is the first Democrat elected Senator from the state since Dennis DeConcini was elected there in 1976 and won re-election in 1982 and 1988. She is also only the seventh Democrat elected to the Senate from Arizona since it became a state in 1912. Sinema will also be the first openly bisexual person to serve in the United States Senate, something that was cheered last night by LGBT groups across the country last night as news of her victory spread. While Sinema's sexuality was something of an issue when she first ran for Congress, the Senate race was notable for the fact that there was not really any talk about it during the campaign and neither McSally nor her campaign made any mention of it during the campaign. Given her record in Congress, it will be interesting to see where Sinema allies herself in the slightly smaller Democratic caucus that will take their seats in January. During the campaign, she often positively cited the example of Joe Manchin of West Virginia as the kind of Senator she hoped to be, and allying herself with Manchin would make for some interesting developments on the Democratic side of the aisle.
This may not be the last that we see of Martha McSally. In addition that she is, like Beto O'Rourke in Texas, still quite young and popular among conservatives in Arizona and nationwide, there's a possibility she could end up serving in the Senate alongside Sinema in a matter of weeks. After John McCain died in August, Arizona Governor Doug Ducey appointed Jon Kyl, who had retired in 2012, to serve in McCain's place until a Special Election could be held in 2020. At the time he was appointed, though, Kyl made it clear that he likely would not serve for the entire two years and suggested that he might step aside as early as the end of 2018. As Li Zhou notes, this could mean that McSally will take Kyl's place sooner rather than later:
The ultimate closeness of the race — which had the two candidates separated by 1.7 percentage points when it was called — could play in McSally's favor, says University of Arizona professor Lisa Sanchez. This margin is close enough to mean that "she would not be an unpopular choice for nearly half of Arizona voters," she says.

What remains unclear, however, is whether McSally ranks that highly on Ducey's list.

"I certainly think that McSally is in the mix of possible candidates to replace Kyl, but she is not the only candidate," says Cook Political Report's Jennifer Duffy. "Ducey has to please a lot of constituencies with this pick, especially since whoever gets the appointment has to run in 2020 and 2022."

Another political expert offered an even more definitive take, noting that two Arizona sources had said that McSally was, in fact, out of the running already. "For a long time, I thought McSally replacing Kyl was a good bet, assuming McSally lost to Sinema," the expert said. "Recently, two of my solid AZ contacts have told me it is not going to happen. … I tried to find out why and, if this is true, why McSally was not going to be the choice. Radio silence."

While much of this is still pure speculation, there are several possible reasons Ducey could go with someone other than McSally — ranging from stigma over appointing a recent electoral "loser" to a key seat to questions over whom the broader Arizona Republican Party would like to potentially support. McSally has faced fierce challenges from the right in the past, not to mention alienated some when she distanced herself from McCain during the election.

Another big X-factor here is President Trump. Though Arizona Republicans like to style themselves as independent of him, it's possible that the president weighing in strongly on Kyl's replacement, one way or another, could sway things.

Any of these issues could potentially put McSally at a disadvantage for Kyl's seat — though it's still a little early to tell whether this would be the case. McSally's campaign did not immediately respond to a request for comment.
The irony of all of this, of course, is that Jeff Flake likely would have easily won re-election in a General Election, even in a race against Kyrsten Sinema. As Flake himself noted, though, the fact that he has often clashed with President Trump over the past two years meant that there was a strong possibility that he would have lost a Republican primary. Due to that, Flake decided to retire rather than, as he put it, do what he would have needed to do survive politically in the age of Trump. This is the state of the modern Republican Party.
On a final note, Sinema's victory means that the Democrats were able to flip two seats last Tuesday, while Republicans flipped seats in North Dakota, Indiana, and Missouri and stand likely to flip Bill Nelson's seat in Florida and hold on to the seat currently held by Senator Cindy Hyde-Smith in Mississippi, given them a net pickup of +2 seats that gives them a majority of 53-47 in the upper chamber heading into November. This counts as a win for Republicans, albeit a smaller one than they might have hoped for when the midterms started.