Republicans Dodge Two Bullets In Arizona Senate Primary
With Martha McSally pulling off a decisive win, Arizona Republicans managed to avoid the disaster that likely would have occurred had either Kelli Ward or Joe Arpaio won last night.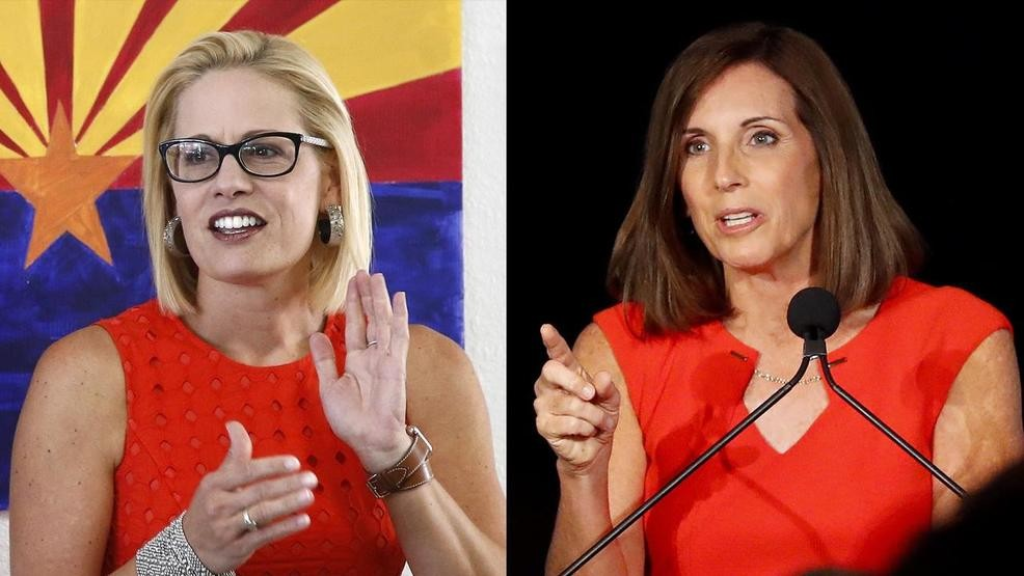 Heading into yesterday's primary for the Republican nomination for Senate in Arizona to fill the seat being vacated by Senator Jeff Flake at the end of the year, state and local Republicans feared that they could end up with a nightmare scenario that would lead to serious obstacles to their chances of holding on to the Senate in the upcoming midterms. Spurred by both support from the Tea Party and supporters of President Trump, the race included two candidates who seemed certain to lose a General Election in the fall, State Senator Kelli Ward, who had previously faced off against the late Senator John McCain in 2016, and former Maricopa County Sheriff Joe Arpaio. For obvious reasons, Republican leaders feared that a victory by either candidate would allow Democrats to pick up a seat in a year when it is already apparent that the GOP majority in the House is at risk. Fortunately for Republicans, they managed to dodge a bullet with Congresswoman Martha McSally, an Air Force veteran and fighter pilot who served for several years in Kuwait and elsewhere as part of American military operations after the Persian Gulf War, scoring a decisive win over both of her far-right opponents:
WASHINGTON — Rep. Martha McSally handily defeated former Sheriff Joe Arpaio and Kelli Ward in the Arizona Republican Senate primary on Tuesday night, setting the stage for a November battle over a seat that could determine control of the Senate, NBC News projects.

McSally, a former fighter pilot, had been favored to prevail over the two conservatives, who split the anti-establishment vote. But McSally tacked to the right in the primary, which could cause problems for her in what is expected to be a tough race against Democrat Kyrsten Sinema in November.

McSally had 51.4 percent, or 196,452 votes, to Ward's 28.6 percent, or 109,105 votes, and Arpaio's 20 percent, or 76,517 votes, with 58 percent of precincts reporting.

Republican officials had worried that Ward or Arpaio would be unelectable in November, potentially costing the GOP a Senate seat. Despite both of the challengers accusing McSally of being too moderate, she's on track to win more votes than both of her challengers combined.

Ward lost a nasty primary against Sen. John McCain in 2016, and returned this year to challenge Sen. Jeff Flake, R-Ariz. But when Flake decided not to run for reelection and Arpaio got in, Ward had a tougher time consolidating the pro-Trump conservative vote. President Donald Trump did not endorse in the race.

But he did offer McSally his congratulations in a tweet sent after midnight.

McSally, for her part, tweeted from her campaign account that she was "humbled and honored" to have won.

In the final days of her campaign, Ward launched a bus tour with Pizzagate conspiracy theorist Mike Cernovich, and wondered aloud on Facebook if McCain's family timed their decision to announce the senator had stopped medical treatment for cancer in order to overshadow her campaign.

Arpaio, meanwhile, struggled to gain any real traction, despite tying himself closely to Trump, who pardoned the former Maricopa County Sheriff after he was convicted of criminal contempt. And his disappointing third-place finish will likely mark the end of the 86-year-old's political career.
In the end, McSally ended up winning the race by a wider margin than even the polls were predicting on the eve of the election. The last polling in the Republican Primary had McSally leading both Ward and Arpaio, but falling short of getting above 50% of the vote. In the end, she ended up getting roughly 53% of the vote and garnering nearly 130,000 more votes than Ward, who ended up in second place with 28% of the vote while Arpaio, whose campaign seemed to fizzle out, in third place with just under 19% of the vote. Ironically, Arpaio did even worse in his home county of Maricopa, where he had served as Sheriff for nearly twenty years and yet garnered only about 17% of the vote while McSally ended up with nearly 55% of the vote in that county. The only jurisdiction where Arpaio managed to pull off a win was relatively low-populated Yuma County in the southwest corner of the state where the former Sheriff received about 200 more votes than McSally did to pull of a narrow win. Ward did not win any of the state's counties. (Source)
As Steven Shephard notes at Politico, McSally's big win has national Republicans breathing a sigh of relief:
McSally's relatively easy victory over Kelli Ward and Joe Arpaio was widely expected, but it's still welcome news for Republicans in a Senate race crucial to the party's hopes to protect or expand its majority in the chamber. Nominating either Ward or Arpaio would have all-but-handed a Senate seat over to Rep. Kyrsten Sinema (D-Ariz.).

Like in the West Virginia primary back in May — where Don Blankenship, the formerly imprisoned coal baron threatened to win the Senate nomination — it required a deft Republican touch. First: outside money. The group DefendArizona spent more than $4 million to boost McSally and knock down Ward, who finished second.

It also required a disciplined approach from President Donald Trump, who didn't endorse in the primary, but plugged McSally at events this year — soundbites the congresswoman was able to incorporate in TV ads. In West Virginia, Trump straddled between state Attorney General Patrick Morrisey and Rep. Evan Jenkins, urging voters to support either one over Blankenship.

McSally's victory also took a little luck: She received around half the vote, with Ward and Arpaio splitting the other half. A head-to-head matchup against Ward, who took 40 percent of the vote against late Sen. John McCain in a 2016 GOP primary, might have been more challenging.

Republicans' record at avoiding unelectable Senate nominees hasn't been perfect this cycle: Picking Roy Moore in last year's special election in Alabama proved fatal, and Corey Stewart's nomination in Virginia is threatening the party down the ballot at the congressional level. But Blankenship, Ward and Arpaio have been brushed aside, and it appears likely Chris McDaniel — the controversial Mississippi politician — will suffer a similar fate in this fall's special election there.
All of this sets up a General Election race between McSally, who represents Arizona's 2nd Congressional District and Kyrsten Sinema, who represents the 9th Congressional District, Currently, all of the major political analysts have the race listed as a "Toss-Up," and this is reflected in the polling, which although it shows Sinema leading McSally the difference between the two candidates is consistently fairly close and neither one of them manages to get above 50% in any of the recent polling. Additionally, the "undecided" number is high enough in all the polling to fairly say that this race is basically an even match at this point.  Given that, this will be a race that will garner significant national attention, especially since it is one of only a handful of Republican Senate seats that can truly be considered vulnerable this year. Additionally, both Sinema and McSally seem to be very good candidates with solid personal and Congressional records and they both come across very well on television. Had either Ward or Arpaio somehow managed to win the Republican nomination, I would give this race to Sinema. With these two women going head-to-head, though, it's anyone's guess as to who might win. This will definitely be a race worth watching.