Kyrsten Sinema Pulls Ahead In Arizona Senate Race
The Senate race in Arizona has been close since Election Night, but Democratic nominee Kyrsten Sinema has pulled ahead.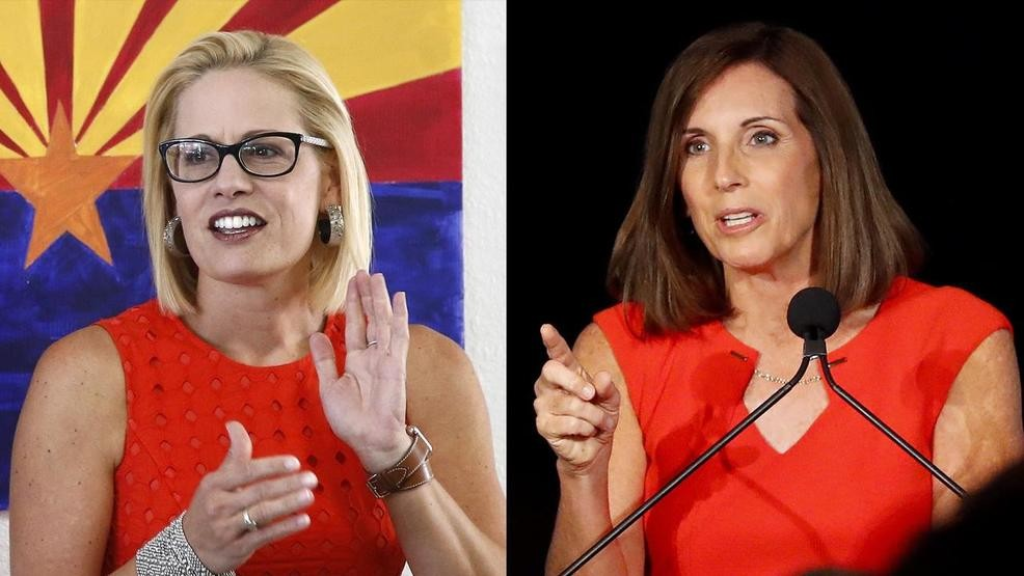 In yet another one of the races that is too-close-call, Democratic Congresswoman Kyrsten Sinema has pulled ahead of Republican Congresswoman Martha McSally in the race to succeed Senator Jeff Flake:
Democratic Rep. Kyrsten Sinema took a narrow 9,610-vote lead over GOP Rep. Martha McSally Thursday evening as Arizona's election authorities counted more ballots in the state's uncalled Senate race.

The lead amounts to less than half a percentage point with more than 1.8 million votes counted. McSally was up by 17,703 votes earlier in the day, before the counties processed another 160,000 votes — but about a half-million more votes remain to be counted across Arizona, according to both campaigns.

Most of the outstanding ballots are coming from Arizona's largest county, Maricopa County, which is home to Phoenix and includes Sinema's congressional district. Sinema held a slight edge of about 1 point over McSally in the county as of Thursday afternoon, but the new votes counted Thursday expanded the Democrat's Maricopa edge to 2.5 points. That's the outcome Democrats had hoped for, while Republicans were expecting McSally's tally there to improve.

The state will continue to count early votes cast before the election daily until the race is resolved.

"Arizonans must have faith that their votes are counted, and we are working diligently to ensure that count proceeds in a fair, transparent, and timely manner that voters can trust," Andrew Piatt, Sinema's campaign manager, said in a statement Thursday afternoon. He said he was confident Sinema would prevail once the remaining half a million votes are counted.

"With half a million ballots left to count, we remain confident that as votes continue to come in from counties across the state, Martha McSally will be elected Arizona's next senator," McSally campaign CEO Jim Bognet said in a statement.

In Arizona, Sinema led comfortably in polling throughout the summer and fall, but McSally closed the gap by late October. The race was one of the most expensive in the country, with nearly $30 million spent by both parties.

Sinema and McSally are vying to replace Republican Sen. Jeff Flake, who retired after clashing with President Donald Trump.

Both campaigns are digging in for a protracted coda to the election. McSally's campaign sent out a fundraising request Thursday evening for donations to help fund an "army of attorneys and observers" to fend off any legal challenges once the votes are tallied.

McSally's campaign also tweeted that she was "dreading a long and painful process." The tweet included a photo of her in a dentist's chair
The majority of the previously uncounted ballots, which consist mainly of ballots that were mailed in, absentee ballots, and military ballots, that have been counted so far come from Maricopa County, which is the area that Sinema represents in Congress and is also considered to be one of her stronghold areas of the state. For that reason, it's not surprising that she managed to pull ahead of the lead that Congresswoman McSally had at the end of the night on Election Day. The ballots that will be counted over the weekend will also come from Maricopa and other areas likely to be favorable to Sinema. After that, there are a handful of areas favorable to Congressman McSally that will come in so the question will be whether Sinema will have built up enough of a lead to withstand the votes that will end up going in McSally's favor at that point.
AZCentral.com reports that there are roughly 471,000 votes remaining to be counted in the state. This includes mail-in and absentee ballots as well as provisional ballots that may or may not be counted depending on whether or not they are deemed to be valid. Of those, roughly 346,000 of the uncounted ballots come from Maricopa County, amounting to roughly 73% of the uncounted ballots. Current numbers indicate that Sinema is leading McSally in Maricopa by roughly 27,700 votes and that she has 50.19% of the vote to McSally's 47.67%. Additionally, the Green Party candidate has 23,472 votes or 2.14$ of the vote. (Source) If the remaining votes in the county follow this trend this would mean potentially as many as 174,000 additional votes for Sinema, and roughly 165,000 additional votes for McSally, increasing Sinema's margin by roughly another 10,000 votes. Whether that will be enough to keep Sinema in the lead by the time this process is completed remains to be seen. As is the case with Florida, this leads to the question of whether or not we might be headed for a recount in Arizona. Generally speaking, Arizona's recount law mandates a recount if the difference between the top two candidates is one-tenth of one percent or less. Currently, that's obviously not the case, but we'll have to wait and see if it kicks in after all the votes are counted.
Regardless of how this race turns out, it won't have any impact on the makeup of the Senate. Even not taking the undetermined races in Arizona, Florida, and the Special Election in Mississippi, which will most likely go Republican in the November 27th runoff election, Republicans already have 51 seats in the Senate. Nonetheless, if the Democrats manage to flip Senator Flake's seat, that will be significant. Sinema would be the first Democratic Senator from the state since Dennis DiConcini was re-elected in 1988. Her election 30 years later could be a sign that the state is turning purple, as many analysts have been anticipating for several years now.
Update: The latest update from Maricopa came in this evening, and Sinema's lead has expanded:
Friday Night #AZSEN Update: As expected, Sinema expands lead to 21,185 votes. These were more early ballots received by Maricopa County prior to Election Day. From this batch, Sinema 43863 votes (57.7%) to McSally's 32195 votes (42.3%). There are still about 380,000 ballots out. pic.twitter.com/J28IEcO20O

— Vaughn Hillyard (@VaughnHillyard) November 10, 2018
It looks like Sinema is going to win this and that the final gap between her and McSally will be large enough to avoid a recount.