Former Senator Jon Kyl To Replace John McCain In The Senate
Arizona Governor Doug Ducey has selected former Senator Jon Kyl to replace John McCain in the Senate.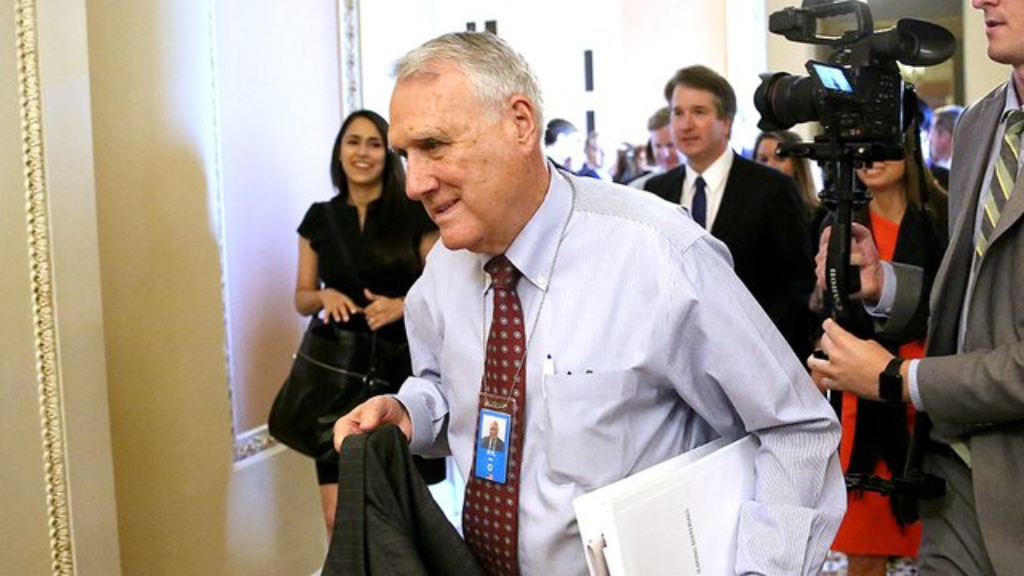 Arizona Governor Doug Ducey has selected former Senator Jon Kyl, who represented the state in the Senate alongside McCain from 1994 through the 2012 election, to replace McCain in the Senate:
Arizona Gov. Doug Ducey has selected former Republican Sen. Jon Kyl to fill late Sen. John McCain's vacant seat, according to three sources with direct knowledge of the decision.

The Arizona Republic first reported the pick.

Ducey will appoint Kyl, who served three terms alongside McCain and became the Senate minority whip before retiring in 2012, to replace McCain until a 2020 special election to decide who holds it for the final two years of McCain's term. McCain, who died a week ago after a battle with brain cancer, won his final six-year term in 2016.

Kyl's selection is likely to receive praise from allies of both President Donald Trump and McCain. Kyl has helped direct Trump's Supreme Court nominee, Brett Kavanaugh, through the Senate ahead of his confirmation hearings this week. The former senator also had a close relationship with McCain.
More from the Arizona Republic:
Jon Kyl, once one of the most powerful Republicans in the U.S. Senate, will return to Capitol Hill to succeed the late Sen. John McCain, The Arizona Republic has learned.

Gov. Doug Ducey is scheduled to unveil the 76-year-old as McCain's successor at a 10 a.m. news conference at the Arizona Capitol, after notifying McCain's wife, Cindy, and other key political figures of his decision.

Kyl, who served alongside McCain during his 18 years in the U.S. Senate, will fly to Washington, D.C., following Ducey's announcement. He retired in 2013 after rising to become the second-highest-ranking Republican senator.

Kyl has agreed to serve at least through the end of the year, a representative for Ducey said. If he opts to step down after the end of the session, the Republican governor would be required to appoint another replacement, the aide said.

The governor, who has long called Kyl a mentor, contacted the former senator in the hours following McCain's Aug. 25 death. The two have forged a close bond and are like-minded, pro-growth conservatives.

Ducey sought someone who could quickly step into the seat to wrap up McCain's unfinished business, the governor's aide said. Kyl brings a depth of knowledge on issues key to Arizona, from water and natural resources to Native American relations.

(…)

"There is no one in Arizona more prepared to represent our state in the U.S. Senate than Jon Kyl," Ducey said in a statement. "He understands how the Senate functions and will make an immediate and positive impact benefiting all Arizonans. I am deeply grateful to Senator Kyl for agreeing to succeed his friend and college of so many years.

"Every single day that Jon Kyl represents Arizona in the United States Senate is a day when our state is being well-served."

Kyl represented Arizona in the U.S. Senate from 1995 through Jan. 3, 2013. There, he served as minority whip, the second-highest position in the Republican conference. Before ascending to the Senate, he served in the House of Representatives from 1987 to 1995.

The decision had weighed on Ducey's mind since last year, when McCain received his brain-cancer diagnosis. The governor refused to publicly discuss any potential appointment and condemned those lobbying for McCain's seat while the late senator was still serving.

That changed on Aug. 25 in the hours following McCain's death. In a conversation with Kyl, the governor told him he wanted to name him as McCain's successor and that Kyl "was the best person to take this seat," the aide said.

Kyl got back to Ducey the next day after consulting with his wife. He told the governor he would be willing to serve until at least the end of the year.

"He felt a sense of service, largely because it was John McCain's seat and he had served with him for so long," the aide said.

(…)

Ducey will submit a certificate of appointment to the U.S. Senate secretary Tuesday. An aide is flying the paperwork to Washington, D.C., and will hand-deliver it to the secretary's office.

Kyl could be sworn in as early as Tuesday night, though Wednesday is more likely, the aide said.

Kyl will return to a chamber where Republicans narrowly hold control and where votes can be unpredictable.
Ducey announced his selection on Twitter and it was accompanied by words of praise for the choice from McCain's widow and from Jeff Flake, who replaced Kyl after he retired:
I am deeply grateful to Senator Kyl for agreeing to succeed his friend and colleague of so many years. Every single day that Jon Kyl represents #Arizona in the U.S. Senate is a day our state is well-served. #KylforAZ #KavanaughConfirmation https://t.co/e6zHvEOk5O

— Doug Ducey (@dougducey) September 4, 2018
Governor Ducey has selected Senator Jon Kyl as Senator McCain's replacement. What an excellent choice! There is no one more qualified and Arizona is well served. Kudos to Senator Kyl for his willingness to serve once again.

— Jeff Flake (@JeffFlake) September 4, 2018
Jon Kyl is a dear friend of mine and John's. It's a great tribute to John that he is prepared to go back into public service to help the state of Arizona.

— Cindy McCain (@cindymccain) September 4, 2018
Kyl's name was among those mentioned as being on Governor Ducey's short list in the week after McCain's passing, so it isn't entirely surprising that he ended up being the person selected for the position. As noted, Kyl had served in the Senate alongside McCain since being elected to the Senate in the Republican wave of 1994. Prior to that, Kyl had served in the House of Representatives since being elected to represent Arizona's Fourth Congressional District in 1986. Generally speaking, during his time in office in both the House and the Senate Kyl had gained a reputation of being a generally conservative Senator, although certainly not as far to the right as many the of colleagues he will join in the body starting this week. During that time he rose up the Senate GOP Caucus leadership ladder to become Senate Minority Whip, a position he held until retiring after the 2012 election.
As a general rule, this seems to be about as good a selection as Ducey could have made given the people he was likely choosing from and the considerations that he was no doubt applying to the choice. The most interesting thing about the selection, I suppose, is the fact that Kyl has so far only said that he would serve through the end of this year. At the age of 76, this is I suppose an understandable caveat for him to introduce, but it raises the possibility that Governor Ducey could be required to make a second selection before 2020 for someone who would succeed Kyl further down the line. Additionally, it likely means that even if he does stay through 2020, it is unlikely that he would stand for election in the Special Election that will be held that year to fill out the remainder of Senator McCain's term. This, of course, would mean that the 2020 Special Election will most likely be another open seat election much like the one we're seeing this year for Senator Flake's seat, only this time it would be happening in a Presidential election year.
In any case, with Kyl's selection, the GOP will be back to its full 51-49 strength, which it has not seen since McCain made his last appearance in Washington more than a year ago. Among other things, as I noted this morning, this will make the confirmation of Judge Brett Kavanaugh much easier.
Update: Associated Press reporter Nick Riccardi appears to confirm that Kyl will not run for the seat in 2020, and suggests the circumstances under which Kyl may or may nor decide to stay on after January 2019:
Kyl: "I do know I will not seek this seat in 2020." Unclear if he serves past 1/19 (whether Ducey wins reelect may be a factor)

— Nick Riccardi (@NickRiccardi) September 4, 2018
Josh Kraushaar raises an interesting possibility:
Some tea leaf reading: Perhaps Kyl said he's only going to serve for one year as an insurance policy for if McSally loses in November.

She'd then be the favorite for another vacancy, and would start out as the fave in the primary. https://t.co/eNR8TpuLBW

— Josh Kraushaar (@HotlineJosh) September 4, 2018