Democrats Grab Hold Of House, Republicans Make Gains In Senate In Mixed Results Midterm
As expected, the midterm elections ended up being a split result that gives Democrats and Republicans alike reason to celebrate.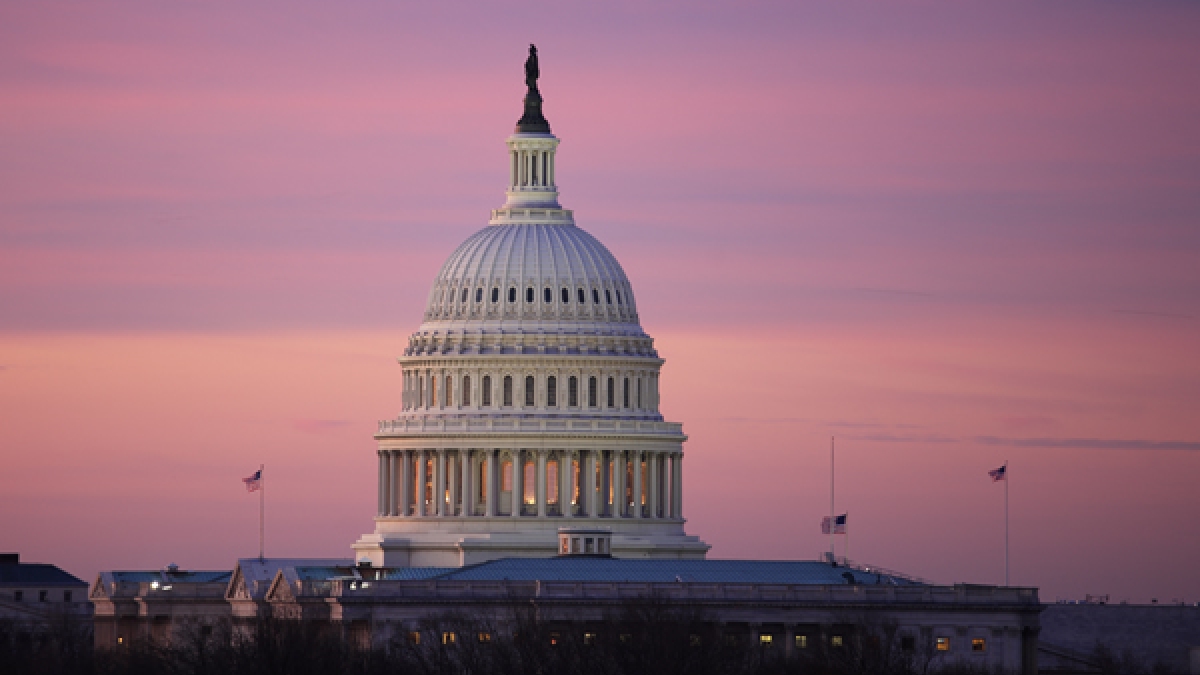 The dust hasn't completely cleared and several results remain to be called, but we can say with confidence that Democrats have retaken control of the House of Representatives while Republicans have made gains in the Senate that could solidify their majority there for several election cycles to come:
Democrats harnessed voter fury toward President Trump to win control of the House and capture pivotal governorships Tuesday night as liberals and moderates banded together to deliver a forceful rebuke of Mr. Trump, even as Republicans added to their Senate majority by claiming a handful of conservative-leaning seats.

The two parties each had some big successes in the states. Republican governors were elected in Ohio and Florida, two important battlegrounds in Mr. Trump's 2020 campaign calculations. Democrats beat Gov. Scott Walker, the Wisconsin Republican and a top target, and captured the governor's office in Michigan — two states that Mr. Trump carried in 2016 and where the left was looking to rebound.

Propelled by an unusually high turnout that illustrated the intensity of the backlash against Mr. Trump, Democrats claimed at least 26 House seats on the strength of their support in suburban and metropolitan districts that were once bulwarks of Republican power but where voters have recoiled from the president's demagoguery on race.

Early Wednesday morning Democrats clinched the 218 House seats needed to take control. There were at least 15 additional tossup seats that had yet to be called.

From the suburbs of Richmond to the subdivisions of Chicago and even Oklahoma City, an array of diverse candidates — many of them women, first-time contenders or both — stormed to victory and ended the Republicans' eight-year grip on the House majority.

But in an indication that the political and cultural divisions that lifted Mr. Trump two years ago may only be deepening, the Democratic gains did not extend to the Senate, where many of the most competitive races were in heavily rural states. Republicans built on their one-seat majority in the chamber by winning Democratic seats in Indiana, North Dakota and Missouri while turning back Representative Beto O'Rourke's spirited challenge of Senator Ted Cruz in Texas.

In two marquee races in the South, two progressive African-American candidates for governor who captured the imagination of liberals across the country fell to defeat at the hands of Trump acolytes — a sign that steady demographic change across the region was proceeding too gradually to lift Democrats to victory.

Secretary of State Brian Kemp of Georgia was ahead of Stacey Abrams, who was seeking to become the first black woman to lead a state; early Wednesday morning, Ms. Abrams suggested the race might go to a runoff. And former Representative Ron DeSantis narrowly defeated Andrew Gillum, the mayor of Tallahassee, in the largest presidential battleground, Florida.

At an election-night celebration in Washington, Nancy Pelosi, the Democratic minority leader in the House who may soon return to the office of House speaker, signaled how central the theme of checking Mr. Trump and cleaning up government was to the party's success.

"When Democrats win — and we will win tonight — we will have a Congress that is open, transparent and accountable to the American people," she proclaimed. "Are you ready for a great Democratic victory?"

But at a meeting of Democratic donors and strategists earlier on Tuesday, she signaled there were lines she would not cross next year. Attempting to impeach Mr. Trump, she said, was not on the agenda.

Even so, the Democrats' House takeover represented a clarion call that a majority of the country wants to see limits on Mr. Trump for the next two years of his term. With the opposition now wielding subpoena power and the investigation by the special counsel, Robert S. Mueller III, still looming, the president is facing a drastically more hostile political environment in the lead up to his re-election.

Their loss of the House also served unmistakable notice on Republicans that the rules of political gravity still exist in the Trump era. What was effectively a referendum on Mr. Trump's incendiary conduct and hard-right nationalism may make some of the party's lawmakers uneasy about linking themselves to a president who ended the campaign showering audiences with a blizzard of mistruths, conspiracy theories and invective about immigrants.

And it revealed that many of the right-of-center voters who backed Mr. Trump in 2016, as a barely palatable alternative to Hillary Clinton, were unwilling to give him enduring political loyalty.

(…)

The Democrats' broad gains in the House, and their capture of several powerful governorships, in many cases represented a vindication of the party's more moderate wing. The candidates who delivered the House majority largely hailed from the political center, running on clean-government themes and promises of incremental improvement to the health care system rather than transformational social change.

To this end, the Democratic gains Tuesday came in many of the country's most affluent suburbs, communities Mrs. Clinton carried, but they also surprised Republicans in some more conservative metropolitan areas. Kendra Horn, for example, pulled off perhaps the upset of the night by defeating Representative Steve Russell in central Oklahoma.

"Oklahoma City has grown increasingly diverse and today's Republican Party has little to say to people of color," said the city's mayor, David F. Holt, noting that Mr. Russell sought to broaden his appeal but "was running against the national message of his party."

And in a traditionally Republican South Carolina district where Representative Mark Sanford had lost his primary race in June, a Democrat, Joe Cunningham, upset a Trump enthusiast, Katie Arrington.

Indeed, the coalition of voters that mobilized against Mr. Trump was broad, diverse and somewhat ungainly, taking in young people and minorities who reject his culture-war politics; women appalled by what they see as his misogyny; seniors alarmed by Republican health care policies; and upscale suburban whites who support gun control and environmental regulation as surely as they favor tax cuts. It will now fall to Democrats to forge these disparate communities alienated by the president into a durable electoral base for the 2020 presidential race at a time when their core voters are increasingly tilting left.

Yet the theory — embraced by hopeful liberals in states like Texas and Florida — that charismatic and unapologetically progressive leaders might transmute Republican bastions into purple political battlegrounds, proved largely fruitless. Though there were signs that demographic change was loosening Republicans' grip on the Sun Belt, those changes did not arrive quickly enough for candidates like Mr. Gillum and Mr. O'Rourke. And the Democratic collapse in rural areas that began to plague their candidates under President Obama worsened Tuesday across much of the political map.
More from The Washington Post:
Democrats claimed control of the House late Tuesday and picked up some governorships, but Republicans were poised to expand their majority in the Senate, delivering a split verdict in the first national referendum on Donald Trump's presidency.

The most expensive and consequential midterm elections in modern times came to a dramatic finish that underscored the nation's deep polarization, but fell short of delivering a sweeping repudiation of Trump that Democrats had hoped would put an exclamation point on the "resistance" movement.

Trump's racially charged warnings about illegal immigrants and demonization of Democrats appeared to mobilize enough Republican voters to withstand the "blue wave" the party once feared.

The president helped Republicans win hotly contested Senate races in Indiana, Missouri, North Dakota, Tennessee and Texas, and proclaimed the election's outcome a "tremendous success." Republicans held their grip throughout the South and in rural and exurban areas.

But Democrats — propelled by a rejection of Trumpism in the nation's suburbs, and from women and minority voters especially — notched victories in areas that just two years ago helped send Trump to the White House.

Democrats performed well across much of the upper Midwest and even in ruby-red Kansas, where Laura Kelly was elected governor over the president's handpicked candidate, Kris Kobach. In Wisconsin, Democrat Tony Evers bested Gov. Scott Walker, once a Republican star who ran for president in 2016. Walker survived a hard-fought recall vote in 2012, and was reelected in 2014, only to be denied a third term by the state schools superintendent.

Incumbent Republicans fell in an array of suburban House districts, including the one held by House Rules Committee Chairman Pete Sessions in the Dallas area. And in West Virginia — where Trump is wildly popular and campaigned heavily for Republicans — the reelection of Democratic Sen. Joe Manchin III delivered a personal blow to the president.

Returns early Wednesday showed Democrats poised to pick up more than the 23 House seats they needed to gain a foothold in Congress from which to counter Trump. With power in Washington divided, House Democrats are likely to try to block the president's agenda and use their subpoena power to investigate him and his administration.

"Thanks to you, tomorrow will be a new day in America," said House Democratic leader Nancy Pelosi (Calif.), who is poised to reclaim the speaker's gavel she lost eight years ago.

The Democratic victory, she said, "is about restoring the Constitution's checks and balances to the Trump administration," and a check on Senate Republicans.

The party's new House majority was propelled by a record number of women candidates. Women currently hold 84 House seats, but that share is projected to expand to 100 or more when all results are tallied. Across the country, 277 women were on the ballot Tuesday for Congress and governorships, an unprecedented number that included 210 House candidates.

(…)

Midterm elections traditionally are referendums on the party in power, but Trump sought to ensure that this one would be a referendum on his presidency. He told crowds to vote as if he were atop the ballot, warning that his agenda and political movement were at risk, and he made himself the central force with an overwhelming cascade of speeches, media interviews and tweets.

The president returned to his 2016 campaign playbook, delivering fiery speeches that drew massive and enthusiastic crowds but contained a breathtaking barrage of falsehoods, invective and demagoguery. Describing himself in the closing weeks as a "nationalist," Trump made a caravan of Central American migrants seeking asylum in the United States a dominant theme.

The Senate results underscored just how much the Republican Party has morphed into the party of Trump. The incoming freshman class of Republicans is made up largely of Trump allies — including Mike Braun in Indiana, Josh Hawley in Missouri and Kevin Cramer in North Dakota — who campaigned effectively as rubber stamps for the president's agenda and owe their new jobs, at least in part, to his energetic campaigning on their behalf.

(…)

Tuesday's results were set to transform the House, not only in partisan makeup but also in gender, age and ethnicity. The night marked a series of firsts. Ilhan Omar in Minnesota and Rashida Tlaib in Michigan will become the first Muslim women in the House. Sharice Davids in Kansas and Deb Haaland in New Mexico will become the first Native American women in the chamber. And Alexandria Ocasio-Cortez, a 29-year-old from New York, became the youngest woman elected to Congress.

They were part of a wave of female candidates on the Democratic side, including Jennifer Wexton, who easily unseated Rep. Barbara Comstock (R) in a closely watched race in Northern Virginia, and Debbie Mucarsel-Powell, who narrowly defeated Rep. Carlos Curbelo (R) in South Florida.

"This resistance began with women and it is being led by women tonight," said Sen. Elizabeth Warren (D-Mass.), who easily won reelection and is widely expected to run for president in 2020.

Democrat Jared Polis in Colorado became the first openly gay man elected governor, while Democrat Janet Mills became the first female governor of Maine and Republican Kristi L. Noem will be the first female governor of South Dakota.

Rep. Mia Love, who was the sole black Republican woman in Congress, was trailing in Utah to Democrat Ben McAdams. Republicans were hoping that Young Kim, a Korean American woman, would win her California race to give the party some additional diversity.
In many ways, the apparent outcome of the midterms, which as I said is still somewhat unclear in terms of final numbers due to the fact that some results remain to be called, mirrors what we had come to expect prior to the start of voting yesterday. For several weeks now, it's been apparent that Democrats would win control of the House of Representatives. In no small part, this was due to the fact that, thanks to retirements and other favorable factors, the field in the lower chamber favored Democrats significantly. The only question heading into the night was how large the Democratic pickup would be. As it turned out, the results seem to have come in closer to the lower end of the projections that analysts were making and that the much anticipated "blue wave" did not happen for one reason or another. The results also fell short of the middle of the road projection where my projection of a pickup of 37 seats in the House, and certainly far short of the massive shifts in control that we saw in years such as 1994, 2006, or 2010. Instead of picking up 50 or 60 seats, right now it looks as though Democrats will pick up at least 25 seats, and may pick up a handful of others that remain uncalled at the moment.
Among the highlights in the House are Democratic victories are these states
On the Senate side of the Capitol, the prospects for Democrats getting control was always an uphill fight due simply to the fact that the map favored Republicans. As it stood, there were only eight Republican incumbents up for re-election this year and only one of those, Dean Heller of Indiana, was considered to be vulnerable. For a time, though, it appeared as though Democrats might actually have a chance at picking up the two seats they would need to pick up control of the upper chamber thanks to competitive races in states such as Arizona and Tennessee due to the retirement of both Jeff Flake and Bob Corker, and the fact that Democrats in red-states and states that the President had won in 2016, appeared to be holding there own, potentially denying Republicans the chance of not only staving off a Democratic takeover but also gaining seats. That all changed, though, in the wake of the confirmation hearings for Justice Brett Kavanaugh and especially with the allegations against him made by Christine Blasey Ford and other women. In the wake of that battle, Republicans were heavily energized in a way they had not been before. Additionally, it appears that President Trumps pre-election barnstorming on behalf of Republicans in red states and his concentration on hot-button issues like immigration paid off in terms of energizing Republican voters. As a result, it looks as though Republicans will pick up at least three seats and appear likely to hold on to others that had appeared to be vulnerable.
Here are some of the highlights in the Senate, as well as a handful of races that, as of this hour remain too close to call:
Depending on how the uncalled races in Arizona, Montana, and Florida go, and assuming that Cindy Hyde-Smith does indeed win the runoff in Mississippi at the end of the month, Republicans will end up with at least 53 seats in the Senate and could end up with as many as 56 seats should all three of those races go. This is far better than I projected and, indeed, far better than most projections were giving the GOP. It's worth noting, though, that several of these uncalled races are close enough to trigger the automatic recount rules in the respective states, so it could be some time before we know exactly what the makeup of the Senate will be in January. At the very least, though, we can say that Republicans had a very good night in the Senate. Indeed, the outcome in the upper chamber bodes well for Republicans in 2020 and 2022, when there will be far more Republican seats availble for Democats to try to pickup, since it means that the GOP could afford to lose a seat or two in those elections and still hold on to the majority they won four years ago in the 2014 midterms.
There will obviously be days of post-election analysis here, but the takeaway from these results is that the nation appears to be as divided as it was prior to Election Day, and that division is reflected most prominently in the fact that the branch of Congress that is most dependent on the popular will of the people has fallen into Democratic hands, while the Senate, which is less representative of the nation as a whole its very nature, not only remains Republican but is arguably more strongly Republican and more pro-Trump than it was prior to last night. What impact all of this will have on Washington for the next two years is still unclear but we can say two things with confidence. First, the Democratic victory in the House, while short of a blue wave was certainly a rebuke of President Trump and is likely to result in a situation where the White House is likely to face increasing pressure from investigations from the House related to the Russia investigation and other matters. Additionally, whether he likes it or not President Trump is going to have to find a way to work with Democrats on at least elementary matters like the budget. Second, continued Republican control of the Senate, and the fact that this control has been solidified with at leas three pickups of Democratic seats, means that the President will have a relatively free hand when it comes to judicial and other appointments, and that Senate Majority Leader Mitch McConnell will have an easier time with confirmation hearings since he won't necessarily have to worry about whether Senators like Susan Collins and Lisa Murkowski will end up throwing a monkey wrench into the process.
On the whole, there was plenty in last night's results for Democrats to be happy with, but there will no doubt be disappointment that the win in the House wasn't larger and that the Senate not only stayed out of Democratic hands but became even more Republican. Perhaps that disappointment is warranted, but given what they were faced with at the start of the year it seems clear that Democrats did pretty well, and that President Trump will be facing a new Washington in January.