Republican Karen Handel Wins Georgia Special Election
In one of the most closely watched Special Elections in American history, the outcome turned out to be not entirely surprising.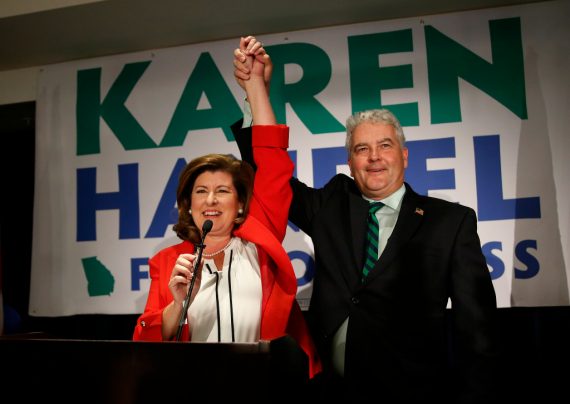 In what was without question the most expensive and most closely watched Special Election for a single House seat in American history, Republican Karen Handel easily defeated Democrat Jon Ossoff last night:
ATLANTA — Karen Handel, a veteran Republican officeholder, overcame a deluge of liberal money to win a special House election in Georgia on Tuesday, bridging the divide in her party between admirers of President Trump and those made uneasy by his turbulent new administration.

Ms. Handel, 55, fended off Jon Ossoff, a 30-year-old Democrat and political newcomer who emerged from obscurity to raise $25 million from progressives across the country eager to express their anger at Mr. Trump. That fervor quickly elevated what would otherwise have been a sleepy local race into a high-stakes referendum on Mr. Trump and the most expensive House campaign in history.

The surprisingly easy victory for Ms. Handel, a former Georgia secretary of state and Fulton County official, averted a humiliating upset for Republicans in an affluent, suburban Atlanta district — Georgia's Sixth — that they have controlled for nearly 40 years. And it showed that Republicans skeptical of Mr. Trump remained comfortable supporting more conventional candidates from their party.

The apparent success of relentless Republican attacks linking Mr. Ossoff to the House minority leader, Nancy Pelosi, and her "San Francisco values" also affirmed the efficacy of tying Democratic candidates in conservative districts to their brethren in more liberal parts of the country.

With all 208 precincts reporting, Ms. Handel had 51.9 percent of the vote to Mr. Ossoff's 48.1 percent.

Addressing supporters in Atlanta, Ms. Handel noted with pride that she had become the first Republican woman sent to Congress from Georgia, and she pledged to represent all of her constituents, including Mr. Ossoff's supporters. But she made clear that she would work to pass major elements of the Republican agenda, including health care and tax overhauls.

"We have a lot work to do," Ms. Handel said. "A lot of problems we need to solve."

For Democrats, the loss was demoralizing after questionable "moral victories" in two earlier special election defeats, for House seats in conservative districts in Kansas and Montana. Mr. Ossoff appeared so close to victory that Democrats were allowing themselves to imagine a win that would spur a wave of Republican retirements, a recruitment bonanza and a Democratic fund-raising windfall heading into the 2018 midterm elections.

Addressing a crush of cameras and supporters who spilled out of a hotel ballroom, a subdued Mr. Ossoff tried to strike a hopeful note as he conceded defeat.

"This is not the outcome any of us were hoping for," he said. "But this is the beginning of something much bigger than us."

The margin in Georgia was ultimately larger than even some Republicans had expected, with tax-averse voters in the outer suburbs overwhelmingly siding with Ms. Handel.

Yet the Republican triumph came only after an extraordinary financial intervention by conservative groups and by the party's leading figures, buoying Democrats' hopes that they can still compete in the sort of wealthy, conservative-leaning districts they must pick up to recapture the House.

Both parties now confront the same question: What does such a hard-won victory in the Lululemon-and-loafers subdivisions of Dunwoody and Roswell, where Mr. Trump prevailed in November, augur for Republicans who next year will be defending an array of less conservative seats outside the South?

(…)

In the so-called jungle primary in Georgia — the initial special election on April 18 — Mr. Ossoff, one of 18 candidates on the ballot, captured just over 48 percent of the vote, an unusually strong showing for a Democrat but short of the 50 percent needed to avoid a runoff. Ms. Handel came in a distant second, with just under 20 percent, as Republicans divided their support among a number of credible conservative contenders.

But Republican leaders were optimistic that the party's voters would rally behind Ms. Handel in a two-candidate showdown.

Questions also lingered about whether the grass-roots coalition backing Mr. Ossoff — fueled by highly motivated anti-Trump activists who were, in many cases, new to political activity and organizing — could improve on its April showing in a runoff held at the beginning of the summer vacation season, in a district where people have the means to escape to the beach.

Ms. Handel and her supporters portrayed Mr. Ossoff as far too liberal for a district that, covering somewhat different territory, was represented from 1979 to 1999 by Newt Gingrich, a Republican and former House speaker. They also criticized Mr. Ossoff for his youth and inexperience and assailed him for living outside the district, although he was raised in it.

Mr. Ossoff's allies, for their part, paid for an advertising campaign deriding Ms. Handel, a former chairwoman of the Fulton County Board of Commissioners, as a profligate spender while in office. And Mr. Ossoff ran television ads that rehashed Ms. Handel's resignation from the Susan G. Komen Foundation over her belief that the group, which raises money to fight breast cancer, should cut ties with Planned Parenthood.

(…)

Republicans, fearing the symbolic and tangible repercussions of a loss in Georgia, spared no expense in propping up Ms. Handel's candidacy. Mr. Trump, Vice President Mike Pence and House Speaker Paul D. Ryan all came to Atlanta to help her raise money, and conservative groups poured $12 million into the runoff, nearly all of it assailing Mr. Ossoff.

A "super PAC" aligned with Mr. Ryan, the Congressional Leadership Fund, spent more than $7 million from April to June.

Still, the $8 million gusher of liberal money that Mr. Ossoff enjoyed leading up to the April vote only intensified during the two-month approach to the runoff. He brought in another $15 million, much of it in small contributions from beyond Georgia's borders. And national Democratic groups, persuaded that he had a strong shot at winning, rushed in with their own advertisements denouncing Ms. Handel.

Although they received enormous political and financial support from allies in Washington, the two candidates tiptoed around more polarizing national political figures. Ms. Handel rarely uttered Mr. Trump's name of her own volition, preferring instead to highlight the district's Republican lineage and warn that Mr. Ossoff would do Ms. Pelosi's bidding. Only in declaring victory late Tuesday night did Ms. Handel make a point of offering "special thanks to the president of the United States of America," a line that set off a boisterous chant of Mr. Trump's name by the crowd.

Mr. Ossoff, for his part, sought to avoid being linked to Ms. Pelosi or labeled a liberal. He assured voters he would not raise taxes on the rich. And in pledging to root out wasteful spending and seek compromise, he sounded more like an heir to former Senator Sam Nunn's brand of Southern centrism than a progressive millennial who cut his teeth working for Representative Hank Johnson, a DeKalb County liberal.
In addition to Handel's victory in Georgia, Republicans also held on for a win in another Special Election that garnered far less national attention. In a race to replace former Congressman Mick Mulvaney, who now serves as President Trump's Director of the Office of Management and Budget, Republican Ralph Norman defeated Democrat Archie Parnell in a race that ended up being closer than the outcome of the race between Handel and Ossoff. This means that Republicans have won all four of the Special Elections held so far in 2017, with the races in Georgia's Sixth District and South Carolina's Fifth District joining races in Kansas and Montana on the Republican side of the aisle. Given the fact that each of these elections was being run to replace a former Republican Congressman, this isn't entirely surprising, of course, and the outcomes in these races shouldn't necessarily be taken as being indicative of a national trend of any kind. Special Elections are often opportunities for a party that normally wouldn't win in a specific district or state, the most notable example of that being 2010's Special Election to replace Ted Kennedy in the Senate, which Scott Brown won. That win, though, only happened because Brown happened to be the right kind of Republican to appeal to voters in a very red state and that his Democratic opponent was an especially bad campaigner who lost an election that she easily should have won. More often than not, Special Elections are won by the candidate of the party that is favored to win in that particular district or state. This is exactly what happened in the four Special Elections that we've seen since April.
As for the race in Georgia, these factors and several others go a long way toward explaining what happened in what many political pundits and members of the media had turned into a bellwether election that would indicate both the national mood and act as a referendum on the Presidency of Donald Trump. Democrats seemed to agree with this idea given the fact that both Ossoff's campaign and the outside groups that spent money on the race to help him seemed to spend more time talking about national issues like climate change and trying to use the President's declining job approval numbers and the controversies surrounding the Trump Administration against Handel. That proved to be a mistake and the outcome of the race once again proved true the old Tip O'Neill adage that "all politics is local."
Handel and the outside Republican groups supporting her, by contrast, ran a campaign that concentrated mostly on issues of more direct concern to local voters such as the economy as well as by using several issues against Ossoff in a race that seemed to become more and more negative as it went on. One of the biggest issues, for example, was the fact that Ossoff did not live in the district itself, but rather in a town just on the other side of the district line. In retrospect, this was a problem that Ossoff could have easily dealt with by renting an apartment in the district and establishing that as his primary residence before getting into the race and numerous voter interviews by reporters at polling places seemed to show that the fact that he didn't was something that many voters held against him.
Not surprisingly, the outcome of yesterday's election has led to many different pundits attempting to draw conclusions about what happened, and why it is that Ossoff didn't win. John Cassidy in The Yorker, for example, calls the outcome of the race a "reality check" for Democrats hoping to turn the 2018 midterms into a referendum on the Trump Presidency, while The Washington Post's Paul Kane cautions Democrats from concluding that a candidate more aggressive than Ossoff would have done better in a district like this. Kane's Post colleagues Amber Philips and Reuben Fischer-Baum, meanwhile, try to find the silver lining for Democrats in Ossoff's loss. Matthew Yglesias at Vox argues that the outcome in this race shows why Democrats need a substantive agenda other than just being anti-Trump if they're going to win going forward. Over at The New York Times, Frank Bruni describe Democrats as demoralized after a loss in such a hard fought race while David Leonhardt tries to tell Democrats to "buck up," and points out that Ossoff ended up doing better last night than a Democrat would ordinarily be expected to do in this particular Congressional District. On the right, the reaction is also about what you'd expect. Ed Rogers at The Washington Post calls Handel's win a "yuge win" for Trump given the fact that Democrats tried to turn the race into a referendum on him and his Presidency, and Morning Joe's Joe Scarborough, meanwhile, blasted Democrats who have claimed the outcome as some kind "moral victory" due to the fact that Ossoff did better than a Democrat should have been expected to do. Instead, Scarborough argued, they should take the outcome as a signal that Democrats aren't going to succeed unless they run candidates who can actually win in the districts they're running in. Jennifer Rubin and Jonah Goldberg, meanwhile, pour a bit of reality on those trying to draw national conclusions about what happened in this election, pointing out that ordinarily, this would be a race that Handel should have won easily in any case.
While all of this may prove insightful at some point down the road, the fact of the matter is that a Republican won in a district that has gone Republican since Newt Gingrich won the seat in 1978. While Ossoff did come close to winning the seat outright in the first round "jungle primary" in April, that was due in large part to the fact that there were ten other Republicans opposing Handel, four other Democrats opposing Ossoff, and two Independents on the ballot. As I noted at the time of that first round, the odds were against Ossoff winning the Special Election notwithstanding the fact he came within just a few points short of winning the 50% plus one of the votes that would have made a runoff election unnecessary. As the race for the runoff went on, the truth of how difficult it would be for Ossoff to win became more and more apparent. While he did lead in much of the polling after the first round, Handel began surging in the last several weeks to the point where she held a modest lead in the RealClearPolitics and Pollster polling averages. That should have been a signal to pundits, journalists, and the outside activists backing Ossoff that they odds were against them. You can see the reality that the polls were showing in spite of the national media spin, in the RealClearPolitics chart of the polling in this race: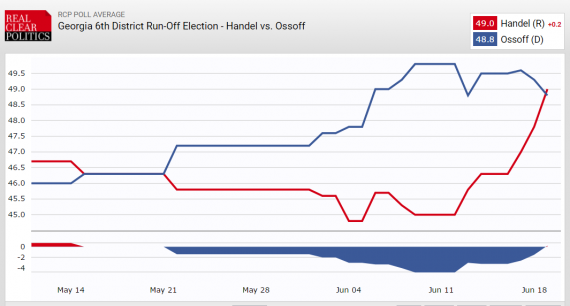 Another factor that worked in Handel's favor was the fact that turnout for yesterday's election ended up favoring her significantly, perhaps because the attention that the pundits, the national media, and Democratic groups from outside the state gave to the race. In April, we saw just over 192,000 voters turn out for the "jungle primary" that Ossoff nearly won outright. As I noted at the time, this was significantly lower than the 326,000 voters who cast ballots in November 2016 when Tom Price was re-elected with an 80,000 vote margin and also lower than the 211,000 voters who turned out to vote in the district in the 2014 midterm election. By contrast, yesterday's election saw more than 259,000 voters cast ballots, that's an increase of more than 67,000 votes from the first round. That's unusual for a runoff election when you typically see fewer votes cast than in the first round, especially in runoffs held at an unusual time of the year when many voters are already starting off on summer vacation travels that begin earlier in Georgia due to the fact that school years typically end far earlier than they do in other parts of the country. This increased turnout in a historically Republican district ended up helping Handel pull out a big win in a race where she was being cast as an underdog on a regular basis. While we can't really know for sure, it's likely that what happened here is that Republicans in the district became more energized by the national attention the race was getting, and responded to that and the campaign that was being mounted by Democrats in support of Ossoff by turning out in numbers you'd typically expect in November of a midterm or Presidential election year. All of this turned out to be enough to put Handel over the top and handed her a victory that was far stronger than most outside observers thought it would be.