Democrat Falls Short Of Avoiding Runoff In Republican District In Georgia
Democrats came close to picking up what has been a solidly Republican seat for nearly forty years but ended up falling short. Instead, we'll have a runoff in two months.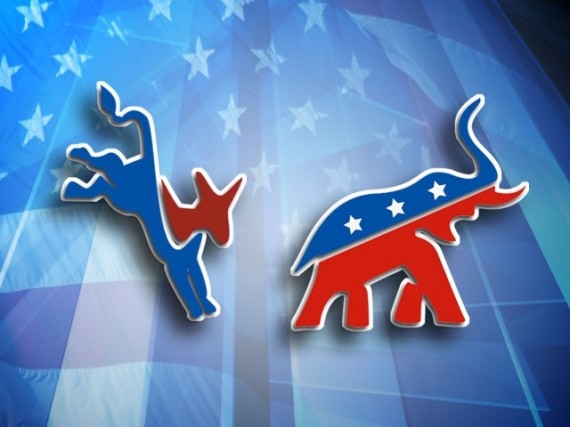 In a race that was widely seen as an early test of the impact that President Trump was having on fellow Republicans, Democratic candidate Jon Ossoff garnered the most votes in a Special Election in Georgia's Sixth Congressional District but fell short of avoiding a June runoff election that seems likely to keep the seat in Republican hands:
ROSWELL, Ga. — Jon Ossoff, a Democrat making his first bid for elective office, narrowly missed winning a heavily conservative House district in Georgia outright on Wednesday, according to The Associated Press. It threw a scare into Republicans in a special congressional election that was seen as an early referendum on President Trump.

Mr. Ossoff received 48.1 percent of the vote, just short of the 50 percent threshold needed to win the seat, and he will face Karen Handel, the top Republican vote-getter, in a June runoff.

A documentary filmmaker and former congressional staff member, Mr. Ossoff, 30, had hoped to avert a runoff in the Sixth District, a Republican-dominated section of the Atlanta suburbs that had been represented by Tom Price, who is now Mr. Trump's health and human services secretary. But despite his financial advantage — Mr. Ossoff had raised $8.3 million, more than quadruple that of the next-closest candidate — and a highly energized liberal base, a majority was just out of reach in a district that has not sent a Democrat to Congress since the Carter administration.

Mr. Ossoff released a statement early Wednesday after the race was called.

"This is already a remarkable victory," he said. "We defied the odds, shattered expectations, and now are ready to fight on and win in June."

Mr. Ossoff's strong showing will ensure that national Democrats continue to compete here and will increase pressure on the party to contest a special House election next month in Montana that it has so far ignored. Combined with Democrats' better-than-expected performance in a special House election in Kansas last week, the Georgia result will be an immediate boon to Democratic groups, lifting their fund-raising and bolstering candidate recruitment efforts, while sobering Republicans who are assessing whether to run in Mr. Trump's first midterm election. Already, Republican candidates and outside groups have had to spend over $7 million against Democrats in a series of deeply conservative districts.

Early Wednesday, Mr. Trump, who had posted a number of Twitter messages on the contest in the last few days, claimed a victory for Republicans before the race was called.

As Mr. Ossoff faces Ms. Handel in a head-to-head race on June 20, it is unclear whether he will be able to sustain the success he enjoyed on Tuesday, in an 18-person field. Ms. Handel, who received just under 20 percent of the vote, is a former Georgia secretary of state and is viewed as an establishment-friendly Republican. While she has struggled in her two previous campaigns, losing primaries for governor and senator, she will receive the full support of a party that dominates Georgia politics, as well as nearly unlimited resources from Washington Republicans, in the runoff.

Ms. Handel, 55, has portrayed herself as a Trump supporter, though she was less fervent in her backing for him than were the other Republican candidates in the race, who adopted Mr. Trump's catchphrases and style in an attempt to stand out.

The intense Republican competition and liberal enthusiasm lifted Democratic hopes that they could snatch a surprise victory.

"We are certainly going for an outright win here today," Mr. Ossoff told CNN on Tuesday before the polls closed.

Much as they did in last week's race in Kansas, Democrats initially got their hopes up after promising early-vote returns were posted soon after polls closed. But as the Election Day results trickled in, it became clear that those early and absentee ballots, reflecting their fired-up base, would not be sufficient to match the Republicans' structural advantage in the district.

On Tuesday night, hundreds of Ossoff supporters crammed into a ballroom at a Crowne Plaza hotel. Cries of delight erupted as early returns flashed on big television screens. But many attendees were cautiously optimistic, with an emphasis on caution.

Janice Owens, 60, a project manager who had been knocking on doors and making calls for Mr. Ossoff, said she and others would not feel the effort was wasted if Mr. Ossoff failed to avert a runoff.

"I don't think anybody thinks it's for naught," she said. "Because we're not giving up." If anything, the Ossoff campaign showed how Democrats had been successful, even in this Republican-friendly chunk of suburbia, in converting an enthusiastic but inchoate anti-Trump movement into a real political force.

Ms. Handel took the stage at a lightly attended victory party of her own shortly after 11 p.m. to claim her spot in the runoff — and urge Republicans to unify to stop Democrats' effort to "steal a seat."

Ms. Handel, battling a few bouts of feedback from a microphone, invoked the "great legacy" of a district that she noted had produced the former House Speaker Newt Gingrich, Senator Johnny Isakson and Mr. Price.

But she made no mention of Mr. Trump. Ms. Handel dismissed her opponent as a "young man" beholden to national liberals and vowed to "kick a little Ossoff."

The contest here effectively represented the first performance review at the ballot box for Mr. Trump and the Republican Congress among the sort of upscale voters who were left without a political home last fall. Mr. Price's former district is the most highly educated Republican-controlled district in the country. And while the president won here in Atlanta's booming northern suburbs, he did so by just a single point four years after Mitt Romney romped to a 23-point victory.

For all of the attention lavished on the working class — Rust Belt voters who flocked to Mr. Trump's campaign — voters who have flourished in the 21st-century economy will prove more crucial when it comes to the fight for control of Congress next year. If Democrats are to have a chance at recapturing the House, they will have to win over the dominant constituency here: suburbanites who only grudgingly cast a presidential ballot in November and have no deep affinity for either Mr. Trump or the Democrats.

None of the major Republican contenders pointedly distanced themselves from the president — they did not dare anger the partisans most likely to vote in a spring special election — but most of them did not make him central to their appeals, either.

With Republican Party officials worried that Democratic enthusiasm might be enough for Mr. Ossoff to get more than 50 percent of the vote and win the seat outright, though, Mr. Trump eventually did weigh in on the contest. He recorded a robocall delivered Monday to Republican voters in the district, warning that Mr. Ossoff would "raise your taxes, destroy your health care and flood our country with illegal immigrants." And he posted on Twitter a series of messages similarly criticizing Mr. Ossoff while prodding Republicans to "force runoff."
As with last week's election in Kansas, in which the Republican narrowly held on to a seat vacated by Mike Pompeo when he was named Director of the Central Intelligence Agency by President Trump, many observers are pointing to the fact that Ossoff managed to come fairly close to the majority he needed to win outright in a District that then-incumbent Tom Price had won easily in 2016  by a majority of nearly 80,000 votes. Once again, though, there are several caveats to take into account in that assessment, many of which appear to make it unlikely that Ossoff will be successful in taking on Handel in a runoff in two months. As with the Kansas race, turnout for yesterday's Special Election was significantly lower than the General Election last November. In 2014's midterm election, turnout was just under 211,000 votes. Back then, more than 303,000 people cast ballots for Price and his Democratic rival, for example, while the turnout yesterday was just under 193,000 voters, a difference of 110,000 voters from 2016 and roughly 20,000 votes from 2014. While this is slightly higher than what you might expect from a Special Election, it's still a significant enough difference to support the idea that Ossoff was benefiting from lower turnout in what has been a solidly Republican district since Newt Gingrich won the seat in the 1978 midterm elections. Before that, the seat had been solidly Democratic since it was first established in 1826. In addition to the turnout factor, Ossoff also benefited from the fact that there were a large number of Republicans in the race, a total of 17 candidates as a matter of fact. Although only four of these candidates ended up garnering more than 2,000 votes, it had been obvious for weeks that this large field of Republicans would end up being a drag on the entire field and that the most likely outcome of yesterday's election would be a June 20th runoff between Ossoff and whichever of the GOP candidates ended up getting the second most votes.
All that being said, Ossoff's performance yesterday is not something that should be ignored and, along with polling showing that President Trump's job approval numbers are starting to impact the party as a whole, the results here should be seen as something of a warning to Republicans everywhere that a relatively unpopular President could end up hurting them going forward. It's hard to deny, for example, the energy that appeared to be behind Ossoff's campaign as yesterday drew closer. His rallies were well-attended, for example, and he did far better last night than a Democrat has done in this District in quite a long time. Additionally, there at least appeared to be a lot of grassroots support for his campaign, although it's worth noting that there was considerable reporting about the fact that much of Ossoff's money, and many of his volunteers were coming from outside the 6th District and that Ossoff himself didn't live in the district he was running to represent. While it always seemed inevitable that, as effectively the only Democrat in the race, he would likely garner the most votes yesterday he certainly did better than could have been reasonably expected, and that shouldn't be rejected out of hand.
Looking ahead to the runoff in two months, everything on paper indicates that the seat will most likely stay Republican in the end. For one thing, Republican candidate Karen Handel has a long and mostly successful history in the district in the past, having served on the Fulton County Board of Supervisors before being elected Secretary of State in 2006. She garnered the most votes in a seven-candidate Republican primary field for Georgia Governor in 2010 and only narrowly lost the primary runoff to current Governor Nathan Deal in a runoff primary election. Additionally, it's likely that turnout for the runoff will be lower than the turnout yesterday was, and that is likely to benefit Handel in a District that has been held by a Republican for nearly forty years. Finally, it's not clear how much of the momentum that propelled him to a near-win will stay with Ossoff compared to the Republican momentum likely to gather behind Handel now that she is the only Republican in the race. None of this is to say that Ossoff can't win in June, of course, but it's clear that his best show was to get over 50% yesterday, and he fell just short of that goal. Additionally, even if Ossoff manages to pull off a narrow win in June the odds are that he'll be heavily challenged in 2018 and that the GOP would be favored to win the seat back in the midterms.
The June runoff isn't the only Special Election test coming up for Republicans, although the outcome seems clear in all but one of them. On May 25th, there will be a Special Election to fill the at-large seat in the House of Representatives for Montana that was recently vacated by newly appointed Secretary of the Interior Ryan Zinke. The Republican candidate is Greg Gianforte, a Montana businessman who previously ran an unsuccessful campaign for the Republican nomination for Governor, and the Democratic candidate is Rob Quist, who previously had a career as a singer and songwriter whose songs have been recorded by artists such as Loretta Lynn and who is running in his first bid for political office. Like the Kansas and Georgia races, this is a seat that many observers believe is one that could be ripe for a Democratic pickup, especially given the often mercurial politics of Montana. On June 20th, the same day as the runoff in Georgia, there will be a Special Election in South Carolina's 5th Congressional District to fill the vacancy created by the departure of Mick Mulvaney to become President Trump's Director of the Office of Management and Budget. That race is not expected to be competitive given the fact that, well, it's South Carolina and the District is considered to be safely Republican. In any case, it will be a fairly interesting Spring and by the time it's over we should have a better idea of what impact Trump is really having on the rest of the GOP.