GOP Holds On To House Seat In Heavily Contested Kansas Special Election
Republicans held on to Mike Pompeo's seat in the House, but the outcome was closer than many expected.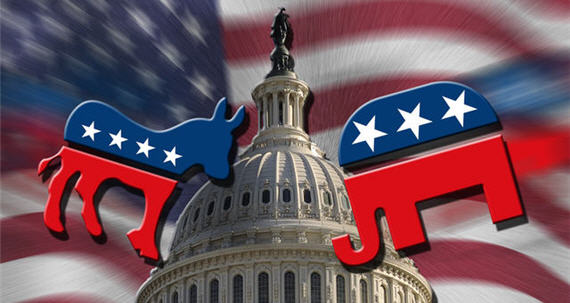 Republicans held on to the House seat previously held by new CIA Director Mike Pompeo, but the margin of victory is being cited by some as reason for them to worry:
WICHITA, Kan. — Ron Estes, the Republican candidate for an empty House seat in Kansas, survived a surprisingly competitive race in a heavily conservative district on Tuesday. He defeated James Thompson, the Democratic candidate, in the first national test of the Republican Party's electoral strength, in a contest that saw a late infusion of national support from Republicans nervous about the tumultuous political environment during President Trump's initial months in office.

Mr. Estes, 60, the state treasurer, overcame the challenge by Mr. Thompson, a Wichita civil rights lawyer, and won by a count of 53 percent of the vote to 46 percent, according to unofficial results, to fill the seat in the district that was vacated by Mike Pompeo, now the C.I.A. director. In a race more than a year before the midterm elections, Mr. Estes was initially expected to cruise to victory in a district that his party has held for more than two decades and that Mr. Trump won by 27 points.

But after internal Republican polling last week revealed Mr. Estes's lead was in only the single digits, the national party scrambled to rescue his campaign — and effectively conceded that even seats in the reddest corners of the United States are not safe at a time when Democrats are so energized against Mr. Trump.

In his victory speech late Tuesday, Mr. Estes took aim at those who thought he might lose.

"The pundits were talking about — this wasn't a seat we were going to win," Mr. Estes said before several hundred people in a hotel ballroom, "that we were going to lose a Republican seat, that it was a special election, that it was a chance for the Democrats, they were motivated, there was a lot of angst against the president. But we really showed the pundits tonight, didn't we?"

"We're going to continue that process that started in November and make the changes in Washington," he added.

Mr. Estes said he hoped his victory would set the tone for the other special elections to replace members of Congress who took jobs with the Trump administration. But many officials in his party, who were up anxiously watching the returns late into the night on Tuesday, hope to avoid any more surprisingly stress-inducing races.

While Mr. Thompson fell short, his unexpected strength represents a warning shot toward Republicans. And it will galvanize Democrats' candidate-recruitment efforts for next year's campaign.

The surging energy on the left was on display on Tuesday night when the early and absentee vote returns were tallied in the district's largest county and revealed Mr. Thompson to have staked out a considerable lead. But Mr. Estes overcame that deficit thanks to his strength in the more rural parts of the district and among Election Day voters.

Until last week, few in either national party were paying attention to this race. A special election in an Atlanta-area House district that was almost evenly divided in last year's presidential campaign was the contest receiving millions of dollars and extensive news coverage. The first indications about the country's political landscape would be gleaned there, it was thought, not in the Wichita-based seat.

But then the House Republican campaign arm released a venomous ad accusing Mr. Thompson of favoring abortion rights for gender selection. Soon after, Senator Ted Cruz of Texas scheduled an election-eve rally for Mr. Estes on Monday. And Mr. Trump and Vice President Mike Pence recorded automated get-out-the-vote calls.

A "super PAC" aligned with the House speaker, Paul D. Ryan, also intervened, paying for live-turnout calls to likely Republican voters. All told, national Republicans spent about $150,000 on the race.

"Mr. Estes did not beat us," Mr. Thompson told supporters after the race was called. "It took a president of the United States, the vice president, the speaker of the House, a senator coming into our state and a bunch of lies to drum up a vote."

He used his remarks to announce he would seek the seat again next year.
Many political observers are comparing Estes' narrow win to the more than 30-point win that Pompeo won in 2016 as a sign of the impact that President Trump could be having on the GOP as a whole, but there are several reasons to take any of those observations with a grain of salt. For one thing, the turnout for this Special Election was, unsurprisingly, much smaller than the turnout on Election Day last November. According to the unofficial results, there were 120,897 votes cast in yesterday's Special Election. By contrast, there were more than 275,000 votes cast last November and more than 208,000 votes cast in the mid-term election in 2014. Second, there is a decided difference in a long-term incumbent being on the ballot and an open seat such a was the case in this race, so a direct comparison between the two. Third, it's possible that the race in Kansas may have been affected by growing dissatisfaction with Kansas Governor Sam Brownback, a Republican who is heavily disfavored right now notwithstanding the fact that he was elected to a second term in 2014. Taking all that into account, while it is true that Republican turnout does seem to have been down far more than Democratic turnout in this particular race, drawing any conclusions about 2018 from these results is premature and misplaced.
Bill Scher at Politico, who also looks ahead to a race next week in Georgia's 6th Congressional District, offers further caveats for Democrats and political pundits seeking to draw a lesson from these results:
The hypothesis that a progressive economic populism can fully flip a white working-class district from red to blue remains unproven, especially when confronting a competing right-wing populism that intertwines protectionism with promises of deportation and environmental deregulation. In fact, Thompson's populist pitch hit a wall similar to the one Hillary Clinton's pragmatist campaign did. The only part of the Kansas district that Thompson won outright was urban Wichita; he failed to make a significant dent in the surrounding rural areas.

Meanwhile, the Democratic hope in Georgia's 6th Congressional District, the buttoned-down Jon Ossoff, is running a campaign that's more pointedly anti-Trump and more ideologically moderate than the one we saw from Thompson. A recent ad shows Ossoff silently tweeting that we should "fix Obamacare, NOT repeal it" as well as "cut wasteful spending" and, instead of pining for the jobs of the past, "attract more high-tech jobs." He ends by tweeting, "I'll stand up to Donald Trump … he should act like a president."

Georgia 6th does not resemble Kansas 4th in the slightest. The district is not economically hard hit. It includes affluent Atlanta suburbs and more than half the voters are college graduates. Trump barely edged Clinton there in November. A pitchfork populism would not be the right fit for the district. A poll from Atlanta's 11Alive News found Ossoff's current lead is based on "young, educated and affluent" voters who like his "talk of high-tech jobs and economic development."

(…)

Such is the Democratic challenge in building a blue wave. As the Clinton campaign learned the hard way, what works in the college-educated suburbs is not what works in the working-class manufacturing hubs and farm towns. The close Kansas contest may give Democrats a morale boost, but they have yet to solve the biggest political puzzle of all: a message that transcends America's entrenched political, economic and cultural divides.
It may well be that Democrats are on an upswing that will materialize in gains in the 2018 midterms. President Trump's job approval numbers, for example, could prove to be a noose around the necks of marginal districts, but it is far too early to say whether or not this will be the case when the midterms roll around in nineteen months. Even if it does continue, though, it's not at all clear that this will result in any increase in the odds that Democrats will recapture either the House or the Senate at that time. In the Senate, for example, there are few Republican seats that one can say at this point are even close to being vulnerable, not even enough for the Democrats to gain the three seats they would need to take control of that body. In the House, the number of competitive seat is relatively small and Democrats would need to pretty much sweep every one of those seats, and win more than that, in order to even come close to the twenty-five (25) seats they'd need to take even narrow control of that body. Is it possible that could happen? Sure it is, and the odds are that Democrats are likely to gain at least some seats in the House in the midterms based on history alone. At this time, however, it's far too early to be either making predictions or pointing to the results of one Special Election a evidence of a trend.