Democrat Jon Ossoff Leads In Georgia Special Election
Democratic nominee Jon Ossoff is leading in a race that Republicans should be winning easily.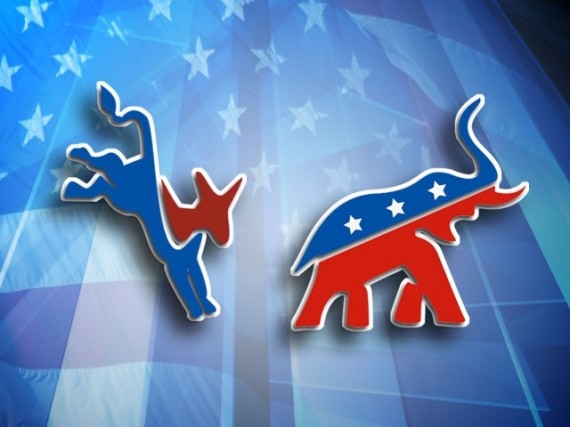 A new poll shows Democrat Jon Ossoff with a strong lead in the Special Election in Georgia's Sixth Congressional District to succeed Tom Price, who left Congress after being confirmed as the new Secretary of Health and Human Services:
Democrat Jon Ossoff — buoyed by a record $24 million in fundraising — has notched his best poll result of Georgia's special House election with less than two weeks to go in the contest, with an Atlanta Journal Constitution survey released Friday showing Ossoff with a 7-point lead over Republican Karen Handel.

The survey found Ossoff with 51 percent of the vote to Handel's 44 percent.

It is the second time that a public poll has shown Ossoff with a 7-point lead over Handel, who are competing to replace HHS Secretary Tom Price in a June 20 special election for his old district in the Atlanta suburbs. The polling average shows Ossoff ahead by about 2 or 3 points.

"The common denominator is that Ossoff is floating right around 50 percent. So then where's Karen Handel, is the obvious question," said Mark Roundtree, a Republican consultant whose own firm released a poll Thursday that showed Ossoff with a slight lead over Handel, 50 percent to 47 percent. "Obviously it's competitive, but there aren't any public polls that have shown Handel winning."

Nervous Democrats are not planning a victory party yet. Roundtree noted that records showing who has cast early votes in the special election so far include more voters with a GOP primary voting history, as opposed to voters with a history of voting in Democratic primaries. (Voters do not register by party in Georgia; past primary participation is the closest proxy in Georgia's voter registration data.)

But several Atlanta-area consultants also said that President Trump's low favorability in the district "inevitably hurts Handel and any other Republican running in a district like this one — suburban, well-educated, affluent," said Chip Lake, another Republican consultant in the state.

Trump's approval rating has not shifted dramatically since the April 18 primary, when Ossoff topped 48 percent of the vote, but the president's ratings have ticked down slightly since then. Trump's average approval rating dropped by 3 points, from 43 percent to 40 percent, since April 18, according to the polling average compiled by HuffPost.

The Atlanta Journal Constitution has not released full results from its new survey, which was conducted by Abt Associates. But it did break down the results by party, which help explain why Ossoff has gained traction in a traditionally Republican district: Energized Democrats are almost completely united behind him, while he is picking off a small but significant share of Republicans and winning independents.

Ossoff is attracting support from 13 percent of Republicans, while Handel is getting 3 percent of Democrats, according to the poll. The survey also has Ossoff getting 50 percent of independents.
This news comes at the same time that it's being reported that Ossoff has raised a record $15 million to fund the remaining eleven days of the campaign:
WASHINGTON — Jon Ossoff, the Democrat running in a closely watched special House election in Georgia, raised over $15 million in the last two months, vastly exceeding his Republican rival and shattering fund-raising records, according to federal campaign finance documents filed on Thursday.

Karen Handel, the Republican candidate for the suburban Atlanta district seat, raised approximately $4 million in the same period. But she began the final stretch before the June 20 runoff election with slightly more cash available than Mr. Ossoff, who had already spent much of his money to reserve television advertising time.

The contest to fill the seat vacated by Tom Price, the secretary of health and human services, was already the most expensive House race in history. Mr. Ossoff has now raised over $23 million and Ms. Handel, who only became the Republican nominee after the initial balloting in April, has brought in over $4.2 million. In a sign of the intense national interest in the race, much of the money came from outside Georgia.

In addition to the candidates' own fund-raising, the national parties and allied groups have swooped in with millions more. The largest Republican groups have spent about $12 million on behalf of Ms. Handel, while Democrats have just spent over $6.7 million on behalf of Mr. Ossoff in the same period.

The biggest spender among the third-party groups has been the Congressional Leadership Fund, a so-called super political action committee aligned with the House Republican leadership, which has poured in more than $6.2 million to attack Mr. Ossoff.
In addition to his lead in this Atlanta Journal-Constitution poll, Ossoff has also held the lead in most other recent polling in the District, although his lead in those other polls has not been quite as large. Republican Karen Handel, on the other hand, has only held the lead in one poll taken after the first round of the Special Election back in mid-April, and that was only a two point lead where she was held to under 50% of the vote. Ossoff also holds the lead in the polling averages, with RealClearPolitics currently giving him a +4.8  point lead and Pollster giving him a 6.9 point lead. This is happening in the same district where then-incumbent Tom Price had won easily in 2016  by a majority of nearly 80,000 votes and which had been rated as one where a Republican should be favored to win generally. The fact that Ossoff is performing so well in the polls, and in fundraising, is arguably not good news for Republicans going forward.
The main reason that so much money is being poured into the race by both sides is due largely to the fact that it is being viewed as a proxy for the national debate over the Trump Administration and its performance to date. While Republicans were able to easily win other Special Elections that have been held so far this year, this race in Georgia has been the one that most observers have seen as the most notable potential political barometer for the current state of the country. If Ossoff manages to pull off a victory in a district like this, even if it is by a narrow margin, then it will be viewed as a setback for Republicans generally, and it would be hard to argue disagree with that position.