Kyrsten Sinema Expands Lead As Arizona Vote Count Nears An End
Arizona Democrat Kyrsten Sinema appears to be headed toward victory.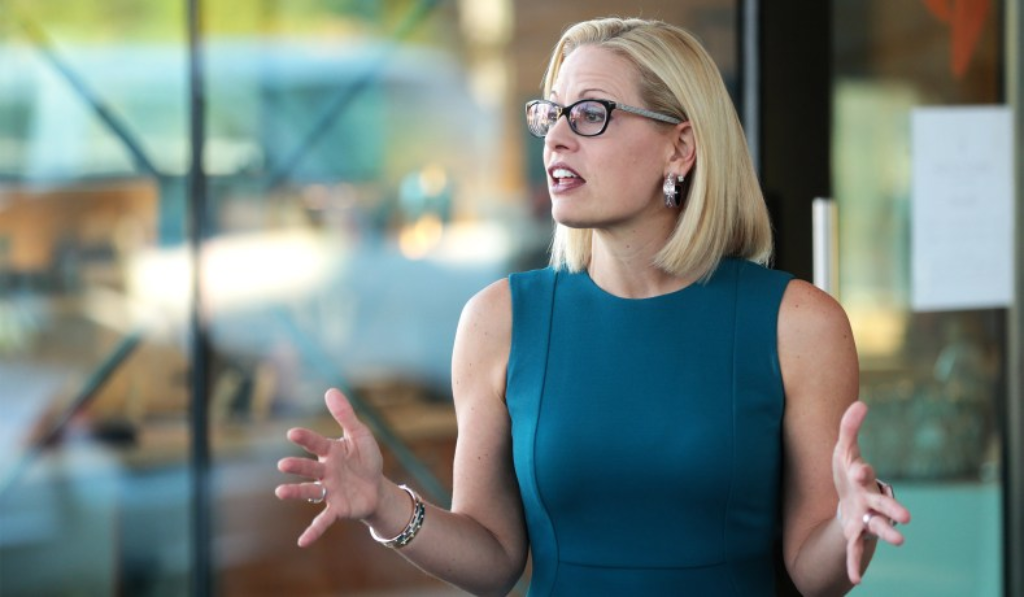 Democratic Congresswoman Kyrsten Sinema continued to expand her lead over Congresswoman Martha McSally over the weekend, and it now appears that she has won the race even though it has not been officially called:
Democratic Rep. Kyrsten Sinema continued to expand her lead over GOP Rep. Martha McSally on Sunday as new votes were counted in Arizona's still-uncalled Senate race.

Sinema lead McSally by 32,640 votes as of Sunday evening, and now has 49.6 percent of the vote compared to 48.1 percent for McSally. There are still more than 200,000 votes left in the state to count, a process that could continue into the middle of the coming week.

Sinema trailed McSally on election night, but took the lead late last week as the state began counting hundreds of thousands of outstanding ballots. Sinema has expanded her lead each day as new ballots have been counted. Republicans had hoped that later vote tallies would shift and begin to benefit McSally as the state began counting early ballots dropped at polling places on Election Day, rather than late-arriving early votes, which had leaned toward Sinema. But Sinema continued to increase her lead Sunday night.

There are still more than 160,000 votes outstanding in Maricopa County, home to Phoenix and the largest county in the state. Sinema now leads McSally by about 46,000 votes in the county.
More from AzCentral.com:
Democrat Kyrsten Sinema widened her lead again over Republican Martha McSally on Sunday, a pivotal day in the U.S. Senate race as the number of uncounted ballots dwindled.

Sinema expanded her lead to 32,292 votes — a 1.5 percentage-point lead — as of 6:20 p.m. Sunday, according to updated counts posted by the Arizona Secretary of State. Her campaign manager predicted her victory was inevitable.

The lengthy vote-count process, which has continued long after the polls closed Nov. 6, is mostly due to the need to verify signatures for voters who vote by mail.

The Arizona Republic estimates about 215,000 ballots remain to be counted statewide.

To remain competitive, McSally needs to outperform all of her previous showings in Maricopa County, the state's most populous area and one that Sinema has dominated.

Sinema's campaign manager wrote in a statement that McSally would need a miracle to pull out a win.

"With the latest ballot count, Kyrsten's lead is insurmountable," Andrew Piatt's statement said. "McSally's campaign said today's results would be her 'firewall' but as we expected, no firewall emerged … Kyrsten has now expanded her overall lead to 32,640 or 1.52 percent, meaning McSally would have to win the remainder of Maricopa County ballots by 22 percent to take the lead in this race. This is not plausible. Kyrsten will be declared the next U.S. Senator from Arizona."

McSally's campaign did not immediately weigh in on the latest update. Shortly before the results were posted, McSally asked followers of her Facebook page to report any problems they may have had when voting.

"URGENT: Numerous reports of improper procedures at polling locations. Help us gather the facts," the Facebook post said. It directed followers to a phone number and a National Republican Senatorial Committee website to report "ANY voting irregularities or problems you witnessed."

Shortly before 7 p.m., the post had been removed from her page.

As of Sunday evening, no group had brought forward allegations of specific criminal activity, although one earlier — and now resolved — Republican lawsuit addressed an equity issue over how early-ballot signatures are verified.

(…)

As Sinema's lead has grown, GOP officials nationally have suggested that Maricopa County Recorder Adrian Fontes, a Democrat, was "cooking the books" for Sinema. That accusation comes as the GOP has suggested outright fraud in Florida in close-elections there.

Earlier Sunday, atop national Republican sidestepped his group's assertion that Fontes, the top Maricopa County election official, is "cooking the books" for Sinema in the Senate race.

Sen. Cory Gardner, R-Colorado, the National Republican Senatorial Committee chairman, made the comments on CNN's "State of the Union," and NBC's "Meet the Press" ahead of Sunday'stabulation.

Gardner offered no evidence for the NRSC's book-cooking assertion on the political shows.

"I think what we've seen in Arizona is the attempt to make sure like in Florida that we're treating everybody equally under the law," Gardner said. "There had been concern that in Maricopa, a process was being used to determine signatures or validations of ballots that differed from other parts … of the state."

Gardner said legally-cast votes should be treated the same, regardless of differing practices across the counties.

"But where's the evidence that anybody was cooking the books," asked CNN host Jake Tapper.

"Well, we had evidence that people were treating ballots differently," Gardner responded.

In a later appearance on "Meet the Press," Gardner seemed to try to distance himself from the NRSC's "cooking the books" to benefit Sinema assertion. He likened the dispute in Arizona to allegations of Russian interference in the 2016 election.

"There's a lot of (press) releases that go out that I don't see. I'm not familiar with this one," he said. "It's not the first time that somebody has been accused of cooking the books or rigging the outcome in an election. I think that's what the last two years have been about by Democrats trying to go after President (Donald) Trump on that as well.

"What I think we have to do, and what we've proven in the agreements that we've come to in Arizona, is a way to treat voters equally across the state. Look, this is about making sure the votes are counted and that they're counted fairly."
As of this morning, the statewide results show Sinema with 1,071,947 votes (49.57%) and McSally with 1,039,778 vote (48.08%). Angela Green, the Green Party candidate, has 50,797 votes (2.35%). (Source) In the state's most populated county, Maricopa County, which Sinema represents in Congress and which is generally considered her stronghold, Sinema has 649,445 votes (50.72%) while McSally has 603,070 votes (47.10%) and Green has 27.856 votes (2.18%). (Source) The Arizona Republic has estimated that roughly 215,000 votes remain to be counted, coming principally from Maricopa, Coconino, Pima, and Pinal counties. McSally would need to win these remaining votes by roughly fifteen percentage points in order to tie the race, by a slightly smaller percentage to throw the race into a recount, and by more than fifteen percent to win the election outright, although even then the vote totals would likely be in a range that would require an automatic recount.  Historically, it's unlikely that this will happen and, indeed, it's far more likely that Sinema will continue to build on her lead over McSally to the point where her win will become inevitable,
One election observer, Dave Wasserman at The Cook Political Report has already called the race for Sinema:
Projection: Rep. Kyrsten Sinema (D) has defeated Rep. Martha McSally (R) in #AZSEN. This thing has been over for a while.

— Dave Wasserman (@Redistrict) November 12, 2018
While Wasserman's call is hardly official, it's also hard to disagree with. While she trailed slightly at the end of the night on Election Day, Sinema has slowly but surely expanded her lead over McSally as votes have come in, especially from Maricopa County which is, as noted, considered a Sinema stronghold. Vote counting is expected to continue today regardless of the fact that today is a Federal holiday. This is largely because Arizona law requires final results from all the counties by a certain time this week and they simply cannot afford to take the time off, but also because it's important to get the question of who the victor of this race is settled in time for them to prepare to take office. In any case, of the four counties that make up the majority of the uncounted ballots, the two largest are considered Sinema strongholds. Given that, it seems unlikely that the vote is going to break sufficiently McSally's way for her to either force a recount or somehow manage to take the lead. Because of this, and for what it's worth, I'm going to agree with Wasserman here and call the race for Sinema. All that remains is waiting for the final vote count.