Roy Moore Leads GOP Field To Challenge Doug Jones In 2020
Roy Moore has not said that he's running for Senate again in Alabama, but he's already threatening to up-end the race for the GOP nomination.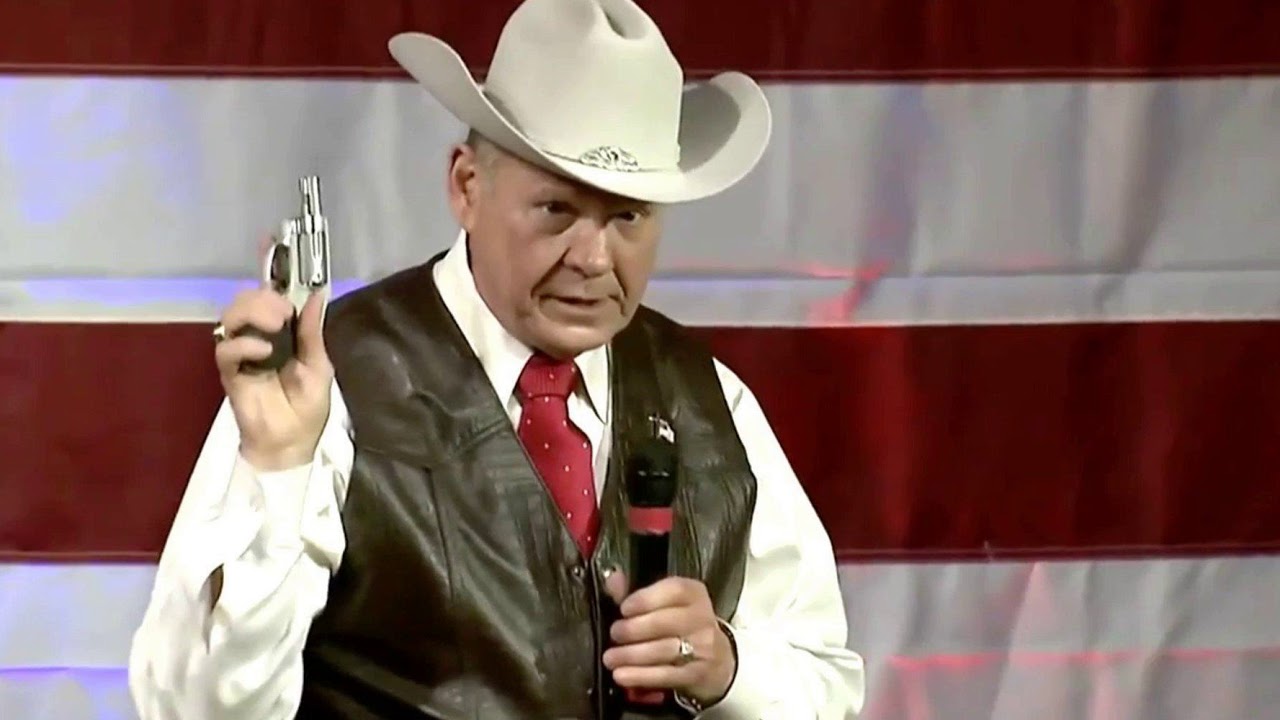 A new poll of the still-evolving race to find a Republican challenger for Alabama's Democratic Senator Doug Jones finds that former Alabama Chief Justice Roy Moore, who Jones defeated in Special Election in 2017, is leading the field:
Former Alabama Supreme Court Chief Justice Roy Moore leads the field of potential Republicans vying for the chance to challenge Sen. Doug Jones (D), a year and a half after Moore lost what was supposed to be an easy election in a deep-red state.

A new poll shows Moore leading a still-evolving field of Alabama Republicans competing for the nomination. He is the top choice of 27 percent of Alabama Republican voters, according to the Mason-Dixon Polling & Strategy Inc. survey.

The state's three Republican members of Congress finish well behind Moore: Rep. Mo Brooks would take 18 percent, Rep. Bradley Byrne clocks in at 13 percent and Rep. Gary Palmer would take 11 percent.

State Senate President Pro Tem Del Marsh would take 4 percent, and businessman Tim Jones finishes with just 2 percent of the vote.
So far, Byrne is the only Republican candidate among those tested to have formally entered the race. Tommy Tuberville, the former Auburn University football coach, and state Auditor Jim Zeigler have also said they will run, though they were not tested in the survey.

(…)

Moore remains a deeply polarizing figure, even among conservative voters in the state. A third of Alabama Republicans, 34 percent, say they have a favorable impression of Moore, while 29 percent see him unfavorably.

No other Republican tested has unfavorable ratings higher than 8 percentage points. About half of all Alabama Republicans do not recognize Byrne and Palmer, and about a quarter of state Republicans say they don't know Brooks.


Just 4 percent of Alabama Republicans do not have an impression of Moore, likely indicating that Moore has a ceiling of support that is lower than other candidates.
Back in March, it was reported that Moore had not ruled out a second run at the Senate seat he lost nearly two years ago. and it was later reported that Moore himself said that he was "seriously considering" running for the seat again notwithstanding the fact that he would be 73 years old by the time the election was in full swing and would turn 74 shortly after taking office should he somehow manage to win the election. The fact that he would once again face the same allegations of sexual assault and misconduct also doesn't seem to deter him or his apparently still loyal cadre of Republican supporters.
As I've said before, any other Republican would have likely defeated Jones rather easily. This is apparent based on the fact that, won the election easily, something that seems rather apparent that notwithstanding the charges against him immediately prior to the election, Moore still managed to win 48% of the vote. Indeed, Moore probably would have been elected to the Senate if the sexual assault allegations had not been made public before the election notwithstanding the fact that he had entered the race with a controversial history as Alabama's Chief Justice, including two instances where he was removed from the bench due to his refusal to comply with the directives of a Federal District Court related to the placement of a Ten Commandments monument on the grounds of the State Supreme Court and his refusal to recognize the legitimacy of the Supreme Court's ruling in Obergefell v. Hodges overturning remaining state laws against same-sex marriage.
Nonetheless,  Jones's win was significant given the fact that he was the first Democrat elected to the Senate since Howell Heflin was re-elected in 1990 and Richard Shelby, who later changed parties from Democratic to Republican, was re-elected in 1992. The misconduct charges against Moore were, obviously, the main reason that Jones managed to win the election. Those charges led nearly all of the Republicans in Alabama and nationwide to withdraw their endorsements of Moore's candidacy and national Republican organizations to withdraw from the state and withhold aid from Moore's campaign. 
As noted, there is already a Republican in the race to challenge Jones in 2020, but Alabama Republicans don't appear to be entirely enthusiastic about the candidate. In mid-February, Congressman Bradley Byrne announced his candidacy for the nomination and it's believed that he will be a strong contender to win the nomination. With the prospect of Moore once again getting into the race, though, some Alabama Republicans appear to be looking for a more Trump-friendly Republican, fearing that Byrne's record won't be considered sufficiently conservative by a Republican base that is very pro-Trump. One candidate apparently being looked at in that regard is Congressman Mo Brooks. Brooks is a member of the House Freedom Caucus who ran for this seat in 2017 only to come in third place behind Moore and then-Senator Luther Strange, who had been appointed to fill the seat after Sessions became Attorney General. While Strange is apparently not considering making a bid for the Republican nomination, Brooks is reportedly considering getting into the race but is telling people in private that he would only get into the race if he could get the President's endorsement or a pledge of neutrality in the primary. While an endorsement by the President in a very pro-Trump state, one the President won by more than 30 points over Hillary Clinton. would seem to be advantageous, it's worth noting that Trump endorsed Lother Strange in the 2017 Special Election and he ended up losing the runoff election to Moore by nine points. In any case, this poll seems to clearly indicate that, at least initially, Moore will once again be a threat to push the primary race into a runoff election that he could end up winning. If that happens, then Republicans will once again be faced with the prospect of having a credibly accused sexual predator as their Senate candidate, and Doug Jones may very well get the edge he needs to hold on to his seat.