Roy Moore "Seriously Considering" Running For Senate Again
Disgraced former Chief Justice of Alabama Roy Moore is apparently "seriously considering" running for Senate in 2020.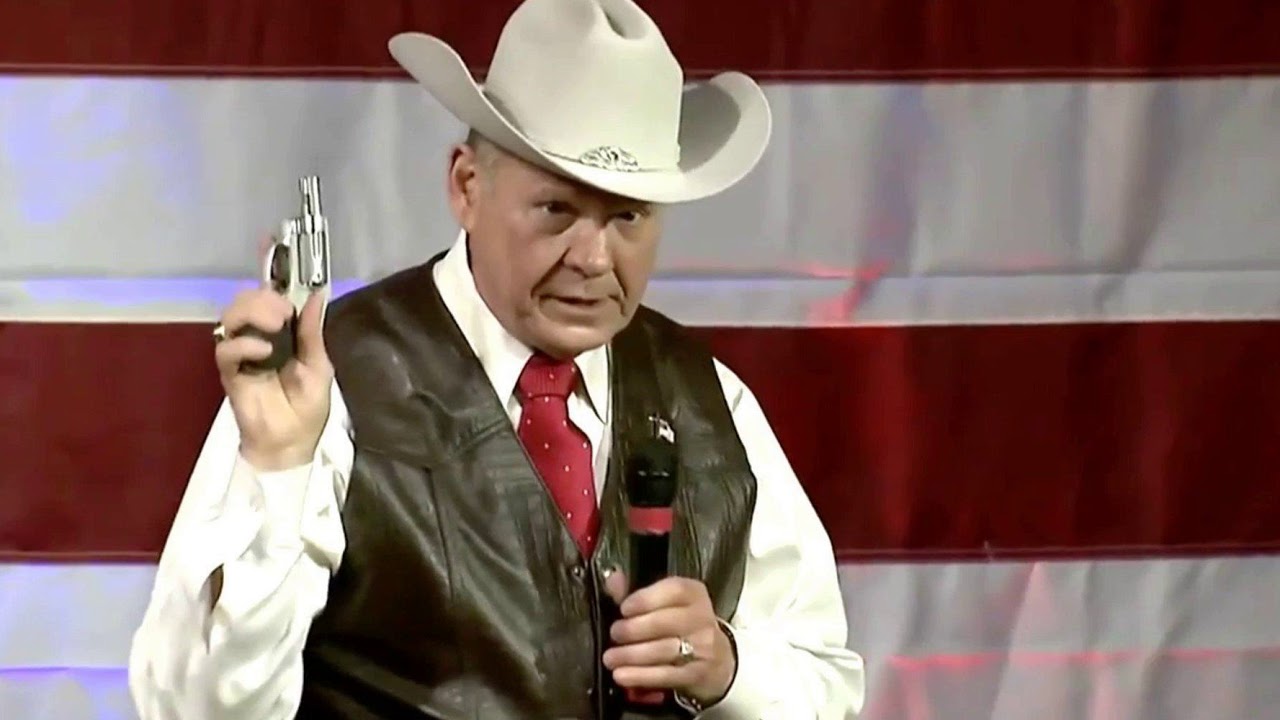 The Washington Post reports that Roy Moore is saying that he is "seriously considering" running for Senate in 2020  against Senator Doug Jones, who defeated him a December 2017 Special Election to succeed former Attorney General Jeff Sessions:
Sen. Doug Jones (D) may face Roy Moore, his 2017 special election opponent, in Alabama's 2020 U.S. Senate race. The Republican and former chief justice of the state's Supreme Court announced during an interview Friday on American Family Radio that he is "seriously considering" a run, Reuters reported.

The special election arose after Jeff Sessions vacated the seat to become President Trump's attorney general. Moore lost to Jones, a former federal prosecutor, by a small margin. In the interview, Moore said the seat was stolen by a Democrat-waged disinformation campaign.

"I think that's been pronounced in the national newspapers — the New York Times, The Washington Post even — has recognized there was a disinformation campaign going on in September of 2017 by forces outside of Alabama that spent a lot of money not regulated by the FEC in trying to dissuade Republicans from voting and encourage and enrage Democrats," he said to host Bryan Fischer.

The Washington Post reported in January that misleading online tactics were used in an effort to influence the election. Political analysts did not, however, attribute Moore's loss to disinformation, pointing instead to a campaign marred by allegations of sexual misconduct.

A month before the 2017 election, The Post reported that four women accused Moore of pursuing them when he was in his 30s and they were teenagers. One of the women said the pursuit resulted in a sexual encounter.
Earlier this month, it was reported that Moore was telling supporters that he wasn't ruling out a second run for the Senate notwithstanding his loss in the 2017 Special Election and the charges of sexual assault and harassment that became public in the month before the election. As I noted at the time, it seemed clear that any other Republican would have likely won the election easily, something that seems rather apparent that, notwithstanding the charges against Moore, the controversial candidate still managed to win 48% of the vote. Given that it's safe to say that Moore probably would have been elected to the Senate if the sexual assault allegations had not been made public before the election notwithstanding the fact that Moore had entered the race with a controversial history as Alabama's Chief Justice, including two instances where he was removed from the bench due to his refusal to comply with the directives of a Federal District Court
Nonetheless,  Jones's win was significant given the fact that he was the first Democrat elected to the Senate since Howell Heflin was re-elected in 1990 and Richard Shelby, who later changed parties from Democratic to Republican,  was re-elected in 1992. The main reason for Jones's win, of course, was the fact that in the month before the election Moore was credibly accused by a number of women of having sexually assaulted or harassed them when they were underage and Moore was a thirty-something young county prosecutor. This led nearly all of the Republicans in Alabama and nationwide to withdraw their endorsements of Moore's candidacy and national Republican organizations to withdraw from the state and withhold aid from Moore's campaign.   in which he was removed from the bench twice for refusing to comply with orders from a Federal Court related to the placement of a Ten Commandments monument on the grounds of the State Supreme Court and his refusal to recognize the legitimacy of the Supreme Court's ruling in Obergefell v. Hodges overturning remaining state laws against same-sex marriage.
There is already a Republican in the race to challenge Jones in 2020, but Alabama Republicans don't appear to be entirely enthusiastic about the candidate. In mid-February, Congressman Bradley Byrne announced his candidacy for the nomination and it's believed that he will be a strong contender to win the nomination. With the prospect of Moore once again getting into the race, though, some Alabama Republicans appear to be looking for a more Trump-friendly Republican, fearing that Byrne's record won't be considered sufficiently conservative by a Republican base that is very pro-Trump. One candidate apparently being looked at in that regard is Congressman Mo Brooks. Brooks is a member of the House Freedom Caucus who ran for this seat in 2017 only to come in third place behind Moore and then-Senator Luther Strange, who had been appointed to fill the seat after Sessions became Attorney General. While Strange is apparently not considering making a bid for the Republican nomination, Brooks is reportedly considering getting into the race but is telling people in private that he would only get into the race if he could get the President's endorsement or a pledge of neutrality in the primary. While an endorsement by the President in a very pro-Trump state, one the President won by more than 30 points over Hillary Clinton. would seem to be advantageous, it's worth noting that Trump endorsed Lother Strange in the 2017 Special Election and he ended up losing the runoff election to Moore by nine points. In any case, it seems clear that Alabama Republicans don't intend to let themselves get caught flat-footed by another populist campaign by Moore should he decide to get into the race. Whether that will be enough to stop him, though, remains to be seen.