Roy Moore And The Battle For Control Of Congress
A top Republican political analyst is warning that a Roy Moore victory in Alabama could pose real problems for Republicans in 2018. If it does, they'll have nobody to blame but themselves.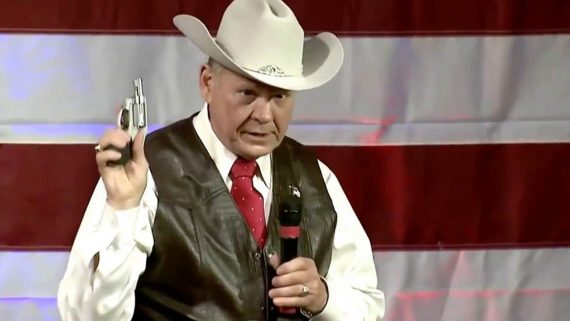 Alex Castellanos, who has worked on the campaigns of Republican candidates for President and worked in Republican political circles for more than two decades, warns that electing Roy Moore to the Senate could end up costing Republicans the House:
Moore in the U.S. Senate would be a gift to Chuck Schumer and Nancy Pelosi. They would hail him as the GOP's poster boy. Leading up to the midterm elections of 2018, he would star in every Democratic attack ad and a constant barrage of assaults on Republican candidates by the new media.

The Left would glue Moore's name to every ballot in every congressional and Senate race, and the battle ground is different than in Alabama. Republicans now hold 23 congressional districts Hillary Clinton carried. Democrats need only 24 seats to take the House. Even without Moore as the face of the Republican Party, the GOP House majority is in jeopardy.

Add a 5 or 6 percent Democratic bump of angry, anti-Trump, anti-Moore, suburban, educated women who pour out to the polls in a movement that extends "the reckoning," and the GOP House is no more. The Senate could fall apart, too. And then?

A Democratic House would waste no time impeaching Trump. A jump-ball Senate, whether controlled by Democrats or Republicans, would be forced to try him. Democrats would vote unanimously to remove Trump from office. And some establishment Republicans, no different than Democrats when it counts, would love to rid themselves of Trump, too. They could go back to business as usual under the wounded presidency of Mike Pence.

In the chess game of politics, sometimes you are required to sacrifice a pawn to save the king. What, on Tuesday, December 12, will be your choice?

You are not just electing Moore or Jones. You must choose between sending Moore to the Senate and losing the House. You must choose between one GOP Senator from Alabama or three or four fewer GOP senators from other states. You must choose between Moore in Washington and the premature end of Trump's presidency.

More often than we think, the right thing to do is the smart thing to do, too. Measure twice and cut cleanly. Keep Moore at home. You will have wiped a smile from Schumer's face.
Castellanos's piece is obviously aimed at conservative voters in Alabama and it's at least somewhat significant that it was posted this morning at The Federalist, the conservative website founded by Ben Domenech, a noted pundit on the right who has gained increased prominence on the right in recent years. The piece is means largely as a warning, and is similar to predictions that have been made by other Moore critics on the right who have come out against Moore over the past month or more, many of whom are also part of that wing of the movement that dubbed itself as "Never Trump" during the race for the Republican Presidential nomination last year. Like Castellanos, these pundits and activists have spent the better part of the last month or more warning that electing Roy Moore to the Senate could end up being disastrous for a Republican Party that's already set to face an uphill battle in 2018 in both the House and the Senate. This is one of the reasons why we've seen so many Republicans in the House and the Senate come out publicly against Moore. While many of them are no doubt disturbed by Moore controversial views, the addition on top of that of the allegations of sexual impropriety on his part makes him potentially even more poisonous than he already likely is for the Republican Party generally, especially in battleground districts and states, among independent voters who might otherwise be inclined to vote Republican but who are turned off by the allegations against Moore and by Moore's views. This is especially true given the current climate that has resulted in revelations of sexual harassment and other improprieties by many men in entertainment, the news media, and politics. In this climate, the fact that Moore could end up in the Senate is, along with the fact that Donald Trump is President, something that will place increased scrutiny on a whole host of Republican candidates.
It's impossible at this point, of course, to measure the impact that Moore is or could be having on the race to control Congress next year. For one thing, with eleven months yet to go before voters go to the polls it's far too early to make anything approaching an accurate prediction about what might happen in the battle for control of either the House or Senate. As things stand, Democrats have a lead in the Generic Congressional Ballot, with the RealClearPolitics average showing voters saying they'd vote for a Democrat at 45.5% and those saying they'd vote for a Republican at 37.2%, giving Democrats an 8.3 point lead. The numbers are narrower in the Pollster average, which shows an average of 39.9% of respondents saying that they'd vote for a Democrat and 34.4% saying they'd vote for a Republican, giving Democrats a 5.9 point edge. While both of these are favorable numbers, they've been relatively stable for the past several months and don't necessarily indicate which way the midterms are likely to go.
Notwithstanding the caveats above, though, it seems clear that Roy Moore will end up being as much a weapon against Republican candidates as Donald Trump is likely to be. This will be especially true in battleground districts and states where Republican candidates might be potentially vulnerable, and the message is likely to be aimed at the middle-class suburban voters and female voters that I discussed above. If enough of these voters are turned off by the combination of Trump and Moore then it could end up being quite problematic for Republicans indeed. Whether or not this results in the Democrats taking control of Congress as Castellanos predicts is something I'm not willing to predict just yet, but it's also something I'm not willing to rule out. Republicans have made common cause with an ideology and with people that are clearly poisonous not only to them but also to American politics in general. Whether it comes in 2018 or later, it seems clear that they are going to pay some kind of price for that, and they will totally deserve. When it does happen, of course, they'll have nobody to blame but themselves.