Trump Endorses Moore Despite Molestation Charges
President Trump put his thumb on the scale for Roy Moore, ignoring the allegations of harassment and sexual abuse that have been made against the candidate.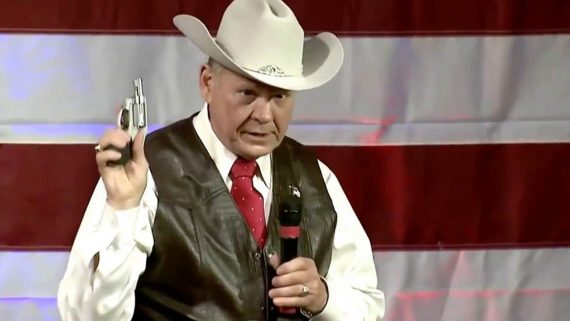 After weeks in which the White House danced around the issues raised by the charges against Alabama GOP Senate candidate Roy Moore that range from a predilection toward dating and making advances on teenaged girls when he was in his thirties to claims that he physically assaulted and molested at least two women, one of whom was just 14-years-old at the time, President Trump effectively endorsed Roy Moore yesterday as he was leaving the White House to spend the Thanksgiving Day weekend in Florida:
WASHINGTON — President Trump broke with leading Republicans on Tuesday and voiced support for Roy S. Moore, the Republican Senate candidate in Alabama who has been accused of sexual misconduct with teenagers and has seen his campaign's prospects imperiled.

In his first extensive remarks on the accusations that date back decades, the president cited the vigorous denials by Mr. Moore, who is facing off in a high-stakes special election against Doug Jones, the Democratic candidate.

"He totally denies it," Mr. Trump said of Mr. Moore, who has been accused of molesting a 14-year-old girl and sexually assaulting another teenager.

Mr. Trump also said he was "very happy" that women in the United States are now coming forward with accusations of sexual misconduct against lawmakers and media figures, many of them Democrats.

Asked by a reporter about whether electing "a child molester" was better than electing a Democrat in the Alabama race, Mr. Trump responded by insisting that Mr. Moore denies the charges against him.

"He says it didn't happen," the president — who himself has been accused of, and denied, a history of sexual impropriety — told reporters at the White House. "You have to listen to him, also."

Mr. Trump's willingness to accept Mr. Moore's denials underscored the growing Republican divide in Washington, where party officials have worried that their connections to Mr. Moore — a Breitbart News-backed candidate — would taint establishment candidates across the country. Senate Republicans said on Tuesday that they were bewildered by Mr. Trump's weighing in on the Alabama race after he had remained quiet, and they said that the president had put them in a difficult position.

Senator Mitch McConnell of Kentucky, the majority leader, and House Speaker Paul D. Ryan of Wisconsin said last week that the accusations against Mr. Moore were credible, and called for him to abandon his campaign. Other senators have warned that Mr. Moore could be expelled if he were to be elected in the Dec. 12 vote.

But Mr. Trump set aside those concerns and suggested that a victory by Mr. Jones would jeopardize an agenda that the president's administration was already struggling to advance. Referring to some of the issues that Alabama voters prize, Mr. Trump attacked Mr. Jones, a former federal prosecutor in Birmingham who is now leading Mr. Moore in some polls that were taken after the misconduct accusations surfaced nearly two weeks ago.

"We don't need a liberal person in there, a Democrat, Jones," Mr. Trump said. "I've looked at his record. It's terrible on crime. It's terrible on the border. It's terrible on the military."

The president suggested that the passage of time, and the fact that Mr. Moore's accusers did not come forward earlier, should call into question the accusations. And he noted that Mr. Moore has been elected repeatedly by voters in Alabama.

"I do have to say, 40 years is a long time," Mr. Trump said as he left for a five-day Thanksgiving vacation at his Mar-a-Lago club in Palm Beach, Fla. "He's run eight races, and this has never come up. So 40 years is a long time."

In a statement after Mr. Trump's remarks, Mr. Jones's campaign said, "Doug believes the women, and that the people of Alabama will hold Roy Moore accountable."

(…)

Until Tuesday afternoon, Mr. Trump had remained mostly quiet about the accusations against Mr. Moore. He had left it to his press secretary, Sarah Huckabee Sanders, to say that the president believed it was up to Alabama voters to decide the race to fill the seat left vacant by Jeff Sessions, now the attorney general.

The White House, though, had begun signaling its worries about the policy consequences of a victory by Mr. Jones. Kellyanne Conway, the counselor to the president, said on Monday on Fox News that Mr. Jones could not be counted on to support the tax changes that Mr. Trump is trying to push through Congress.

"Doug Jones in Alabama, folks, don't be fooled," she said. "He will be a vote against tax cuts. He is weak on crime. Weak on borders. He is strong on raising your taxes. He is terrible for property owners."

Asked whether that meant that the White House was urging a vote for Mr. Moore, Ms. Conway said, "I'm telling you that we want the votes in the Senate to get this tax bill through."

Mr. Trump's defense of Mr. Moore, who has been abandoned by nearly all of the Republican establishment in Washington, was seen as tantamount to an endorsement.

(…)

[Onn Tuesday, Mr. Trump's bottom-line position seemed to align with many of Alabama's most influential Republicans. Gov. Kay Ivey has said that she both believes Mr. Moore's accusers and that she intends to vote for him. And last week, the Alabama Republican Party's steering committee opted to reaffirm the party's support for Mr. Moore's nomination.

Just one statewide Republican organization — the Young Republican Federation of Alabama — has publicly withdrawn its support for Mr. Moore, its steering committee saying in a resolution over the weekend that its "duty is not to the individual candidates but to the longstanding growth and sustainability of the Republican Party." Senator Richard C. Shelby, the state's ranking lawmaker, said he would not cast his ballot for Mr. Moore, who was, in effect, twice removed from the Alabama Supreme Court for defiance of federal judges.
Given the fact that Kellyanne Conway had already said on Monday that Moore would be a reliably Republican vote on tax reform and other issues, the fact that the President decided to drop this particular bomb on the race in Alabama at this point is hardly surprising. Even while he was campaigning for Luther Strange prior to the runoff primary election in September, Trump seemed to suggest that Moore would be an acceptable as well and that he could be back in Alabama campaigning with him should he win the primary. This was prior to the time that the allegations against Moore became public at the time, but at the time many observers said that Trump effectively undercut the candidate he was supposedly endorsing and essentially gave his supporters permission to ignore his endorsement and vote for Moore if they wanted to. It was also seen as a slap aimed at Mitch McConnell and other top Republicans who were strongly behind Strange because they believed even then that Moore would end up being a political liability for Republicans nationally due to his record and the many offensive and controversial remarks he's made over the years, which will inevitably be used by Democrats against Republican candidates across the country in 2018. The fact that most of these candidates will have distanced themselves from Moore may help somewhat, but the fact that the leader of their party is endorsing him, dismissing the entirely credible allegations from the women who accused him and saying that the passage of time is somehow an excuse for ignoring the fact that a candidate for Senate is not only accused of sexual harassment, but of assaulting and molesting teenage girls, will inevitably be a problem.
As I noted on Twitter yesterday afternoon, of all the disgusting and outrageous things that Donald Trump has done as a man, as a so-called "celebrity," as a candidate for President, and as President, this is without question the most disgusting. While he didn't say exactly the same thing that Alabama Governor Kay Ivey did, the message is the same. As far as Donald Trump is concerned, whether or not Moore actually did what he stands accused of is true is irrelevant. All that matters is that Moore is a Republican who will, supposedly be a reliable vote in favor of the President's agenda. Additionally it's worth noting that Trump's comments about Trump's Democratic opponent Doug Jones are complete nonsense. There's nothing in Jones's platform that can be called "soft on crime," for example, something that can be seen in his record as U.S. Attorney for the Northern District of Alabama, most especially in the fact that he successfully prosecuted two members of the Ku Klux Klan for the August 1963 church bombing in Birmingham that killed four young African-American girls. Additionally, as Jones's own campaign platform shows, his policy positions on issues like crime are basically mainstream and arguably somewhat to the right of the rest of the Democratic Party, which is understandable given that he's from Alabama. In any case, the President is essentially saying that a child molester is more acceptable than a moderate Democrat. I'll leave it for the reader to draw their own conclusions from that.
Johnathan Chait calls Trump's endorsement of Moore "the Trumpiest decision ever," and that's certainly a good way of putting it. It's perfectly in line with everything that we know about this President as a man and a politician, and it demonstrates the fact that, as Chait put it, this President and his Administration don't care about sexual abuse, he (and they) care about winning and scoring political points against political enemies. Additionally, the fact that Trump has dismissed the allegations against Moore about saying that Moore has denied the allegations is consistent with the way that Trump has handled the allegations of sexual harassment that were made against him in the wake of last October's release of the Access Hollywood tape. More than a dozen women have come forward with allegations against the President, and he and his supporters have responded by calling them liars. For Trump to acknowledge the veracity of Moore's accuser, or to suggest as many people have that women who make such allegations should be believed, would be to undercut his own position with respect to the allegations against him. Indeed, as the reports in Politico and at CNN about how yesterday's endorsement came about, it's clear that at least part of Trump's concern about the idea of condemning Moore or distancing himself from him because of the allegations against Trump personally.
It's hard to see what impact the President's words will have on the race itself. As things stand, the RealClearPolitics average shows Doug Jones with a small lead over Moore, and the polling remains incredibly close for Alabama. At the same time, though, the fact that the President is endorsing Moore could cause some Republican voters who have been repulsed by the allegations against Moore to rethink their positions between now and the Special Election on December 12th. Given how tight the race is, even a small shift back toward Moore could end up having a big impact. There is still a possibility that Jones could win the race, but it isn't going to be easy, and if I had to make a guess right now it would be that Moore still ends up winning. This is Alabama, after all, and there hasn't been a Democrat elected to the Senate from that state in more than twenty years now. This could be the time that streak is broken, but it's going to be a close call in the end.
In any case, as I said Trump has done many appalling things as President and this just ads to the list.