Mitch McConnell Caves On Roy Moore
As I've said before, the Republican Party in the Trump Era has become the party of Trumpaloons, sycophants, sellouts, and cowards.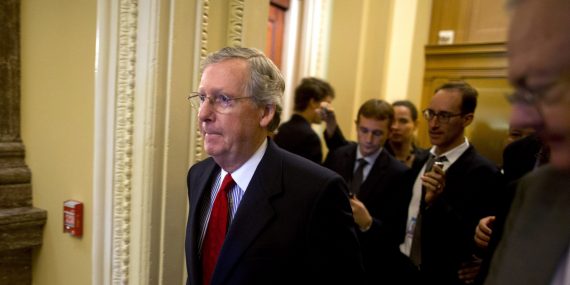 When the accusations of sexual misconduct against children by Alabama Senate candidate Roy Moore were first published by The Washington Post, many Republicans stepped forward to distance themselves from a nominee who was already controversial even before it was reported that he had pursued relationships with teenagers and allegedly sexually assaulted a 14-year-old girl. Chief Among those were members of the Congressional leadership team including Speaker of the House Paul Ryan and Senate Majority Leader Mitch McConnell. Specifically, McConnell said that in light of the allegations in The Washington Post's initial report, Moore should end his campaign and allow the Alabama GOP to select a new candidate. Now that we're less than ten days away from the Special Election and polling is showing Moore with a narrow lead, McConnell is changing his tune:
WASHINGTON — Senator Mitch McConnell, the majority leader, who has argued for weeks that Roy S. Moore, the Alabama Senate candidate, should leave the race, said on Sunday that he was "going to let the people of Alabama make the call."

Asked during an appearance on ABC News's "This Week" whether he thought Mr. Moore, who has been accused of preying on teenage girls, should be in the Senate, Mr. Connell said the decision should be left to the Dec. 12 special election.

"This election has been going on a long time," Mr. McConnell said. "There has been a lot of discussion about it. They are going to make the decision a week from Tuesday."

In the past, Mr. McConnell had said that he was looking at drafting a write-in candidate for the election, and that if Mr. Moore, a Republican, won the race, he would support a Senate Ethics Committee investigation into the allegations against him.

But on Sunday, Mr. McConnell seemed to accept that Mr. Moore, who has denied the allegations, would not be stepping down with only days remaining before the vote.

Antonia Ferrier, a spokeswoman for Mr. McConnell, said the senator was not backing down from any earlier comments about Mr. Moore. "The leader did not change or retract any of his previous statements," she said in an email on Sunday.

Mr. McConnell told ABC News that he still believed that the Ethics Committee should investigate the allegations against Mr. Moore.

Several women have accused Mr. Moore of sexually inappropriate behavior. They said they had been subjected to groping, forcible kissing or other unwanted advances when they were teenagers and he was a prosecutor in his 30s.

Mr. McConnell noted on Sunday that two decades ago, when he was the chairman of the Ethics Committee, he had recommended the expulsion of Senator Bob Packwood, the powerful Oregon Republican, who resigned in 1995 after he was accused of sexual harassment.
This statement comes in the wake of recent polling that shows a tight race between Moore and Democratic nominee Doug Jones, but Roy Moore nonetheless has a narrow lead in the polling average. That lead has increased in the wake of a CBS News poll showing Moore leading Jones by six points 49% to 43%. The same poll also shows that 71% of Alabama Republicans believe that the allegations that have been made against Moore by five separate women are false and that 92% of the Republicans who don't believe the allegations are true also believe that they have been made up by Democrats and/or Republican insiders in Washington who are out to get Moore and cost him the Senate race. With this new poll, the RealClearPolitics average of the race now shows Moore (49.0%) leading Jones (45.8%) by 3.2 points.
While this lead is far smaller than what we generally see in statewide races in Alabama, it is significant enough to suggest that Moore has recovered from the initial damage that the allegations did when the reports first came out in early November. In reality, of course, the fact that the reports came out nearly a month ago now is strong evidence that these allegations are not some kind of grand conspiracy against Moore. If they were, then the conspirators obviously would have waited until shortly before the election, perhaps during the past week or so, for the stories to drop so that Moore would not have sufficient time to respond to them. Instead, the initial reports all came out nearly a month ago and since then we've had a Thanksgiving break as well as nearly four weeks of news about the tax bill and other nonsense going on in Washington to distract voters and give Moore time to construct a response that played into what The New York Times calls the state's "disdain for Democrats." In a normal election, this is what's referred to as the "October Surprise," and we've seen it numerous times in the past, including in 2000 when the report about George W. Bush's drunk driving arrest became public just days before the election and in 2016 with the release of both the Access Hollywood tape and the James Comey letter to Congress informing Committee members that the F.B.I. had reopened the investigation into Hillary Clinton's handling of classified information due to the discovery of additional emails. The closer that damaging information about a candidate is released to an election, the more likely it is that it would hurt them at the ballot box, and the further in the past those revelations are the more time the candidate has to recover from the bad news.
As it stands, it's looking more and more like Roy Moore will end up pulling off a narrow victory in this case. The only reason that it will be worthwhile to watch this race on the night of December 12th is that Special Elections have proven to be exceedingly hard to poll because it's hard to predict who will show up to vote for an election scheduled at something other than the regular time, especially one that takes place just two weeks before Christmas. As I said, in an ordinary race this would be an easy Republican win. It's only because of the allegations against Moore and the fact that Jones is making this race far more competitive than it otherwise would be that the race can still be called a toss-up. As things stand, who wins this race is likely to depend on which candidate does a better job turning out supporters. If this is an ordinary Alabama election, then Moore will win albeit likely by a narrow margin. If Doug Jones is able to persuade Democratic voters, especially African-Americans and women, to get out and vote or cast an absentee ballot, then he might actually have a chance here. Another unknown is what impact these allegations might have on women who would generally vote Republican. If enough of them either stay home or vote for Jones over Moore, then that will help Jones. Whether it will be enough is something we will have to wait to find out nine days from now.
As for McConnell, it's clear that he will do nothing to move against Moore even if he doesn't formally endorse him. Additionally, it seems clear from McConnell statements that, contrary to previous comments, Senate Republicans will not take any significant steps to try to prevent Moore from being seated, which is admittedly difficult given the Supreme Court precedent in Powell v. McCormack in any case, nor will they seek to have him ejected from the Senate after he his seated. Instead, they'll accept Moore as one of their own and move forward. All because they value having one more Republican vote in the Sunate than they do about integrity or ethics.
It's obvious in retrospect that the main reason that most Republicans in Washington distanced themselves from Moore in the first place was due to the fact that they believed that these allegations were so serious that they were going to doom Moore's campaign and they didn't want to be seen as backing someone with such odious allegations against him. Now that it seems like Moore has a chance to win, they've obviously reevaluated their position and decided its more important not to alienate that part of the Republican base that is inclined to back Moore, whether they live in Alabama or elsewhere in the United States.  This, of course, is the same base that enthusiastically backs President Trump, which also explains why you seldom see Republicans speak out against the President no matter how outrageous he gets. As I said several weeks ago, there is no "civil war" in the Republican Party or the conservative movement. The party has surrendered to Trump and his mindless supporters and become the party of Trumpaloons, sycophants, sellouts, and cowards. Like most of his fellow Republicans on Capitol Hill, Mitch McConnell is both a sellout and a coward.