There Is No Civil War, Republicans And Conservatives Have Already Surrendered
Forget all the talk about a civil war in the Republican Party, the truth is that Republicans and conservatives have already surrendered to Trump and Bannon.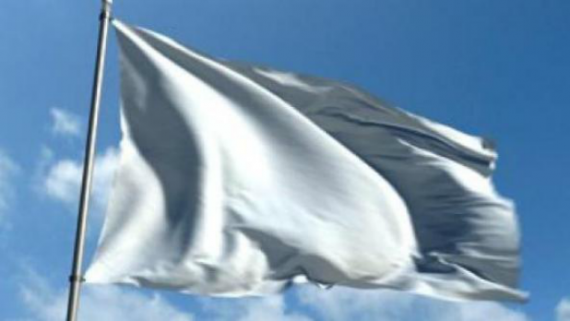 While the past week has been filled with talk about a civil war within the Republican Party between those who support the President and his agenda and more traditional Republicans and conservatives, the editors of The Weekly Standard look around and see a surrender:
Everyone's talking about the civil war in the Republican party. It seems more like a surrender to us.

The great bulk of elected Republicans have surrendered to the forces of Donald J. Trump. And they didn't even put up much of a fight. Has a hostile takeover of a historic institution ever been accomplished with less resistance?

The flag of surrender went up before many blows were even landed.

A reporter for Politico recently asked John Cornyn, the second-ranking Republican in the Senate, for his views on a potential bipartisan compromise extending cost-sharing payments under Obamacare. "I'm with the president," Cornyn told Seung Min Kim. When she asked him where, exactly, Trump is on the plan, Cornyn threw his hands in the air. So Cornyn doesn't know what Trump's position is—but he knows that he shares it.

Perhaps such capitulation by the GOP establishment was to be expected. But movement conservatives who pride themselves on their obstinacy have also managed to go along in order to get along.

When Ted Cruz was asked the other day about the criticism of Trump by his Senate colleagues Bob Corker and Jeff Flake, the Texan unloaded. "It's like you're back in junior high. . . . We've got a job to do, dammit, and so all of this nonsense, I got nothing to say on it. Everyone shut up and do your job is my view."

This is the same Ted Cruz who pointedly refused to shut up in 2016, declining to endorse Trump in his convention speech and making an impassioned plea for the defense of a party of principles, a party of conscience. "We deserve leaders who stand for principle, who unite us all behind shared values, who cast aside anger for love," he said from the rostrum in Cleveland. "That is the standard we should expect from everybody. And to those listening, please don't stay home in November. If you love our country and love our children as much as you do, stand and speak, and vote your conscience."

But now it's 2017. The base is said to be unhappy with dissent. Breitbart.com will criticize you. Steve Bannon may fund a primary challenger. Dissent is so 2016.

It is much the same outside of government. A day after Trump addressed the Heritage Foundation, the think tank's president, Ed Feulner, waxed rhapsodic in a pitch to donors. "This morning I woke up still in awe of what I heard last night. As you know, President Trump addressed a group of Heritage members. He confirmed, beyond a shadow of a doubt, that he is on our side."

(…)

The GOP is being transformed because incumbents are accommodating their new masters before serious challengers are even on the horizon. The New Left didn't defeat many old-fashioned liberals at the polls. But, because of retirements and individuals accommodating themselves to the new political reality, there were soon no more than a handful of pro-life Democrats or strongly anti-Communist Democrats or color-blind-civil-rights Democrats. The Walter Mondale who ran for president in 1984 was very different from the Walter Mondale who entered the Senate as a disciple of Hubert Humphrey in 1964.

In the case of the Democrats, the transformation was a reasonably clear—if unfortunate—ideological turn. The current transformation of the Republican party is more confusing. At times, it seems the GOP might be becoming a Bannonite nationalist party. At others, it seems more simply a Trumpian cult-of-personality. The result, right now, is a party that is simultaneously corrupted by Trump and disfigured by Bannonism.
None of this should be surprising, of course. While there were some sixteen candidates opposing Trump in the run for the Presidential nomination, none of them really took on Trump effectively or speaking out against the outrageous comments that began the very day he started his campaign in June 2015. Several of them, such as Ted Cruz, spent much of the time before voting actually began cozying up to him in the hope that they could scoop up his supporters when he ended what many people believed even as late as December 2015 was some kind of publicity stunt that he would walk away from rather than risking the humiliation of a defeat. It was only when it was too late that the so-called "Never Trump" movement began to coalesce and when they did they rallied around schemes allegedly designed to deny Trump a majority of the delegates at the convention and force a brokered convention or back a third-party candidate that would syphon conservative votes away from Trump in the General Election. Both efforts were doomed to fail, of course, in no small part because they began far too late to be effective. In addition, though, it was clear by that point that the Trump had won over the base of the Republican Party, including the supposedly conservative Tea Party movement that these same Republicans had ridden to power from 2009 going forward.
Once Trump became the nominee, much of the resistance to him inside the Republican Party melted away quickly as leaders, elected official, and party hacks dutifully lined up behind the same man that they spent much of the previous year laughing at or attacking. There were some exceptions, of course, and it took some officials like Speaker of the House Paul Ryan more than a month to come around to formally endorsing Trump, but they eventually all fell in line. Even when the Access Hollywood tape was released, we didn't see Republicans and conservatives waiver in their support for the nominee. Yes, there were several Republicans who distanced themselves from the candidate but once they saw that he wasn't going to drop out of the race (not that there was ever any likelihood of that) or that he was being hurt in the polls by those revelations they quickly abandoned that position. And, of course, once Trump actually won the election there was no question but that Republicans on Capitol Hill and around the country would line up behind him.
There have been some exceptions, of course, but as I noted earlier this week, for the most part, this has consisted of Senators and Congressmen who either aren't facing imminent re-election battles or, like John McCain, have nothing left to lose. By and large, the Republican Party and the vast majority of so-called conservatives have laid down their arms and dutifully lined up behind the President notwithstanding the fact that he continues to act in the same manner that he did before he was a candidate and while he was a candidate and despite the fact that he has spent the last nine months derailing his own agenda and the agenda of Republicans on Capitol Hill via his increasingly frequent irrational outbursts on Twitter and in campaign speeches. As I noted yesterday, they are acting this way either because they are true believers, because they believe they can use Trump to advance their own agendas, because they are cashing in, or because they are simply afraid of being attacked by Trump or primaried by a candidate backed by the likes of Steve Bannon. Whatever the reason, though, the editors of The Weekly Standard are right. Republicans and conservatives aren't fighting back against Trump, they've already surrendered.