Polling Continues To Show A Tight Senate Race In Alabama
With ten days to go, the Senate race in Alabama between Roy Moore and Doug Jones is close.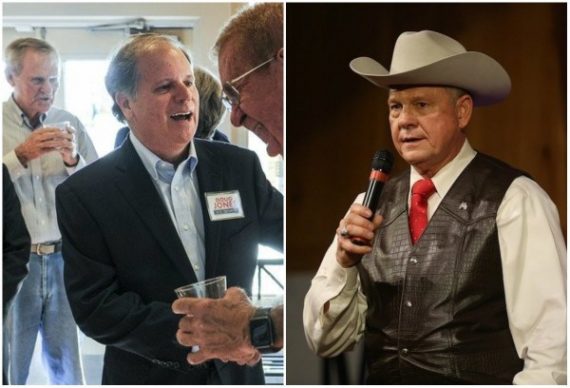 In ten days, Alabama voters head to the polls in the Special Election pitting Republican Roy Moore against Democratic nominee Doug Jones in a race to determine who will succeed Attorney General Jeff Sessions in the Senate. In an ordinary election, there would be no question that the Republican nominee would end up winning a head-to-head election against in Democrat in Alabama, but this has been anything but an ordinary election. It was roughly one month ago that The Washington Post came out with a blockbuster report that detailed allegations from four women who say that Moore made inappropriate advances toward them when they were teenagers and he was an Assistant District Attorney in his 30s. The most explosive of these claims came from a woman named Leigh Corfman who said that Moore approached her when she was just fourteen years old and ended up taking her to his home one night where he sexually assaulted her. After the Post report, several other women came forward to report similar contact with Moore during the late 1970s and 1980s, including another woman who says that Moore assaulted her while the two of them were alone in his car. Just days later, four more women came out with claims of similar behavior by Moore during the relevant time period.
The reaction to these reports was quick and severe. With the notable exception of Kentucky Senator Rand Paul, every Republican Senator who had previously endorsed Moore rescinded that endorsement. The Republican National Committee and National Republican Senatorial Committees both ended their support for his campaign. And nearly every national Republican asked about the race called on Moore to drop out of the race and suggested that the Senate should either refuse to seat Moore if he won the election or immediately move him to eject him as permitted by Senate rules. Moore did have his defenders, though, and many of them were even willing to say that they'd vote for a confirmed child molester over a Democrat. Shortly before Thanksgiving, President Trump joined that crowd and, while he didn't formally say he believed Moore and disbelieved his accusers, he did say that people should vote for Moore merely because his opponent was a Democrat.
Initially at least, the charges against Moore did seem like they were having an impact on the race. Polls taken in the immediate aftermath of the report showed that the race had tightened significantly. Some polling even showed Jones pulling into a slight lead over Moore. More recent polling, though, has been giving Moore back the lead while a new poll has Jones with a small lead over Moore:
Alabama's closely watched U.S. Senate race is a neck-and-neck contest as voter concerns about personal moral conduct weigh on the candidacy of Republican Roy Moore, according to a new Washington Post-Schar School poll.

With less than two weeks to go, support for Democrat Doug Jones stands at 50 percent vs. Moore's 47 percent support among likely voters — a margin of a scant three points that sets up a nail-biter for the oddly timed Dec. 12 special election.

The survey shows that allegations of improper sexual behavior against Moore, a former Alabama chief justice, hang heavily over a race that would favor a Republican under ordinary circumstances in this deeply conservative state.

Fifty-three percent of voters say Jones, a former federal prosecutor, has higher standards of personal moral conduct than Moore. In contrast, about a third of likely voters say Moore, who has cast his campaign as a "spiritual battle" with heavy religious overtones, has higher moral standards.

Among the 1 in 4 voters who say the candidates' moral conduct will be the most important factor in their vote, Jones leads, 67 percent to 30 percent.

And Jones, whose strategy relies in part on peeling way Republican support from Moore, has the backing of 1 in 6 GOP-leaning likely voters. About 1 in 14 Democratic-leaning voters are backing Moore.

The race, in which the winner will fill the U.S. Senate seat vacated by Jeff Sessions when he became attorney general, has taken on national importance because of its implications for the Republican majority in the Senate. If Jones wins, the GOP would control the chamber by only 51 seats to 49.

(…)

The survey shows that the Alabama electorate is divided on the validity of the allegations against Moore. While 35 percent of likely voters think Moore did make unwanted advances on teenage girls, 37 percent say they are unsure or have no opinion. The smallest group — 28 percent of likely voters — say Moore did not make the advances that were alleged.

Women are more likely than men to find the allegations credible and to support Jones, with 41 percent of women saying Moore made unwanted advances compared with 28 percent of men saying the same. Moore leads by 15 points among men likely to vote, while Jones leads by 18 points among likely female voters.

There is also a stark partisan and ideological divide in how voters have processed the allegations, with many Republicans and GOP-leaning groups expressing skepticism.

Fewer than 1 in 6 Republican-leaning likely voters say they believe that Moore made unwanted advances toward female teenagers. That view is held among similarly small shares of white evangelical Protestants and those who say they approve of President Trump, who in recent days has questioned the allegations and urged Alabamians to prevent Jones from winning the seat.

More than three-quarters of each of those groups support Moore over Jones.

At the same time, Jones is running well ahead of his own party's dismal track record in a state that last elected a Democratic U.S. senator in 1992, when Sen. Richard C. Shelby won. He defected to the Republican Party two years later.

In the Post-Schar School poll, Jones has the backing of 33 percent of white voters in the state. Barack Obama won just 15 percent of white votes in Alabama in his 2012 presidential reelection, according to exit polls.
This poll comes in the wake of three other polls that give Moore a single-digit lead over his Democratic opponent. An Emerson College poll conducted shortly before Thanksgiving, for example, gave Moore a six-point advantage over Jones, for example. In another poll conducted by JMC Analytics conducted over the same period gave Moore a five-point advantage and an earlier poll conducted by an Alabama television station showed Moore with a scant two-point lead.  The RealClearPolitics average for the race, meanwhile, gives Moore 49.0% versus Jones who stands at 46.5%, giving Moore just a 2.5 point advantage. The RCP chart, meanwhile, shows an uptick for Moore thanks in part to the aforementioned string of positive numbers for him: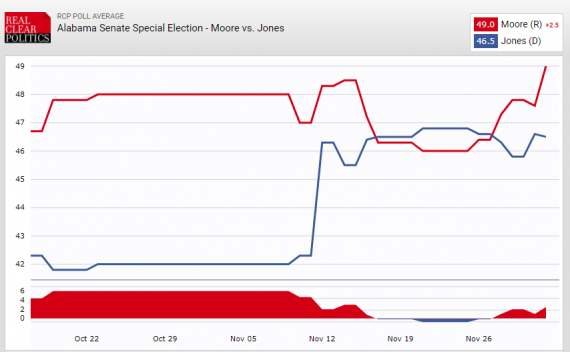 Where the race goes from here is unclear. The fact that more than a month will have passed since the first allegations against Moore became public by the time people head to the polls to vote suggests that Moore may have seen the worst of the impact from them last month and that Alabama Republicans initially put off by the allegations will end up either voting for him in the end or simply staying home rather than going to the polls to cast a vote for a Democrat. In that case, and unless Jones is able to get people who might have otherwise stayed home on December 12th to cast a ballot either via an absentee ballot or on Election Day, that Moore will indeed pull out a victory even if does end up being a narrow one. In fact, given the state's natural inclinations the most likely outcome would appear to be a narrow Moore victory. On the other hand, there are some signs in this latest poll that Jones could end up benefiting from the fact that the allegations against Moore have had an impact on women that could cause them to come out to vote in an election they otherwise might have skipped. In that case, it might give Jones the edge he needs to buck the trend that has prevented Democrats from winning a Senate election in Alabama in more than twenty years.